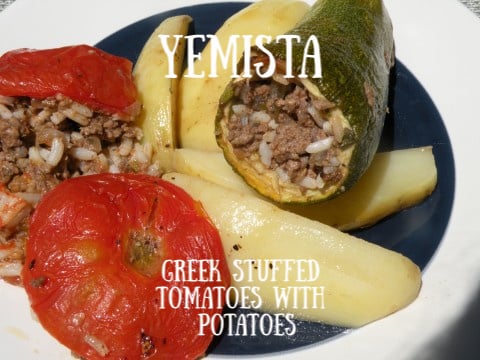 Greek Stuffed Tomatoes and Zucchini with Potatoes "Yemesta" has always been a comfort food in our home as a main or side dish at our family table. Every household selects their choice of vegetables, from their family garden or what they see available at their local farmer's markets. Usually in the winter, we switch to green and red peppers and eggplant.  My mother often served something stuffed during the holidays with whatever was in season. Adding potatoes to soak up the juices was always one of my favorites, so don't skip it!  For a vegetarian option, use quinoa or bulgur for the meat  substitute, adding mushrooms if desired for a second layer of flavor.
You  may enjoy making my Quinoa Stuffed Grape Leaves. 
Greek Stuffed Cabbage Rolls is also a traditional recipe using quinoa.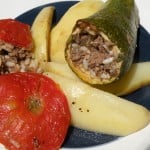 Greek Stuffed Tomatoes and Zucchini with Potatoes "Yemesta"
An old family recipe passed down from my mother and remains to be a Traditional Greek recipe.
Ingredients
6

tomatoes, whole and firm

6

zucchini, whole

2

potatoes, peeled lengthwise and cut into sixths
Filling
1

pound

lean ground beef

1

onion, chopped

1

cup

water or tomato juice

1

cup

long grain rice

1

teaspoon

salt

1/4

teaspoon

pepper

1

tablespoon

parsley, chopped

1

teaspoon

mint, chopped

1

teaspoon

oregano

1/4

cup

pine nuts

14/

cup

raisins

2

tablespoons

olive oil
Instructions
Use a sharp knife and cut off the tops of the tomatoes, making sure you remember which tomato they came from. Set aside. Scoop out the flesh from the inside of the tomato, chopped coarsely set aside to add to the filling later.

Cut the top off the zucchini and set aside. With a sharp knife carefully scoop out the inside.

Peel the potatoes, cut in half, and again in thirds.

Heat the oil in a large skillet, saute the beef and the onions until onions are soft.

Add the remaining ingredients, including the pulp from the tomatoes.

Cook on low heat until juices have absorbed and rice is cooked, about 15-20 minutes.

Fill the tomatoes and zucchini with the meat filling. Replace tops.

Place the vegetables snugly into the pan, filling in with the potatoes.

Sprinkle potatoes with salt and pepper.

Sprinkle all the vegetables with olive oil .

Cover with foil and bake in a 350 degree oven for 45 minutes to one hour. Remove foil and cook for 10 minutes more.
Recipe Notes
For a vegetarian dish: Omit the meat, and add 1 cup bulgar, or quinoa.
Note: To prepare ahead, filling can be made the day before and refrigerated.
Makes: 6 servings (allow 2 vegetables per person) Can easily be doubled.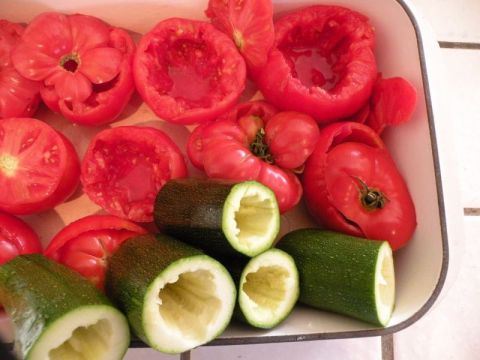 Need more instruction head over to the link below.
See Cooking Techniques  for making the stuffed tomatoes.
Enjoy our family recipe,
Mary
© 2010 – 2023, Mary Papoulias-Platis. All rights reserved.