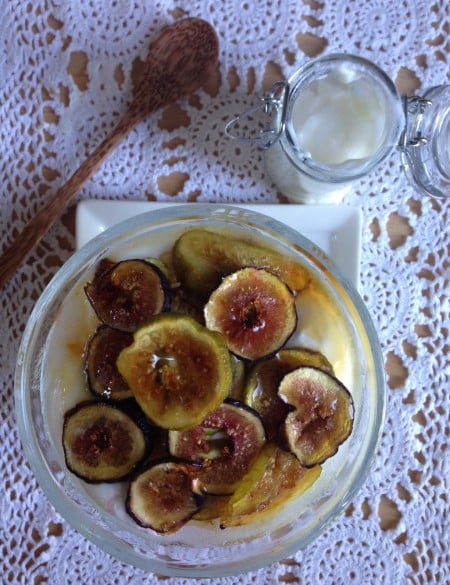 Figs chips are like candy! But fresh figs are another story. Once you start eating them fresh from a tree, they melt in your mouth with a sun-kissed flavor. I do grow my own figs in my backyard, but I do visit my local famer's market for additional varieties to eat and cook with. Add these fig chips to your dish, and your yogurt becomes a meal you'll never forget!
This homemade Greek yogurt recipe is very dear to me because, I grew up with a mother who made us her very own yogurt. In the early morning, as we stumbled out of bed, we had it freshly prepared and packed in small jars, ready for our busy schedule.  A dollop of honey or fresh berries and we were on our way to start our school day. With those fond memories growing up and with such a caring mom, today I try and incorporate yogurt into every meal if I can. Use fresh yogurt as a topping for your baked potatoes, as a dressing for your salad, and a nice refreshing dessert.  But for those of you who know me, my creative juices led me to my recipe of baking figs into chips! Simple fast and ready to top any dish or alone as a snack. Enjoy!
Fig Facts to Devour:
Just 3-5 dried figs (1/4 cup) or fresh (1/2 cup) California Figs count as one fruit serving.
They are rich in antioxidants and rank higher in antioxidants than red wine and ta, well known for their polyphenols.
Figs are fat, sodium, and cholesterol-free.
Dried figs have 110 calories in (1/4) serving and fresh figs 120 calories (1/2 cup)serving.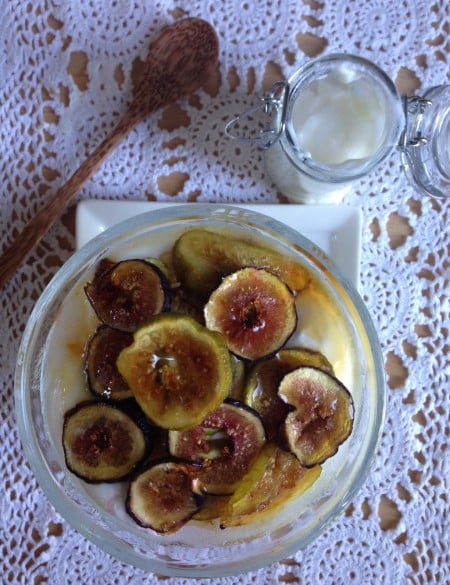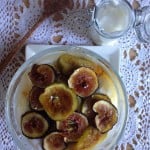 Homemade Greek Yogurt with Fig Chips
This quick method of roasting thinly sliced figs brings you a quick crispy fragrant treat, especially over homemade Greek yogurt. Add a touch of honey for sweetness.
Ingredients
Figs
4

medium figs - I used 1/2 green and 1/2 black
Homemade Yogurt
1

quart

4 cups of whole, low fat or fat -free milk

2

tablespoons

of plain full fat yogurt with active and live cultures

2/3

cup

fat-free powdered milk, use only if not using whole milk

Honey for topping
Instructions
Prepare the yogurt and have it ready for the figs.
Yogurt
In a heavy-bottom saucepan, bring the milk and powdered milk to a slow boil, constantly whisking until it reaches 180-190 for about 10 minutes.

Remove from the heat and allow to cool to 115-120 degrees.

Place 2 tablespoons of yogurt in a small bowl and add 2 tablespoons of milk and stir until well blended.

Add the starter to the milk and stir until well incorporated.

Reserve one cup for your next batch. Refrigerate.

Place in a large canning jar, container, or insulated bottle.

Cover tightly and leave out in a warm place for 4-6 hours or until yogurt has thickened.

Once thickened you can place it in individual cups and refrigerate.

For thicker Greek yogurt: Strain the yogurt using cheesecloth over a bowl to catch excess water.
Fig Chips
Preheat oven to 425 degrees.

Using a chef's knife, thinly slice the figs about 1/8 -1/4 inch thick.

Place the figs on a lined sheet tray.

Bake until figs are dry, about 5-10 minutes. Let figs cool on tray.

Add the fig chips on top and drizzle with honey.

Makes 24 cups.
You may also enjoy my other fig recipes:
Figs Wrapped in Phyllo with Orange Honey Syrup
Greek Fig and Citrus Jam Sikko
Stay Healthy,
Mary 
© 2013 – 2022, Mary Papoulias-Platis. All rights reserved.