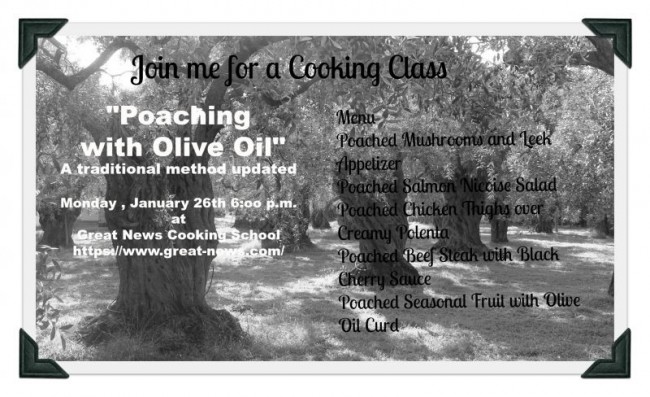 Please join me for  a cooking class at Great News Cooking School in Pacific Beach (1788 Garnet Ave.) on January 26th at 6:00 p.m. My class will be on "Poaching with Olive Oil". This is the second class from our book, "Cooking Techniques and Recipes with Olive Oil". Also included is an olive oil tasting at the beginning of class from the large selection of fine oils at Great News.
What is Poaching?
Poaching is a very old method of slow cooking which comes from the French word "pouch" of gently cooked egg white which surrounds the egg yolk when poached. It always includes some type of liquid from water to wine. I'm sure you have poached eggs, which is the most common and popular dish for breakfast. But it's time to experiment with olive oil, flavored or not, because it imparts a tremendous amount of flavor on your choice of ingredients.
Cooking times vary according to the size and thickness of the item you are poaching, so occasionally test it for doneness. Try and keep the oil at a slow simmer, because it doesn't need a higher temperature. With an extra virgin olive oil the temperatures for poaching range between 160-180 degrees. It is a slower method but the results are so worth it!
Poaching is a very easy method and can be used with many meats, poultry, fish, even fruits and vegetables.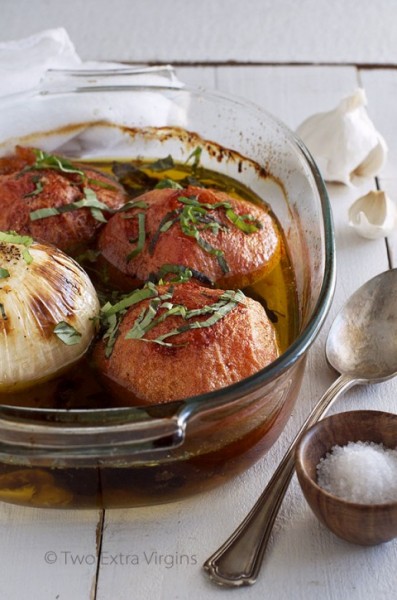 Tips when poaching:
Use an instant thermometer to bring oil to temperature.
Use a straight sided skillet to prevent spillage.
Items should have plenty of room to cook, not touching.
Season with salt and pepper before placing in oil.
Add aromatics and spices to the cold oil before heating.
When removing place on paper towel to drain any excess oil.
Use leftover oil for a dressing or sauce. (reserve oil in refrig. only with veggies)
To Register for the class, click here.
See you in class,
Mary

© 2015, Mary Papoulias-Platis. All rights reserved.