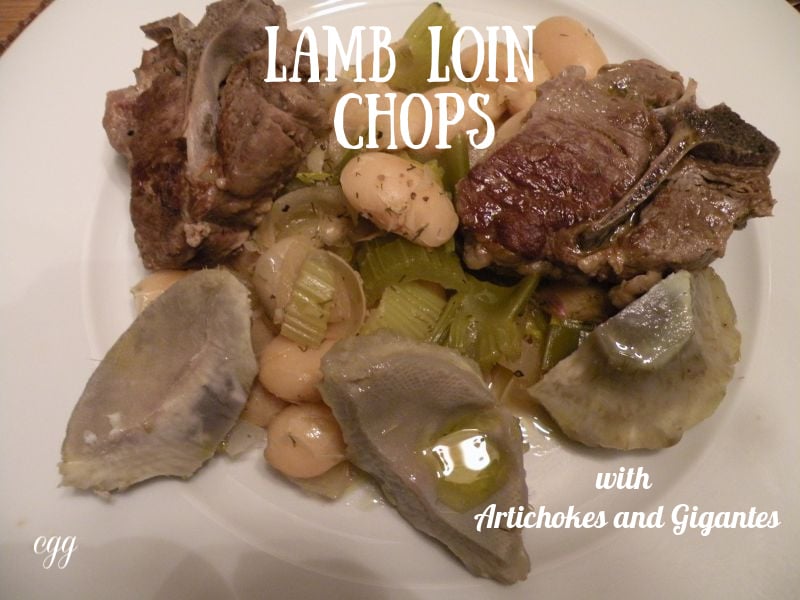 My lamb stew with artichokes served with gigante beans is a traditional dinner during the Spring and Easter celebrations.  The lamb chops can be substituted for a leg of lamb, boneless lamb leg or pork shoulder.
Spring artichokes are commonly used, and I have added gigante beans, also called broad beans, for a healthier choice in balancing the meal.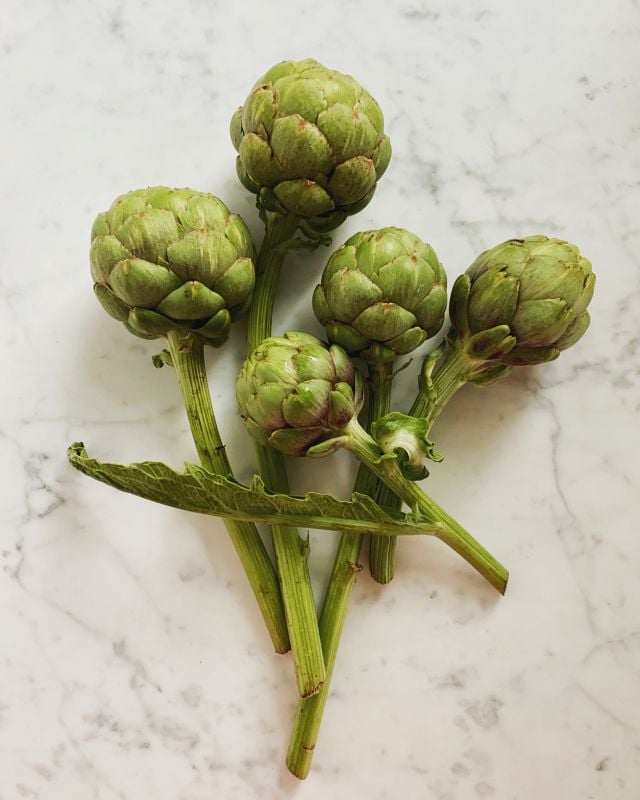 Gigante are larger, similar to the lima beans. I find them creamier. They are normally baked in the oven with a tomato sauce and oregano and garlic called "plaki". Plan on pre-soaking the beans the night before you start this recipe.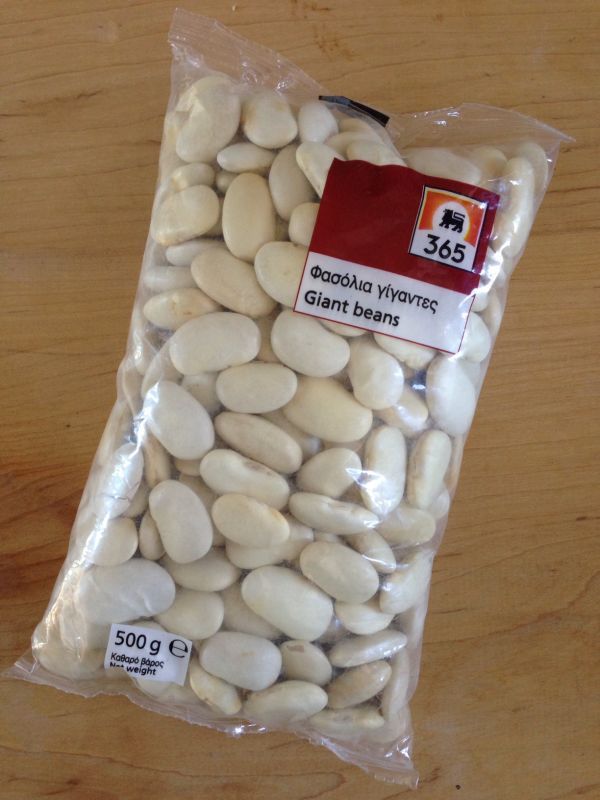 If you can't fine them locally, I bought these on Amazon.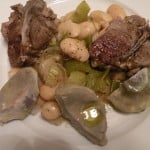 Lamb Stew with Artichokes
This simple Greek dish is made with quick cooking lamb chops, artichokes, and pre-cooked beans.
Ingredients
12-16

lamb chops

6-8

artichokes, cleaned and cooked or 1 package frozen, defrosted

6

stalks celery, chopped

2

onions, chopped

1/2

cup

lemon juice

1/2

cup

white wine

1

tsp.

dill

3

cups

water

1/2

pound

Gignate Greek beans, or canned large white beans

1

tbls.

tomato paste

salt and pepper
Instructions
Soak beans in a bowl of water to soak overnight. (substitute canned white beans for less time- no soaking)

The next day drain the beans, add water to cover, and bring them to a boil in a medium saucepan. Reduce heat to medium-low.

Cook until tender, about 45 minutes. Drain and cool.

While the beans are cooking, place trimmed fresh artichokes in a large pot with water, bring to a boil and reduce to a simmer and cook until tender.

Remove and drain. Cut artichokes in half. Clean the artichoke by removing thistle and leaves.(see photo)

If using frozen artichokes, defrost.

Brown both side of lamb chops in a deep skillet or dutch oven.

Remove chops and in the same skillet saute onions and celery.

Add the lamb chops, water, dill ,wine, water and beans.

Cook for 45 minutes until chops are cooked. Remove chops.

Add artichokes and reduce sauce until thickened. Approx. 15 minutes.

Place the bean and vegetable mixture on the plate and add the chops.
Recipe Notes
Gigante Beans can be found at the Greek International Market. This can be served with rice, quinoa, bulgar, or grain of your choice. Two cans of beans, drained may be substituted or beans of your choice. Frozen artichokes can be substituted.
These Gigante beans (also called broad beans) can be made as a stew vegetarian style, brown the vegetable mixture, then add the rest of the ingredients, cooked artichokes and simmer until sauce becomes thick. Serve over your favorite rice, quinoa, lentils, or bulgur.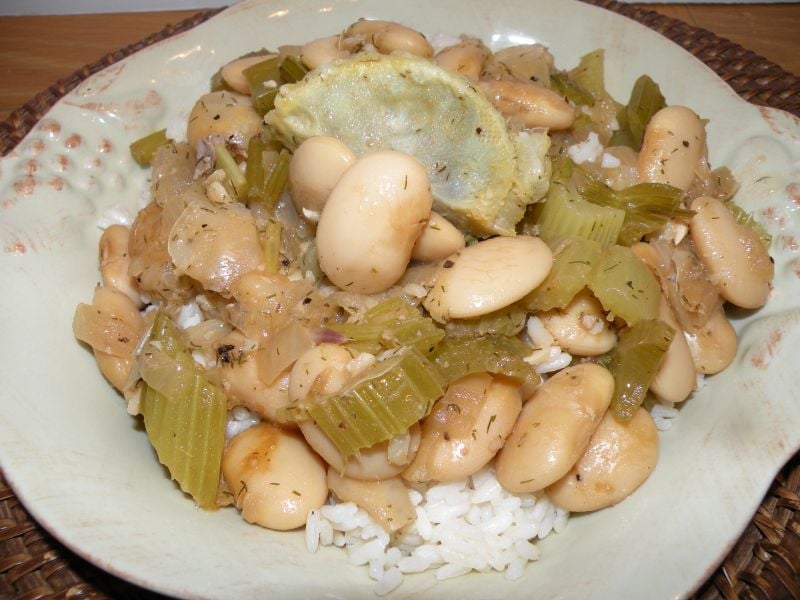 You may also enjoy making my Grilled Lamb Chops with Greens.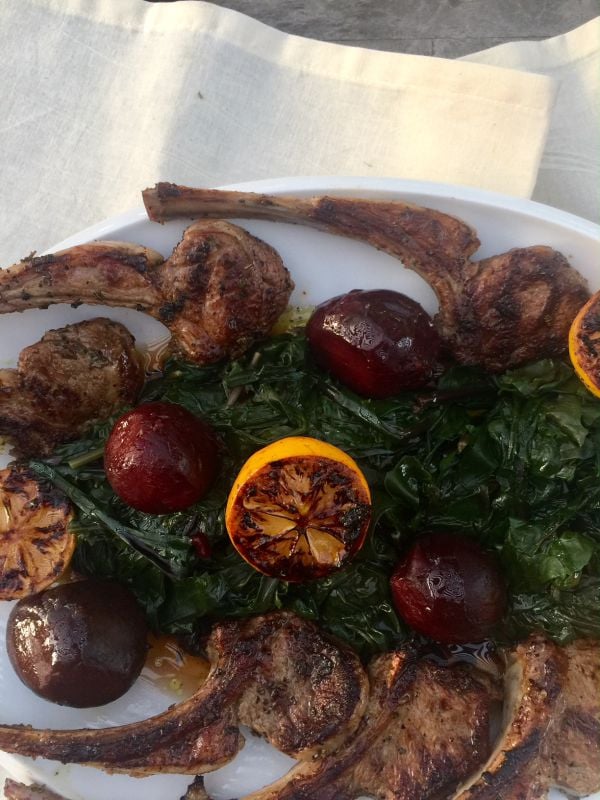 Try our famous Lamb Shanks with Rosemary and Orzo recipe from the County Fair!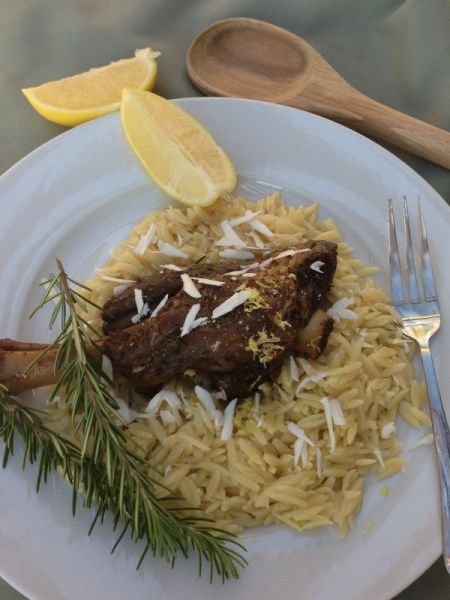 Kali Orexi!
Mary 
© 2012 – 2023, Mary Papoulias-Platis. All rights reserved.