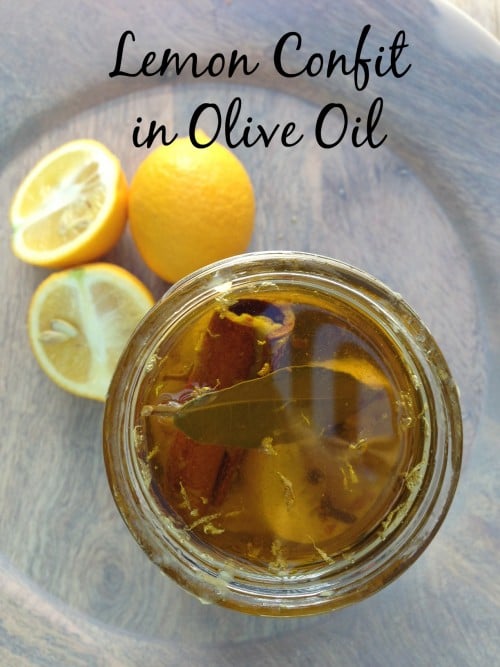 I have several trees in my yard and what better way to celebrate than to make preserved lemons. My Lemon Confit in extra virgin olive oil, is a pretty odd way to celebrate-right? But it's two-fold. My Meyer tree is over-producing this year and I have to preserve them for future meals. Not that I'm unappreciative, but I need to do something with all these lemons.  So confit is the answer. This is best made with Meyer lemons, which have thin-skin, are mildly acidic for a quicker cooking time. But regular lemons can also be used. I decided to use them in this olive oil , and will later preserve my larger lemons in salt.  Preserved Lemons in Salt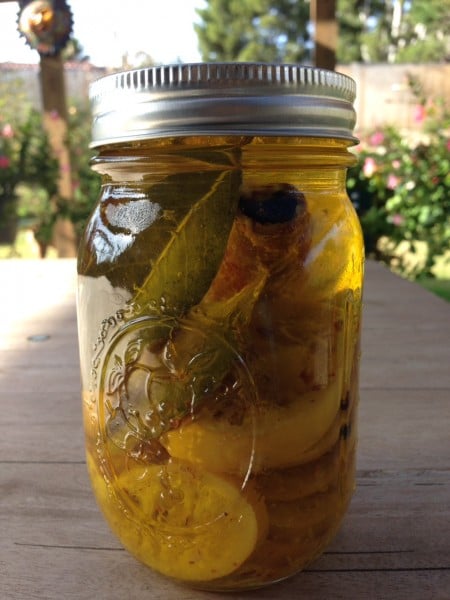 Let me explain what is confit.
Confit is an old French term used for the preserving foods in a liquid, whether it be oil or fat. It can be use in so many ways. I've listed just a few ways you can incorporate them into your daily dishes. Need a reason to add lemon trees to your property.  This may hopefully help you make that decision.
Place a bowl of these lemons on your appetizer tray, and let your guests use with cheese.
Use on broiled fish, lamb or pork as a topping.
Add to your homemade salad dressing, by blending it in the blender for a smooth sauce.
Top on any dessert, such as fresh fruit, pound cakes, and ice cream.
Use to flavor any roasted vegetable, try asparagus, green beans, or potatoes.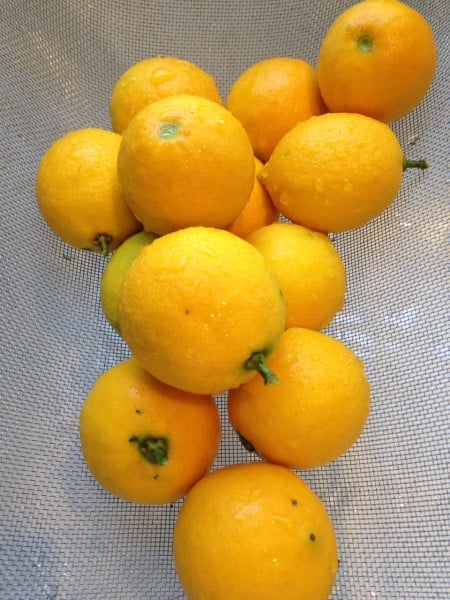 Always start with fresh clean lemons.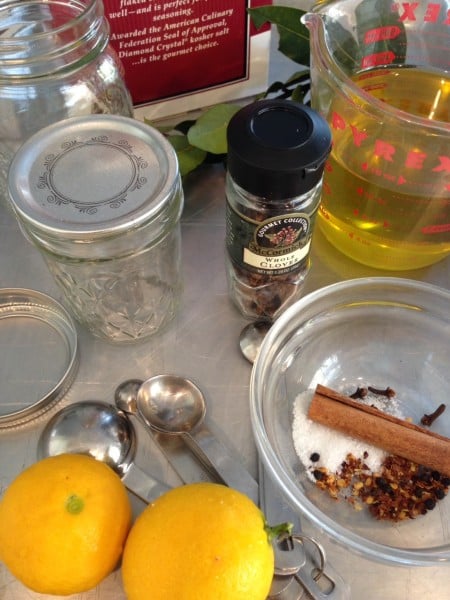 I'm a big believer in setting up your ingredients before hand. In the culinary world that term is "mise en place".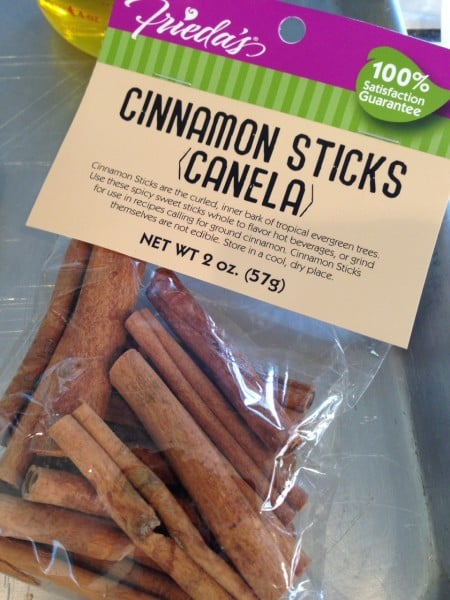 Make sure all your spices are fresh! These cinnamon sticks just perfumed my entire kitchen when I opened them. Sent to me from Frieda's Specialty Produce, please check out their site and all they have available.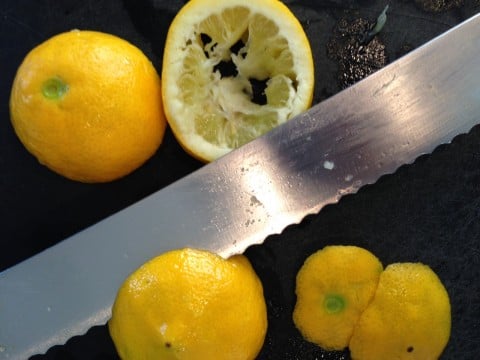 Using a serrated knife helps in slicing the lemons, crosswise. The lemon was placed on the cutting board , open-end down for safety and ease of cutting.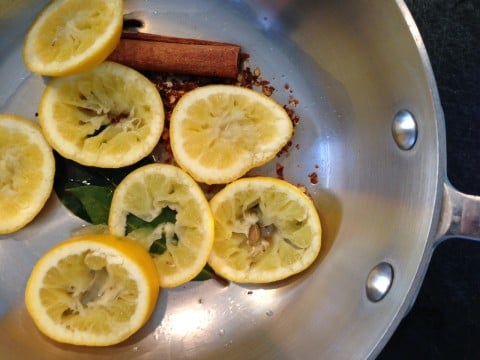 Place everything in your pot and bring to a simmer. Make sure your pot in large enough for the oil not to spill-over.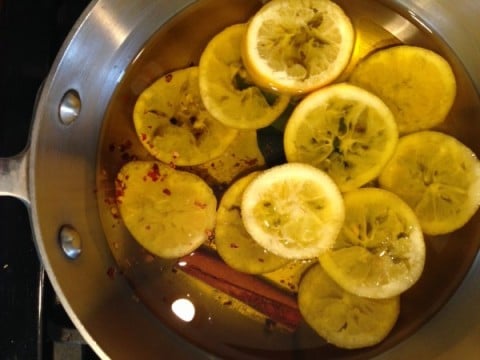 Watch this carefully at the beginning , while it comes up to a slow-boil before reducing it to a simmer for 15 minutes. Don't leave the room. Gently stir to combine flavors. Remove from the heat and cool. Place in a sterilized jar and keep in the refrigerator.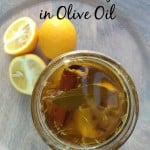 Lemon Confit in Extra Virgin Olive Oil
Lemon confit is a way to preserve your lemons. Add this flavored oil to many of your dishes for additional flavor. Lemons may also be used as a topping to your favorite grilled meat. Add finely chopped lemons to grain dishes, risottos and salads.
Ingredients
2

regular lemons or 3 Meyer lemons

1 1/2

cups

extra-virgin olive oil

1

cinnamon stick - 2" long

4

whole cloves

1/4

teaspoon

peppercorns

1/2

teaspoon

kosher salt

1/2

teaspoon

red pepper flakes, crushed

crushed

2

bay leaves
Instructions
Halve lemons crosswise. Strain and squeeze their juice into a bowl. Set aside.

Thinly slice juiced lemons crosswise and transfer lemons to a 1 quart sauce pan.

Add reserved juice, and remaining ingredients.

Over medium heat bring mixture to a low boil, reduce to a simmer.

Cook for 15 minutes, stirring several times..

Remove from heat, and let cool.

Transfer lemon confit to a sterilized jar, cover and refrigerate.

Confit will keep refrigerated up to 2 weeks.
Definition of confit : (con-fee) is a generic term for various kinds of food that have been cooked in oil or sugar water (syrup). Sealed and stored in a cool, dark place, confit can last for several months. Confit ("prepared") is one of the oldest ways to preserve food, and is a speciality of southwestern France.(wikipedia)
Many more olive oil recipes can be found in my cookbook, "Cooking Techniques with Olive Oil"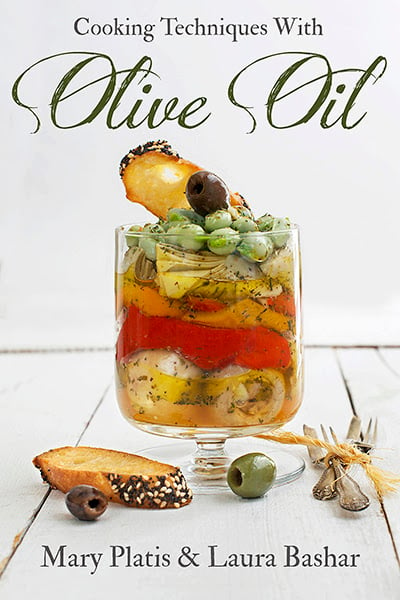 Enjoy your preserved lemons!
Mary 
© 2014 – 2022, Mary Papoulias-Platis. All rights reserved.