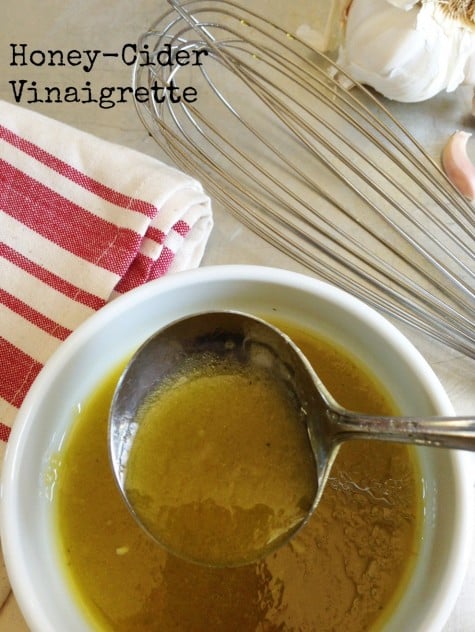 One healthy vinaigrette to dress your salad or fresh vegetables with is a homemade honey-cider vinaigrette.  This dressing is a good combination of a quality extra-virgin olive oil, an acid, salt and pepper. It's important to use fresh quality ingredients since there are so few. The technique is important so your dressing becomes emulsified, thickened and blended. The oil and acid won't come together by just stirring. When selecting acids they vary in strengths, so you need to experiment with the proportions.
Here are ways to vary the sauce:
Acids can include lemons, limes, vinegars, buttermilk
Add shallots, onion, red onion
Add mustards, soy sauce, cheeses, ginger, fresh herbs, anchovies
 This recipe is made with basic pantry ingredients.
I keep these on hand for this quick salad dressing.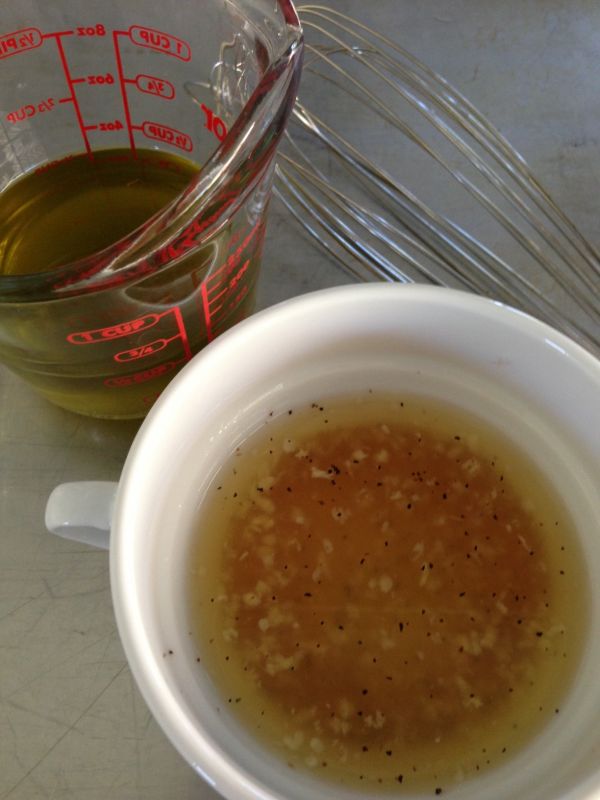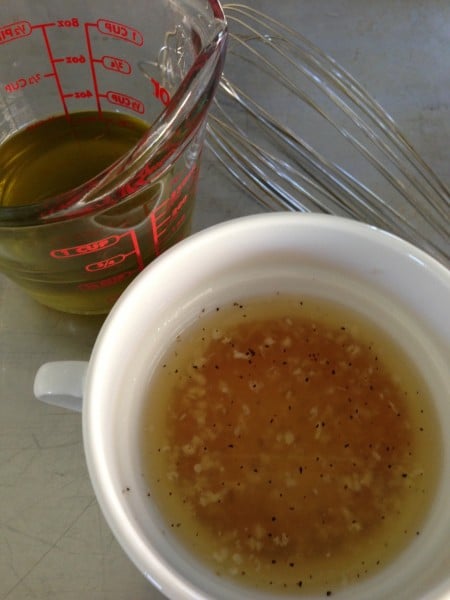 Whisk the garlic, vinegar, honey and pepper first. Blend well.
Slowly add the extra-virgin olive oil as you blend.
How To Make a Honey Cider Vinaigrette -Technique Tuesday
Our number #1 salad vinaigrette for our salads and vegetables. Make sure you double this for a large crowd or for extra.
Author:
Mary Papoulias-Platis
Recipe type:
Salad Vinaigrette
Ingredients
1-3 garlic cloves, minced
3 tablespoons apple-cider vinegar
1 tablespoon honey
pinch of pepper
½ cup extra-virgin olive oil
Instructions
In a small bowl add garlic, vinegar, honey and pepper.
Whisk together until blended by hand or in the blender.
Slowly add the olive oil, whisking or blending constantly until the sauce is emulsified.
The oil and other ingredients should be completely blended.
© 2013 – 2014, Mary Papoulias-Platis. All rights reserved.