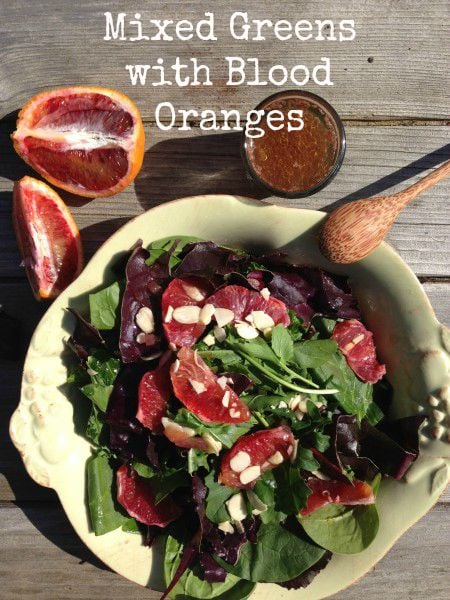 What do you do when you have eaten your way through the weekend mindlessly (which we all do once in a while) and now could use some serious nutrition?
This salad is a combination of spinach, beet greens,and arugula; a true Popeye salad!  The warm pomegranate vinaigrette lightly dresses the salad with the addition of blood oranges and almonds. These greens have the highest nutrient-density which provides your body with phytochemicals, antioxidants,vitamins and minerals. Highest on the list of these dark leafy greens are;  kale, mustard greens, beet greens,collard greens, Swiss chard, watercress, spinach and arugula. You can purchase these greens at any supermarket from Cut 'N Clean Greens washed, cut and ready to go!

Mixed Greens, Blood Oranges with Warm Pomegranate Vinaigrette
This warm but crispy hearty green salad is satisfying for lunch or dinner. It's nutritional value will definitely be a pick me up to any meal.
Author:
Mary Papoulias-Platis
Ingredients
Vinaigrette
1 tablespoon tapioca or arrowroot
⅓ cup vegetable stock
1 tablespoon red onion, minced
¼ cup red wine vinegar
¼ cup pomegranate juice
¼ cup walnut oil (adds a big punch)
Salad
1 8oz. package of spinach and beet greens
or
2 cups arugula
2 cups spinach
2 cups beet greens
2 -3 blood orange sections
½ cup slivered almonds
Instructions
Greens
Wash and dry all the greens. Refrigerate until ready to use.
Tear greens into small pieces. Mix into a large bowl.
Toss with warm vinaigrette and place on individual plates.
Place blood orange segments on each plate.
Sprinkle with almonds.
Vinaigrette
Combine the tapioca or arrowroot with a little stock to make a slurry.
Place the remaining stock in a small saucepan, and saute the red onion until soft.
Add the slurry and continue cooking on low until thickened.
Stir in the vinegar, and juice. Whisk in the oil.
Keep warm.
 Save time and buy these greens pre-packaged and ready to eat from your local grocer.
Disclosure: I was not paid for these produce. Cut 'N Clean Greens did provide the greens for this post.
© 2013 – 2019, Mary Papoulias-Platis. All rights reserved.