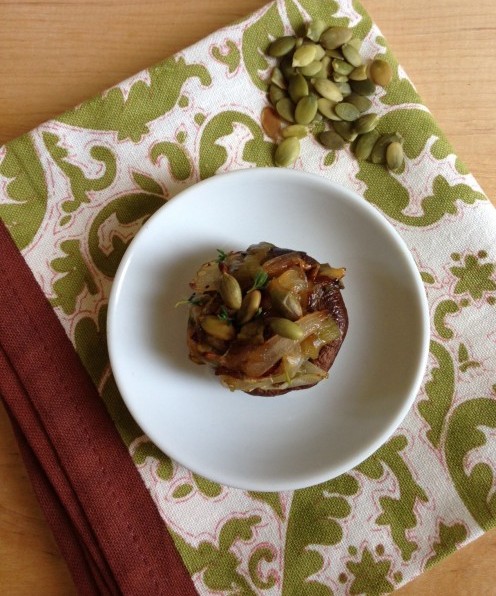 Nothing beats the smell of warm and earthy mushroom caps stuffed with hatch chiles from the oven. Often called umami (fifth taste) mushrooms have a rich-tasty profile that can be added to stocks, soups, and sauces. The Early Greeks and Romans are thought to be the first cultivators of mushrooms, using them in their cuisines. Today you may find thousands of varieties of  this desirable fungus. What you see today in the markets are the cultivated types. For the more exotic ones reach for the wild mushrooms such as chantrelle, enoki, morel. shitake. In this recipe I'm used the common baby bella mushroom .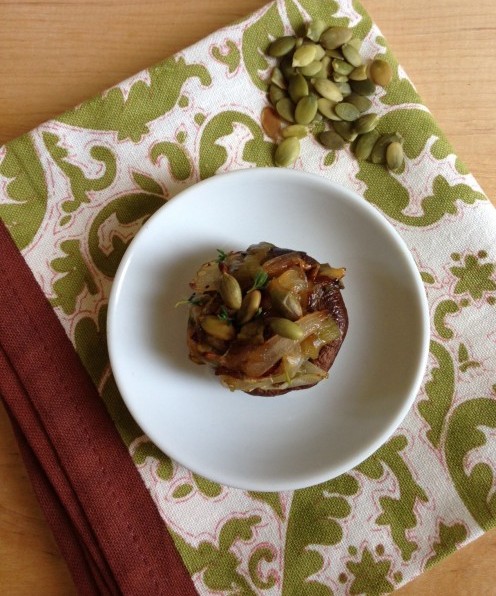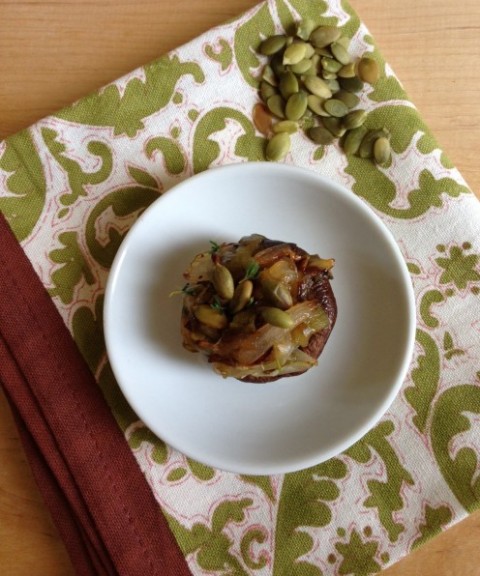 As for Hatch chiles, they can be found growing in the New Mexico region for a very short time during the summer months. Because of the unique weather conditions the chiles develop a very unique flavor. Hatch Chiles have a meaty flesh and mild-medium heat making them ideal for use in Chile Con Queso, Chile Rellenos, and Chile Verde. But, don't stop there…try roasting and using them in salads, soups, stews, dips, and sandwiches.  Go to Melissa's Produce for more information about these special chiles.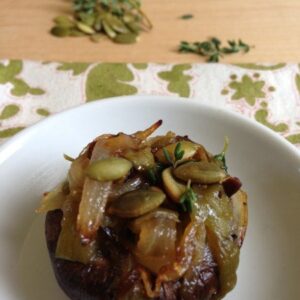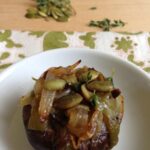 Mushroom Caps Stuffed with Hatch Chiles
These stuffed mushroom caps will pop in your mouth, with a mild kick of hatch chiles and caramelized onions. Serve at any dinner or party they always make a great hit!
Ingredients
24

baby mushrooms, cleaned and stem removed

6

cups

thinly sliced onions

3

tablespoons

butter or extra virgin olive oil

1

tablespoon

chopped thyme

salt and pepper to taste

1/2

cup

roasted hatch chiles, chopped

1/4

cup

toasted pepitas
Instructions
Filling
In a deep skillet, add butter or oil and cook the sliced onions, thyme, salt and pepper until golden. This may take up to 45 minutes.

Add the hatch chiles during the last 5 minutes of cooking.

Stir in the toasted nuts.
Preparing the Mushrooms
Preheat oven to 425 degrees.

Wash and clean the mushrooms.

Remove the stem.

Place stem side down a lined sheet pan and cook for 5 minutes.

Turn mushrooms stem side up.

Divide the filling among the mushrooms.

Bake 10 minutes until heated through.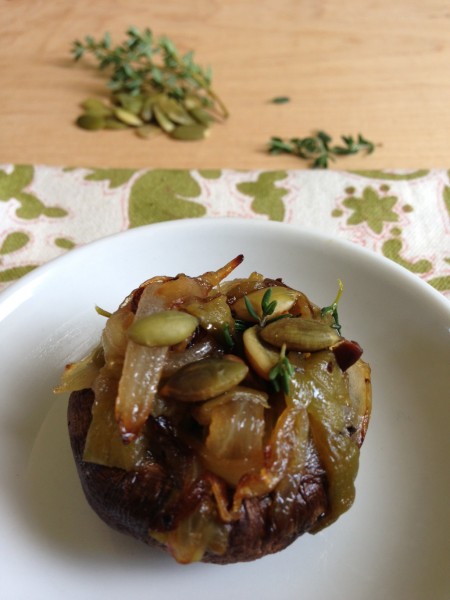 Mushrooms are a great replacement for meat.  Exploring with all the varieties will help you add more flavor and texture to your dishes. Mushrooms are a fungus not a real vegetable. Often, the deeper the mushrooms' color, the more umami it brings to the table. They contain a variety of powerful phytochemicals and have been linked to decreased risk of chronic diseases, especially cancer.
The more mushroom umami you add to a dish, the more intense flavor it imparts. Here are a few suggestions~
beans, seasoned with herbs and lemon juice

stock and sauces for more flavor
add to vegetable based soups
scrambled eggs
stews with root vegetables
spinach salad
risotto or rice dishes
pasta sauces and pasta
Try this delicious appetizer and share with your family and friends!
Mary
© 2013 – 2022, Mary Papoulias-Platis. All rights reserved.