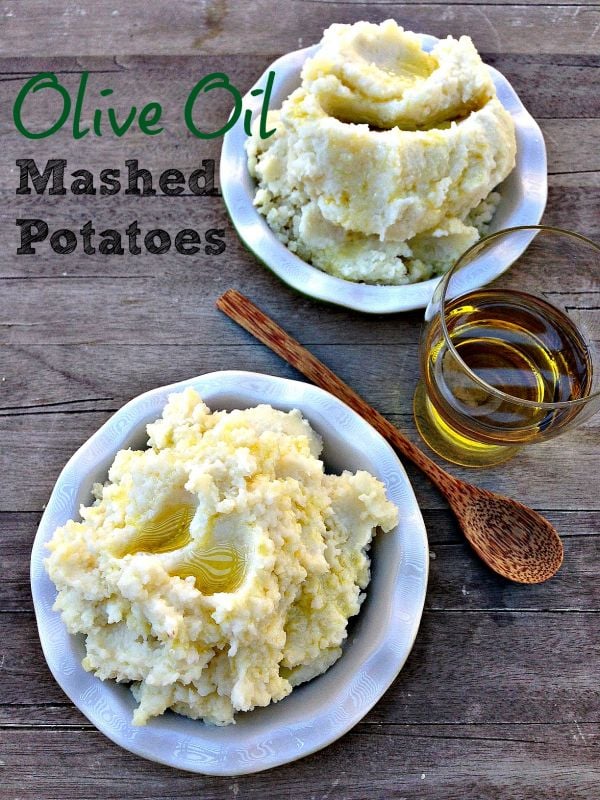 As I began to search for my standard Thanksgiving recipes, I hadn't realized how many of our dishes had been passed down from our family. As I gathered them together, one thing I noticed was missing was my Olive Oil Mashed Potato recipe. I don't usually use a recipe for mashed potatoes but they are a must-have on our table every year.  The memory of making them takes me back to my mom's kitchen when butter wasn't present. Growing up I always thought it was strange not having one of those butter dishes, all my friends had in their homes. Well, guess what? Mom was right. Her mashed potatoes always had olive oil, salt and pepper and they were memorable! A basic recipe.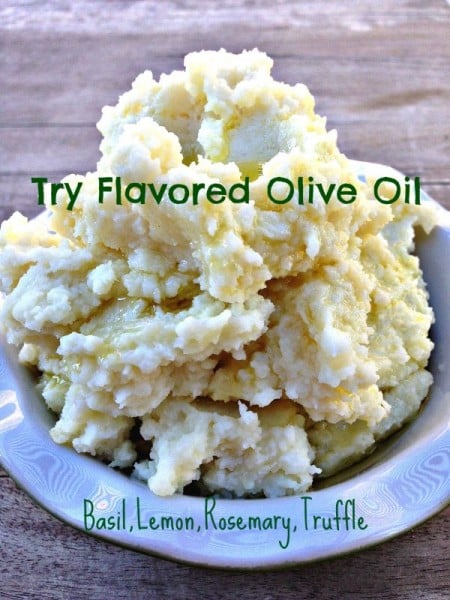 After taking the trip to Idaho, I actually learned what makes a good mash potato. And it 's the Idaho russet potato. I have a few left from our trip and I can still smell their freshness – Idaho dirt!
My next step was to use olive oil instead of butter. I actually used so little oil compared to the amount I add when using butter. In this recipe I used an extra virgin olive oil. I happen to have a basil-flavored oil on hand and it added quite a lovely fragrance and fresh garden scent to the dish. Want to take it a step further, you can use a small amount of truffle oil – heaven.
Best of all, substituting olive oil for the butter brings a more healthy recipe to your table. I'm not down on butter, I love butter too!  But why not? Olive oil is rich in antioxidants and polyphenols. A perfect combination for potatoes.
Here are a few more helpful tips to make that perfect mash~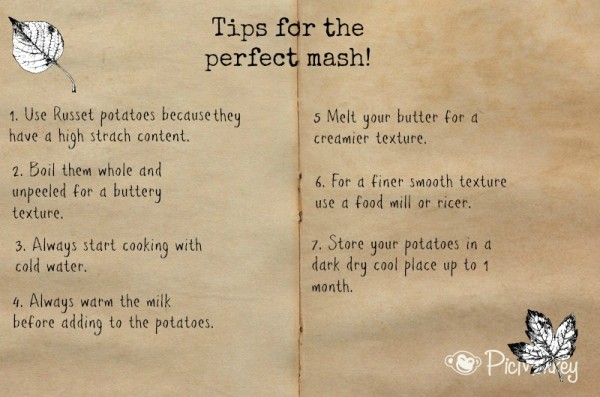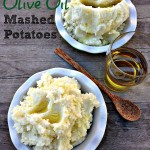 Olive Oil Mashed Potatoes
Substituting olive oil on your potatoes is a more healthy alternative, as well as a mouthful of flavorful goodness. Try using a flavored oil such as lemon, rosemary, or truffle for a new twist!
Ingredients
2

pounds

russet potatoes

1/2

cup

extra virgin olive oil or flavored oil

1

cup

warm half and half

1 1/2

teaspoons

salt

pepper to taste
Instructions
Place potatoes in a large pot and cover with 1 -inch cold water. Bring to a boil and reduce heat to simmer until potatoes are tender about 20-25 minutes. With a paring knife test potatoes.

Peel potatoes while hot.

Cut into large chunks and use a hand masher or food mill to press.

Add the olive oil , salt, and pepper. Add the milk.

Serve warm in a pre-warmed bowl or crock pot.
Recipe Notes
Tip: Keep your mashed potatoes in a glass bowl over simmering water for up to 2 hours, or place the potatoes in a warm crock pot.
Here is my version of my mashed potatoes for your Thanksgiving table, give it a try!  By using flavored oils such as rosemary, basil, lemon you can have your own signature dish!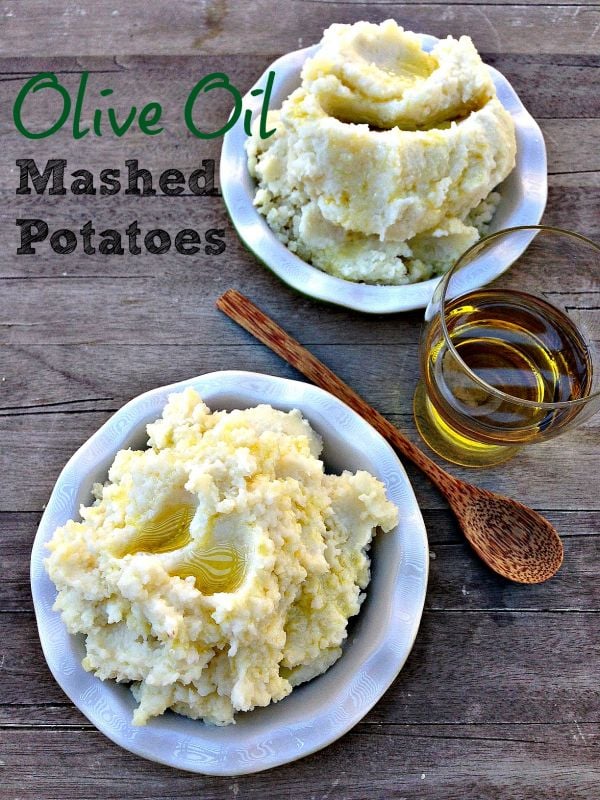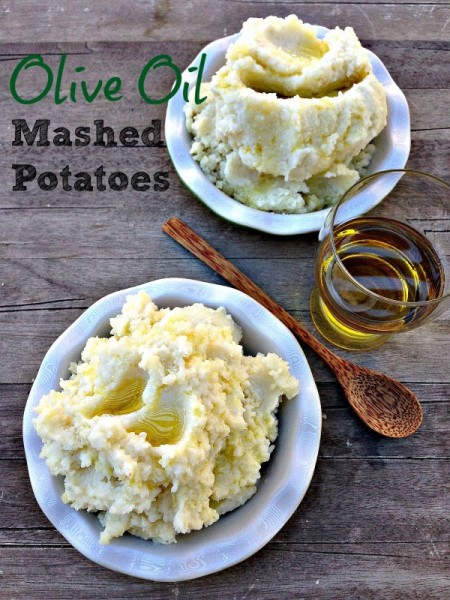 My last tip: Keep your mashed potatoes in a glass bowl over simmering water for up to 2 hours, or place the potatoes in a warm crock pot.
Greek love their potatoes, here are a few of my favorite dishes!
Greek Roasted Potatoes with Gremolata Sauce
Greek Potato Salad with Feta and Mint
Heirloom Tomato Salad with Potatoes and Olives
Enjoy any of these potato dishes for your summer bash!
Mary 
© 2014 – 2022, Mary Papoulias-Platis. All rights reserved.