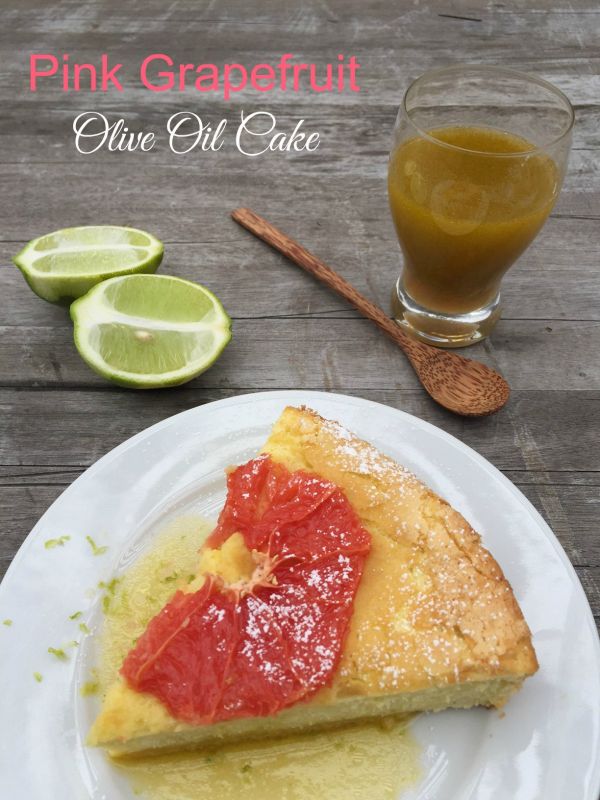 Pink Grapefruits are in season, so let's make a cake! Most cakes with fruits you an upside down method, which would work here beautifully. I prefer olive oil cakes with fruit, because of their unique flavors you achieve by using different varietals of EVOO. I decided on using the grapefruit as a topper, keeping it's pink color as bright as possible. This cake was amazingly light, with a  smooth mouthfeel from the addition of the olive oil. It also allowed the grapefruit to shine without it being overcooked.
My sister-in-law Vicky delivered these fully-rounded luscious grapefruit over the holidays and I can't get enough of them.  They are so fresh and juicy we have eaten them sliced in salads, quartered in our morning cereal, and now in our dessert. Check out my last post on a California Pink Grapefruit Salad.
What is it to "Supreme" a fruit?
Quite often you come across a method you are not familiar of such as in this recipe; To "supreme" the grapefruit. It's a slice of the fruit without the peel and pith, which is the white lining of the fruit. Here is a video from Joy of Cooking.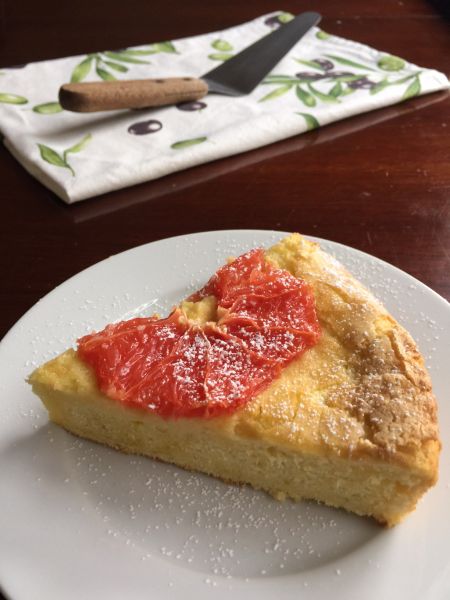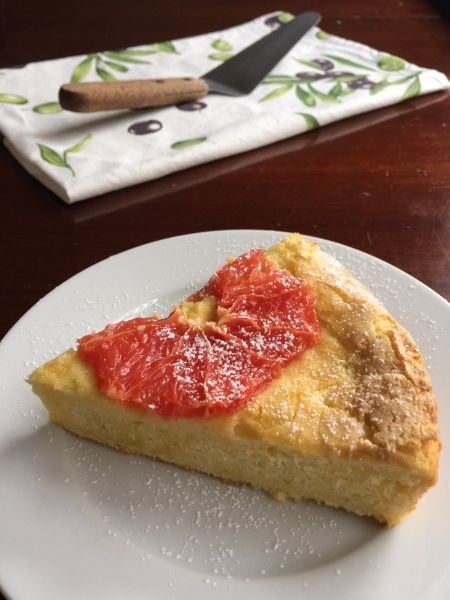 Grapefruits are packed with nutritional benefits.


They are rich in powerful fiber, potassium, and and vitamin C.
Full of phytochemicals including liminoids and lycopene, I call them powerballs!
When I experimented with cakes this cake could handle the tangy -sweet taste of the pink grapefruit. It's moist with a hint of olive oil at the end.  Adding the lime-dressing as a sauce it just knocked it out of the ballpark. The soft light texture of the cake absorbed the dressing, similar to dipping your crusty bread in a bowl of freshly pressed olive oil. Heaven!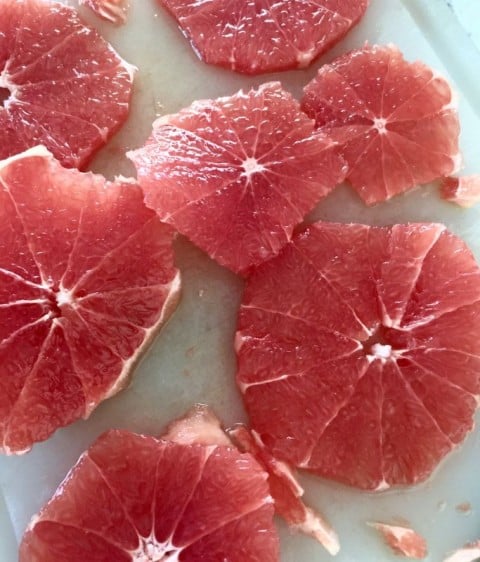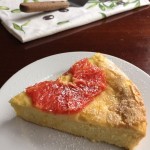 Pink Grapefruit Olive Oil Cake with Dressing
With an abundance of grapefruit you make cake! I love olive oil cakes, and this one is light and creamy with the addition of olive oil. I added a dressing which is optional. I say don't skip it!
Ingredients
3/4

cup

extra virgin olive oil

1-3

large limes

1

cup

cake flour, not self-rising

5

large eggs, separated, and 1 egg white removed

3/4

cup

plus 1 1/2 tablespoons sugar

1-2

pink grapefruit, supremed, sliced, and juice reserved for dressing.

9

springform pan, lined
Instructions
Preheat oven to 350°F. Cover springform pan with some oil, then line bottom with a round of parchment paper. Oil parchment.

Finely grate enough lime zest to measure 1 1/2 teaspoons and whisk together with flour. Halve the lime, then squeeze and reserve 1 1/2 tablespoons fresh lime juice.

Beat together yolks and 1/2 cup sugar in a large bowl with an electric mixer at high speed until thick and pale, about 3 minutes. Reduce speed to medium and add olive oil (3/4 cup) and reserved lime juice, beating until just combined (mixture may appear separated).

Using a wooden spoon, stir in flour mixture (do not beat) until just combined.

Beat egg whites (from 4 eggs) with 1/2 teaspoon salt in another large bowl with cleaned beaters at medium-high speed until foamy, then add 1/4 cup sugar a little at a time, beating, and continue to beat until egg whites just hold soft peaks, about 3 minutes.

Gently fold one third of whites into yolk mixture to lighten, then fold in remaining whites gently but thoroughly.

Transfer batter to springform pan and gently tap against work surface once or twice to release any air bubbles. Sprinkle top evenly with remaining 1 1/2 tablespoons sugar. Bake until puffed and golden and a wooden pick or skewer inserted in center of cake comes out clean, about 45 minutes.

While the cake is baking, supreme the grapefruit over a small bowl, catching the juices and reserving the juice for the dressing. Squeeze the remaining grapefruit with your hands, into the juice bowl. (see video above). Slice the grapefruit in 1/4 -inch thick rounds.

In the last 20 minutes, remove cake from oven and add the grapefruit slices, place back in the oven to continue cooking. Cool cake in pan on a rack 10 minutes, then run a thin knife around edge of pan and remove side of pan.

Cool cake to room temperature, about 1 1/4 hours. Remove bottom of pan and peel off parchment, then transfer cake to a serving plate. Dust lightly with powdered sugar, cut and serve with dressing.
Recipe Notes
This cake was adapted from Gourmet, 4-2006.
Pink Grapefruit Dressing
This is a simple vinaigrette that can be used to drizzle over this cake. Or take and add it to your grilled vegetables, or greens.
Ingredients
1/2

cup

extra virgin olive oil

1/4

cup

freshly squeezed pink grapefruit 9reserved from cake above)

1/2

fresh lime, zested

pinch of salt
Instructions
Zest the lime and set aside.

In a small container add the grapefruit juice, zest and salt. Give it quick whisk.

Slowly add the olive oil, until mixed.

Drizzle on each individual piece of cake.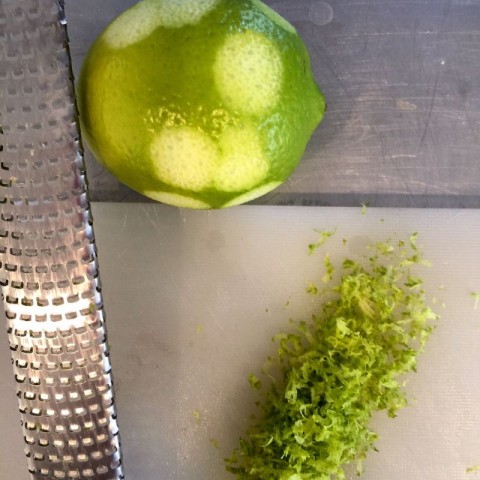 Zesting the lime is a wonderful flavor booster to the cake and dressing.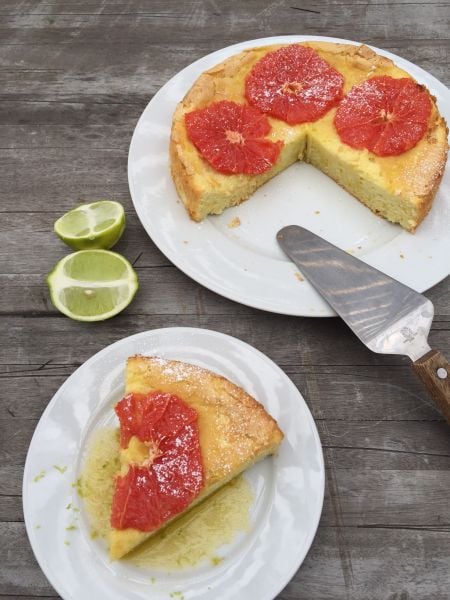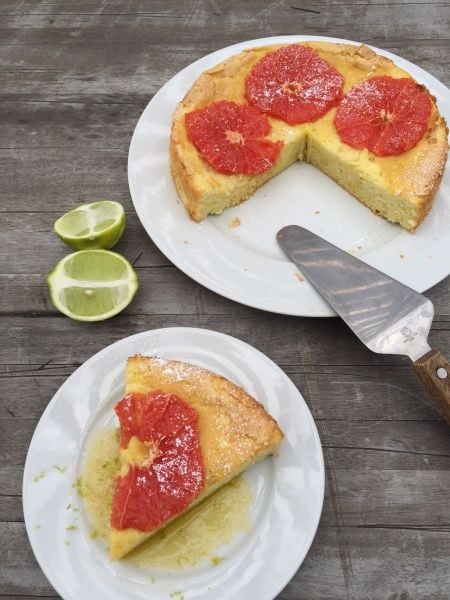 These grapefruit were so large I only needed one for the topping.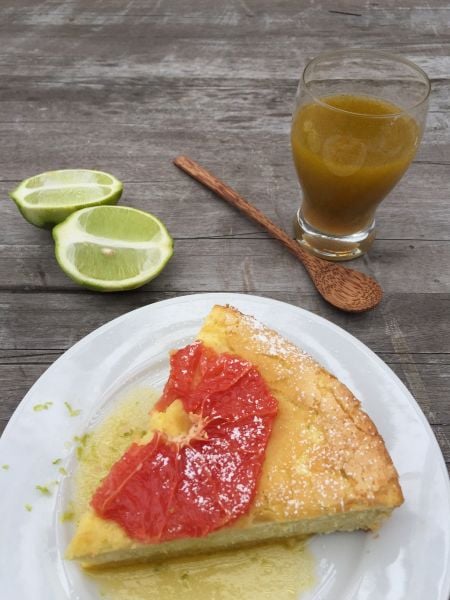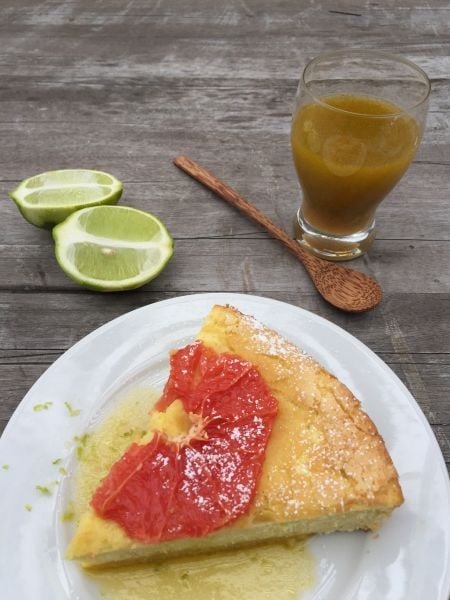 Simply plate the cake and add a small drizzle of the dressing for dipping!
Pink Grapefruit can be found in all stores, or take a trip to your local farmer's markets near you.
Here are a few more recipes to enjoy!
Grapefruit and Avocado Cabbage Slaw
California Pink Grapefruit Salad
Have a beautiful day,
Mary 
© 2016 – 2022, Mary Papoulias-Platis. All rights reserved.