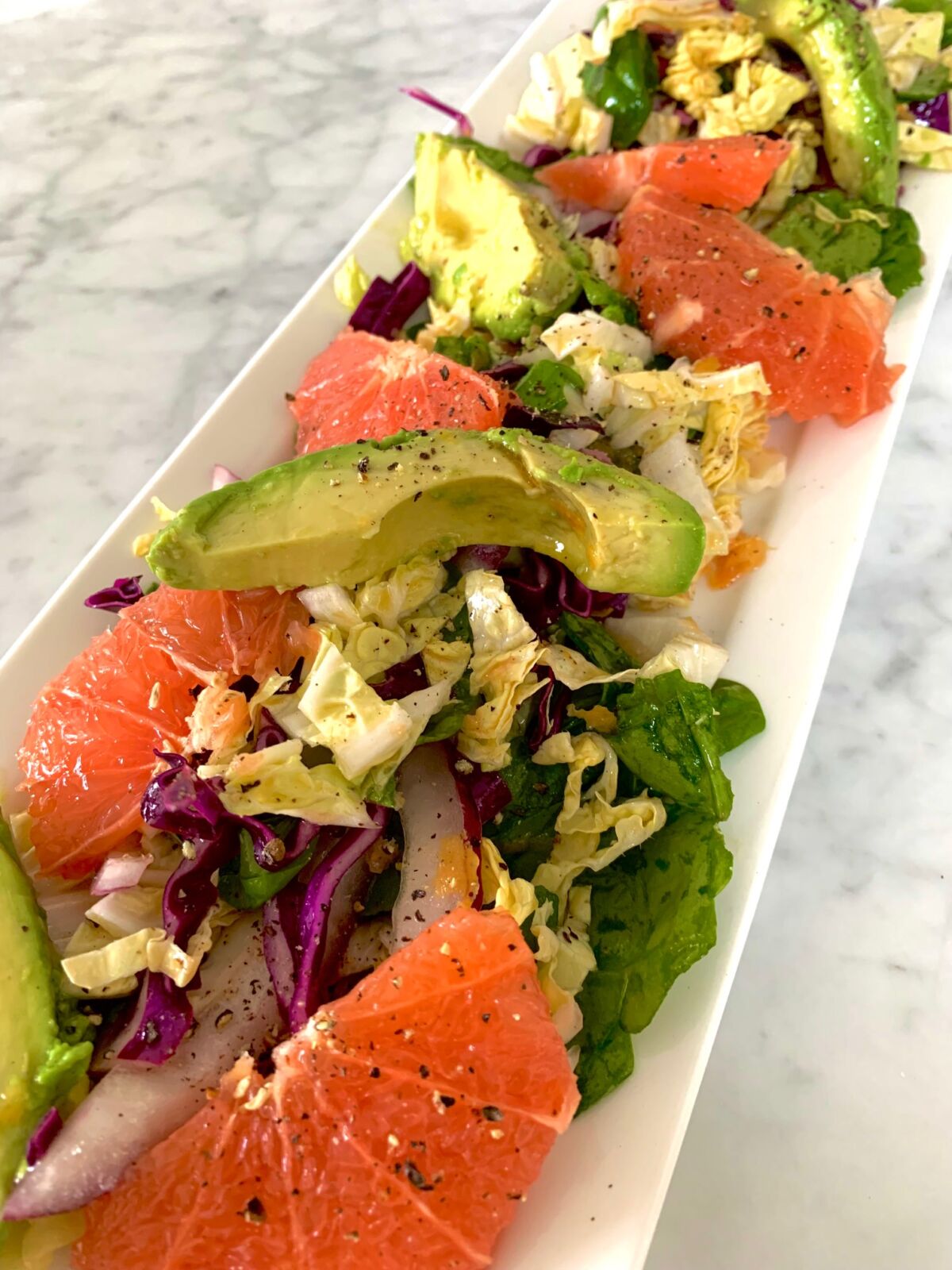 Let's just face it, I have had many salads in my life, but this Grapefruit and Avocado Cabbage Slaw in one of my new favorites. First of all, I love cabbages anyway I can get them. I love crisp cabbage leaves in a salad paired with a great dressing that softens and delivers a punch. The sesame oil in this recipe does just that! You won't be disappointed making this dish.
Look below and read the health benefits of this salad, I'm totally impressed!. In the past, I have made Cabbage Soup with Fresh Vegetable,  which I make monthly for pure health reasons. It really gives your body all the nutrients you need to get your energy back. And it's a crowd please. I grew up eating cabbage in our family and I have a few of our family recipes on my blog. Here are a few of my favorites: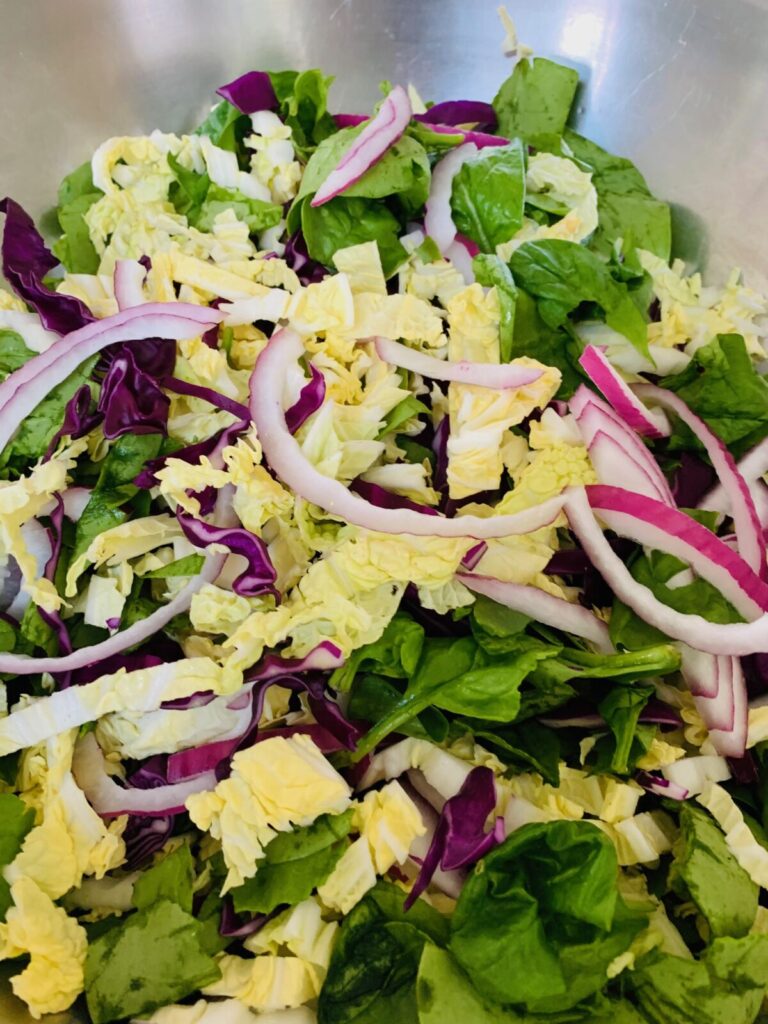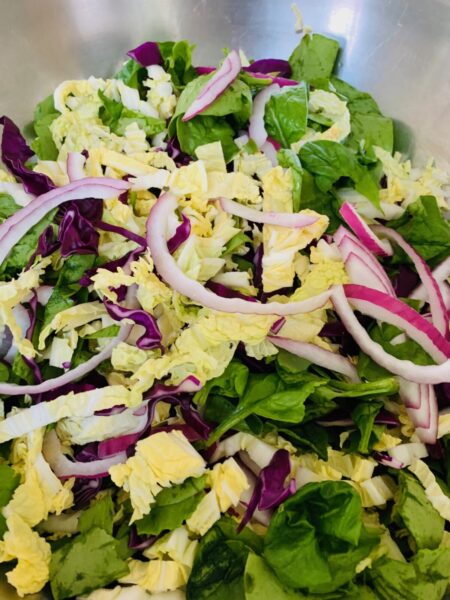 Cabbage has many health benefits, and even more so if you eat the vegetable raw, as you do in this salad.
Cabbage is nutrient-rich!
Packed with Vitamin C and K.
Helps with digestion, improves gut health.
May help in lowering blood pressure, cholesterol and inflammation.
And it's heart healthy!!!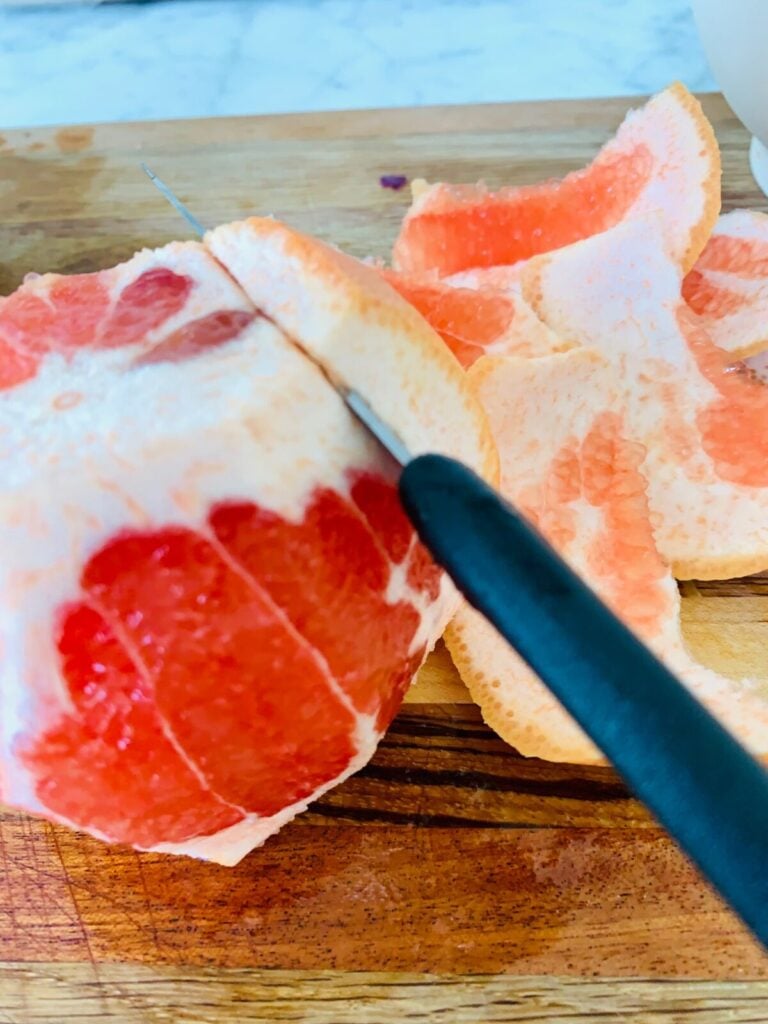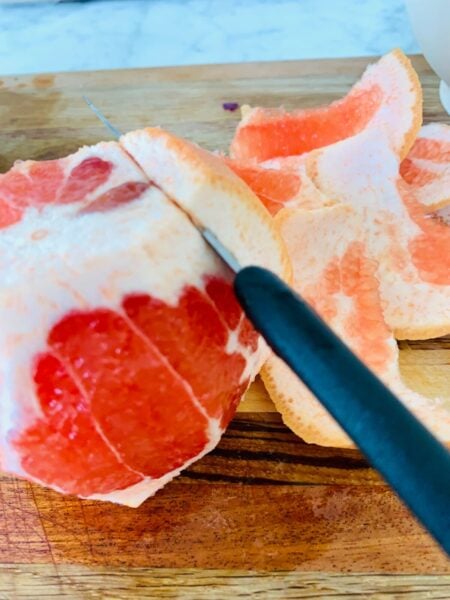 Peeling your grapefruit can be done in two ways. You can "supreme" by peeling as shown, then cutting the segments between the membranes. Or simply peel and slice as I did, then quartered.
It's your choice.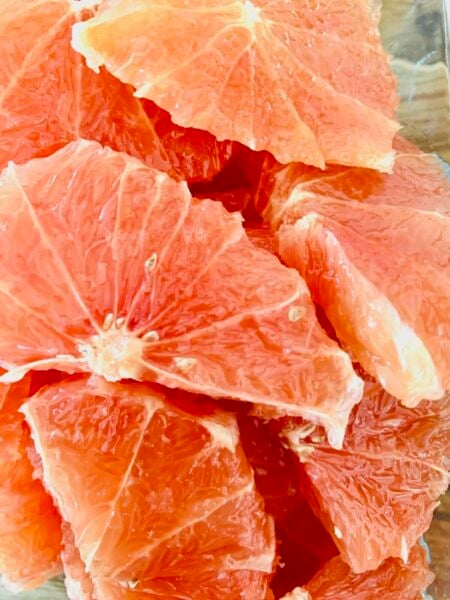 One trick to this salad looking so beautifully on your plate, whether you place it in a large bowl or individual plates, toss the greens with the dressing, reserving a little for the fruit and carefully topping the salad with the avocado and grapefruit. I also added freshly ground pepper on top!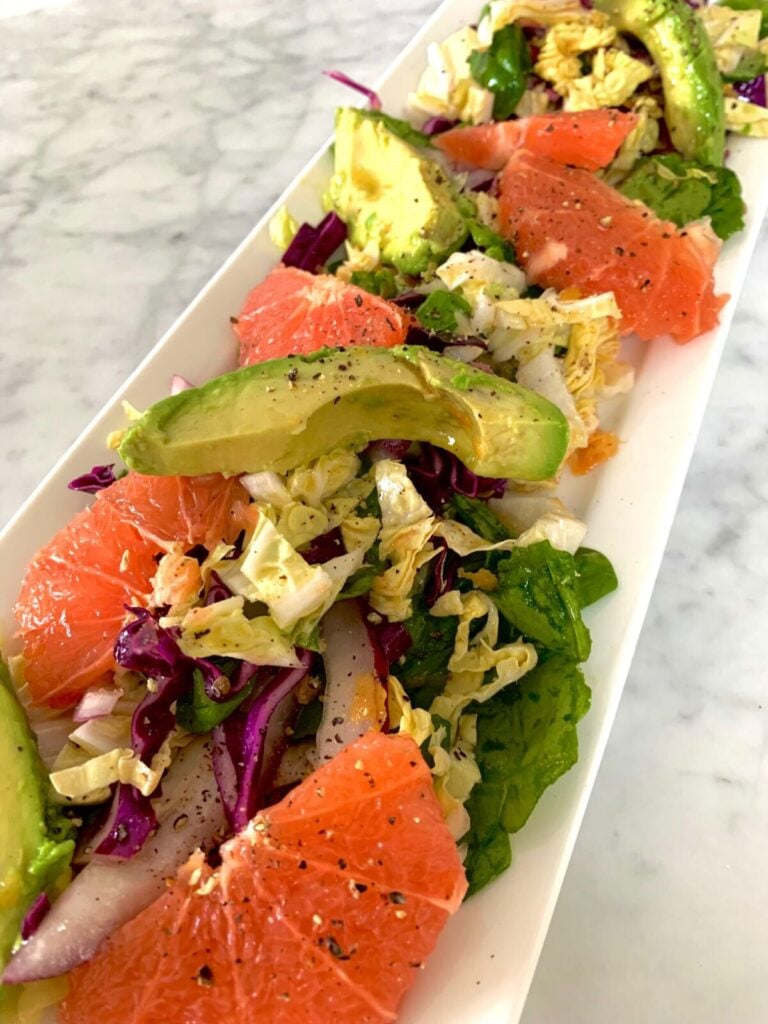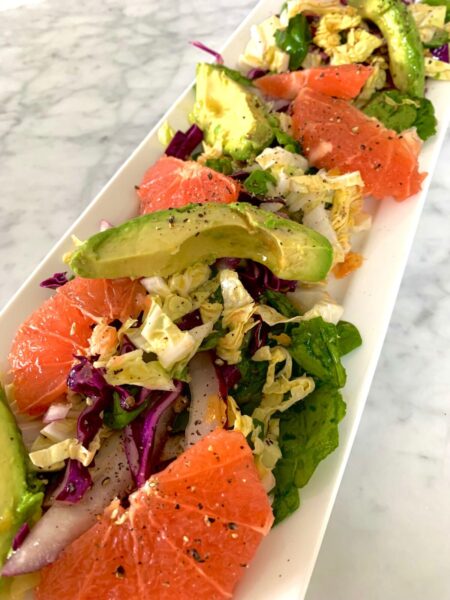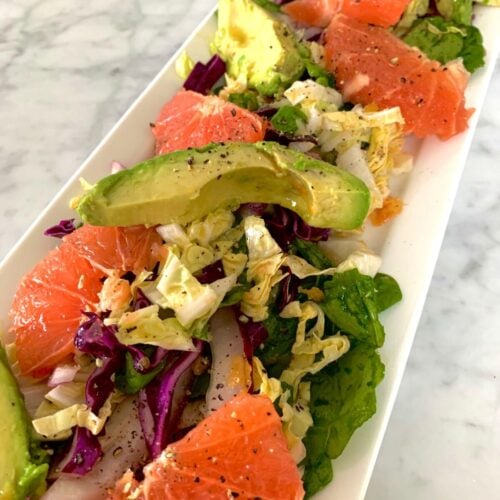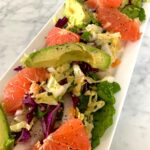 Grapefruit and Avocado Cabbage Slaw
Need a colorful salad for your table? Making this refreshing salad with it's grapefruit dressing can make everyone happy!
Ingredients
2

cups

fresh spinach, shredded

1

cup

finely shredded red cabbage

1

cup

finely shredded savoy cabbage

1/2

cup

thinly sliced red onion

1

grapefruit peeled, cut in segments

2

teaspoons

black peppercorns, cracked
Grapefruit Dressing
1/3

cup

grapefruit juice

1/4

cup

white white vinegar

1 1/2

cups

light sesame oil or ( 1/2 sesame oil and 1/2 EVOO)

2

teaspoons

grapefruit zest
Instructions
In a large bowl toss together the spinach, cabbages, red onion, and 3/4 the vinaigrette.

Peel the avocado and add to a small bowl. Toss with remaining 1/4 dressing.

Arrange the avocado on top of the cabbage salad along with the grapefruit segments and cracked black peppercorns.
Dressing
In a medium bowl, whisk the grapefruit juice, zest, vinegar,1/2 teaspoon salt, and a pinch of pepper.

Slowly, whisk in the oil until blended smoothly. Season with salt and pepper, if needed.

Just before serving, top with the sliced grapefruit, avocado, and fresh cracked pepper.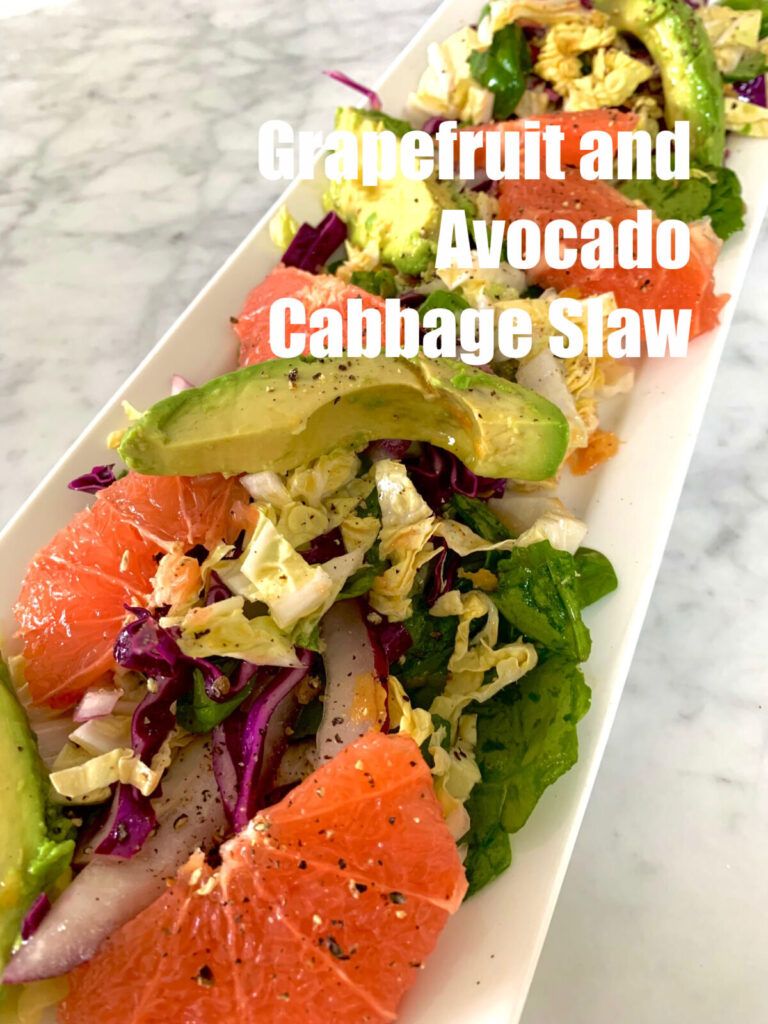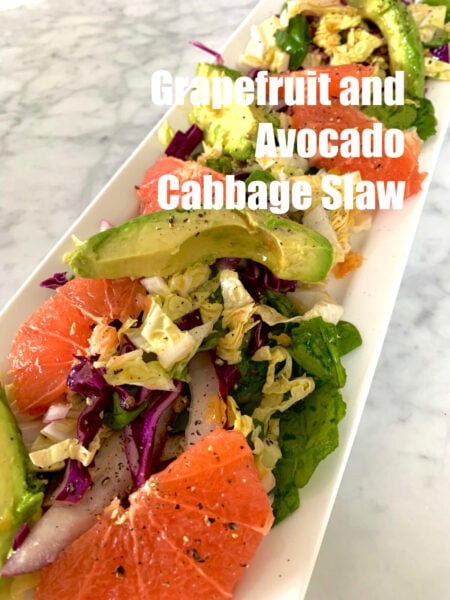 Bring this salad to your next party and you'll make a big hit!
Enjoy,
Mary 
© 2021, Mary Papoulias-Platis. All rights reserved.