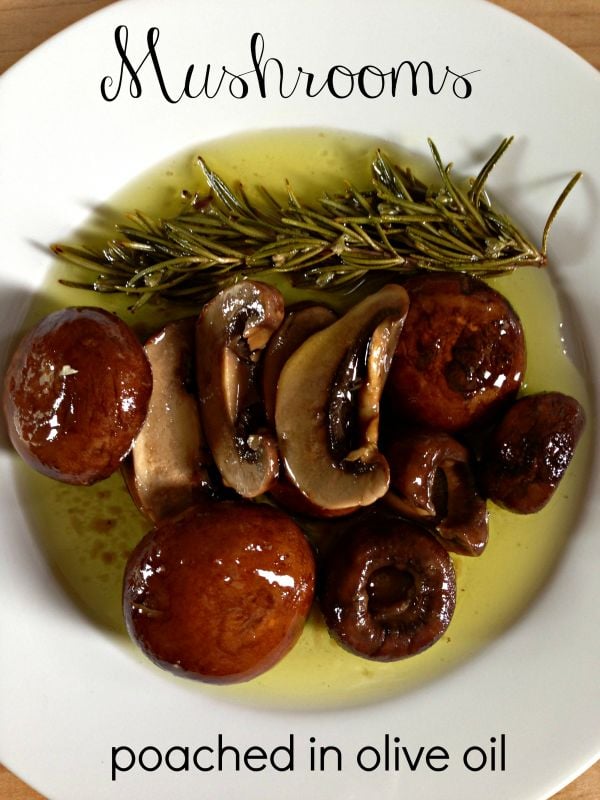 This recipe was discovered when I had a box of mushrooms I had to use up immediately in my refrigerator. I was teaching a class soon on poaching with olive oil and was hoping I can come up with a mushroom topping that was unique.
My recipes often come to me in the middle of the night, so I always have a pad of paper next to my nightstand to jot down new cooking ideas, or what ever is on my mind that night.
Poaching is a chapter in our cookbook, so I'm always curious what else I can poach? Yup, I poached the mushrooms and they were delicious. If you don't like rosemary, try any other herb you may have, such as thyme.
Here are a few ways to incorporate these mushrooms in your dishes:
Make a mushroom tart using sauteed onions or leeks and a goat cheese base.
Add to your pasta salads, pizzas, and grilled cheese sandwiches.
Serve as an appetizer with toasted bread.
Make a crostini with goat cheese and chopped mushrooms on top. Drizzle with oil.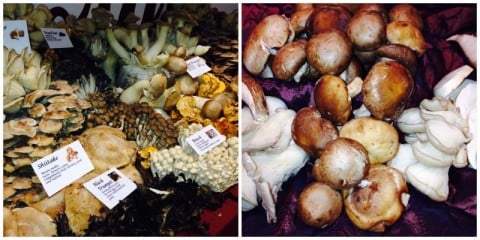 I chose baby portobello mushrooms and buttons. But you can choose any mushroom that can stand up to being poached.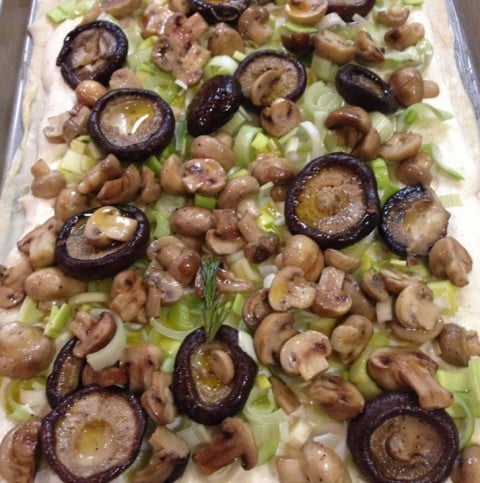 Poached Mushrooms in Olive Oil with a Tart Recipe
I made these mushrooms for a topping in a cooking class I taught. They are so fragrant poached in a good quality extra virgin olive oil. I've included the tart recipe with the poached mushrooms as a topping. Or just serve the mushrooms alone as an appetizer.
Author:
Mary Papoulias-Platis
Recipe type:
Appetizer, Side Dish
Ingredients
Poaching
2 lbs. button and mixed mushrooms, washed and stems removed
½ cup or more extra virgin olive oil
1 sprig of rosemary
2 leeks, washed and thinly sliced in rounds
Filling
16 oz. goat cheese (room temperature)
¼ cup milk
2 eggs
¼ teaspoon pepper
¼ cup parsley, chopped
1 tablespoon fresh thyme, chopped
Tart with Phyllo
½ lb. phyllo dough, defrosted (1/2 box)
¼ butter, melted
Tart with Puff Pastry
1 package of puff pastry , defrosted
Instructions
Poaching Mushrooms
In a large straight-sided skillet place pan over medium- high heat, bring the olive oil to a slight simmer and reduce to medium. Do not boil.
Add the mushrooms and thyme, cook until exterior of the mushroom softens, about 4 minutes.
Remove and place on a paper towel lined plate to drain. Set the oil aside.
As an appetizer, place the mushrooms in a bowl and drizzle the poached oil on the mushrooms and serve.
Tart
For phyllo
Butter a ½ sheet pan (9x13) with butter. Add one phyllo sheet and brush with butter. Continue with all the sheets, buttering after each layer.
For puff pastry
Open 1 sheet carefully, and place in the sheet pan. If needed gently spread the dough to the edges.
In a small bowl combine the cheese, milk, and eggs and pepper. Spread over phyllo .
Add the mushrooms and leeks.
Bake at 350 degrees until phyllo/ puff pastry is slightly brown around 15-20 minutes.
Top with the parsley and thyme. Sprinkle with extra virgin olive oil.
Cut into bite-size pieces and serve warm.

Poaching is a creative cooking technique to bring out the flavor of the ingredients your cooking as well as the flavors of the olive oil. Use a high quality extra virgin olive oil when poaching. Or try a infused oil for a unique added bonus to your flavors.
You may enjoy my cookbook for further recipes on olive oil.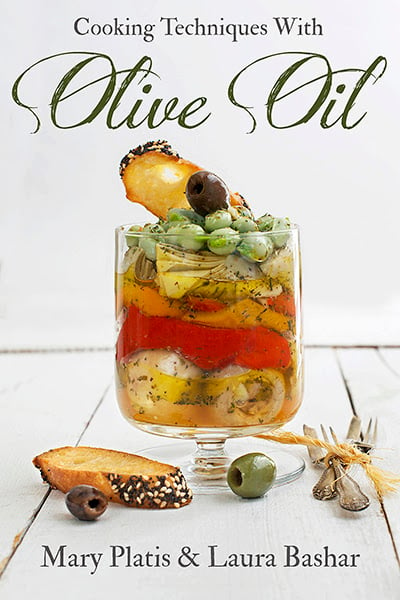 © 2015 – 2021, Mary Papoulias-Platis. All rights reserved.