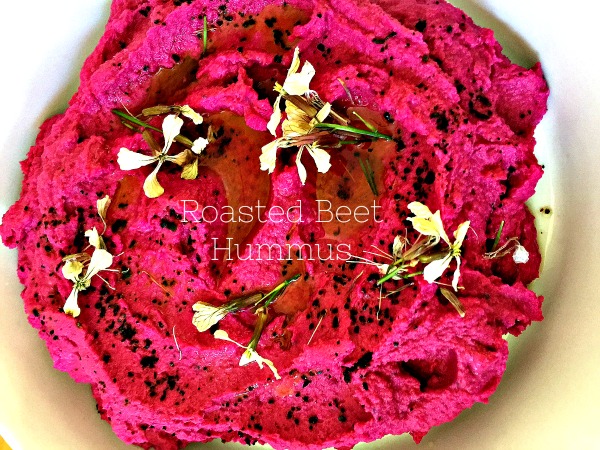 Everyone knows the traditional hummus appetizer today, and I'm thrilled it's finally showing up on our supermarket shelves. I've been eating it for years, and never can get enough of it. I often serve it as an appetizer called "Meze" in our Greek home with toasted pita bread. If you would like to begin making your own, I have my original hummus recipe for you to make and enjoy on my blog.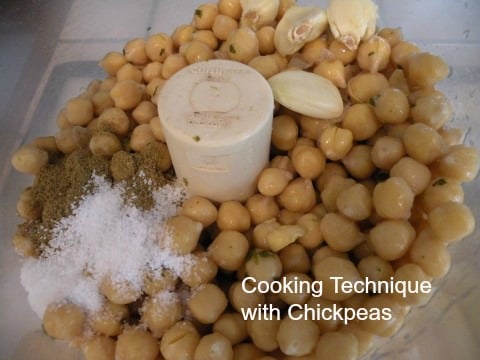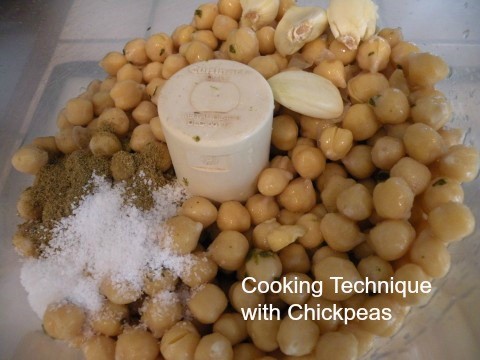 Beets are a staple in the Greek cuisine as in many other countries, and this is a twist to the original hummus most people are familiar with. This beet hummus continues to surprise my students, each and every time I teach it. The color is brilliant with a unique sweet flavor the beets impart on the garbanzo beans. Please don't hesitate, because of the color or taste.
Beets are a Power Food!
Beets are high in immune-boosting vitamin C and fiber.
Minerals such as potassium  and manganese are present for our organ health.
Vitamin B folate is also a strong health benefit.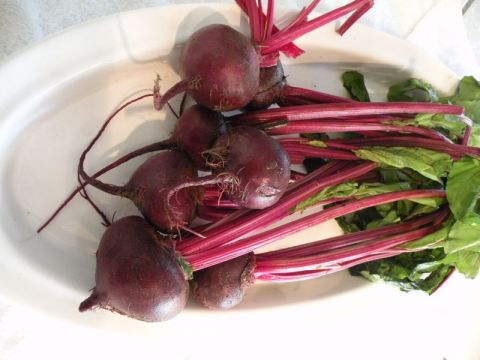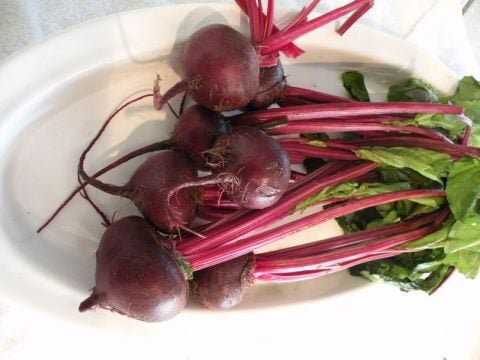 You can serve this with pita bread which is the traditional method, or add gluten-free chips or crackers for an alternative choice. I do like to serve mine with fresh vegetables such as Jicama, carrots, and red pepper slices.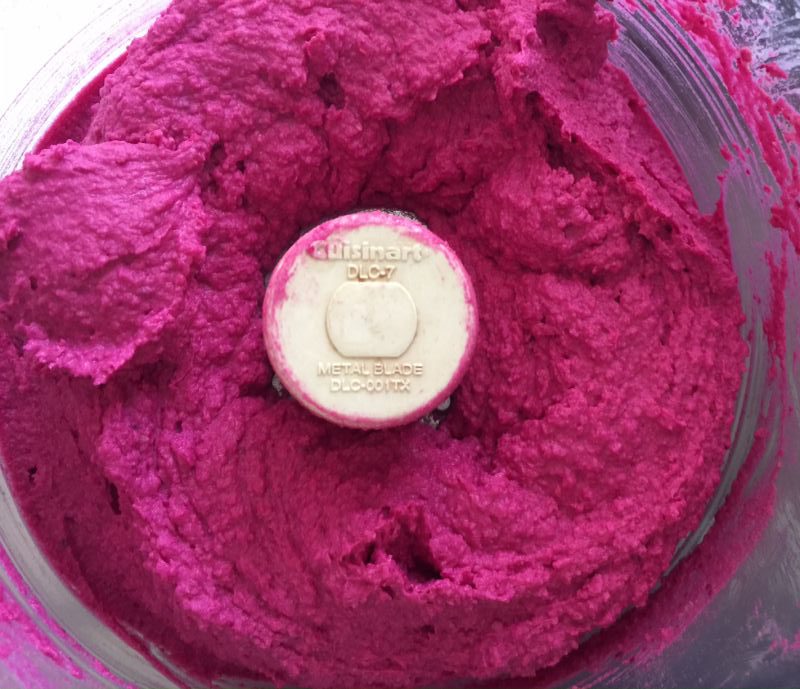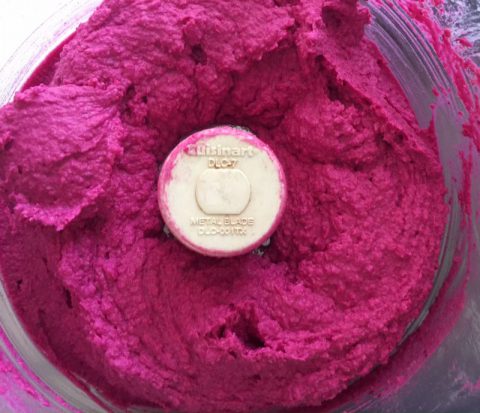 Using a food processor or high powered blender, will do the trick for a smooth  consistency.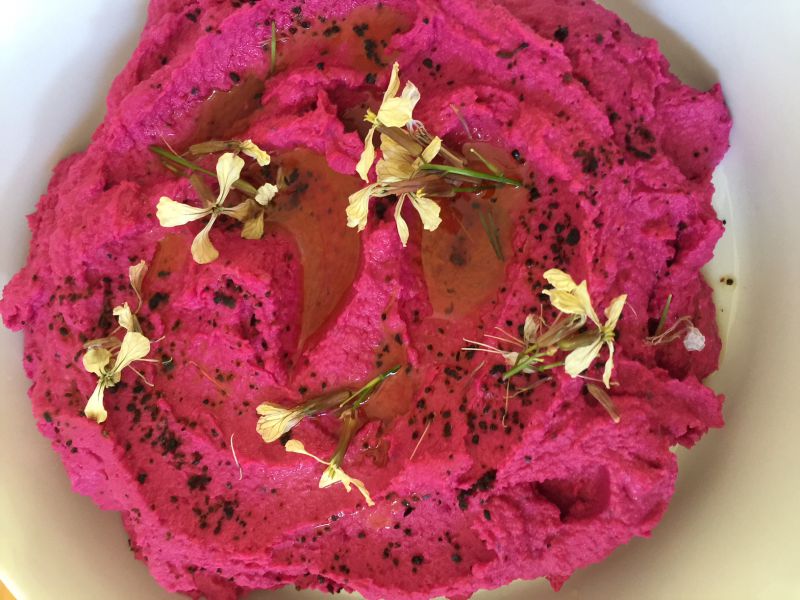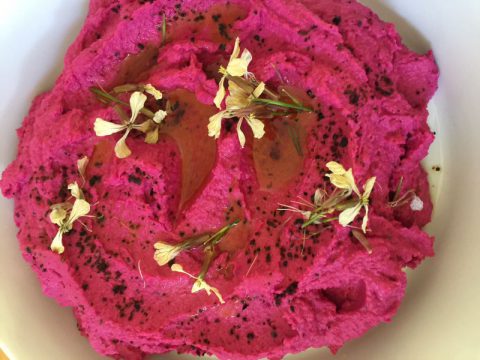 Make sure you adjust the flavors at the end! The beets and chickpeas have different moisture content so add olive oil or water if needed.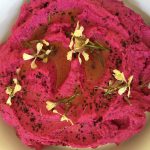 Roasted Beet Hummus
Add this new flavor to your hummus recipes as it makes everyone smile with it's bright red color.
Ingredients
2

small

roasted beets, peeled and roughly chopped

2

cans (15oz.)

chickpeas, drained and rinsed

1/3

cup

tahini

2

garlic cloves, chopped

1/4

cup

fresh lemon juice

pinch of cayenne pepper

extra virgin olive oil if needed and for topping
Instructions
Wash the beets to remove all the dirt. Remove the stems and wrap in foil.

In a 400 degree oven, roast on a sheet pan for 35-45 minutes depending on the size of your beets.

Remove and let cool slightly, remove the skins and trim away root. Roughly chop.

Combine all the ingredients in a food processor or blender, and blend until smooth, 2-3 minutes, stopping to scrape down the sides. Serve.

If needed: add more liquid gradually, by adding olive oil. Top with olive oil which is optional.
Recipe Notes
You can use pre-cooked beets with this recipe.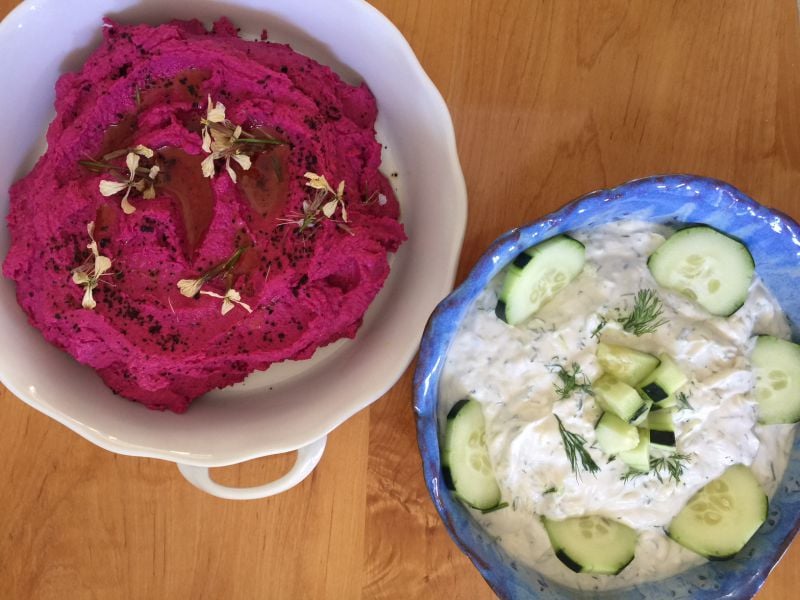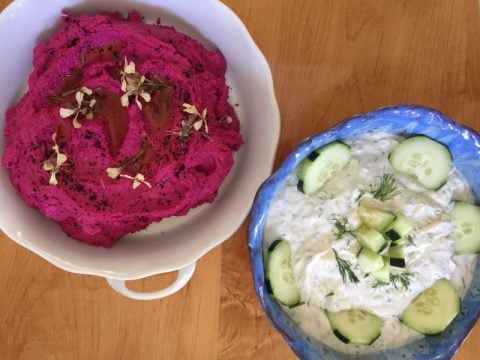 Add it to your appetizer table for your next party! It's a big hit in my family,
Mary
© 2018 – 2019, Mary Papoulias-Platis. All rights reserved.