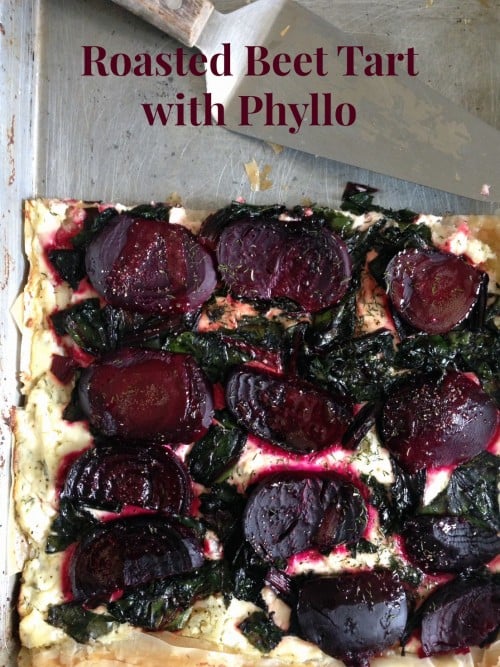 I often substitute phyllo in place of a typical crust, as I did here for this roasted beet tart. You would be surprised how much lighter phylolothis makes your dish.  Tarts are easy to assemble for a busy weeknight dinner, and it can be ready within an hour. Make sure you keep defrosted phyllo in your refrigerator for last minute meals such as this one. If you would like you may substitute your greens with blanched vegetables of your choice-for example broccoli, asparagus, or carrots.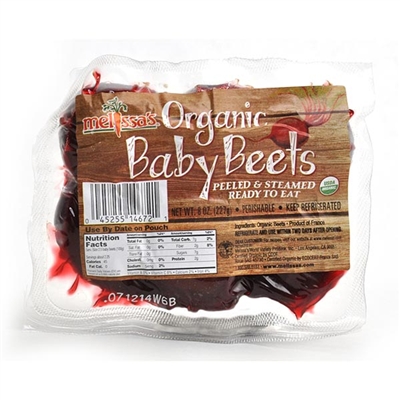 If you don't have the time to roast your beets, you can purchase Melissa's organic steamed baby beets in these packets cooked and ready to go. Just slice and add to your tart. You will possibly need to double the amount of beets, if you use the baby beets for this recipe.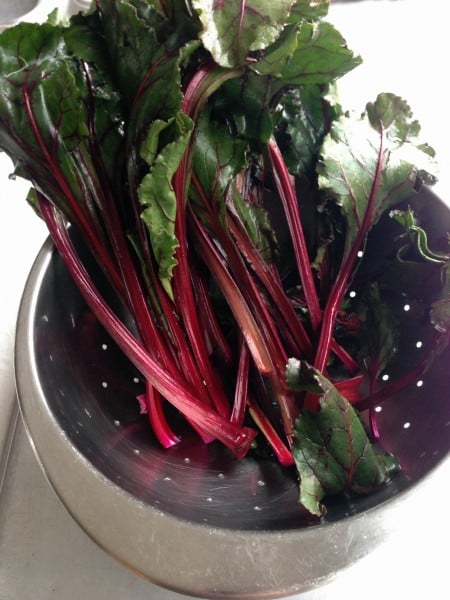 I do like to use fresh beets, so I may save the greens. Adding the greens enhances the flavor of the beets with a bitter taste. Beet greens are often thrown out, and overlooked but they are packed with nutritional benefits. They are a good source of protein, folate, and fiber.  Along with an added source of vitamin A,C,E and K. So, tell your grocer to keep them attached for you so you can enjoy their sweet flavor for your meals.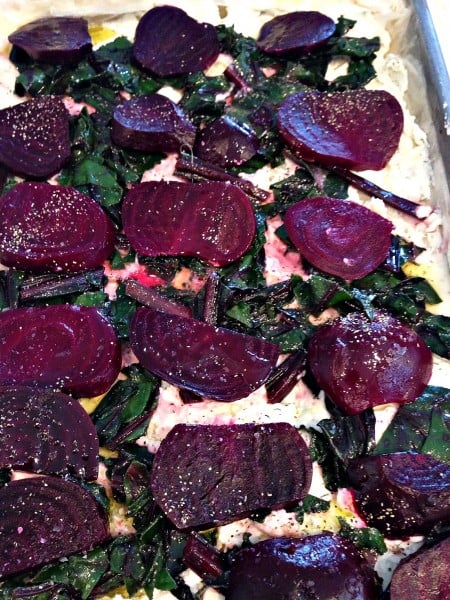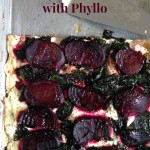 Roasted Beet Tart with Phyllo
This is my version of a beet tart. Keep defrosted phyllo dough in the refrigerator so you can quickly cook this up for a quick lunch or for dinner. Purchased pre-cooked beets can be substituted. Serve alongside a soup or salad.
Ingredients
1/2

lb.

phyllo dough, defrosted

1/4

cup

melted butter

2-3

beets, roasted

3-4

cups

of beet greens, washed and roughly chopped

1

bunch of green onions, chopped

2

tablespoons

olive oil

1/2

teaspoon

salt

1/4

teaspoon

pepper
Filing
1/2

cup

whole fat ricotta

1/4

pound

Greek feta cheese, crumbled

1/2

teaspoon

dried dill

1/2

teaspoon

salt

1/4

teaspoon

pepper

2-3

teaspoons

extra virgin olive oil
Instructions
Pre-heat oven to 375 degrees.

Wash and wrap each beet in foil. Place on a sheet tray and roast for 45 minutes.

When beets are done and slightly cool unwrap and peel.

Cut into 1/2-inch thick slices. Reduce the oven to 350 degrees.

Butter the bottom of a 9x12 pan and layer the phyllo one sheet at a time, buttering after each later. Set aside. You may need to cut the phyllo sheet dough to fit your pan.

In a deep pan saute beet greens and onions in 2 tablespoons of olive oil. Add salt and pepper.

Cook until the greens and onions are softened about 8 minutes. (if needed add a little water to the pan to cook greens) While greens cool, make the filling.

In a small bowl combine the cheeses. Spread the cheese on the top of the phyllo dough.

Add the greens and onions to the top of the cheese layer.

Add the sliced beets and sprinkle with dill, salt, pepper, and olive oil.

Place in the oven and bake for 45 minutes.

Cool for 10 minutes. Carefully remove from a pan and cut into serving pieces.
Try a few of my other beet recipes:
Roasted Beet Hummus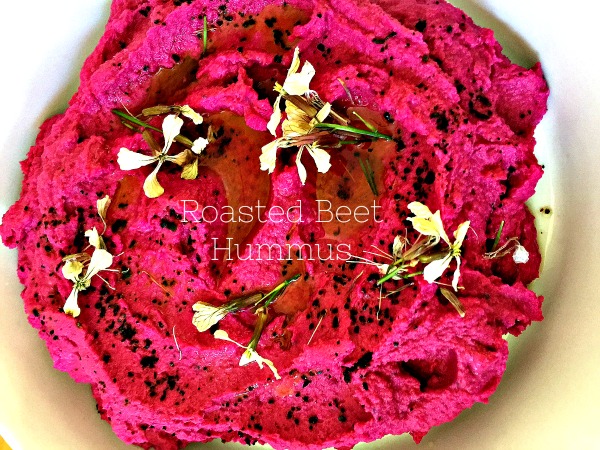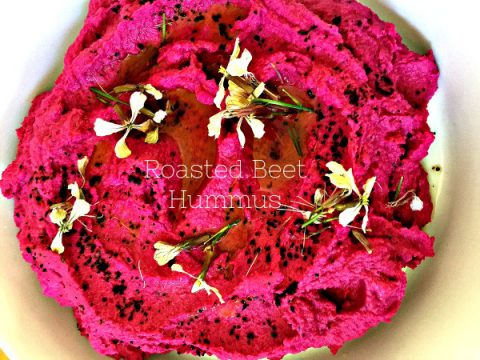 Roasted Beet Relish with Feta on Crostini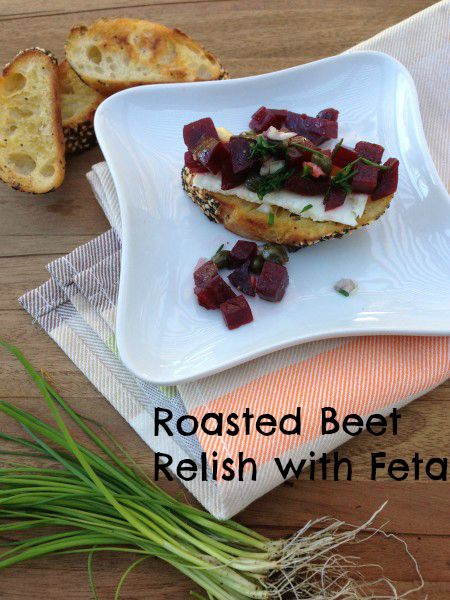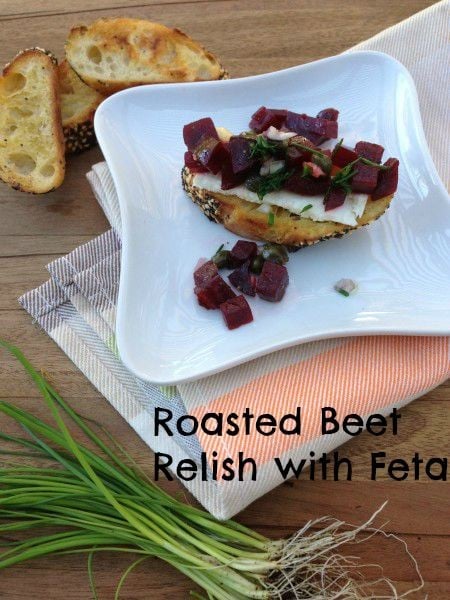 Lamb Ribs Poached in Olive Oil with Blood Oranges and Beets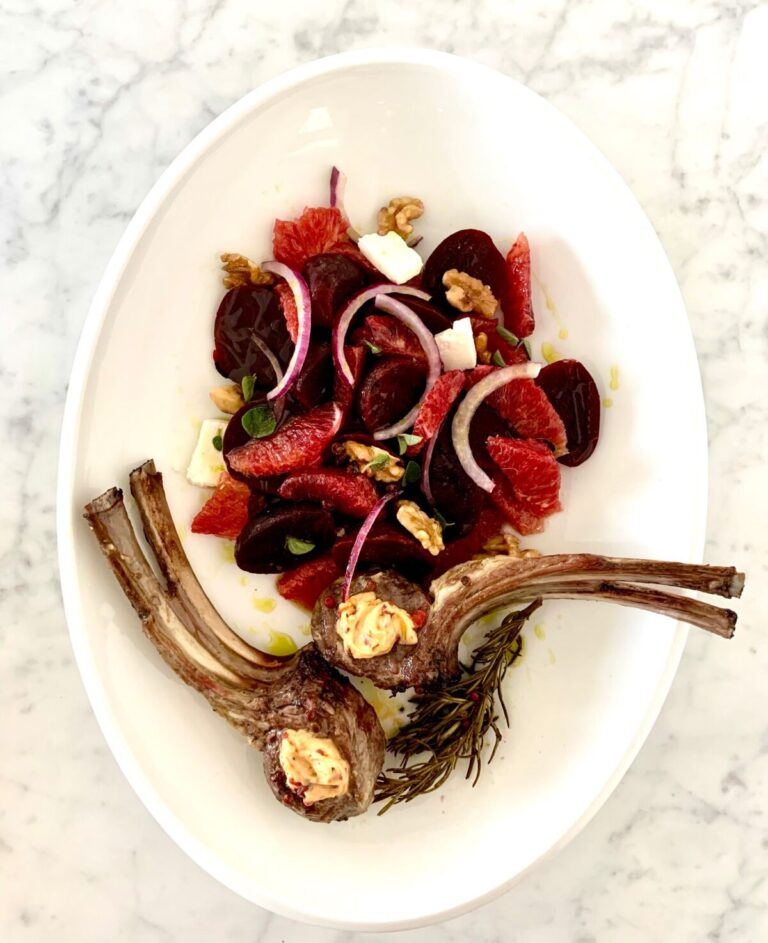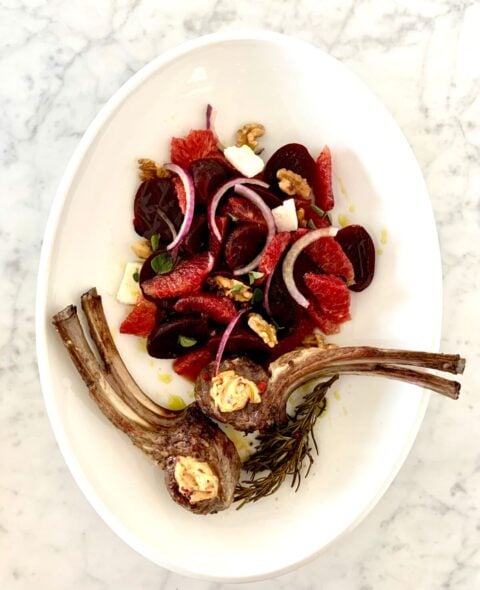 © 2014 – 2022, Mary Papoulias-Platis. All rights reserved.