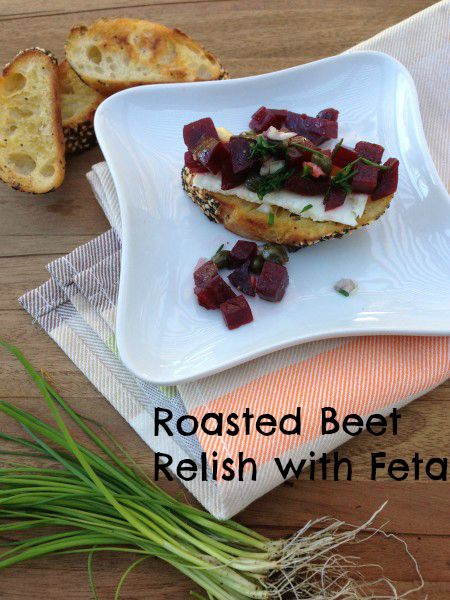 This morning as I went out to my garden to fetch a vegetable or two, to my surprise I was able to pull up three more beets that were ready to devour.  I washed them up and threw them in the oven to roast them , so I could possibly make them into a quick lunch or side dish for dinner. Beets are a staple in the Greek diet, as well as a nutritious power food. We roast them, boil them, shred them raw for salads, and juice them. Today, I decided to pair them up with feta cheese as an appetizer – oh yes!
To get started roast the beets in the oven. To roast beets take a look at Cooking Technique for Roasting Beets on my blog. Or you can use canned beets if you choose.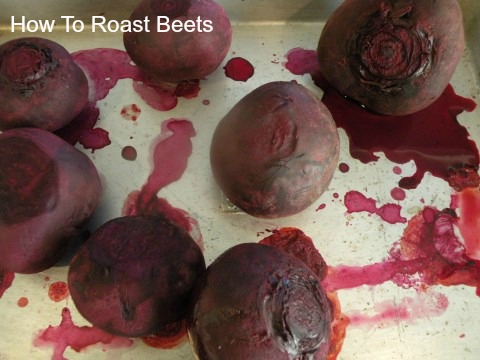 I decided on cutting them up after I roasted them ( which can also be done the night before) and adding a few ingredients for a quick appetizer.
Roasted Beet Relish with Feta on Crostini
This quick beet appetizer can be made the night before for a pleasing garden delight for your guests. Place it in the refrigerator until ready to serve for a great side dish for your salad or soup.
Author:
Mary Papoulias-Platis
Ingredients
Beet Relish
2 large red beets, washed and roasted, diced finely
5 tablespoons extra-virgin olive oil
salt and pepper, as needed
2 tablespoons red wine vinegar
1 clove garlic,minced
1½ teaspoons honey
½ pound feta, thinly sliced or crumbled
Garnish
2 tablespoons diced shallots
2 tablespoons chopped chives
Baguette
1 18-inch baguette,cut into ⅛ inch slices
½ cup extra-virgin olive oil
Instructions
Preheat oven to 375 degrees.
Wash and dry beets well. Rub with 2 tablespoons of olive oil.
Place on a baking sheet and roast until they are fork-tender, about 45-1 hour.
Allow the beets to cool and peel. Finely dice the beets.
Place the beets in a bowl.
In a small bowl, whisk the vinegar, remaining oil, garlic, capers, and honey and combine.
Pour the dressing on top of the beets and stir to combine.
Place a thin slice of feta on the each grilled Crostini and add the beet relish.
Sprinkle crostini with shallots and chives and serve immediately.
Crostini
Heat a grill pan or broiler.
Brush both sides of the bread slices with olive oil.
Place on a baking sheet and place under the broiler until dark brown on both sides.
Or place on a grill pan until dark brown on both sides.
I picked these fresh from my winter garden….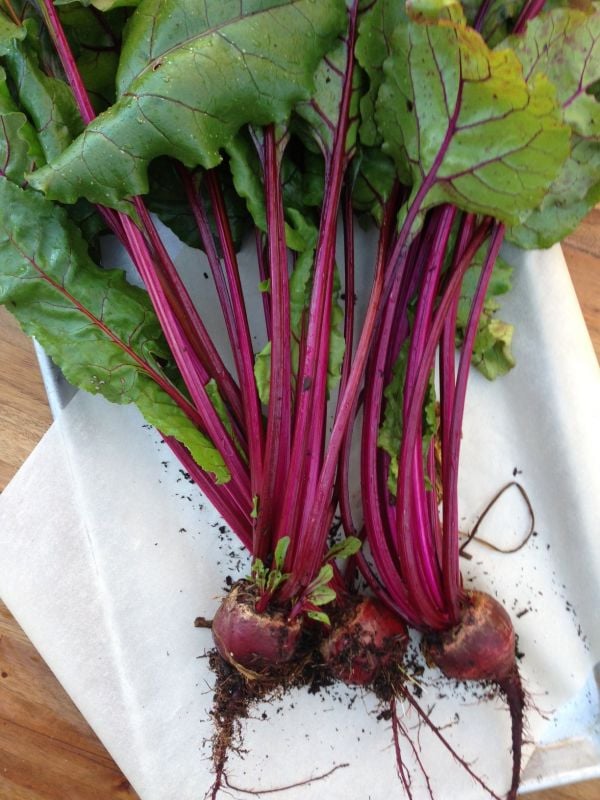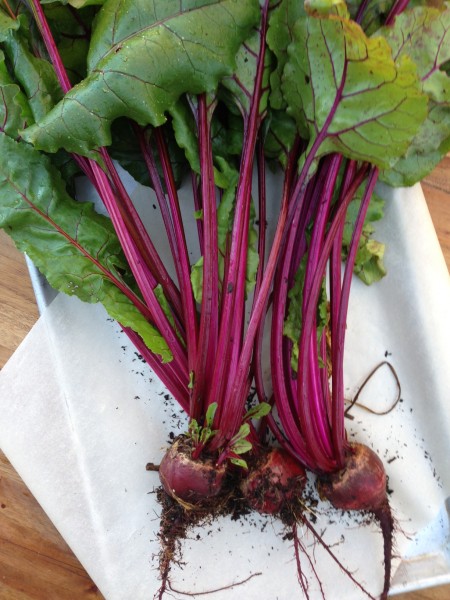 Oh Yum! This is a meal in itself!
Mary 
© 2013 – 2020, Mary Papoulias-Platis. All rights reserved.