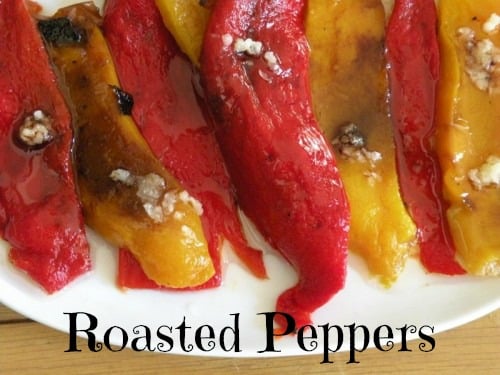 This roasted pepper appetizer is one of my favorites that I entertain with all year long. If you can't find colorful peppers in your supermarket, substitute green peppers. For serving suggestions,  I use an artisan bread to soak up all their juices, but crackers or pita bread work just as well. If you have any leftover peppers, they keep in your refrigerated for many days. They can be added to sandwiches, placed in omelets, or added to your favorite pasta dish. This is one staple I keep in my refrigerator at all times!

Roasted Pepper Appetizer with Balsamic Vinegar
A fabulous appetizer to start your meal with, simple and a quick served with a loaf of warm bread.
Author:
Mary Papoulias-Platis
Ingredients
2 red bell peppers
2 yellow bell peppers
2 orange bell peppers
2-3 tablespoons olive oil
¼ teaspoon salt
⅛ teaspoon pepper
1 -2 large garlic cloves, minced
1-2 tablespoons balsamic vinegar or red wine vinegar
1 loaf of artisan bread or 1 baguette, sliced
Instructions
Wash and pat the peppers dry. Place the bell peppers on a sheet pan. Broil on high until the skins are blackened. Check and rotate the peppers frequently, do not leave alone.
Once blackened place the peppers in a dish and cover with plastic wrap for 10-15 minutes. While still warm, carefully peel the blackened skin off the peppers. Gently pull the stem off . Slice in half and remove the seeds and white pith inside the pepper.
Cut into strips about ½ inch thick and place in a deep flat dish.
Add minced garlic, olive oil, and vinegar. Refrigerate and let the peppers marinate until ready to serve.
Notes
For a Party: Can be made several days ahead and served at room temperature.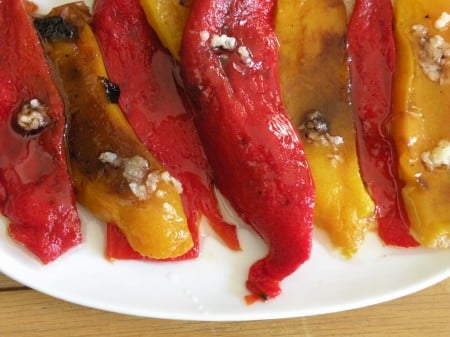 Try growing peppers in your garden, they are a summer crop and bring many peppers per bush.
Renne's garden seeds can be purchased on her site. You can get many varietals you don't see in the garden centers.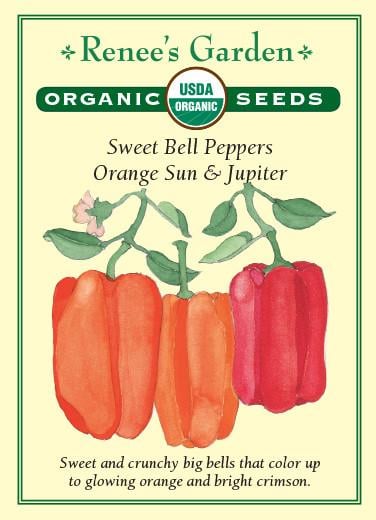 Happy Gardening…
Mary
© 2010 – 2019, Mary Papoulias-Platis. All rights reserved.