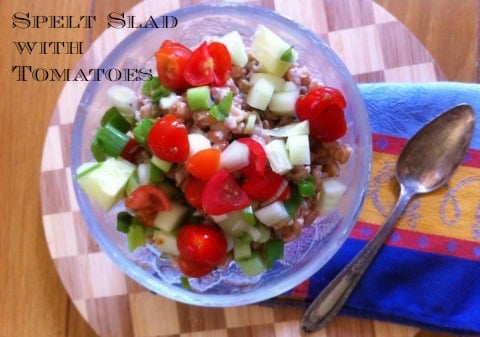 Try this spelt salad with tomatoes and you will be sold on it's flavor and simplicity. It's an ancient grain that has a mellow nutty flavor, and a higher protein content than wheat. Naturally high in fiber and complex carbohydrates which makes it easier to digest. Soups, pastas, and salads can be enhanced with cooked spelt for a healthful alternative. It's best if soaked overnight. For a quicker method try using a pressure cooker. It also can be cooked in a large pot for 50-60 minutes.  For a quick meals, this spelt salad can be made ahead of time and placed in the refrigerator covered for up to a week. Spelt flour is also a very important ingredient in many baked goods, it can be substituted for regular flour, and can be used in pizzas, flatbreads, cookies, and cakes. You may have to experiment with the amounts when substituting spelt with regular flour. Look for this Spelt cookbook, if interested in more baking items.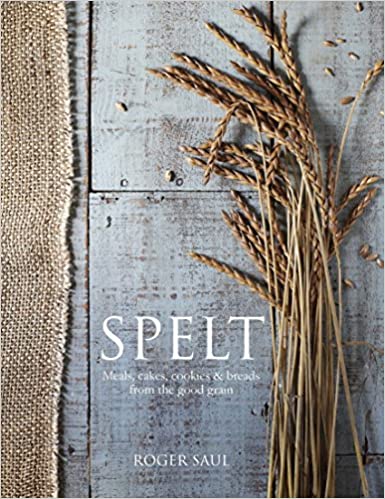 I try and purchase organic spelt whenever I can. Here are a few products to look for: Bob's Red Mill or Arrowhead Mills.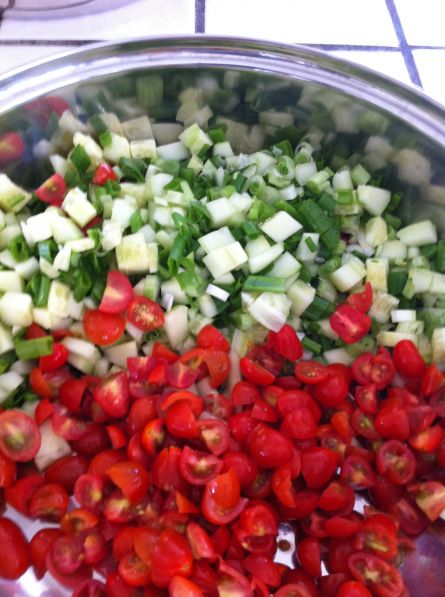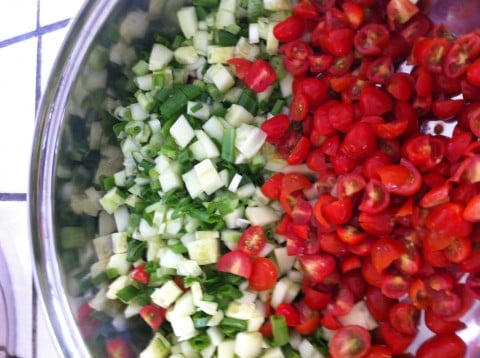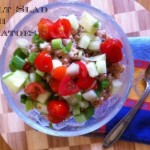 Spelt Salad with Tomatoes and Tahini Dressing
Spelt's nutty flavor, with added fresh vegetables and tahini dressing makes this salad a winner.
Ingredients
Spelt
1

cup

organic spelt

2

cups

water

1-2

tablespoons

of extra-virgin olive oil
Red Wine Vinegar Dressing
1/2

cup

vinegar

1/2

cup

extra-virgin olive oil

2-3

tablespoons

tahini, sesame seed paste

1/4

cup

each of fresh basil and oregano, chopped

1/2

teaspoons

salt and 1/4 teaspoon pepper
Vegetables
1/2

box cherry tomatoes, halved

2-3

zucchini or cucumber, medium diced

1/1/2

bunch scallions, sliced
Instructions
To prepare beans:
Soak beans overnight. Cook beans in fresh new water for 45-50 minutes, or until tender.

Alternative method: In a deep pot add cold water and spelt and bring to a boil. Reduce the heat to simmer, for 1- 1 1/2 hours.

Once cooked, spread on a sheet pan or large bowl add 1-2 tablespoon olive oil and stir. Let cool before adding vegetables and dressing.
Vegetables
Wash and chop all the vegetables and place in a large bowl. Add the cooked spelt.
Red Wine Vinegar Tahini Dressing
Put the vinegar in a small bowl and whisk in olive oil slowly. Whisk in tahini and herbs.

Add the salt and pepper. Taste for adjustments. Serves 8-10.
Recipe Notes
This salad can be prepared the night before, therefore it's perfect for a party or outdoor BBQ.
Can be served cold or at room temperature.
This salad can be adjusted to your taste by adding your favorite fresh vegetables.
This recipe is adapted from Fine Cooking Magazine.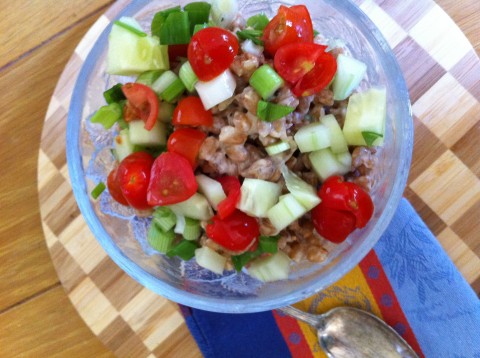 More Grain Salads on my Blog:
Farro Salad with Pixie Tangerines and Walnuts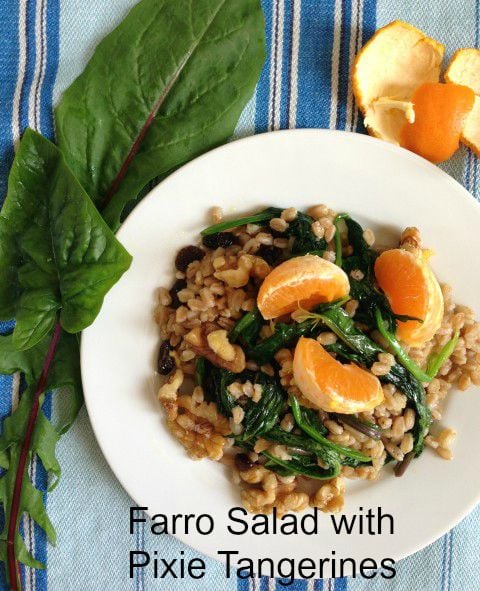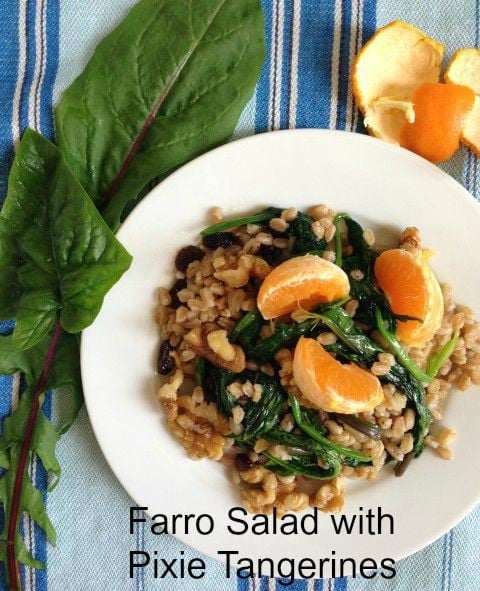 Chickpea Stew with Kale and Barley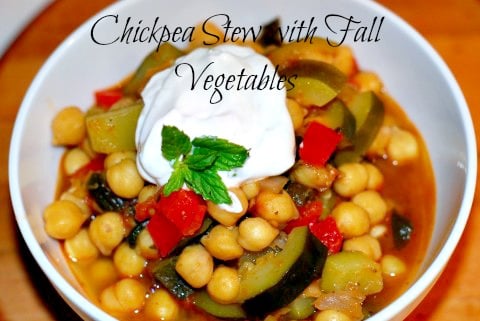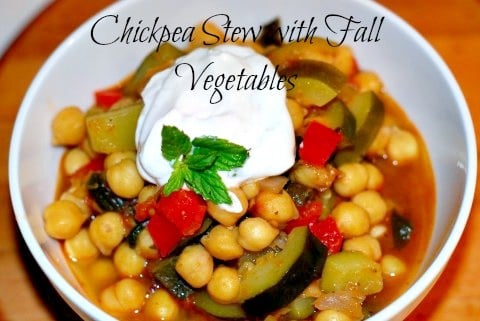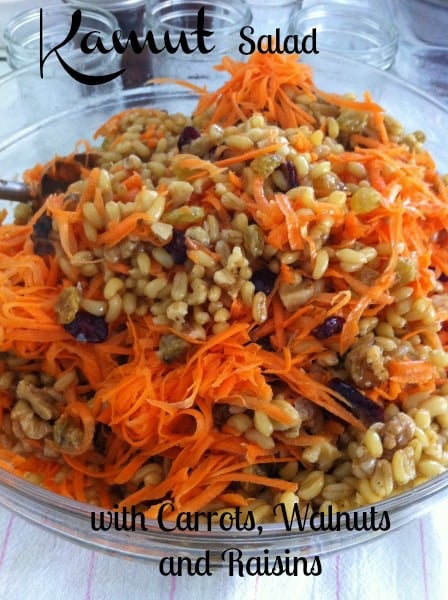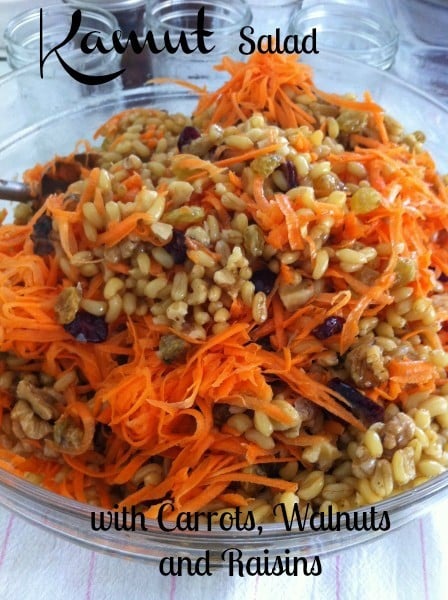 Eat Healthy!
Mary 
© 2012 – 2022, Mary Papoulias-Platis. All rights reserved.