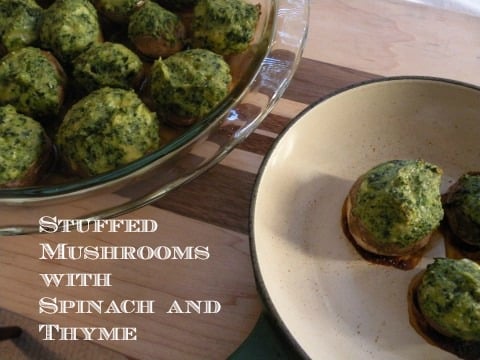 This recipe, Mushrooms stuffed with Spinach came by me so long ago I cannot tell you where it came from. But for years, perhaps over 20 or so, I have been making these stuffed mushrooms. Maybe somebody from my past will remember where this came from and let me know. But they are always requested, so I decided to share this recipe with you just in time for your next holiday! These come in handy if your need a quick appetizer. I'm seldom out of fresh mushrooms in my kitchen. I do buy the frozen spinach souffle and store it in my freezer, for a quick dish.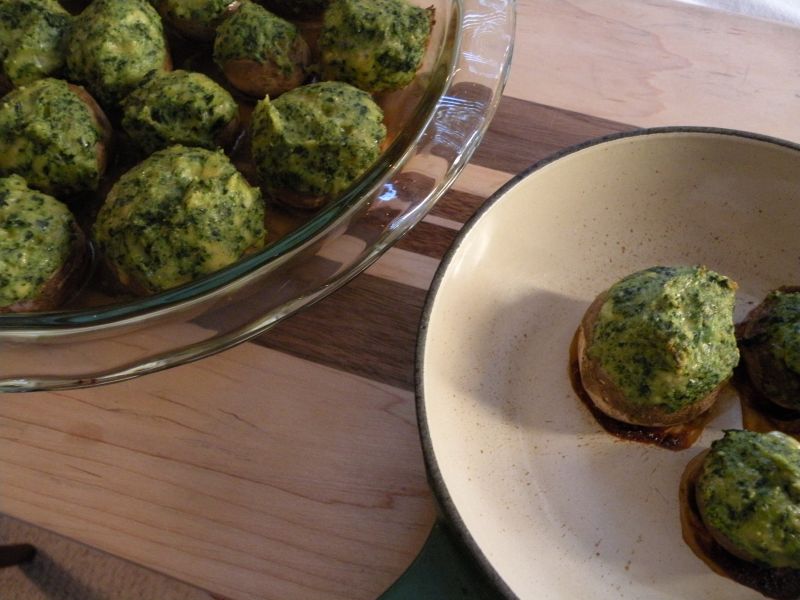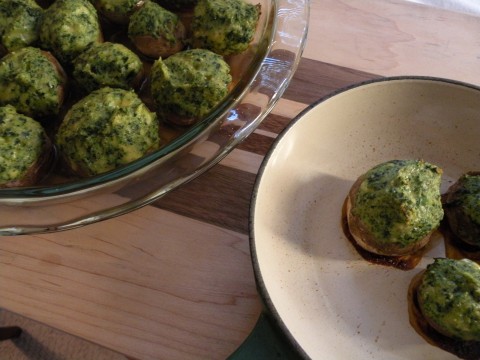 The mushrooms can be prepared ahead of time, cleaned with stems removed. Then placed in a plastic bag and refrigerate. The filling can be made the night before and refrigerated.  Assemble the day of the party and place in the refrigerator until ready to bake.
Here is the Stouffer's Souffle I use for this quick appetizer. If you cannot find it, it can be purchased here.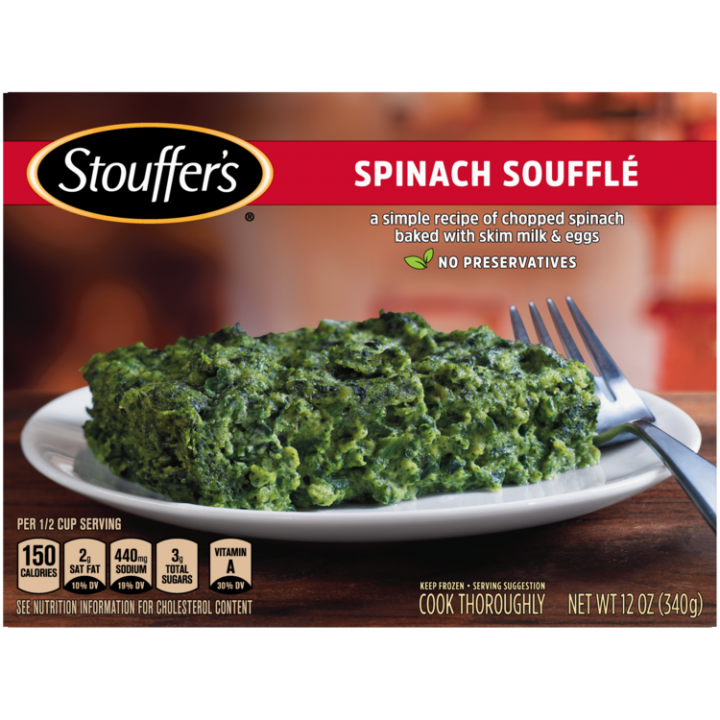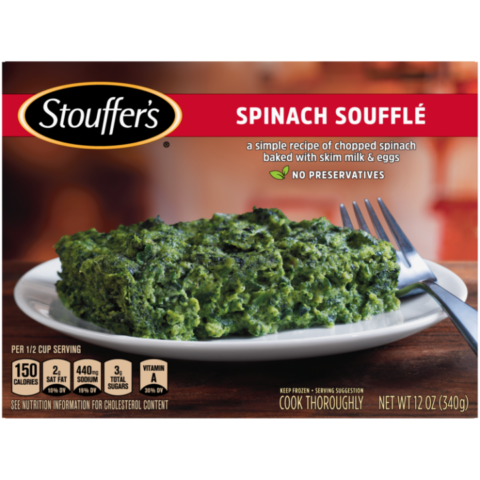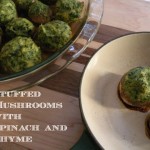 Stuffed Mushrooms with Spinach and Thyme
Try these little morsels at your next party. They can't be beat with the thyme and spinach goodness.
Ingredients
1

package of white button mushrooms, cleaned, dried and stems removed.

6

oz.

of frozen spinach souffle, defrosted

1/4

cup

shredded cheddar cheese

1/4

cup

seasoned bread crumbs

1/4

teaspoon

dried thyme

1/4

teaspoon

salt
Instructions
Pre-heat oven to 350 degrees. Clean the mushrooms with a paper towel removing all dirt.

Remove the stem. Place stem side up on a sheet tray.

In a medium bowl mix together all the ingredients.

With a teaspoon stuff the mushrooms making a hat like mound.

Bake on the sheet tray for 25-20 until tops are brown. Serve warm on a platter.

Can be made ahead.

Clean mushrooms and remove the stem and refrigerate.

Make the filling and place in refrigerator.

On the day of the event fill the mushrooms in the morning and place in refrigerator until ready to bake.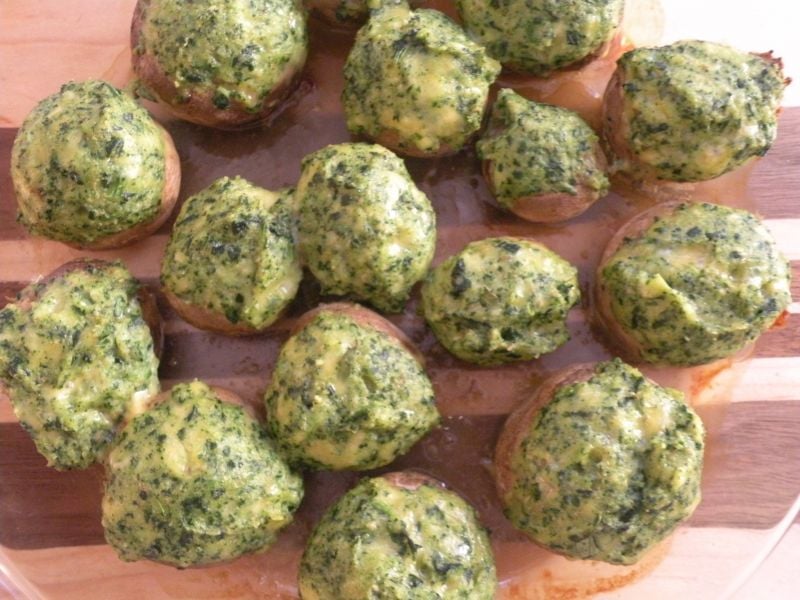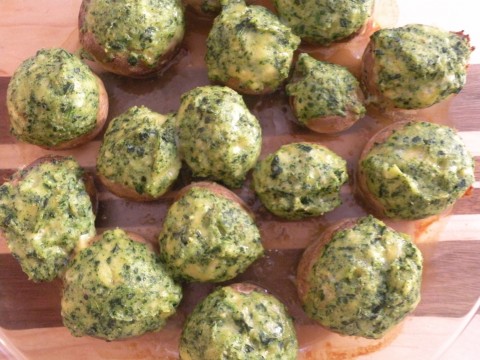 Note: This is an old recipe so feel free to replace the cheese with new cheeses such as Parmesan. Experiment with fresh herbs for a brighter taste.
Mix with fresh greens such as mustard, but make sure to drain and dry thoroughly before adding to the recipe.
You may also enjoy: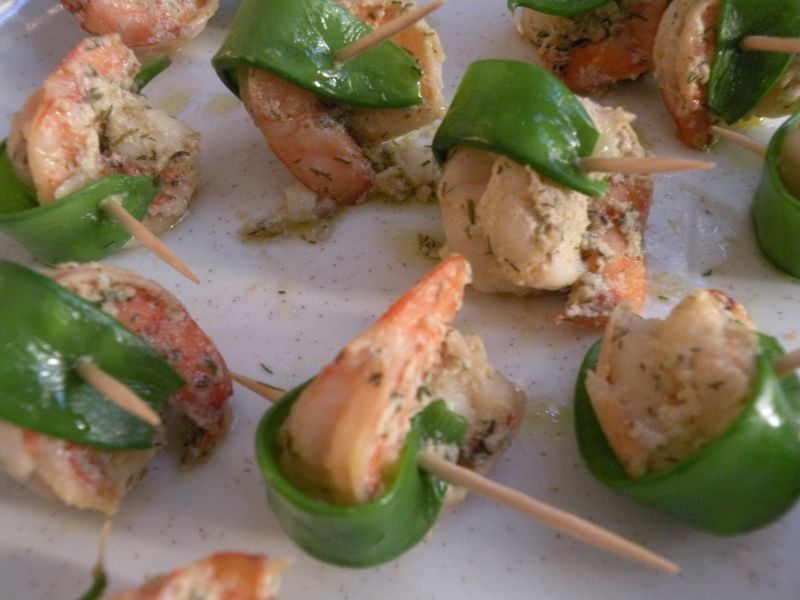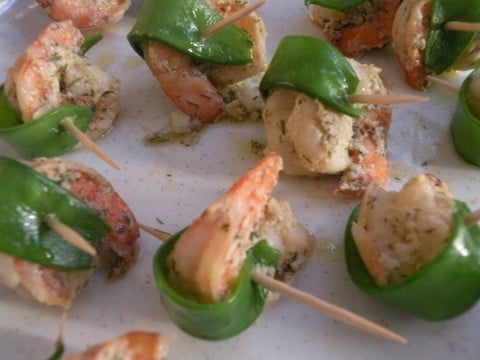 Hot Fajita Chicken Wings with Guacamole
Greek Garden Salsa with Pita Chips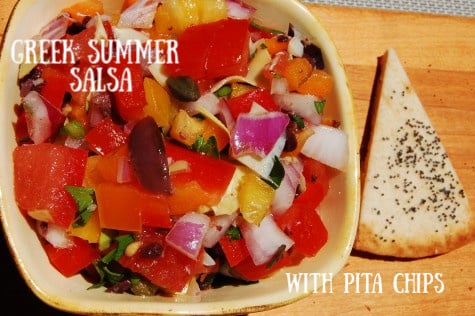 Party On!
Mary 
© 2011 – 2023, Mary Papoulias-Platis. All rights reserved.