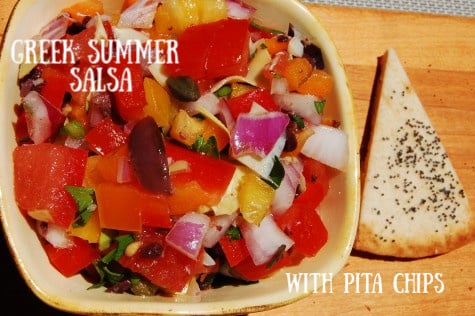 Everyone raves about my Greek Garden Salsa with crunchy toasted pita chips when I serve it at a gathering. It makes for an excellent appetizer for a large group. When creating this recipe, I considered a salsa that had few Greek ingredients, that could be could be served with pita bread. This is a summer recipe using fresh tomatoes so look for them at your farmer's markets or consider growing them in your garden. This garden salsa can be made ahead of time, or even the day before. The pita chips may be made in advanced as well, just slip them into a sealed container or plastic bag. Leftover salsa can be used the next day for a topping on your eggs, chicken, fish, or meat. Looking for a great pita bread is so important, make sure you purchase from a store that rotates their bread often. We often use Kronos Pita Bread. Also available is wheat pita and gluten-free pita.
The Health Benefits of Tomatoes
Lycopene makes tomatoes a key food to fight cancer, and heart disease.
Tomatoes are also rich in vitamins C and E, beta-carotene, and flavonol antioxidants.
Carotenoids are abundant in green and yellow-orange vegetables and fruits and help to defend the body's tissues against oxidative damage, which is a natural byproduct of our metabolic processes.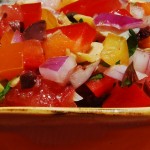 Greek Garden Salsa with Pita Chips
This Greek salsa served with toasted pita chips explodes with fresh garden flavors. Make it ahead, cover and place in the refrigerator. It also makes a great salsa for fish, chicken or pork chops.
Ingredients
2

tomatoes, seeded, finely chopped

1

red, yellow, and green pepper finely chopped

1/2

red onion, chopped

1

14 oz.

can of artichokes in water, drained and chopped

1

cup

pitted kalamata olives, finely chopped

1/2

cup

capers, drained

2

tablespoons

fresh basil or parsley, finely chopped

1

teaspoon

garlic, peeled, finely chopped
Vinaigrette
1/4

cup

extra virgin olive oil

1-2

tablespoons

balsamic vinegar or red wine vinegar

1/2

teaspoon

salt

1/4

teaspoon

pepper
Toasted Pita Chips
1

pkg.

pita bread (6 breads)

1/2

cup

extra virgin olive oil

1/4

cup

sesame, poppy or fennel seeds toasted
Instructions
Salsa
Place all the ingredients in a large bowl and gently mix.

Make the vinaigrette below and add to the salsa.
Vinaigrette
Place vinegar, salt and pepper in a small bowl and mix. Whisk in the olive oil slowly to emulsify. Pour over salsa.
Toasted Pita Chips
Cut each bread in 1/8 wedges. Place on a sheet tray and brush one side of each piece with olive oil.

Broil for 2-3 minutes until golden. Check the bread often, it browns quickly.

Flip the pieces over, and brush with olive oil and add the seeds.

Broil for 1-2 minutes until golden. Serve with the salsa.
Recipe Notes
This salsa can be made ahead without the vinaigrette. Cover and refrigerate and when ready to serve add the vinaigrette a couple of hours before serving.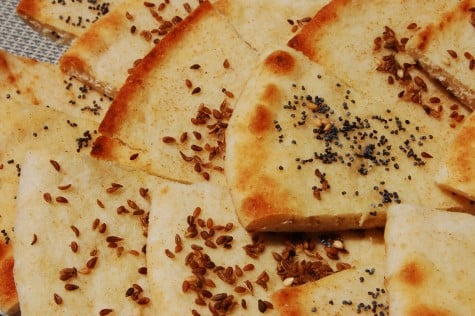 Toasting the pita is very important in this recipe. It gives a crunch factor to this saucy soft salsa. It adds more flavor from the seeds, spice and olive oil. You may want to experiment and use a flavored olive oil such as lemon, garlic or basil.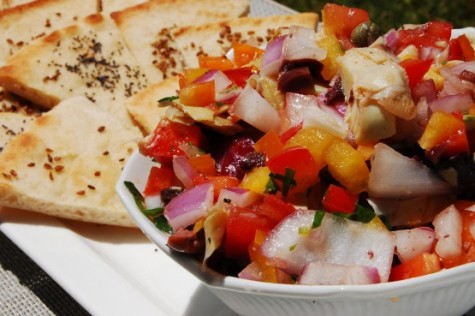 This recipe is best if made the day ahead and refrigerated, and brought to room temperature before serving.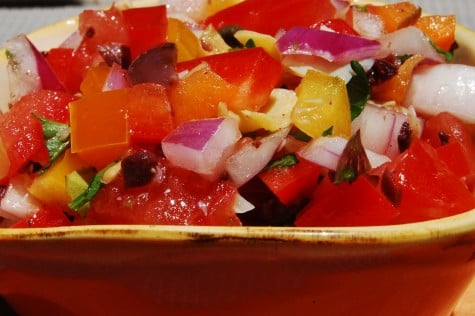 Check out my many pita bread recipes: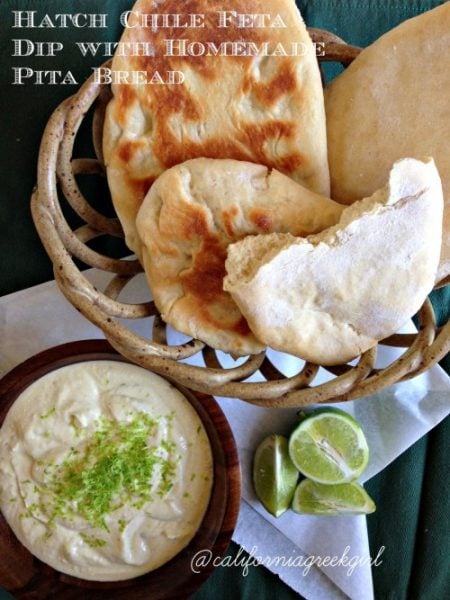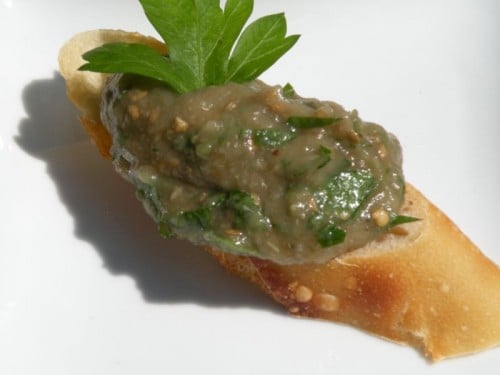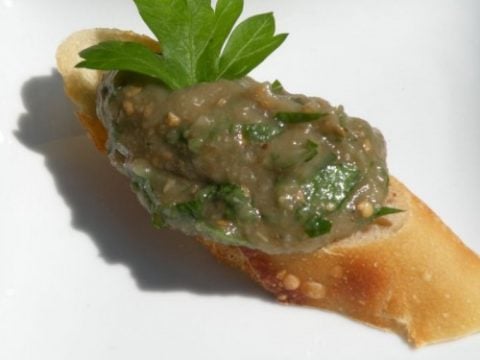 Pita Bread Salad – Greek Panzenella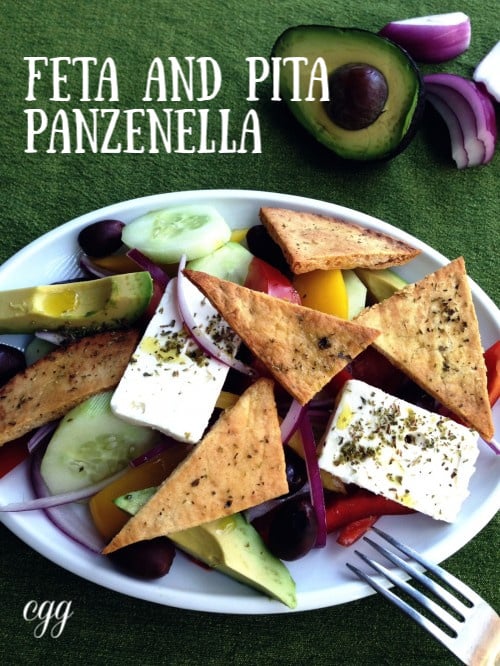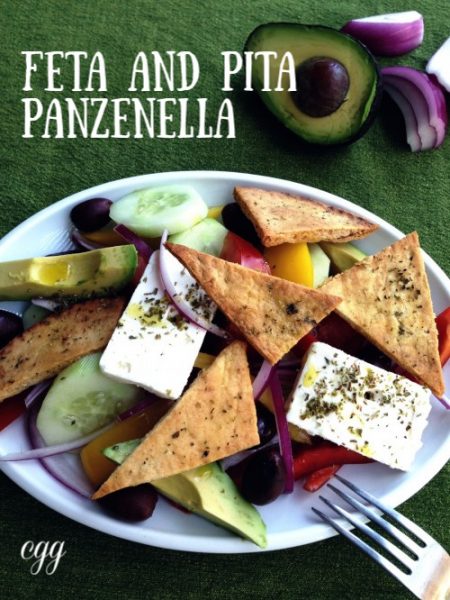 Enjoy your summer and serve fresh!
Mary 
© 2010 – 2022, Mary Papoulias-Platis. All rights reserved.