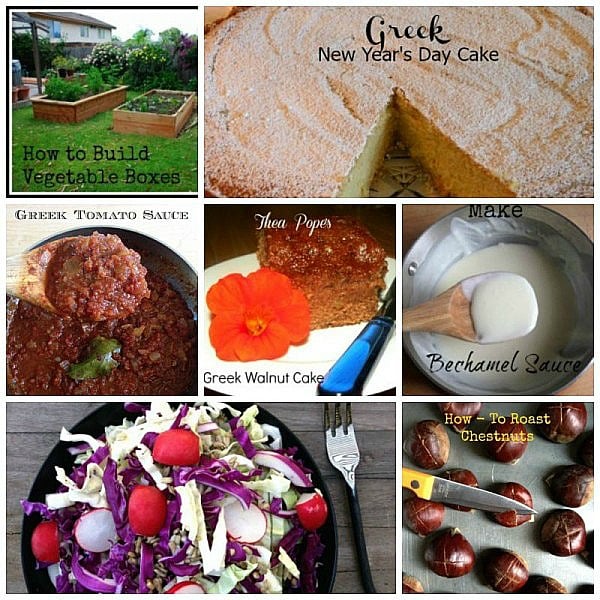 As you can guess the traditional Greek food posts are my most popular and most read recipes for 2014. These recipes are not new, they have been made over and over again in most Greek homes today. What makes these recipes comfort food is your memories of your Yiayia or your mother providing that warm holiday feelings one receives from the cinnamon-y aroma of baklava baking, or the rosemary-garlic stuffed lamb scent surrounding your home.
As we approach the New Year, may you dig further into my blog, and find new versions to try, or possibly try a twist to the many recipes I have developed with new ingredients such as my quinoa-stuffed grape leaves, or the simple lentil soup version or perhaps you may find intriguing – the Greek Cheeses and Beer Tasting post.
I would love to hear from you, any ideas and suggestions will be appreciated, so I may improve and deliver finer more meaningful posts to you! Thank -you for all your support, especially during a busy year like this one has been. If you haven't purchased my book yet, you may want to give it a try and become the olive oil fan that I have become from tasting, developing recipes and just simply enjoying the many flavors of  this ancient food.
My Top 8 Recipes/Blog Posts for 2014
Thea Liza's Vasilopita – Greek New Year's Cake
How- To Make Greek Tomato Sauce
Thea Pope's Karitohpita – Greek Walnut Cake
Greek Custard Phyllo Pie –Galatoboureko
Greek Slaw with Olive Oil Dressing
Wishing all my followers great success in the coming year! May your health and mind stay healthy; moving forward to a New Year of adventures.
Happy New Year with Love,
Mary
© 2015, Mary Papoulias-Platis. All rights reserved.