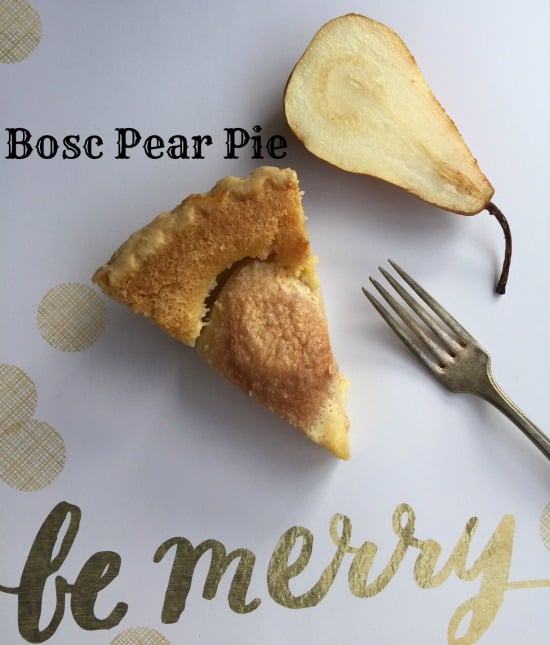 This is one pie I cannot live without! I first had this Bosc Pear Pie at a garden event many summers ago, and have never stopped thinking about it. So recently, I was thumbing through my recipe box, and I came across the recipe from my dear friend Wendy. And we both concluded, the original recipe is unknown. I wanted to post it because it's a perfect Winter dessert for the holidays. Beware, it makes two pies. I suggest you bake both and deliver one to a friend, or take it to work. I haven't had the chance to freeze one, so I can't encourage you to do so. I easily divided the recipe in half the other day, and it was successful. This is not a fancy pie by all means, but made with those lovely Bosc pears, it's a bit special in my mind.
Bosc pears are those bronze skinned pears you see among the other pears in the supermarket. They always looked so special and they are. Bronzed in color, with a curvy shape they are a standout with their beauty and flavor. Try them fresh too, and you'll be sold like I was. And now in a pie – they're crazy good!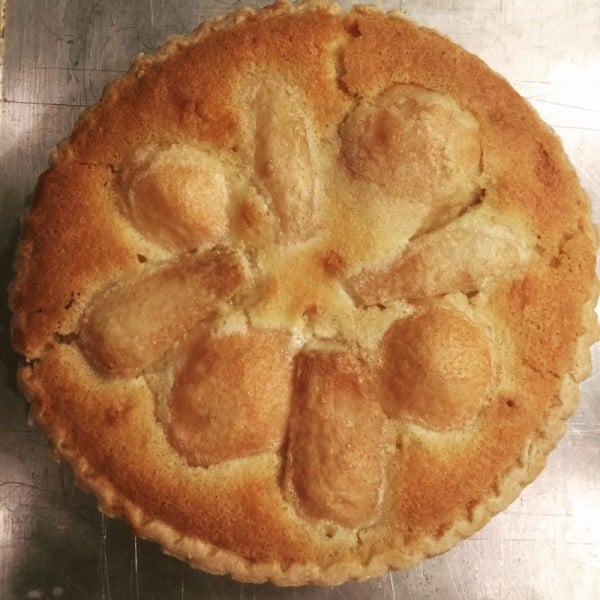 Here are some facts about the Bosc Pear:
The first variety was planted in the U.S. around the early 1800's.
The Bosc is mainly grown in the northwest in Oregon and Washington where they thrive best with their soil and weather.
 The flesh is more firm and dense than any other pear. They are best when they are baked, broiled, and poached.
For cooking they stand-out because they retain their shape and texture, and retain their flavor when adding spices.
Enjoy them fresh with their sweet-crispy bite.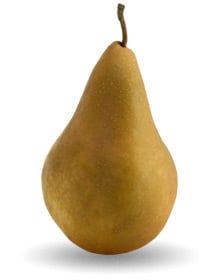 Best Bosc Pear Pie
This recipe makes two pies. One pie won't last, so I assume this is why it makes two! One to be eaten warm straight out of the oven, and one to pass on to a friend.
Author:
Mary Papoulias-Platis
Ingredients
10-12 Bosc pears, peeled and halved and partially ripened. (purchase a few days prior to making the pie.)
¾ cup butter, melted and cooled
2¼ cups sugar
6 eggs
3 teaspoons vanilla
10-12 tablespoons flour
2 pie crusts
Instructions
Preheat the oven to 400 degrees.
Reduce the oven to 325 degrees when placing the pie in the oven.
Arrange pears in the pie crusts. Fill in the cracks with smaller wedges.
Mix remaining ingredients and pour over pears.
Bake at 325 degrees for 1-1½ hours until filling is set, or slightly brown.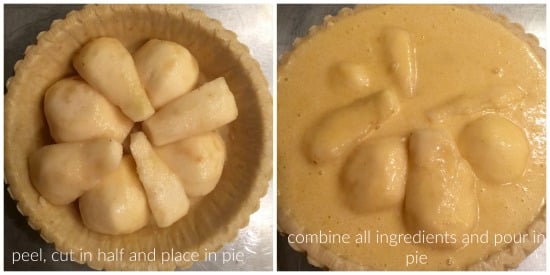 Let it cool slightly and serve warm.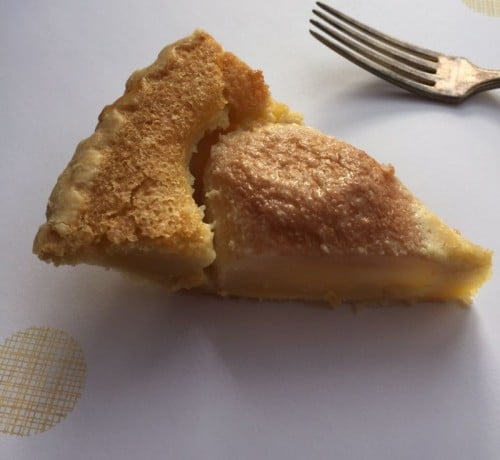 © 2015 – 2021, Mary Papoulias-Platis. All rights reserved.