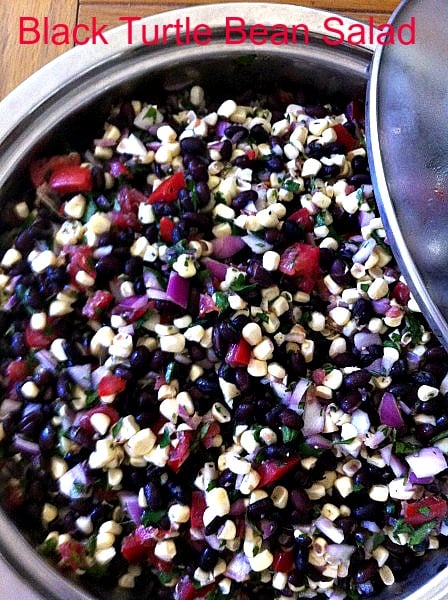 This past week at the farmer's market I made this delicious salsa. With corn being in season it made this dish scream summer! Everyone seem to like the crispness the fresh corn added to a very traditional dip. Turtle beans tend to hold then shape when cooked, so they are ideal for a salad such as this one.
Take this salsa with your favorite chips to your next party or BBQ, it's ideal for a large crowd and can be served at room temperature.

Black Turtle Beans with Corn
Turtle beans are the star in this salsa along with the fresh seasonal corn.
Author:
Mary Papoulias-Platis
Ingredients
2 cups uncooked black turtle beans
2 cups fresh corn (2-3 ears),uncooked
2 cloves garlic, chopped
1 cup fresh tomatoes, chopped
2-4 tablespoons parsley
¼ cup red onion,chopped
2 tablespoons fresh lemon juice
2 tablespoons olive oil
¼ cup cilantro or basil, chopped
salt and pepper to taste
Instructions
Place the beans in a pot and cover with water. Soak overnight.
Drain the beans and add fresh water and bring to a boil and simmer for 1½ hours until tender.
Drain and place in a large bowl to cool.
Add all the other ingredients and stir gently.
Adjust for taste.
Notes
This can be made ahead and served at room temperature.
A great salad for a BBQ and large crowd.
This recipe can be doubled.
© 2012 – 2021, Mary Papoulias-Platis. All rights reserved.