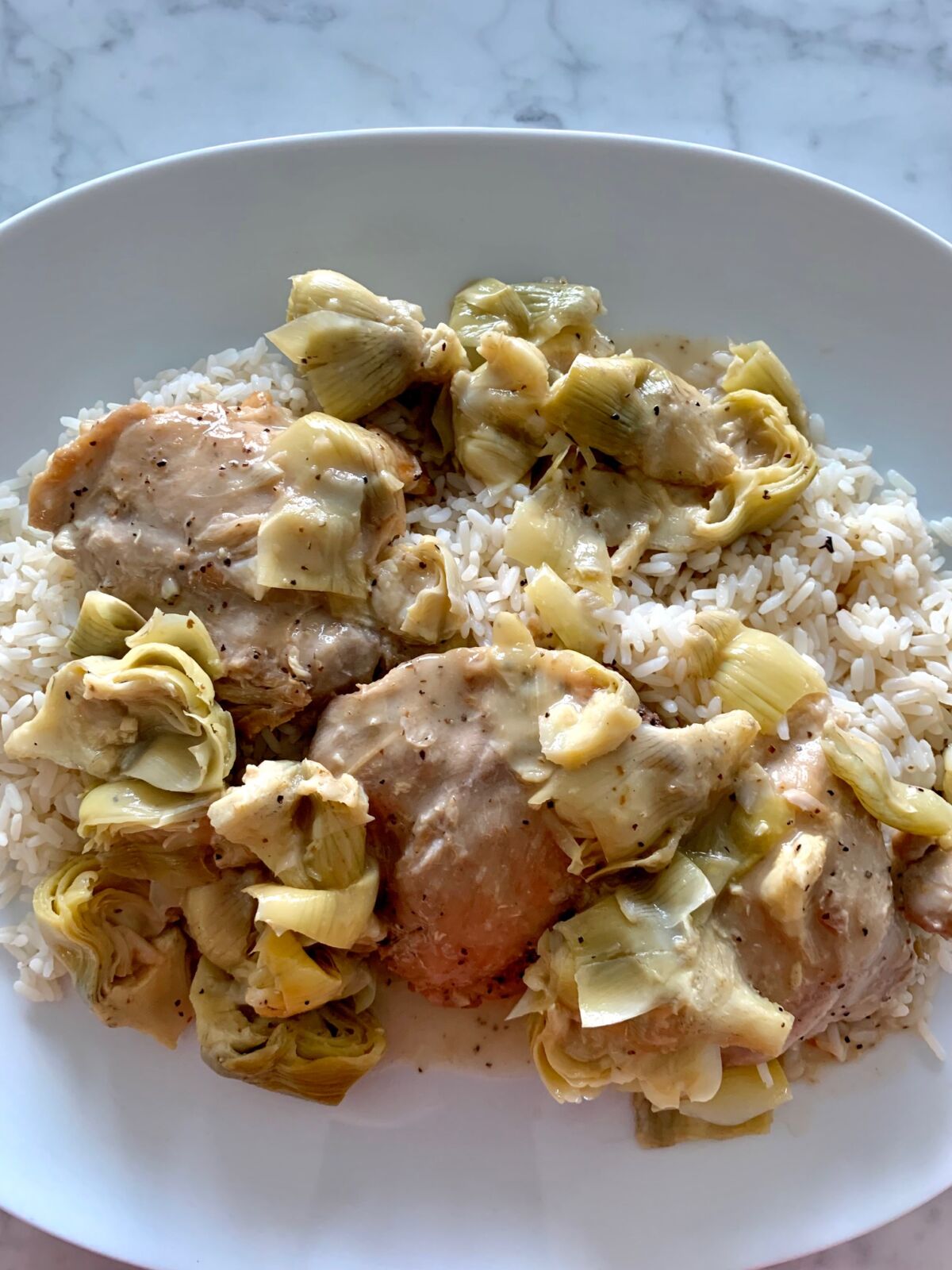 Greek Braised chicken has to be one of my favorite all season dishes to prepare for my family. With the addition of artichokes this dish is elevated and can be served as a  main dish for any occasion.  Greek chicken is a favorite among our household, take a look below for more traditional Greek dishes. It's perfect for a large crowd or at any party or event.  Here, I have accompanied it with plain rice, but this dish can be served  a vegetable, pasta or a Greek salad. The liquid that the chicken is cooked in, is equal portions lemon juice and white wine. You can substitute the wine for a broth. Artichokes can be fresh, frozen or canned in water. Keep these few ingredients in your freezer for a quick last minute dinner.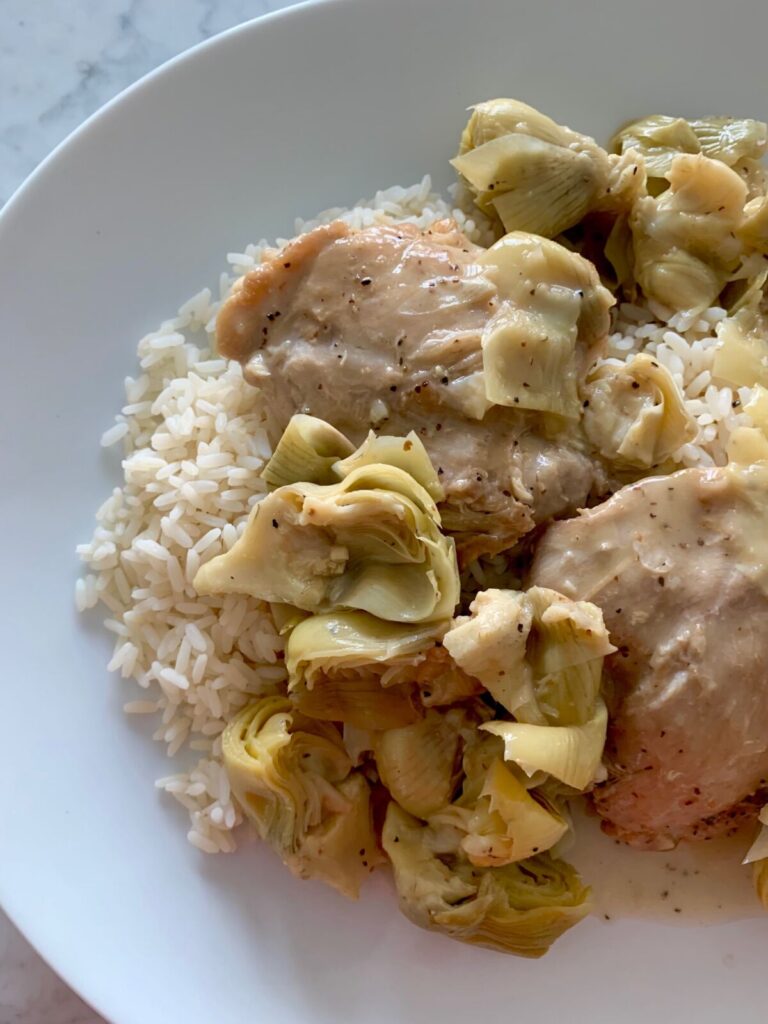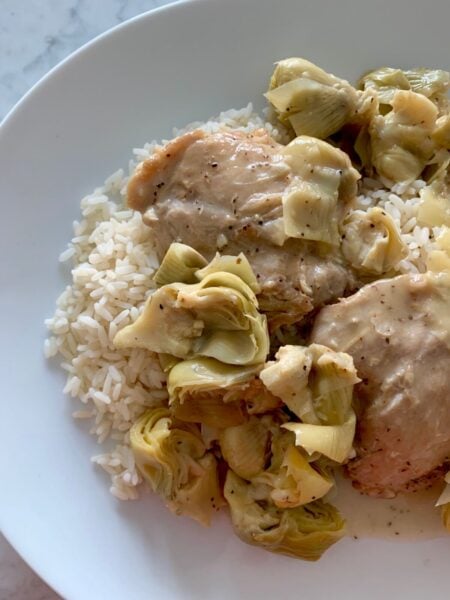 I use chicken thighs because they stay moist in this cooking method. The thighs with the bone in, stay together and do not fall apart during the cooking time.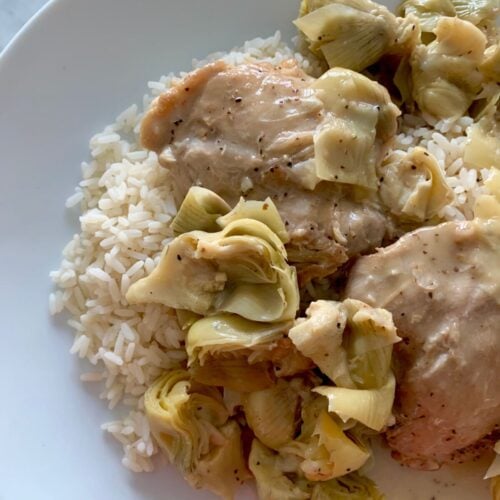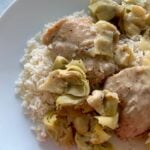 Greek Braised Lemon Chicken with Artichokes " Kotopoulo Lemonato"
Add this to your monthly meals for your family or guests. It's quick with a simple serving of rice.
Ingredients
1

package of six thighs, bone in

1

package of six chicken legs, bone in

2

cans of artichokes in water or 2 packages frozen-thawed

2

tablespoons

olive oil

1

cup

fresh lemon juice

1

cup

white wine

salt and pepper
Instructions
Wash and pat dry the chicken thighs and legs. Sprinkle with salt and pepper.

In a deep Dutch oven, place 2 tablespoons of olive oil in the pan and brown all the pieces 3-4 at a time. Do not overcrowd. Drain on paper towels.

Continue until all the chicken has been browned on all sides.

Place the chicken back in the pot, and add the lemon juice and wine. Bring to a boil, and simmer for 45-50 minutes, until chicken is done.

Remove chicken from pot, leaving in the liquid.

Add the artichokes and cook for 15 minutes or until artichokes have absorbed some of the juices.

Add the chicken back to the pot and reheat on low.

Serve with rice, beans or pasta.
Recipe Notes
The white wine can be substituted with a broth. The artichoke sauce can be thickened with flour, cornstarch or tapioca. This dish can be made the day before, and re-heated.
Techniques on how to make Braised Chicken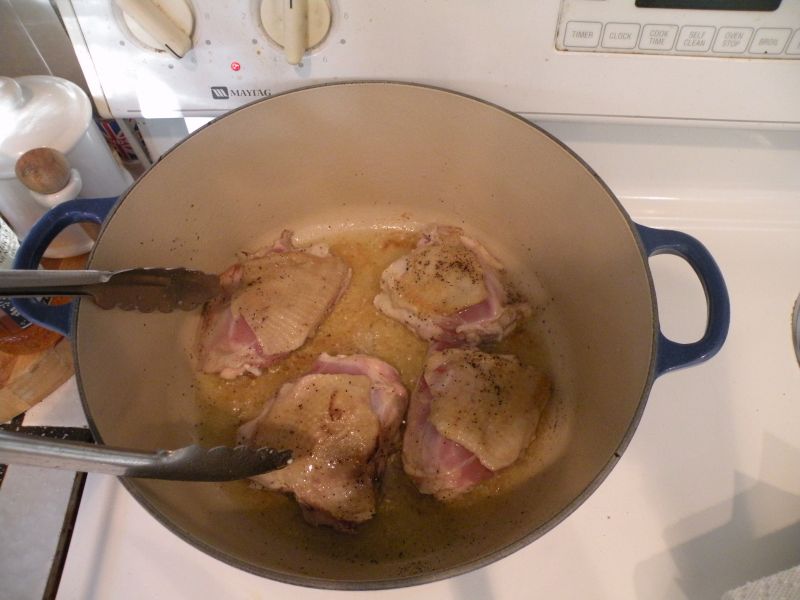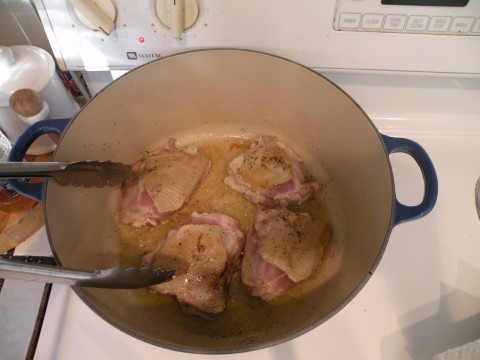 Place chicken in the pot and brown on all sides. Drain on paper towels. Do not crowd.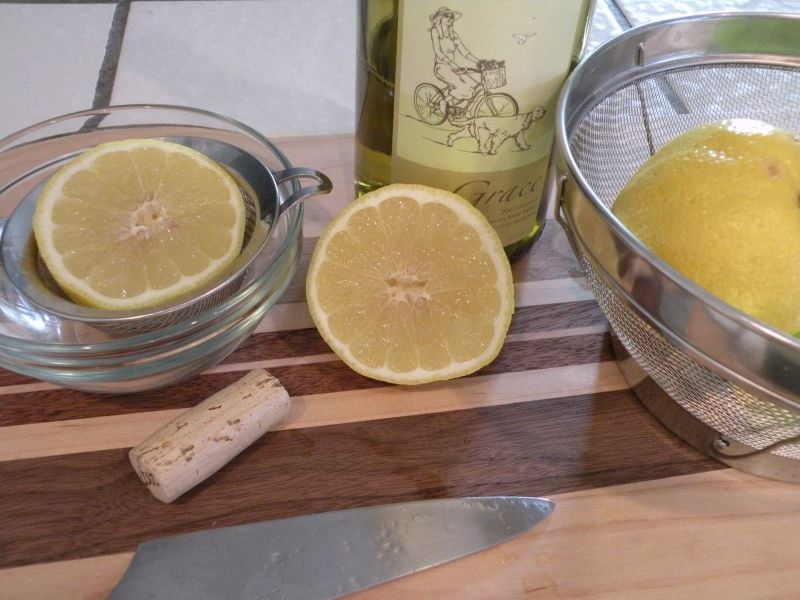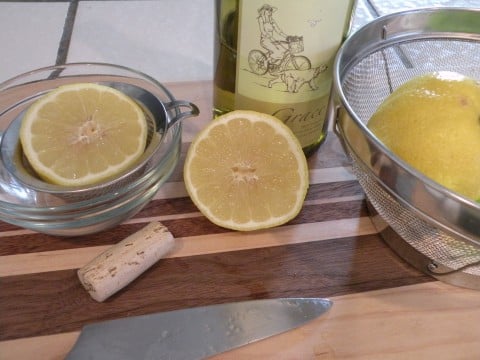 Once all the chicken is browned,  return it to the same pot and add the fresh lemon juice and wine.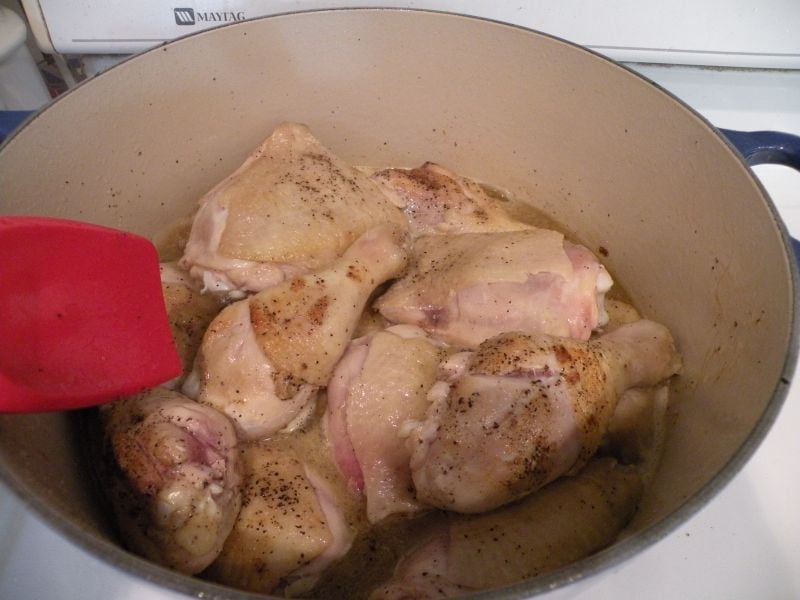 Bring to a boil, reduce to a simmer and braise for 45-50 minutes, until cooked.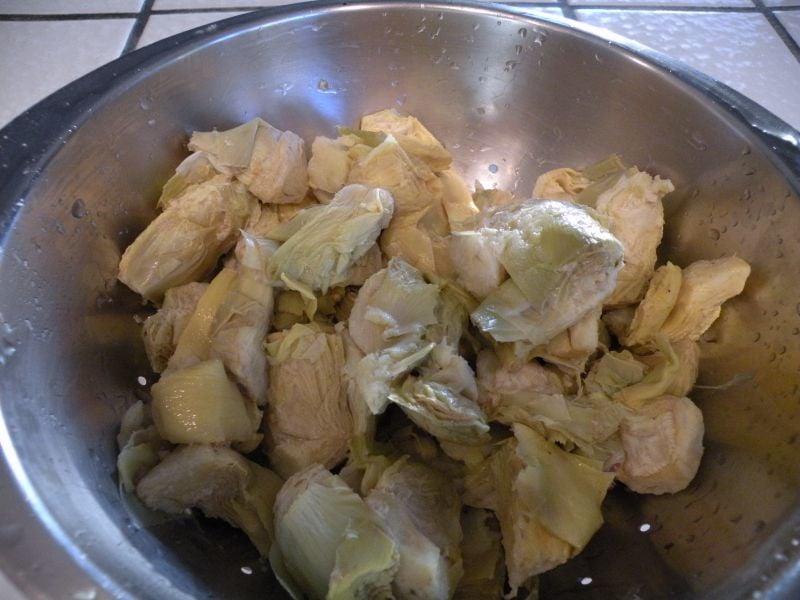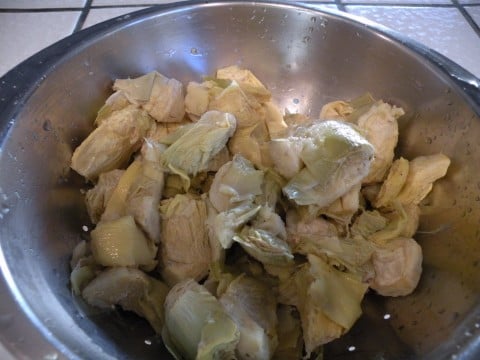 After the chicken is cooked remove from the pot.  Add the artichokes. Cook on low until the artichokes are tender, and juice becomes thick. You may want to add a thickener such as cornstarch, tapioca, or flour to make the sauce.
Add chicken back into the pan to warm and serve.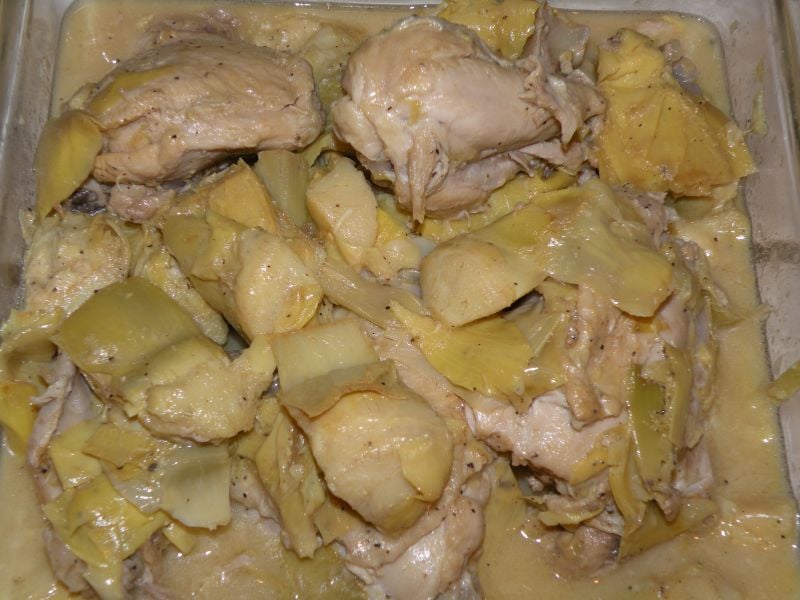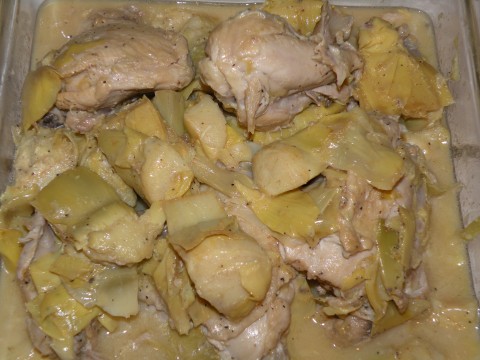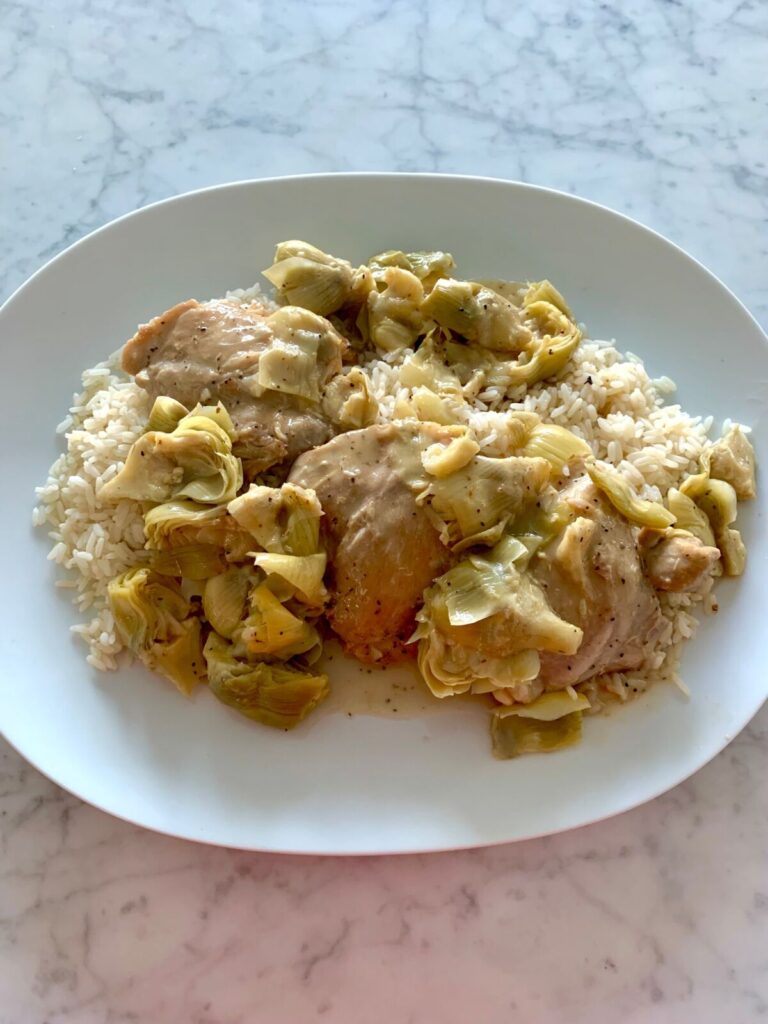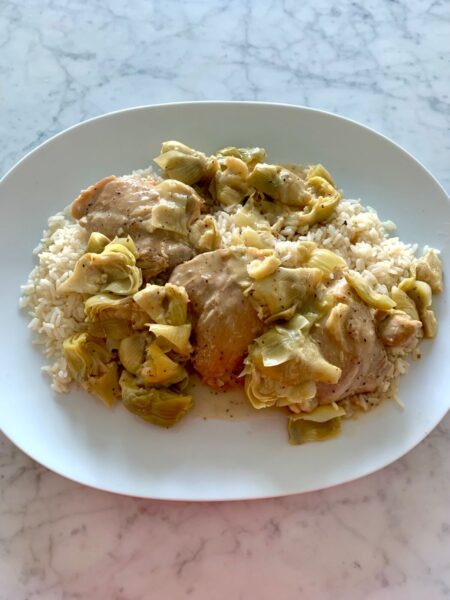 For family style, this dish can be served on a beautiful white platter.  Enjoy with rice pilaf,  vegetables, or a salad.
More chicken dishes for you to serve at home:
Spatchcock Chicken with Potatoes
Roasted Greek Lemon Chicken with Orzo
Family Dinners are the best!
Mary
© 2011 – 2022, Mary Papoulias-Platis. All rights reserved.