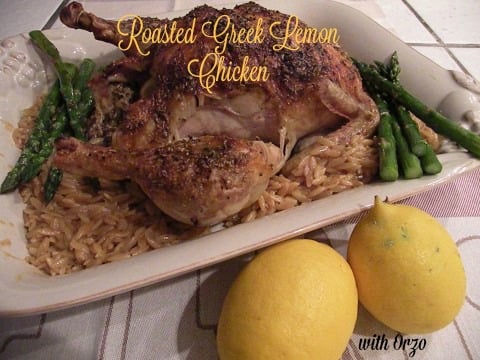 Every week I make my Roasted Greek Lemon chicken dish for a family dinner, a dish almost every Greek family enjoys.
Serving it with the popular pasta orzo (manestra), my family's favorite, it can also be served with rice, couscous, bulgur, or quinoa – just adjust the cooking time.
I buy my free-range organic chicken from a company called Mary's Chickens in California which our local stores carry on a regular basis. This recipe is easy and can be made in one pot.  Serve this with asparagus, broccolli, or a green salad.

Roasted Greek Lemon Chicken with Orzo
This Greek-Lemon Chicken is a common weekly dish, but also the perfect comfort food in many Greek homes.
Author:
Mary Papoulias-Platis
Ingredients
Chicken
1 whole chicken 4-6 lbs, cleaned, insides removed
5-6 cloves garlic, peeled
1 lemon
1 teaspoon olive oil
1 teaspoon dried oregano
½ teaspoon salt and ¼ teaspoon pepper
Orzo
1 cup orzo
2 cups water or chicken broth
½ cup tomato sauce
salt and pepper
Instructions
Chicken
Pre-heat the oven to 350 degrees.Wash chicken thoroughly with cold water.(remove the bag inside the cavity)Place breast side up in a deep baking dish.
Slowly lift the breast skin careful not to tear it, and stuff the whole cloves inside gently.Sprinkle with olive oil, juice of half a lemon oregano, and salt and pepper.Place the other half of lemon inside the bird.
Add ½ cup water to the pan.Place in oven at cook for 1-1½ hour, or until internal temperature reaches 140 degrees.
When done, remove the chicken and place on a platter,cover, and let it rest.
Orzo
Adjust your oven to 400 degrees.
Leaving the juice in the pan, use a spoon or strainer and lift out any bits of fat in the juice.
Add the water (chicken broth) and tomato sauce, place pan back in the oven and let it come to a boil.
Pull the pan out slightly and add the orzo, salt and pepper and stir to combine.
Place the pan back in the oven , checking it often to stir and add more water if needed.
Bake until softened for 15-20 minutes.
Pull the orzo out when little juice remains, once it's cooled orzo will be nice and thickened.
Serve with the roasted chicken.
Orzo can be sprinkled with parm or feta cheese.
Notes
You can substitute rice, bulgur, couscous, wild rice for the orzo. Chicken Cooking Tips: I use an instant thermometer to test the internal temperature of chicken.Letting the chicken rest, it will continue to cook, cover, and let it rest at least 20-30 minutes.
© 2012 – 2019, Mary Papoulias-Platis. All rights reserved.