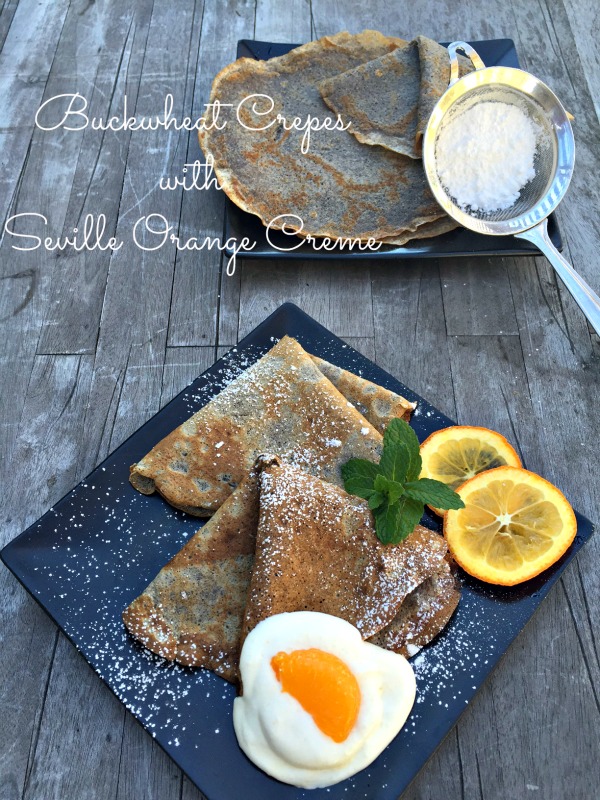 Crepes aren't something I make on a daily basis as the French do, but I do love creating a new flavor base for them. One type of pancake I do crave often are Buckwheat pancakes. The old-fashion flavor of this organic whole wheat mixture with an organic maple syrup is all I need to make a perfect breakfast. So, I switched out the regular white flour normally used in a crepe for Bob's Red Mill Buckwheat whole grain mix. You can order this on their site. I have been using Bob's products for many years and you can't go wrong with their quality organic products.
I also often work with unusual fruits and vegetables , and this recipe has Seville orange creme as the topping for these crepes. Seville oranges are bitter not sweet. They also contain large seeds inside, so they are best used for their juice as well as jams and jellies. Several years a go I made a Seville Orange Curd with Scones you may want to use at another time. Melissa's Produce sent me a bag of these oranges and I always enjoy the challenge of creating a new recipe with them. Any citrus can be substituted for this creme recipe.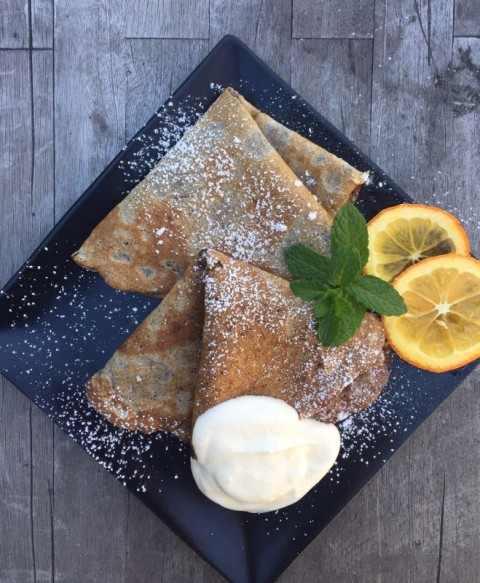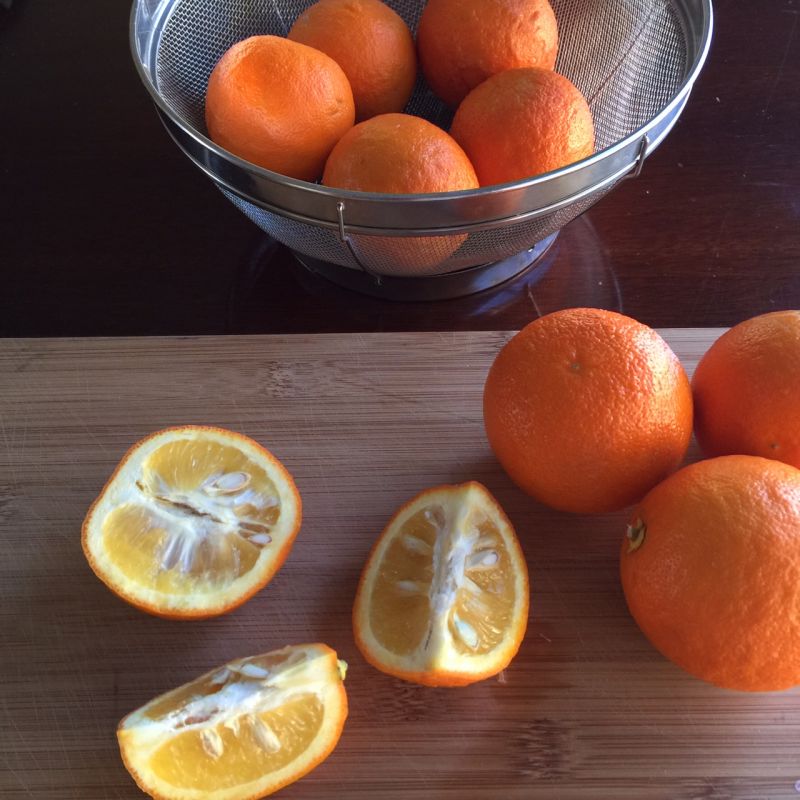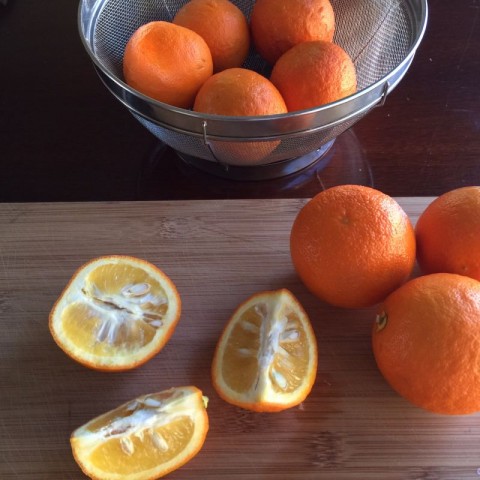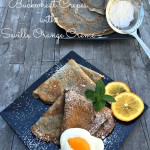 Buckwheat Crepes with Seville Orange Creme
This is a special dessert I have loved for a very long time. I wanted to make the crepes a bit healthier for my family substituting buckwheat for regular flour. With the tangy flavor of the seville oranges this makes a wonderful creme for the topping.
Ingredients
1

cup

buckwheat flour or regular flour

1

teaspoon

sugar

1/4

teaspoon

salt

1 1/2

cups

whole milk

3

large eggs

2

tablespoons

butter, melted

1

teaspoon

oil

1/2

cup

powdered sugar
Instructions
In a medium bowl whisk the buckwheat flour, 1 teaspoon of sugar and salt together with a whisk. Set aside.

In a small bowl whisk milk and eggs together until smooth.

Add 1/2 the milk to the dry ingredients, and whisk until blended.

Add the melted butter and whisk together. Add the remaining milk and mix until smooth.

In a 12-inch non-stick skillet and add oil over low heat until warm and remove excess oil with a paper towel and discard.

Increase heat to medium, test the skillet by adding a teaspoon of batter. If batter becomes golden brown it's ready to cook the crepes. Adjust the heat as you go along if necessary.

Pour 1/4 cup batter to pan and swirl the pan until batter is thinly covering the bottom of the pan. Cook for 20 seconds and flip gently. Cook for 25 seconds more. Remove and place on a to wire rack.

Stack crepes on top of one another and continue until all the batter is used.

Top with powdered sugar before serving.

Place creme inside crepes or place on top.
Recipe Notes
Crepes can be covered and refrigerated for 2-3 days. Reheat crepes in the oven before serving or serve at room temperature.
The crepe should be golden-brown before flipping it over. Carefully, lift one side with a spatula and gently flip over. It's easy, after a couple of crepes you'll get the technique down. Place on a wire-rack so the crepes can cool. Stack on top of one another until you have them all done. At this point you can wrap and refrigerate them or use them up immediately.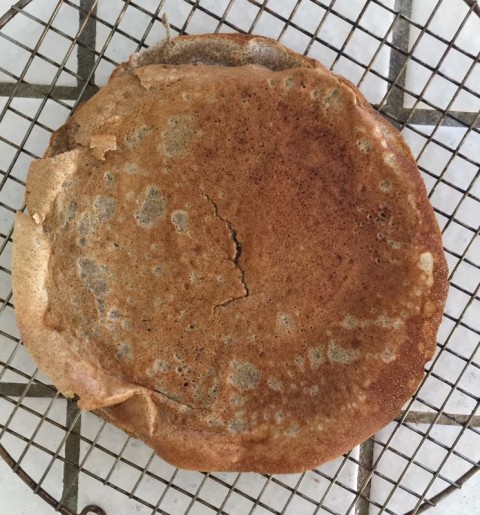 Seville Orange Creme
Add this creme to any of your desserts, and is perfect for these crepes.
Ingredients
1

cup and 2 tablespoons

heavy cream

1/4

cup

powdered sugar

1/4

teaspoon

vanilla extract

1

seville orange, zested and juiced
Instructions
Whip the cream with the powdered sugar and the vanilla until the cream stands in soft peaks.

Add the seville orange zest and juice and stir gently to combine.

add to the top of the crepes or add a tablespoon or two inside the crepes.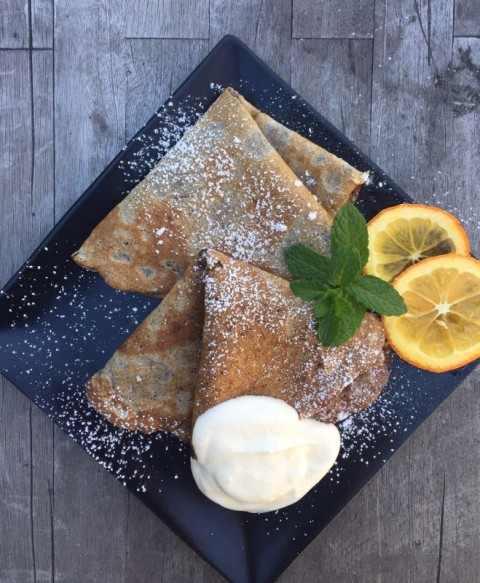 Want a savory crepe? Fill these crepes with a medley of cooked vegetables, seasoned lentils, beans, or your favorite meat.
Try many of my breakfast and dessert recipes:
Pancakes with Roasted Strawberries
 Seville Orange Curd with Scones
Happy Morning,
Mary 
© 2016 – 2022, Mary Papoulias-Platis. All rights reserved.