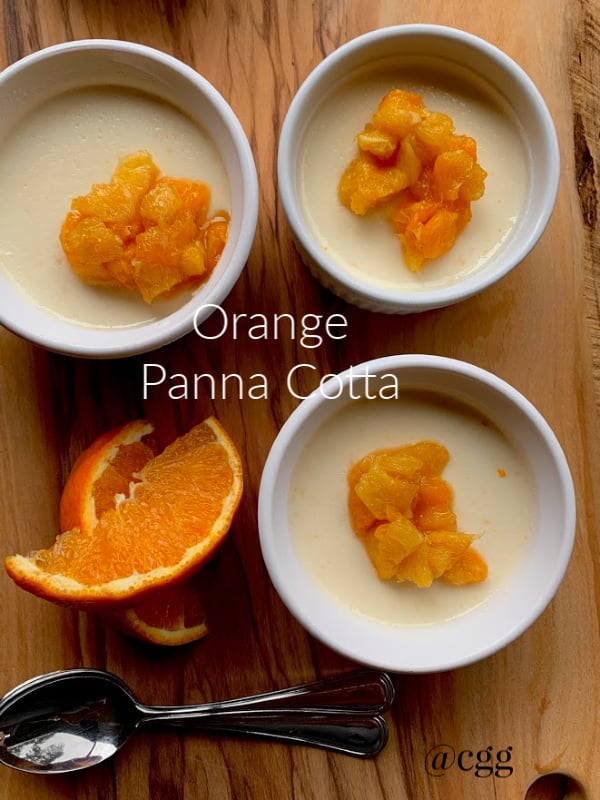 Traveling up to Melissa's Produce almost monthly to meet and have lunch with cookbook authors, is one of the most enjoyable times in my culinary career. I don't think Robert who runs this program understands the impact it makes on us, as we continue on our path into the culinary world. We have learned so much information from the presenters such as cooking tricks, tips and proper techniques which has furthered our cooking skills as well. Many authors shared with us their struggles and success over the years in their business. And we have heard it all, from living a beautiful relaxing life in France to a enormously non-stop busy schedule of two authors in an apartment in NYC.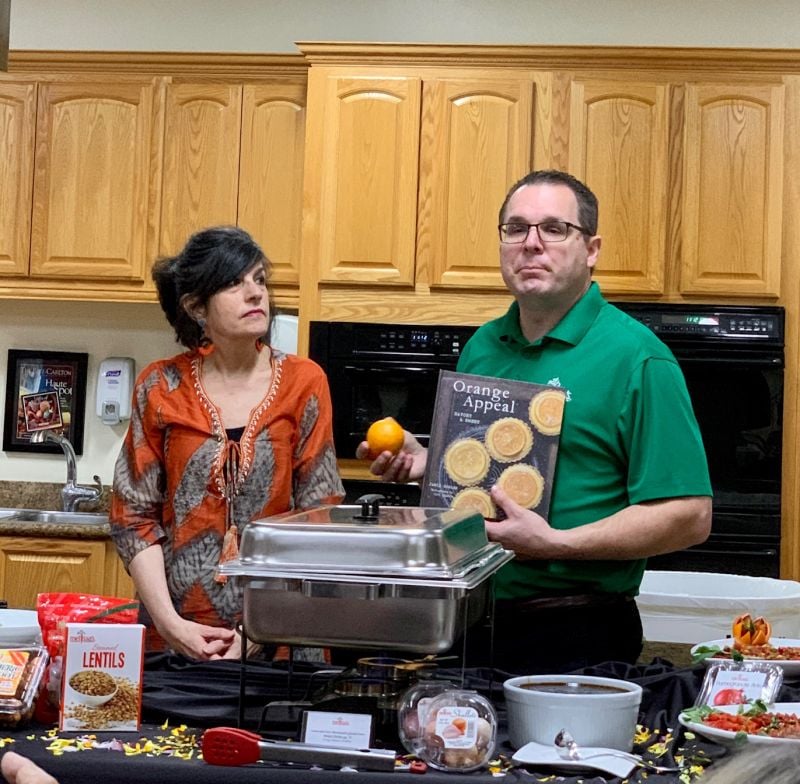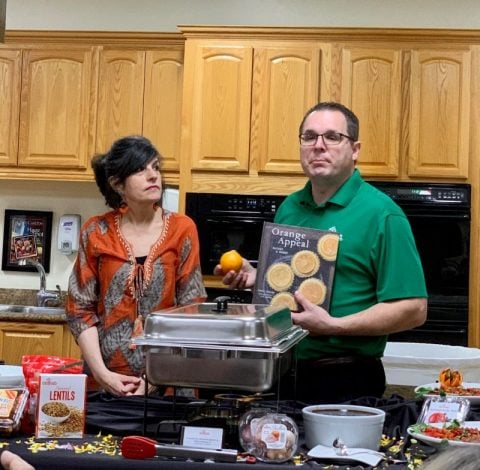 It is truly is a blessing to have Melissa's Produce as a support in the industry. Their contribution to the culinary world is always leading the way with excellence and integrity.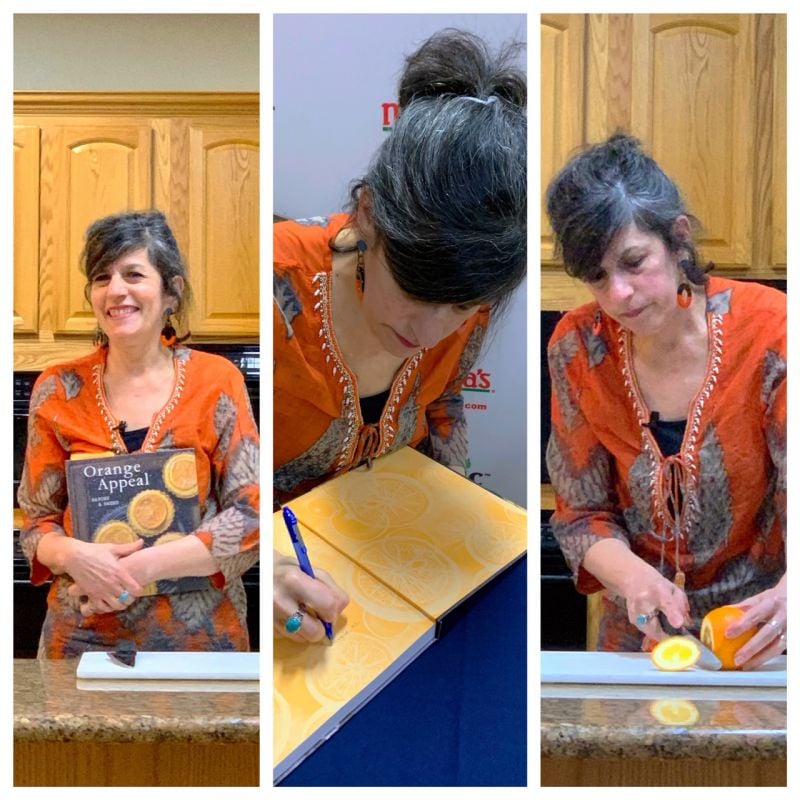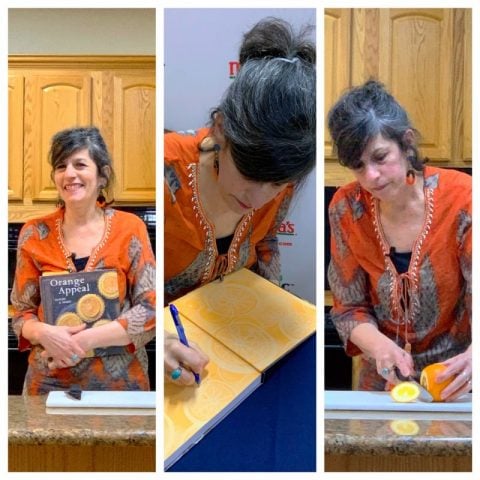 Let's meet Jamie Schler , cookbook author of her new book Orange Appeal.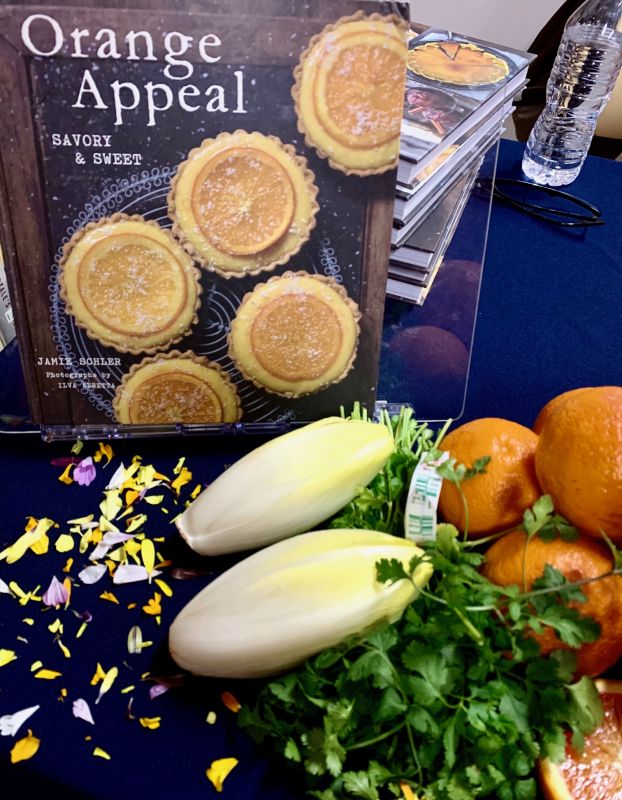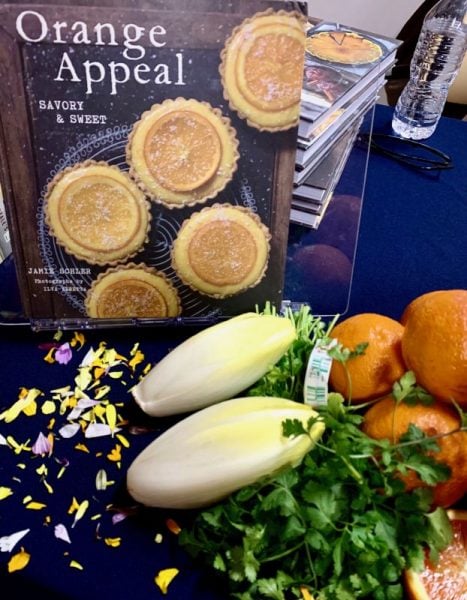 These are a few of the dishes from her cookbook that we had during the luncheon at Melissa's .
Morrocan Spiced Orange Slices in Orange Blossom Water
Savory Orange, Onion, and Olive Focaccia
Sweet and Sour Marmalade Oven Baked Chicken
Quinoa Salad with Orange, Pecans and Cranberries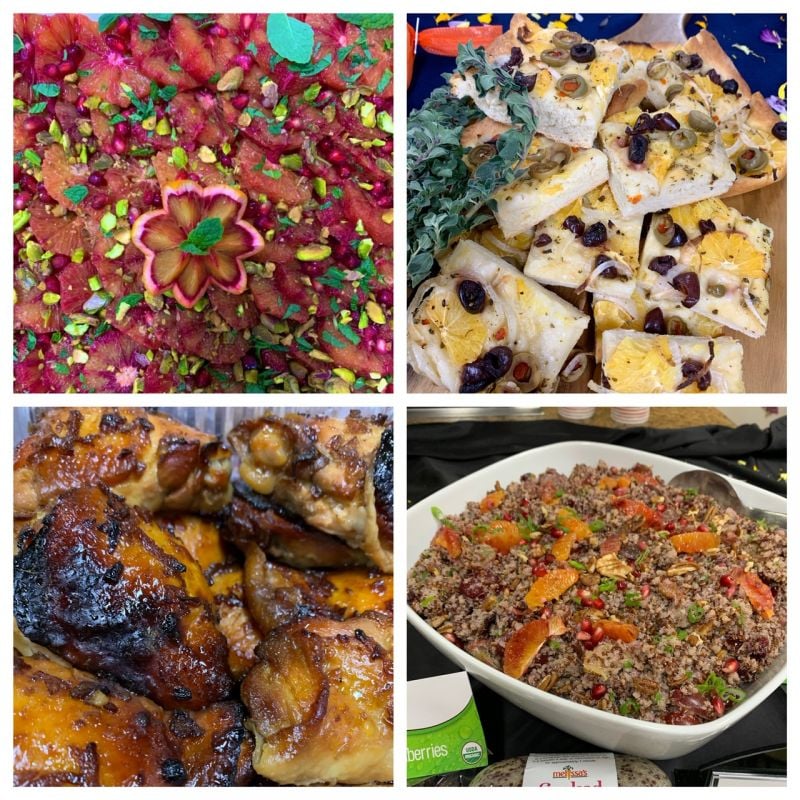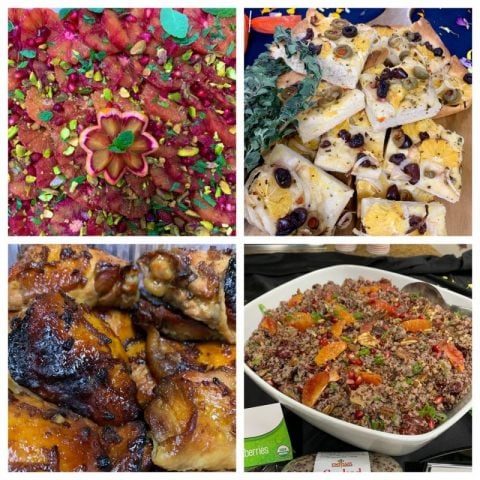 During this month at Melissa's we had the honor of meeting award winning author Jamie Schler. She introduced her new cookbook Orange Appeal. From her presentation we learned all about the varieties of oranges from her birthplace, Florida. She grew up among the orchards near Indian River, where she spent winters picking and devouring tangerines, mangos, avocados, tomatoes,watermelons and  more. What a lucky girl! Her one jingle heard from her youth was:
"A day without orange juice is like a day without sunshine."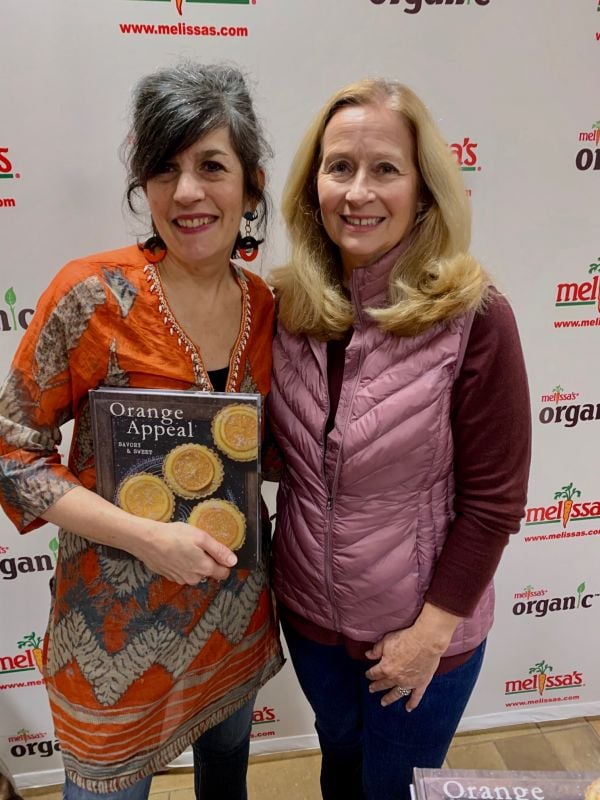 Today I'm sharing a recipe from her cookbook that was so sweet, creamy and new to my taste buds. I loved the fresh topping made from blood oranges, (I used oranges from my tree) with a touch of vanilla. Um…..introducing her Orange Panna Cotta!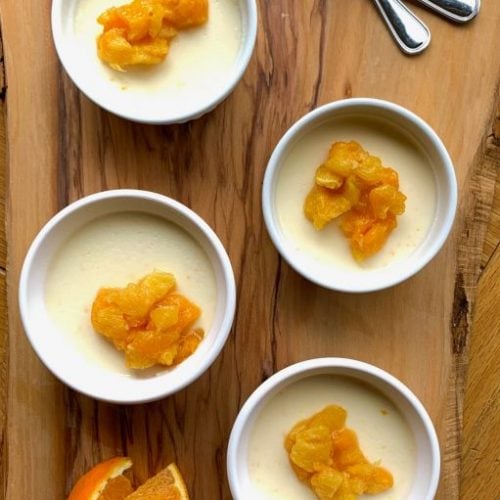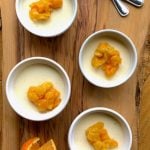 Orange Panna Cotta with Orange Compote
Panna Cotta is an Italian dessert, but add oranges and you have an exceptional dessert to serve at a dinner party or for your family.
Ingredients
2 1/2

cups

heavy or light cream, divided

2

teaspoons

unflavored powdered gelatin

1/2

cup

granulated sugar

1/2

cup

fresh orange juice

1

teaspoon

orange zest

2

tablespoons

whiskey

1/2

teaspoon

vanilla extract

1/4

teaspoon

orange extract or orange blossom water
Orange Compote
2

medium

oranges

3

teaspoons

granulated brown sugar or honey

1/4

teaspoon

vanilla extract
Instructions
Pour one cup pf the cream into a heavy-bottom saucepan and sprinkle the gelatin on top; gently tap the gelatin to push it under the liquid. Allow to sit for 5 minutes.

Place the saucepan on low heat and allow the cream to heat slowly, whisking gently for 4-5 minutes until the gelatin dissolves completely. Do not allow the cream to come to a boil.

Whisk the sugar, remaining cream, orange juice, and zest. Continue to cook over low heat until the sugar is dissolved and the liquid is thoroughly warmed. Stir in the whiskey, vanilla and orange extract. Remove from the heat.

Divide evenly between 6 glasses or pudding bowls and cover with plastic wrap, refrigerate overnight.
Orange Compote
Cut away the orange peel, white pith and outer membrane from the orange. Cut the fruit into small cubes about 2 cups.

Place the fruit, brown sugar, and vanilla in a saute pan and heat to a low simmer for 5 minutes. Remove from the heat, pour into a bowl and allow to cool to room temperature.

When ready to serve, spoon a heaping tablespoon of compote on top of each panna cotta. Top with lightly sweetened whipped cream.
TIPS!
When the recipe calls for a supremed orange the technique behind it is very important. First of all, taking the shortcut and just peeling the oranges and chopping them into small pieces won't do. You have the tough membrane and part of the pith included. What you want to achieve is a smooth small orange bite to blend with the light smooth feel of the panna cotta. Learn to supreme an orange here at Martha Stewart.
Also, as you supreme your oranges the juices will be dripping everywhere. So make sure you do this over a bowl to collect all the juices. And squeeze the orange to release more juices before throwing out. You can save the juice for a vinaigrette, smoothie, or a sweetener.
With any custard-type dessert, make sure to individually wrap each cup to protect the freshness of the dish. Scents collect in the refrigerator and the can impart their flavor onto your dessert.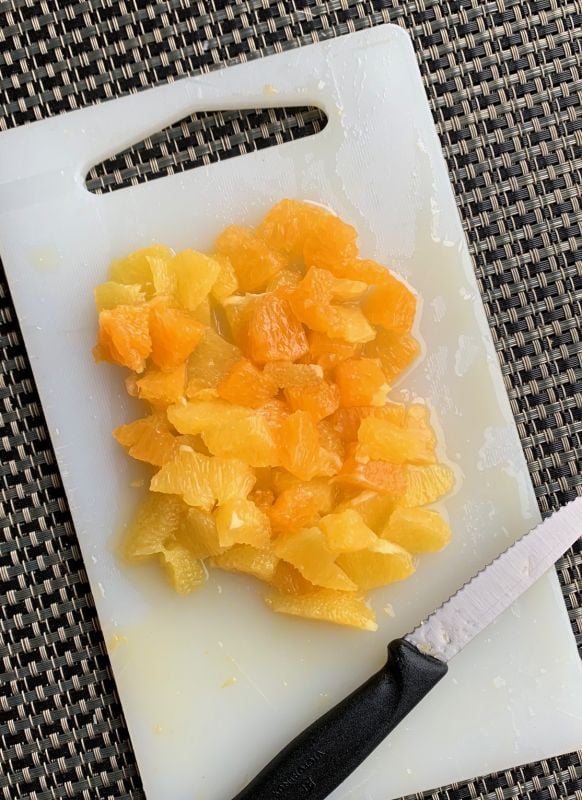 My family enjoyed the freshness and simplicity of this dessert. And requested it again for our next dessert.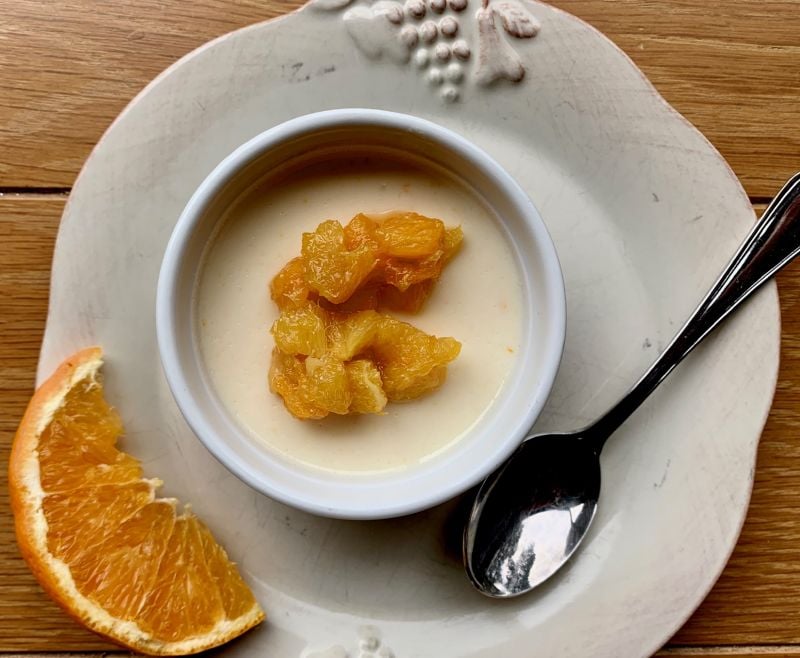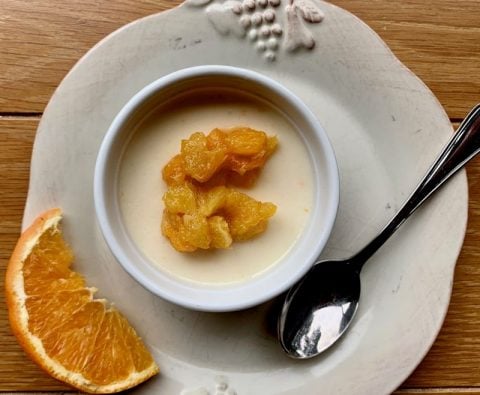 More Orange Recipes from my Blog!
Blood Orange with Sweet Potatoes
Blood Orange Ice Cream in Phyllo Cups
Seville Orange Curd with Buttermilk Scones
Citrus heaven,
Mary 
© 2019 – 2020, Mary Papoulias-Platis. All rights reserved.