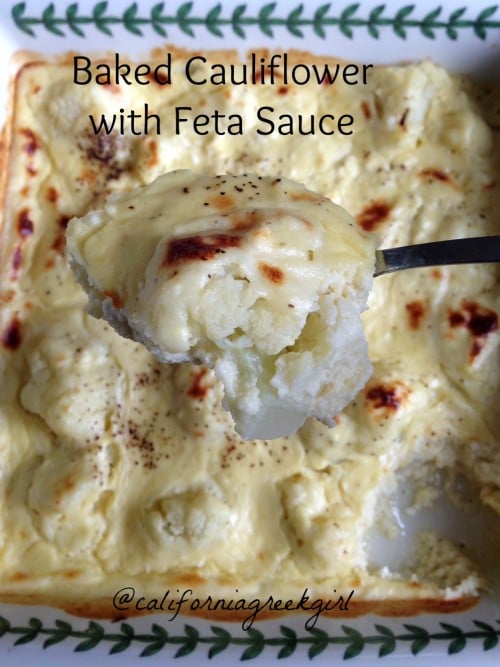 I will try any dish with Greek Feta cheese in it. I chose cauliflower because it is a very important vegetable in the Greek Diet. When I was in Greece in October the cabbage and cauliflower were growing  in gardens everywhere.  They have busy gardens full of their winter harvest. The culture depends on their gardens for all their dishes. They take great pride in growing greens, peas, broccolini, onions, and spinach for the winter season.
This is a easy white sauce to work with, which is called " Bechamel" made with feta cheese and baked in the oven.  Include this at your table as a great side dish for the holidays, which also can be doubled for a large crowd. I placed my dish under the broiler for just a few minutes for extra browning.
My Raw Milk Feta came from
Redwood Hill Farm
, aged for over 60 days. Here are a few facts about this wonderful family business:
Redwood Hill Farm is an award-winning, Grade A goat dairy farm and creamery located in Sonoma County, California.
Redwood Hill Farm proudly became the nation's first Certified Humane® goat dairy in 2005.
Their products include, goat kefir, goat cheese, and goat yogurt.
Family owned farm since 1968 wit superior quality products. Can you tell I love them and their goats!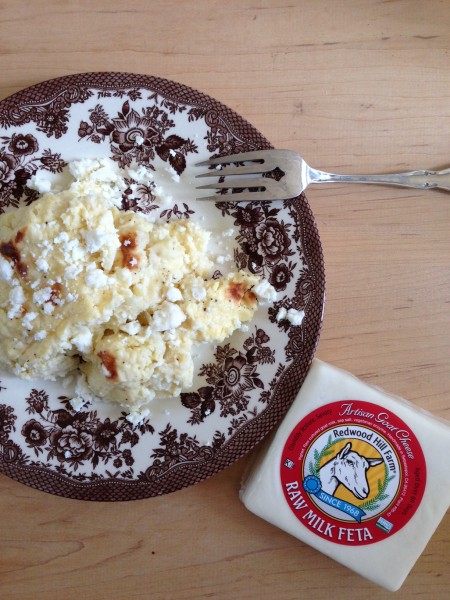 Cauliflower with Feta Cheese Sauce
Back to Basics with a simple cauliflower bake with feta cheese. Can't get easier than this!
Author:
Mary Papoulias-Platis
Ingredients
1 large head of cauliflower
¼ cup butter
¼ cup flour
2 cups milk
1 cup grated feta
2 eggs, beaten
Instructions
Separate cauliflower into flowerets and cook in boiling water, until tender.
Drain and arrange in shallow baking dish.
In a medium saucepan melt the butter. Slowly add the flour and continue to whisk until slightly browned.
Slowly add the milk whisking nonstop, until thickened.
Add the cheese and cook until almost melted. Remove from the heat.
Add eggs to a large bowl and slightly beat together.
Add ½ cup of warm cheese mixture into the eggs and mix to temper the eggs.
Slowly add the cheese mixture until incorporated.
Season with salt and pepper.
Pour over the cauliflower.
Bake in oven for 15 minutes or until heated throughout.
Optional: Place under the broiler to brown if needed.
Place in a pretty dish that is ovenproof and serve directly from the table.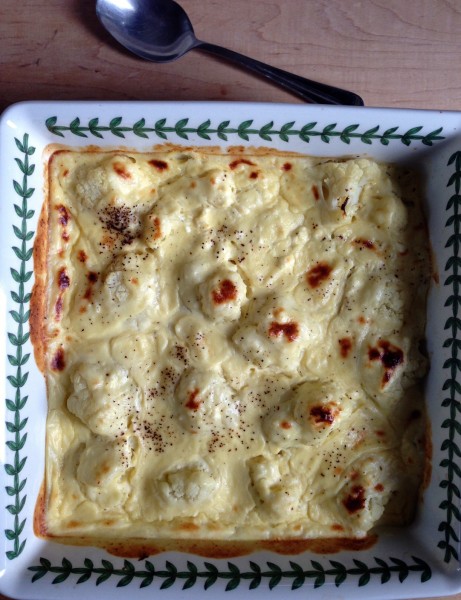 Redwood Hill Farm graciously sent me an array of their products. I was not paid for this post. This is my original recipe and ideas.
© 2013, Mary Papoulias-Platis. All rights reserved.