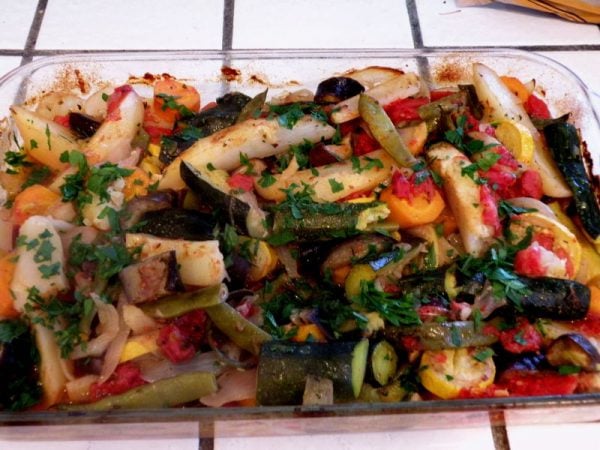 This week in my C.S.A. box I received so many delicious vegetables, it made me think back to my mother's roasted vegetables dish so I thought I would try my hand at re-creating her dish in my kitchen. Basically, it's whatever you have on hand, and what your garden is producing. The list of vegetables can vary so select your favorite vegetables, and try this easy and quick dish for dinner tonight. This makes a great side for your main dish. Serve with rustic bread, and a glass of wine.

Greek Garden Roasted Vegetables
Vegetables are baked together in this scumptious simple Greek dish.
Author:
Mary Papoulias-Platis
Ingredients
1-2 onions, sliced
3-4 garlic cloves, chopped
3 potatoes, peeled and sliced in quarters
4 carrots, chopped into 1-2" pieces
½ pound green beans, halved
4 zucchini, yellow or green, chopped in 1-2" pieces
3-4 eggplant, sliced and chopped in 1" pieces
1½ cans chopped tomatoes, or 3-4 fresh tomatoes
¼ cup olive oil
¼ teaspoon salt
⅛ teaspoon pepper
2 teaspoons dried Greek oregano
2 teaspoons fresh chopped parsley
Instructions
Place 2-3 tablespoons of olive oil in a frying pan on medium heat.
Saute onions, salt and pepper in the pan until onions become soft.
Add garlic and saute for 1 more minute. Remove from heat.
In a large casserole dish arrange onion mixture on the bottom of the pan.
Add all the vegetables, oregano, tomatoes.salt and pepper. Mix well.
Sprinkle with remaining olive oil..
Cover with parchment then foil, and bake in a 375 degree oven for 1 hour.
Remove foil and paper and bake for 15 minutes until vegetables are lightly brown.
Add chopped parsley.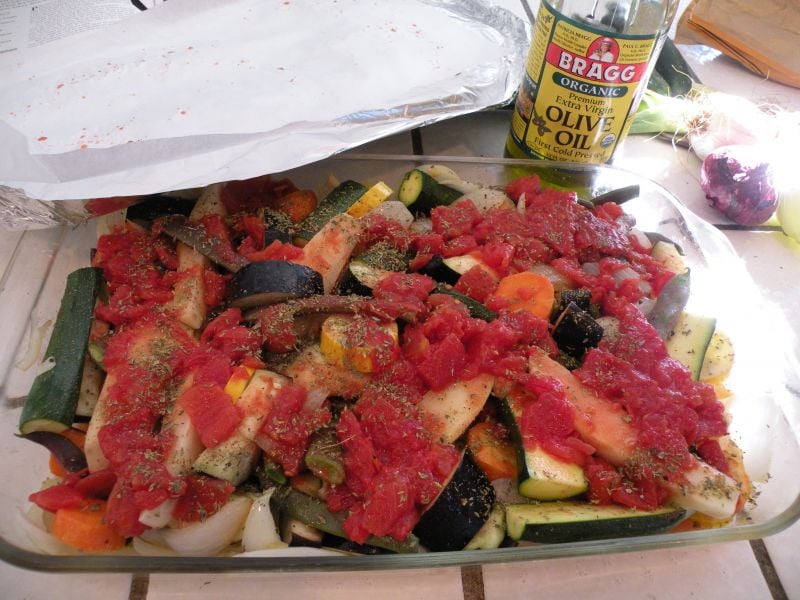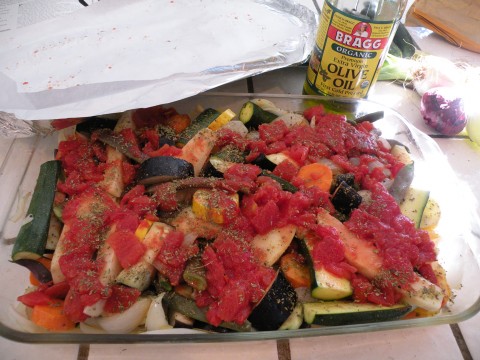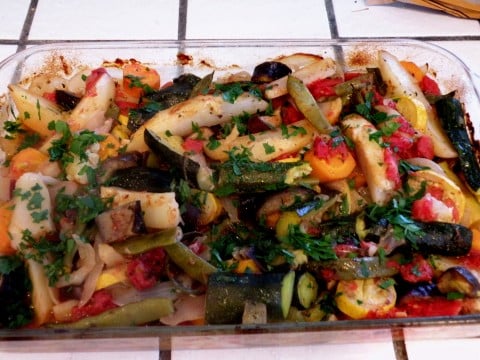 © 2011 – 2017, Mary Papoulias-Platis. All rights reserved.