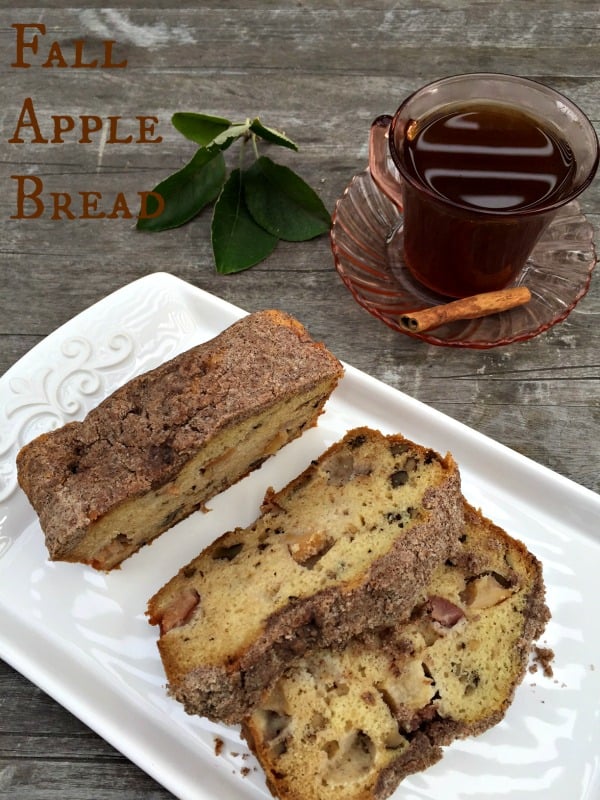 This Fall apple bread has been in our family for quite some time. After finding this misplaced recipe the other day, I decided it's time to make it again. I had the apples from my Anna apple trees. The only change I made was not to peel the apples, but to chop them in large chunks. This recipe was so moist and full of apple flavor everyone loved it!  I just need to make sure not to lose this handwritten recipe again.
This recipe is so special to me because it is hand-written by my mother-in-law, Helen. She loved coffee cakes and sweets. She always wanted to have something on hand to serve up in the morning to a local passer-bye. You see, she lived on a busy corner where the town would drive by daily on their way to work. And she would get neighbors and friends dropping by all the time. She once told me she had a regular visitor who came and stayed for quite some time, and neighbors thought she was seeing him – if you know what I mean. He was there for a bite of whatever she had baked that day. Well, everyone just loved her cooking, and she was more than happy to share her pastries and desserts.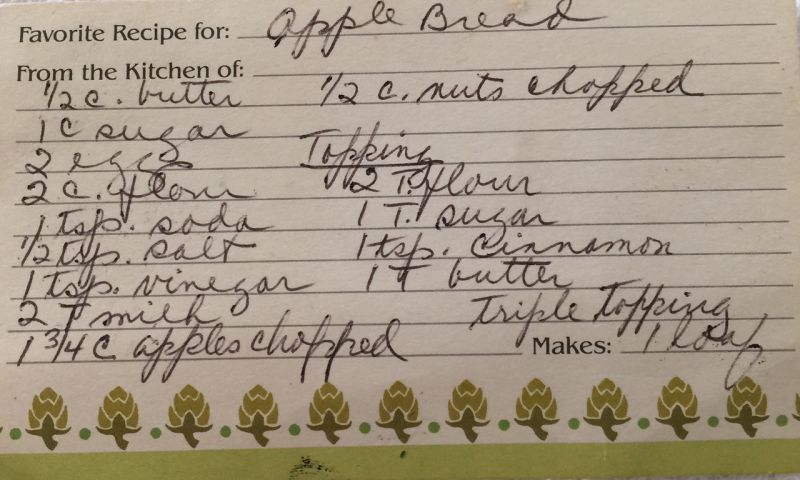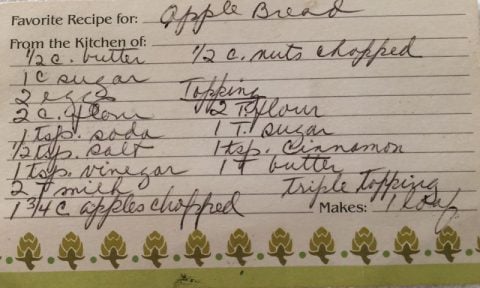 I planted several apple trees in my yard, and I especially like the "Anna" tree. It gives me a large crop twice a year. Working with apples gives me such pleasure because it reminds me of the many trips I have taken with friends and family to the Julian Apple Farms. Besides, what is Fall without apples and cinnamon.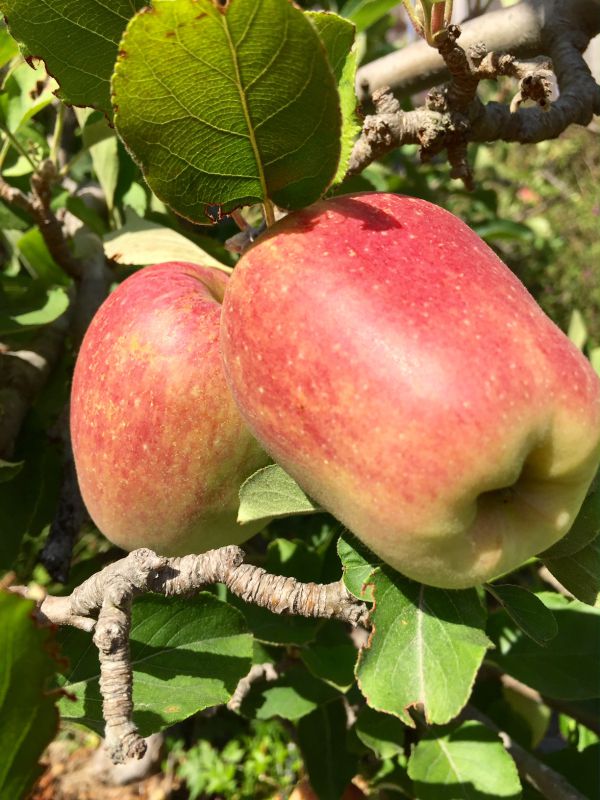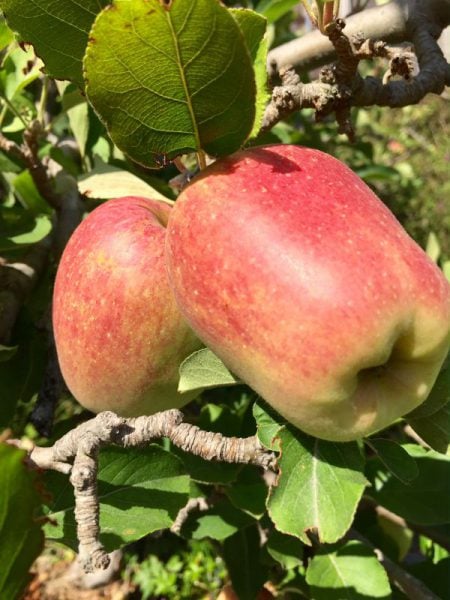 This is my tree the "Anna" apple.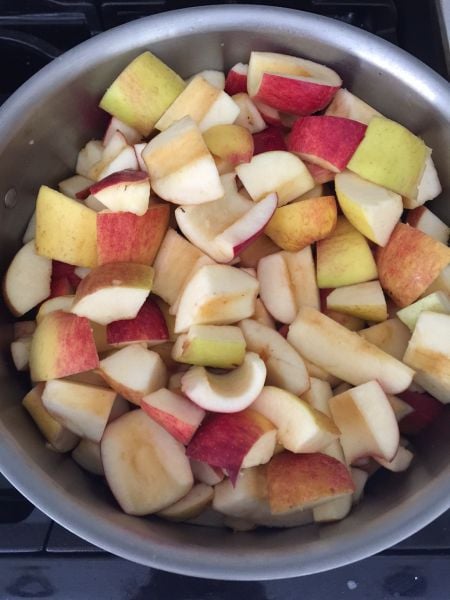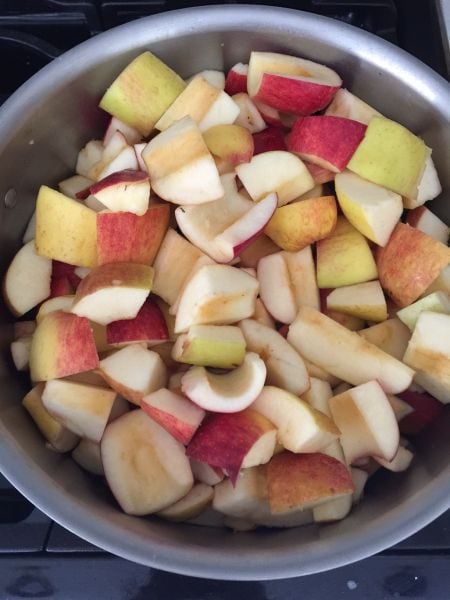 I decided not to peel my apples since all the nutrients are in the peel. Plus, I like things chunky, so I chopped the apples in 1/2 inch chunks.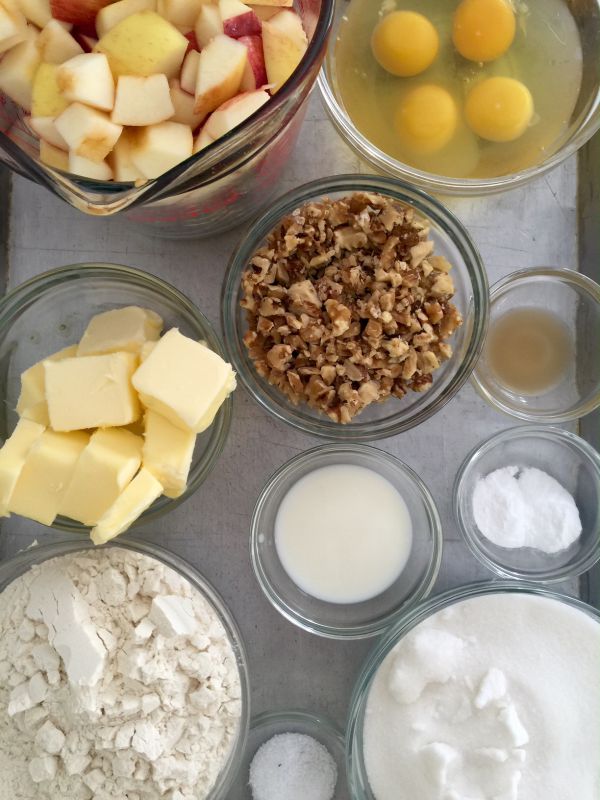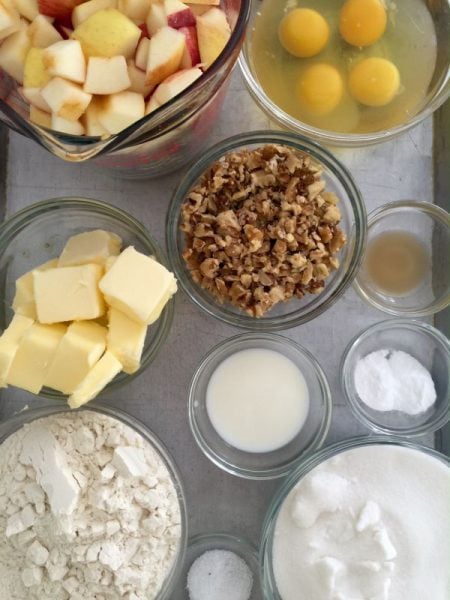 Mise en Place (everything in it's place and ready) is vital here since the recipe goes quickly and the topping must be ready  as you complete the bread.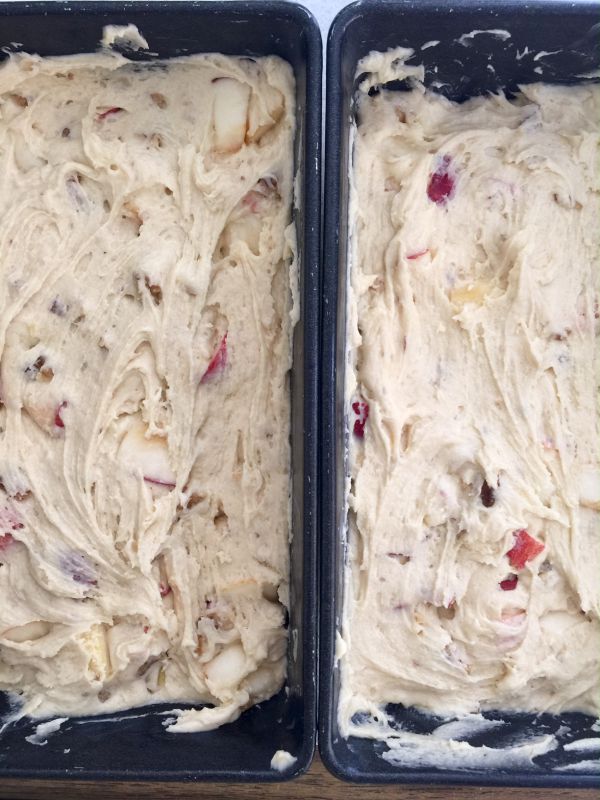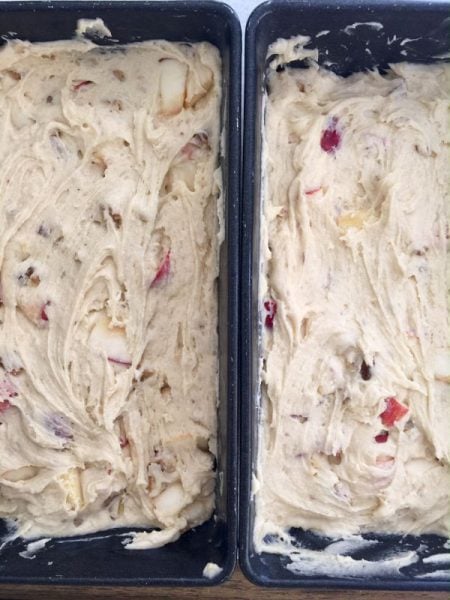 If I'm going to go to the trouble of bringing out the mixer, I like to double the recipe and freeze one for later. This is always my think ahead way of doing things in the kitchen.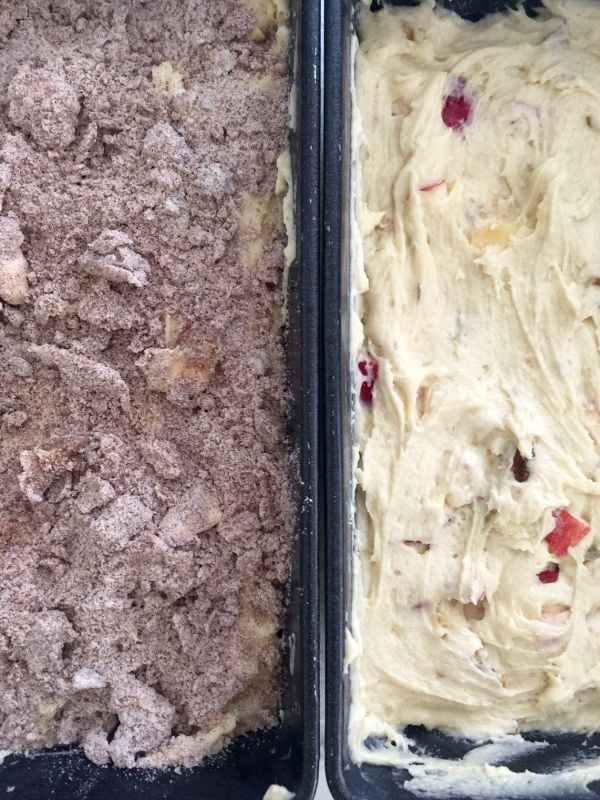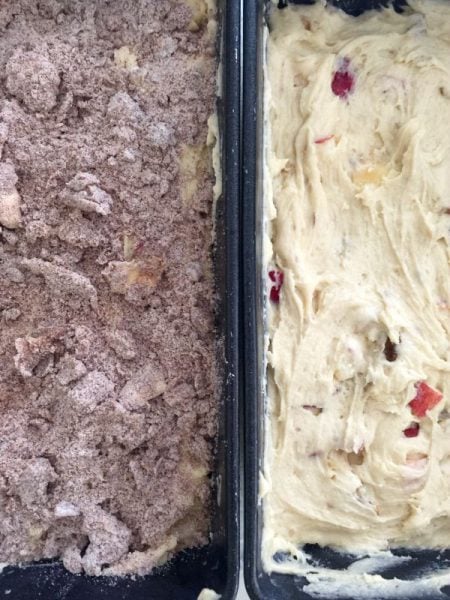 Here, the topping is sprinkled on immediately to get it in the pre-heated oven right away.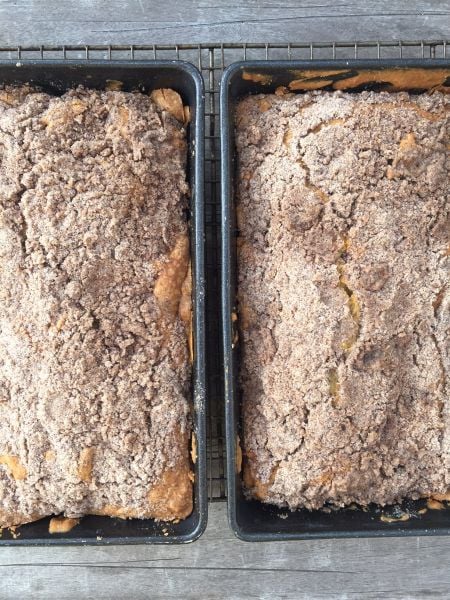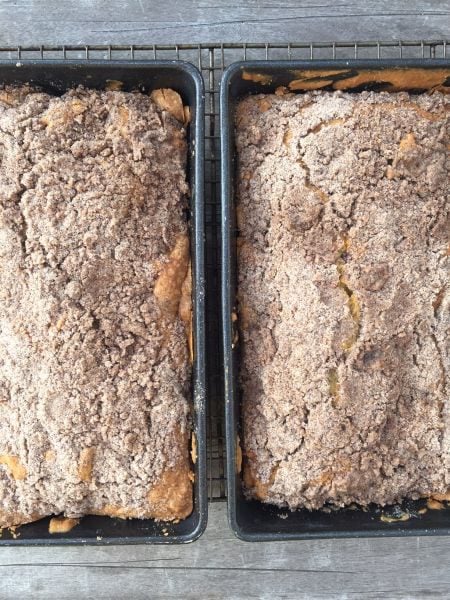 Let cool on a wired rack for 15-20  minutes before serving. Freeze the extra one – if you double the recipe.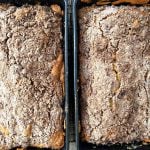 Fall Apple Bread
This is an old recipe we have cherished in our family year after year. It's a moist bread with fresh apples and spices.
Ingredients
½

cup

butter

1

cup

sugar

2

eggs

2

cups

flour

1

teaspoon

baking soda

1/2

teaspoon

salt

1

teaspoon

vinegar ( I use apple cider)

2

tablespoons

milk

1 3/4

cups

apples, roughly chopped
Topping
4

tablespoons

flour

2

tablespoons

sugar

2

teaspoons

cinnamon

1

tablespoon

butter
Instructions
Pre-heat the oven to 350 degrees. Grease one 9x5x3 loaf pan.

With a mixer, cream the butter and sugar together.

Add the eggs and beat well.

Stir the dry ingredients together in a medium bowl.

Mix vinegar and milk and set aside.

Add the dry ingredients to the creamed mixture alternatively with the milk mixture, beginning and ending with the dry.

Stir in the apple and nuts. Pour into the greased loaf pans.

Combine the topping ingredients and sprinkle over the batter.

Bake at 350 degrees for 1 hour or until toothpick comes out clean.
You may like my other apple recipes: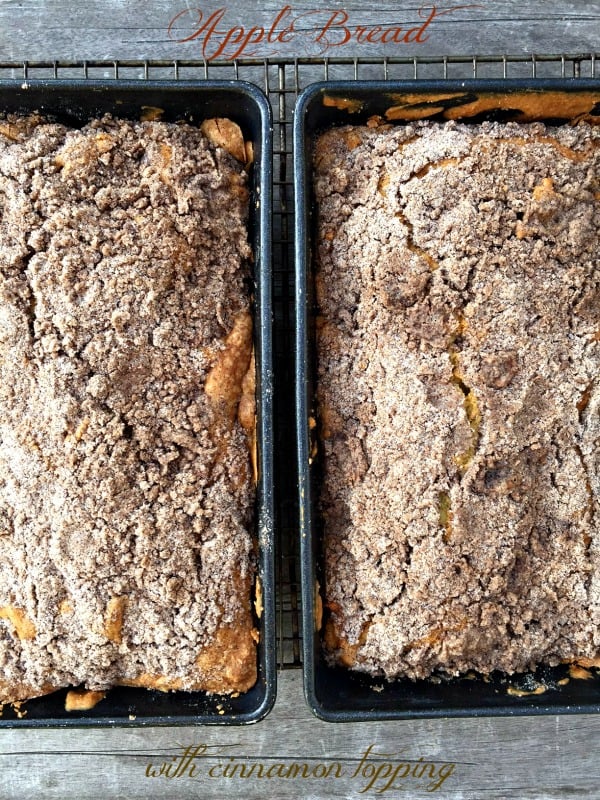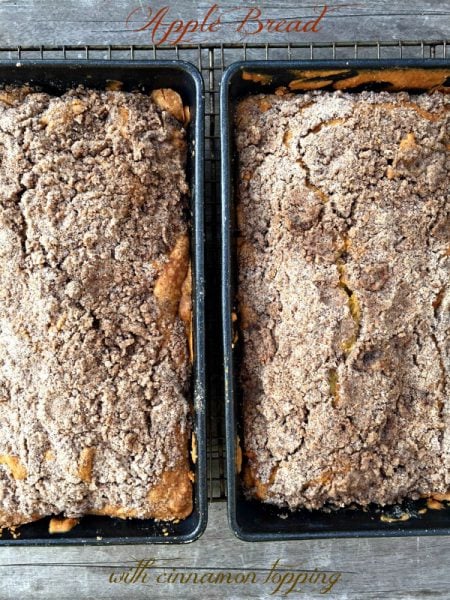 Happy Apple Picking Days!
Mary 
© 2016 – 2021, Mary Papoulias-Platis. All rights reserved.