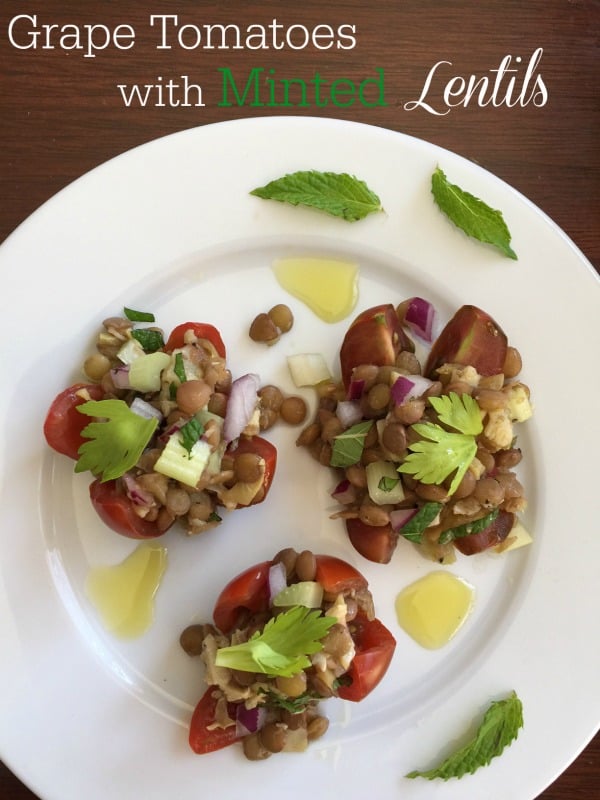 I often like to cook up a pot of lentils (pulses) and make a nice cold salad as an appetizer tray or as individual salads. This dish, Grape Tomatoes stuffed with Minted Lentils can be served as an appetizer or for a quick lunch. Lentils are so versatile that you can make this up in minutes by adding whatever you have on hand in your refrigerator. Add cucumber, avocado, green onions, nuts, or beans for a complete meal. Lentils are a staple in the Mediterranean Diet, and one of the top 10 ingredients in a Greek Diet. They are often called pulses, which also include beans and peas. Defined as a dried seed that comes from many legume varietals. Not seen often in the American diet, but slowly they are making there way into the cuisine. They are the super food for many people who do not consume meat, often called "poor man's meat".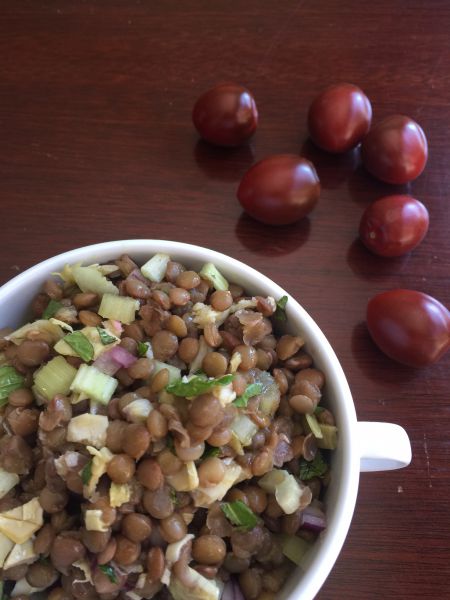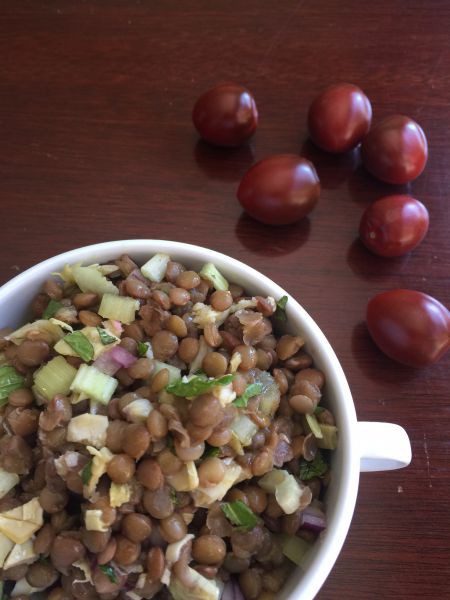 As you can see lentils come in many varieties and flavors. Here is a nice online selection from Bob's Red Mill.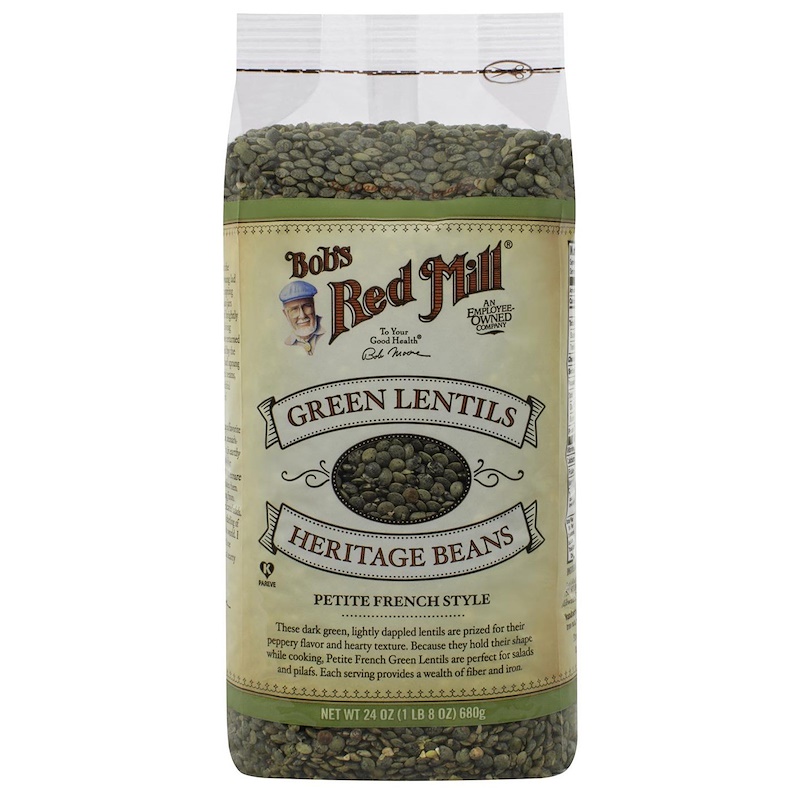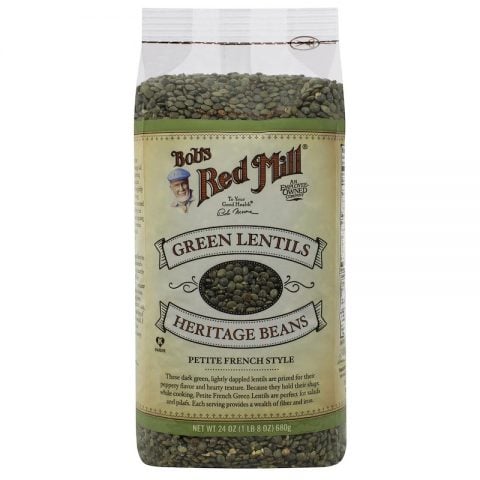 Here are a few nutritional facts about the powerful lentil.
Stored in airtight container they can last in your pantry for 6-9 months.
Rich in nutrients, high in protein, with vitamin B and C, iron, and fiber.
They have a low carbon footprint and enrich the soil where they are grown.  They are also a water-efficient source of protein.
More information can be found at the GPS site Global Pulse Confederation. Also, check the Pulses.org. for more information on these wonderful super foods.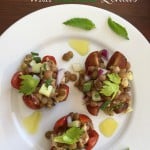 Grape Tomatoes Stuffed with Minted Lentils
This powerhouse lentil salad can be made ahead and assembled later in the day. The lentils can be prepared several days ahead. I used grape tomatoes but any small tomato or regular tomato can be substituted for a side dish. Just double the recipe for larger tomatoes.
Ingredients
1/2

cup

lentils

1/2

cup

diced artichokes in water

1/4

cup

diced celery

1/4

cup

diced red onion

1/4

cup

chopped fresh parsley

2

tablespoons

chopped fresh mint

4

teaspoons

extra virgin olive oil

2

teaspoons

sherry vinegar or fresh lemon juice

zest of one lemon

salt and pepper as needed

1

box of grape or cherry tomatoes
Instructions
In a medium saucepan fill with water add the lentils. Bring to a boil and reduce to a simmer for 20-40 minutes. Drain and set aside in a medium bowl. Cool.

Combine the lentils, artichokes, celery, onion, parsley and mint.

Add the oil, vinegar, zest, salt and pepper. Gently mix.

Make two slits into the tomato, (being careful not to reach the bottom) and gently spread with your fingers, and add filling.

Drizzle olive oil on top. (optional)

Served chilled on a platter or as a salad on individual plates.
Make this salad for a large crowd days ahead and dress at the last moment.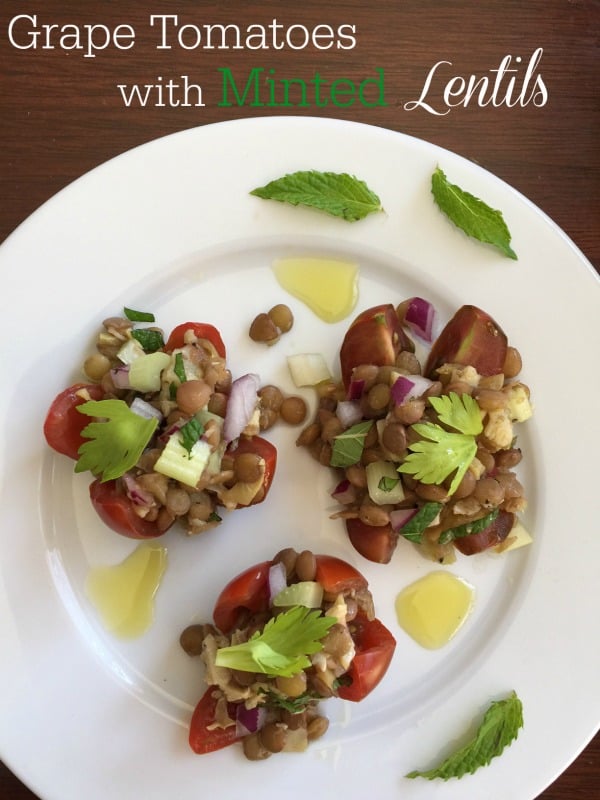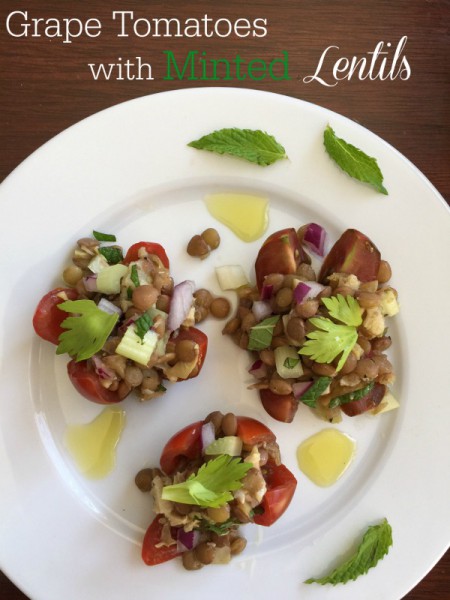 Enjoy!
Mary
Other lentil dishes you may enjoy!
My Greek Lentil and Mint Salad
Red Lentil Salad with Red Peppers, Oranges and Basil
© 2016 – 2022, Mary Papoulias-Platis. All rights reserved.