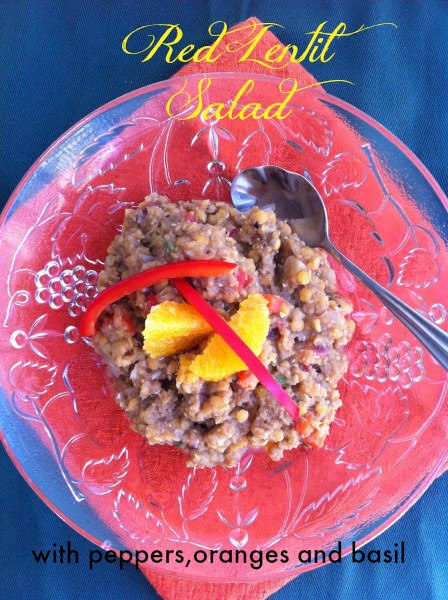 I love to cook with lentils. Red lentils are a good source of iron and have been used as a meat substitute for centuries in the Middle East and in the Mediterranean Diet. There are three main varieties of this  lens-shaped pulse. The French is green with the seed coat on, the reddish-orange is the Egyptian or red lentil, and the yellow lentil found in the Indian cuisine.
Lentils can be used in salads, soups, pureed, and in stews. Lentils have a fair amount of calcium and vitamins A and B, and are a good source of iron and phosphorus.
You mat want to try many of my lentil recipes below:
My Greek Lentil and Mint Salad
Cold Lentil Salad with Tomatoes, Basil and Feta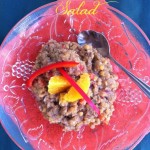 Red Lentil Salad with Oranges
Red lentils have a soft texture and with this vibrant collection of vegetables and sweet fresh oranges it makes a fulfilling luncheon salad or a side.
Ingredients
1/2

red pepper, diced

1

teaspoon minced jalepeno

1/2

red onion, diced

2

tablespoons

minced garlic

4

tablespoons

extra virgin olive oil, divided

1 1/2

cups

red lentils, cooked and cooled

1

fresh tomato, seeded and diced

1

orange, flesh and membrane removed, diced

2

tablespoons

balsamic vinegar

2

tablespoons

fresh basil, chiffonade
Instructions
Preparation for the Lentils
Rinse lentils with cold water and remove any bits of rocks or tiny objects. Place in a large pot with 3 cups of cold water and bring to a boil. Reduce heat to a simmer, for 20-30 minutes. Remove any white froth from the top.

When soft, drain the lentils and place on a sheet pan to cool.

The lentils can be made in advance and doubled.

Note: 1 cup of dried lentils = 3 cups cooked lentils.
Preparing Salad
In a large saute pan, heat the 2 tablespoons of olive oil and add the red peppers, jalepeno, onion, and garlic. Saute until onions are transparent. Cool.

To the cooled vegetables, add the remaining ingredients, the fresh tomato, orange, 2 tablespoons of extra virgin olive oil, balsamic vinegar and basil. Add the lentils and gently mix thoroughly.

Refrigerate for at least 4 hours and up to 24 hours before serving.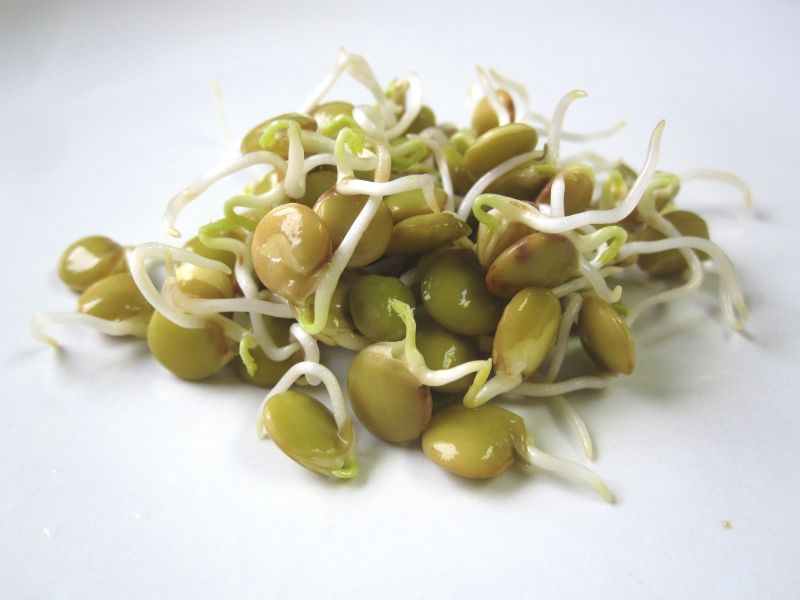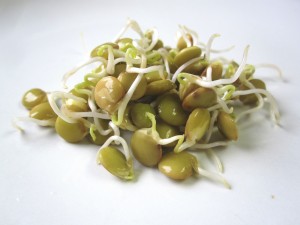 Sprouting your lentils gives you double the nutritional value! Try it at home.
Enjoy this meal,
Mary 
© 2012 – 2022, Mary Papoulias-Platis. All rights reserved.