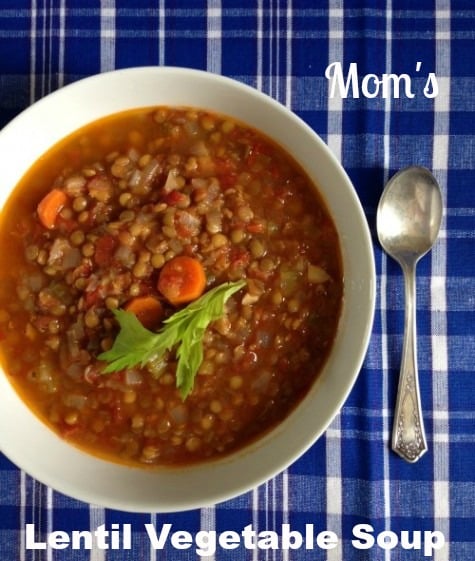 Try this quick and healthful version of my Mom's Lentil Vegetable Soup with ingredients from your basic pantry items. Yes, you can get fancy with lentils but sometimes a simple and easy family meal and a crisp fresh salad is all you need.  Both of my mothers cooked simply, and now that summer has arrived this is a perfect meal for an outdoor dinner. Lentils are satisfying and have an outstanding nutritional punch – loaded with calcium, and vitamins A and B, and a good source of iron and phosphorus. Lentils are a staple in the Greek Diet, prepared weekly for family dinners.  Explore further with lentils from recipes highlighted at the end of this post and have fun with the many varieties that are available at your local market.
Lentils come in different varieties.
Brown and Green Lentils : They are bigger than the other kinds and have a flattened lens-like shape. These cook quickly within 30 minutes.
Red Lentils: These take about 20 minutes to cook, and when the skin of the red lentil splits, it breaks down quickly, turning mushy.
French : These speckled, greenish-bluish-greyish orbs, also called green French lentils  retain their shape when cooked. A bit longer to cook, 45-50 minutes. Because of the lack of mushiness makes them ideal for salads and sides.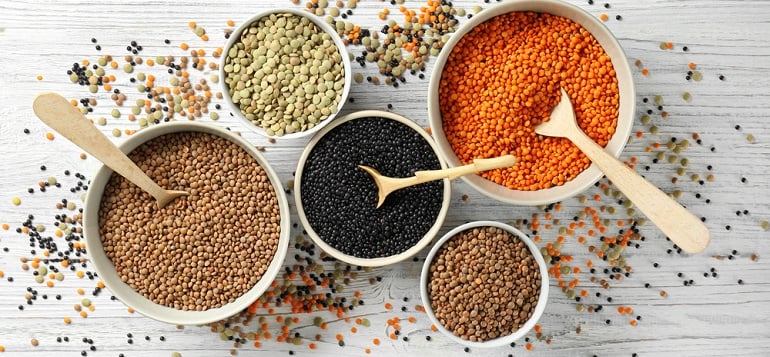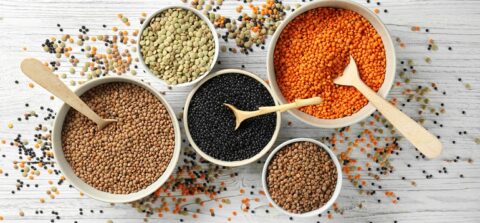 Picture from Bob's Red Mill, which would be a great online site to purchase lentils from.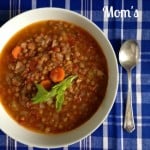 Mom's Lentil Vegetable Soup
Ordinary pantry ingredients turns this lentil soup into a lovely and healthful meal.
Ingredients
1

cup

lentils

rinsed

1/4

cup

olive oil

1

leek, washed and chopped

1

onion, chopped

2

carrots, sliced

3-4

celery, chopped

2-3

garlic cloves, chopped

1

large can, 28oz. tomatoes in puree

2-3

cups

water or vegetable broth

salt and pepper
Instructions
In a large soup pot add olive oil and heat to medium.

Add the onion, leek, garlic,1/2 teaspoon salt and 1/4 teaspoon pepper. Cook for 5 minutes.

Add the carrots and celery and saute for additional 5-10 minutes.

Add tomatoes, lentils, water or vegetable broth. Start with 2 cups and add more water as needed.

Cook for 40-50 minutes. Taste for more salt and pepper.
Recipe Notes
This soup can be served with grated Parmesan cheese, or as the Greeks do with a splash of vinegar. You can substitute canned tomatoes with 4 fresh chopped tomatoes with 2 tablespoons of tomato paste or 1/2 can tomato sauce.
You may enjoy a few of my other lentil recipes:
My Greek Lentil and Mint Salad
Cold Lentil Salad with Tomatoes, Basil and Feta
Red Lentil Salad with Red Peppers, Oranges and Basil
Enjoy my family recipe,
Mary 
© 2013 – 2022, Mary Papoulias-Platis. All rights reserved.