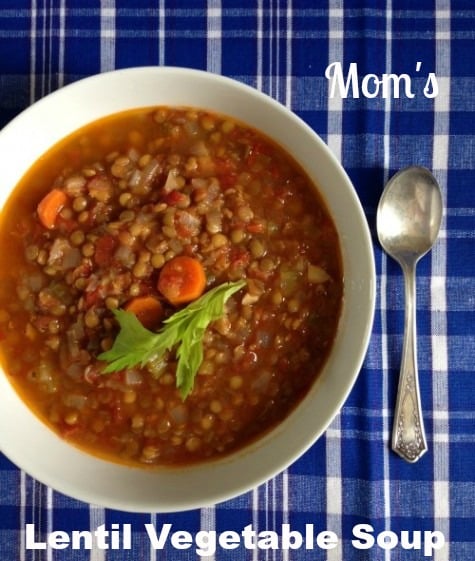 Try this quick and healthful version of my Mom's Lentil Vegetable Soup with ingredients from your basic pantry items. Yes, you can get fancy with lentils but sometimes a simple and easy family meal and a crisp fresh salad is all you need.  Both of my mothers cooked simply, and now that summer has arrived this is a perfect meal for an outdoor dinner. Lentils are satisfying and have an outstanding nutritional punch – loaded with calcium, and vitamins A and B, and a good source of iron and phosphorus. Lentils are a staple in the Greek Diet, prepared weekly for family dinners.  Explore further with lentils from recipes highlighted at the end of this post and have fun with the many varieties that are available at your local market.

Mom's Lentil Vegetable Soup
Ordinary pantry ingredients turns this lentil soup into a lovely and healthful meal.
Author:
Mary Papoulias-Platis
Ingredients
1 cup lentils, rinsed
¼ cup olive oil
1 leek, washed and chopped
1 onion, chopped
2 carrots, sliced
3-4 celery, chopped
2-3 garlic cloves, chopped
1 large can (28 oz.) tomatoes in puree
2-3 cups water or vegetable broth
salt and pepper
Instructions
In a large soup pot add olive oil and heat to medium.
Add the onion, leek, garlic,1/2 teaspoon salt and ¼ teaspoon pepper. Cook for 5 minutes.
Add the carrots and celery and saute for additional 5-10 minutes.
Add tomatoes, lentils and water or vegetable broth. Start with 2 cups and add more water as needed.
Cook for 40-50 minutes.Taste for more salt and pepper.
Notes
This soup can be served with grated Parmesan cheese, or as the Greeks do with a splash of vinegar. You can substitute canned tomatoes with 4 fresh chopped tomatoes with 2 tablespoons of tomato paste or ½ can tomato sauce.
You may also enjoy one of these additional lentil dishes from my blog
Red Lentil Soup       Vegetable Lentil with Balsamic Vinegar       Cold Lentil Salad
© 2013 – 2019, Mary Papoulias-Platis. All rights reserved.