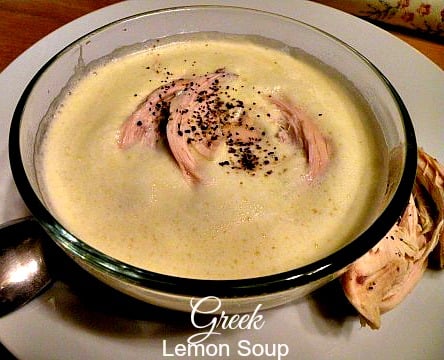 This Greek Lemon Chicken Soup is the greatest comfort food of all traditional dishes from Greece. From home to home this recipe varies in so many different ways, you could not count them all!  A simple soup, with a unique sauce and combination of flavors that will wow your family and guests.   I make this soup at least every other week, depending who's sick in the family, how cold it is outside, or who needs some good 'ol comfort! Check out Mary's free range organic chickens at Whole Foods . So clean and delicious, they are fed a vegetarian diet and air chilled for freshness. An alternative is Rosie chickens found at Sprouts stores in San Diego County.
If you need more instruction and techniques for this soup, look for them here: Cooking Techniques for Greek Lemon Soup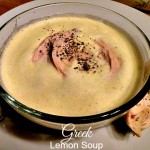 Greek Chicken Lemon Soup with Orzo "Avgolemono"
Of all the soups in the Greek cuisine this is the number one most popular soup! Better the next day!
Ingredients
1

whole chicken

1/2

onion

1

carrot

1

celery stock

1 1/2

cups

orzo

salt and pepper

1

lemon for juice before serving
Egg-Lemon Sauce
3

eggs

Juice of 2-3 lemons, strained

strained

1

cup

broth from chicken broth
Instructions
Wash chicken and remove the inside parts. Rinse with cold water. Add whole chicken to a large pot. Place enough cold water in the pot to cover the chicken and 2 more inches of water. Add 1/2 of an onion, and one carrot cut in thirds, plus one celery stalk.

Bring to a boil, and reduce to a simmer and cover. Skim off any foam as it appears. Simmer for 2 hours. Remove chicken and place in a bowl.

Strain broth and return to the pot. If serving with the egg-lemon sauce, remove 1 cup broth and set aside.

Add 2 teaspoons salt to the broth and bring to a boil.

Add the orzo, and cook on medium-high for twenty minutes or until orzo is ready.

Peel and clean the chicken. Cut 1/2 the chicken in small pieces and add to the broth.

Remove broth from the heat. Make the sauce.

Gently add the sauce to your broth, and serve.

Serve with a dash of pepper and a squeeze of fresh lemon.

Place remaining chicken on a platter and serve with the soup.
Egg-Lemon Sauce
Beat eggs until thick and light yellow, at least 5 minutes. ( I put mine in the blender, or a hand-mixer, or food-processor)

Continue to blend and slowly add lemon juice.

Continue and slowly add broth.

Add to soup. Do not re-boil soup.
Recipe Notes
Note: This soup can be made a day ahead, and reheated. Add a little water if needed.
You can serve the soup with the chicken on side or on top as below.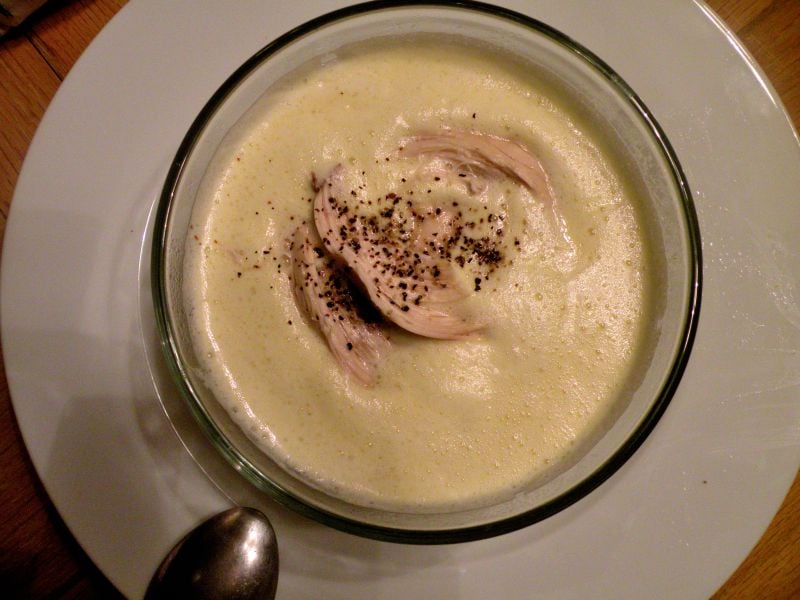 Here are a few of my many soups:
Stay Well and Enjoy!
Mary 
© 2011 – 2023, Mary Papoulias-Platis. All rights reserved.