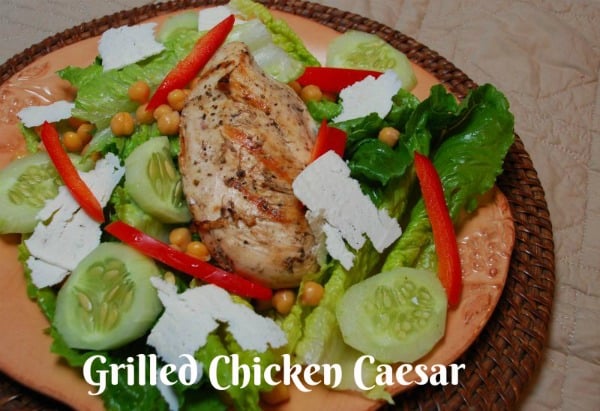 I love the flavors of my version of Grilled Chicken Caesar Salad. I'm always thinking of how I can take this chicken recipe and make it into a quick dinner with just a few ingredients. Nice crisp salads for the summer time are the best, for an summer night out in the back patio. Instead of croutons, I added garbanzo beans for a healthier alternative, but feel free to add purchased croutons for a crisp crunch.
If you can, try and buy organic chicken, and use it for two meals to stretch your budget. I like to buy air-chilled chickens such as Mary's Free Range Chickens  found in most local stores or at your famer's markets. To learn more about air-chilled chickens and recipes check this Whole Foods site.
Here are a few health benefits of buying organic chicken.
More Flavorful – As the chickens are grown up in a healthy setting, so a more deep and pleasant flavor is not much of a surprise. Furthermore, the bones also come to be stronger as the animals are always in the state of movement in a large area.
Higher Meat Quality – The very first benefit to health provided by is the quality of meat which is much better than other forms of chicken. The prime reason for this is the fact that these free range hens have access to various insects and organisms which are rich in protein and other minerals. All of the researchers in the domain of poultry farming are of the view that the meat quality is positively effectuated by the insects consumed by the chicken.
No Presence of Antibiotics – Another major benefit of the free range poultry is the no presence of antibiotics in the meat and the entire body. Contrary to this, the chicken brought in the industry settings is given various forms of antibiotics, but that is not the case with the free range hens.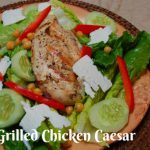 Greek Grilled Chicken Caesar Salad
Best quick dinner can you throw together in no time!
Ingredients
4

skinless chicken breasts

2

heads of romaine lettuce, washed, torn into bite-size pieces

1

red pepper, thinly sliced

1

large cucumber, sliced

1

can organic garbanzo beans, rinsed and drained

1/4

lb

Greek mizithra cheese
Marinade
1

cup

extra virgin olive oil

2

lemons

1

teaspoon

salt

1/4

teaspoon

pepper

1

teaspoon

dried oregano
Dressing
1

cup

olive oil

2

heaping tablespoons Dijon mustard

4

anchovy fillets

Juice of 4 lemons

2

tablespoons

Worcestershire

2

garlic cloves, crushed
Instructions
Place the chicken breasts in a shallow bowl. Combine all the ingredients for the marinate in a medium bowl and whisk together. Pour over chicken and refrigerate.

The chicken is best on the BBQ, or can be prepared in a skillet. Prepare the chicken, cover with foil and let sit for 10 minutes.

In a blender, blend the olive oil and mustard. Add the anchovies, lemon juice, and Worcestershire sauce and garlic. Set aside.

Place greens, peppers, cucumber, and garbanzo beans on 4 plates. Place chicken breast on top whole or sliced. Add shaved cheese.

Drizzle the greens with dressing, or pass the dressing around.
Recipe Notes
Mizithra is a hard white goat cheese found in the deli section of your supermarket next to the feta cheese.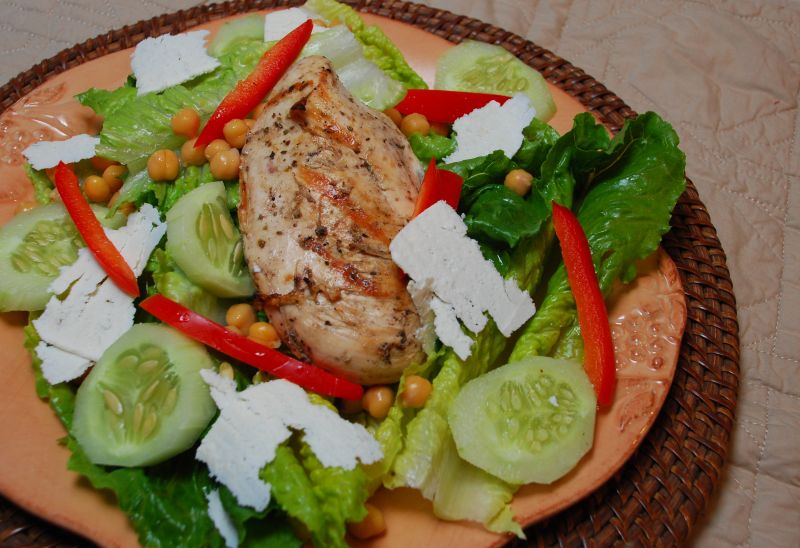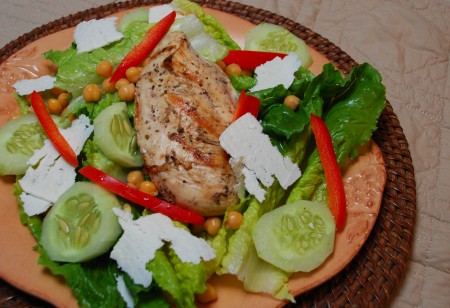 More Salads Recipes can be found above the Salad Category!
Greek Panzanella Salad with Butternut Squash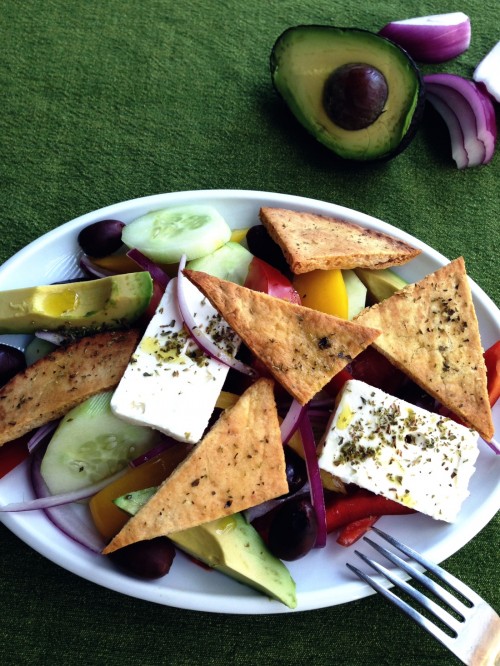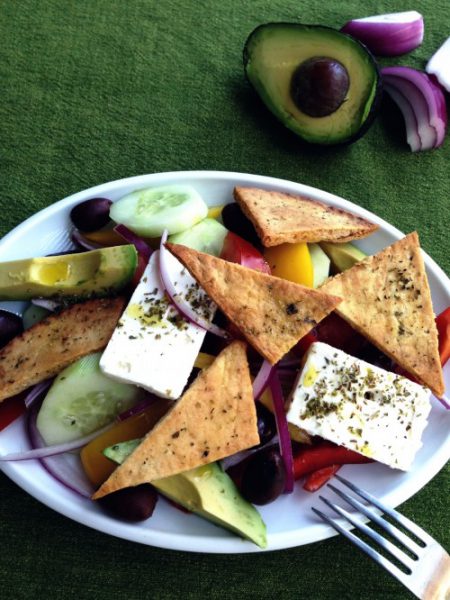 Farro Salad with Pixie Tangerines and Walnuts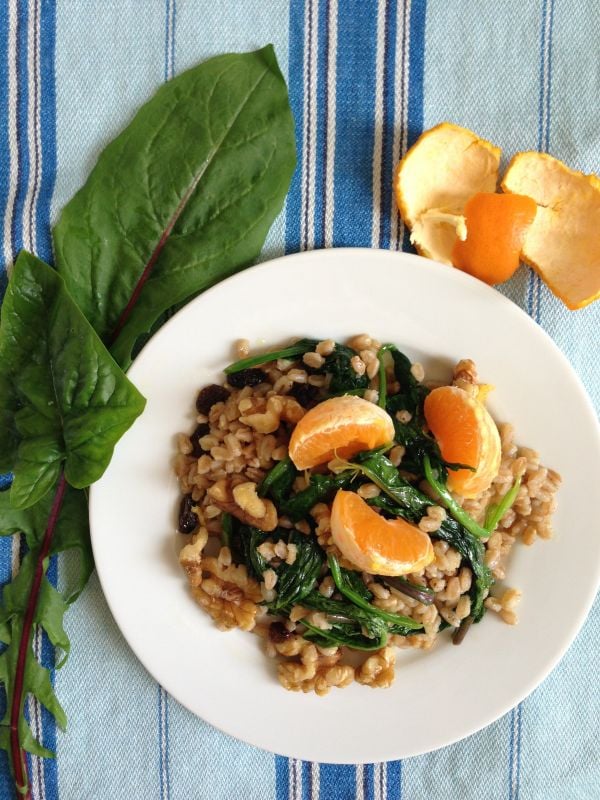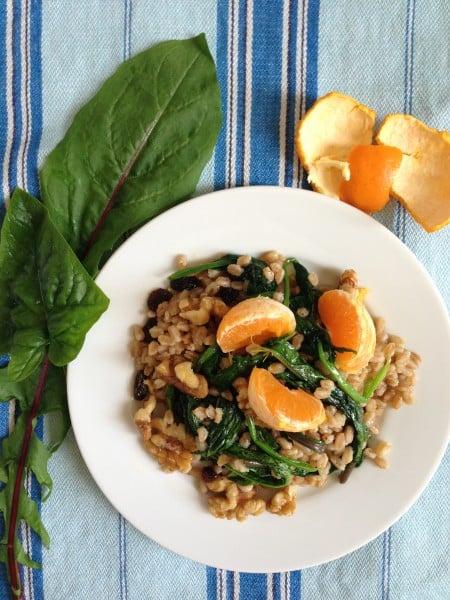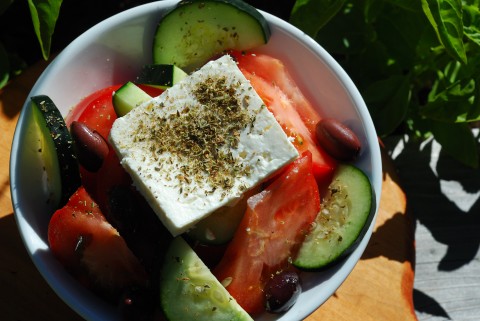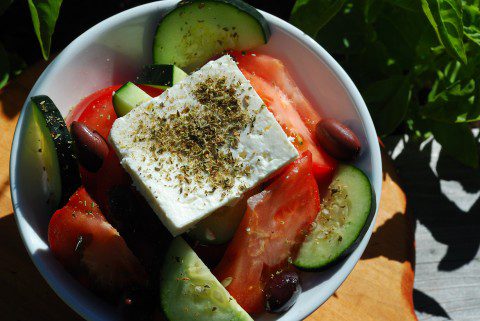 Eat More Salads,
Mary 
© 2010 – 2023, Mary Papoulias-Platis. All rights reserved.