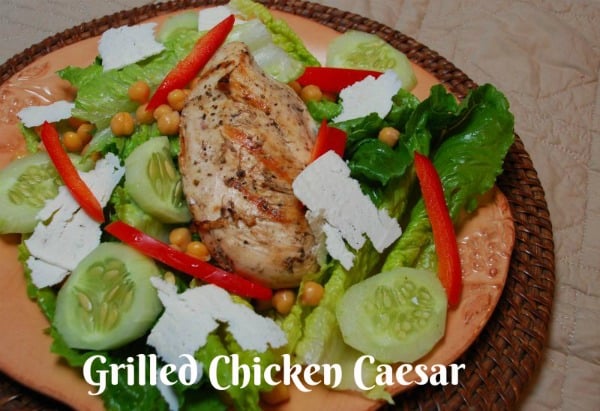 I love the flavors of my version of Grilled Chicken Caesar Salad. I'm always thinking how I can take this chicken recipe and make it into a quick dinner with just a few ingredients. Nice crisp salads for the summer time are the best for an easy night out in the back patio. Instead of croutons, I added garbanzo beans  for a healthier alternative, but feel free to add purchased croutons for a crisp crunch.
If you can, try and buy organic chicken, and use it for two meals to stretch your budget. I like to buy air-chilled chickens such as Mary's Free Range Chickens or Rose's Chickens found in most local stores. To learn more about air-chilled chickens and recipes check this Whole Foods site.
Greek Grilled Chicken Caesar Salad
Best quick dinner can you throw together in no time!
Author:
Mary Papoulias-Platis
Ingredients
4 skinless chicken breasts
2 heads of romaine lettuce, wash, torn in bite-size pieces
1 red pepper, thinly sliced
1 large cucumber, sliced
1 can garbanzo beans, rinsed and drained
¼ lb Greek mizithra cheese, shaved (parmesan can be substituted)
Marinade
1 cup olive oil
2 lemons
1 teaspoon salt
¼ teaspoon pepper
1 teaspoon dried oregano
Dressing
1 cup olive oil
2 heaping tablespoons Dijon mustard
4 anchovy fillets
Juice of 4 lemons
2 tablespoons Worcestershire
2 garlic cloves, smashed
Instructions
Place the chicken breasts in a shallow bowl. Combine all the ingredients for the marinate in a medium bowl and whisk together. Pour over chicken and refrigerate.
The chicken is best on the BBQ, or can be prepared in a skillet. Prepare the chicken, cover with foil and let sit for 10 minutes.
In a blender, blend the olive oil and mustard. Add the anchovies, lemon juice, and Worcestershire sauce and garlic. Set aside.
Place greens, peppers, cucumber, and garbanzo beans on 4 plates. Place chicken breast on top whole or sliced. Add shaved cheese.
Drizzle the greens with dressing, or pass the dressing around.
Notes
Mizithra is a hard white goat cheese found in the deli section of your supermarket next to the feta cheese.
© 2010 – 2017, Mary Papoulias-Platis. All rights reserved.