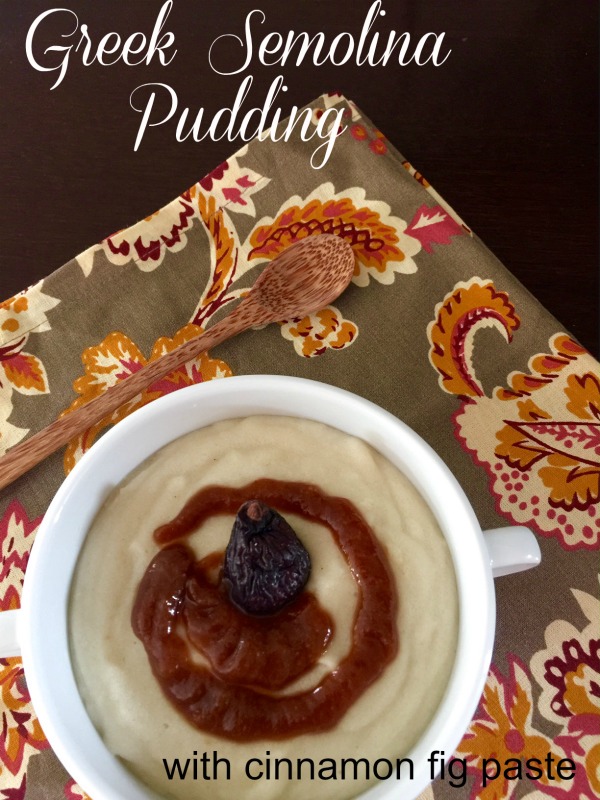 Semolina is not a common ingredient found in most pantries, but I keep it on hand for many uses. In my home. semolina pudding is served warm as a breakfast or for a late dinner. Adding a fig puree is my choice, another common fruit we eat at home. In fact, I love figs so much, I planted several trees in my garden, so I never run out! I remember my mother making this on chilly cold days for us as we headed out the door for school. It not only keeps you full but it's a very healthy meal to start off your morning. Often found in the Greek household it is incorporated in pastry dishes, as a thickener or as a quick warm breakfast. It can be found at any of your stores in the flour section. I buy the King Arthur Semolina found at your local store or online.
What is Semolina? It is a hard-coarsely grind of high-protein durum wheat. It has a nutty, sweet flavor that gives a pale yellow color to breads, pizzas, and pasta. Made into desserts or breakfast. It can be set in a mold and served cold. Semolina can also be used as a thickener, in pudding type dishes. It can be substituted for some (or all) of the all-purpose flour in your recipe. (from King Arthur)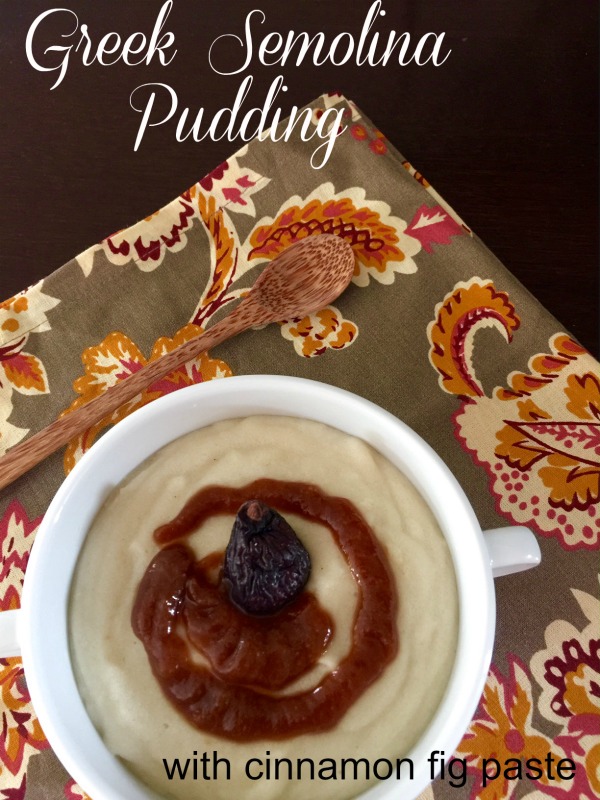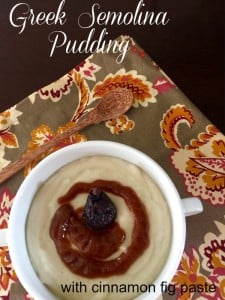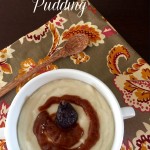 Greek Semolina Pudding with Fig Puree
Try this warm dish for a brunch or cold morning breakfast, serve with fresh fruit or a fruit compote. Don't leave the stove, stirring continuously is critical for a smooth result.
Ingredients
2 1/2

cups

milk

1

vanilla bean or 1-2 teaspoons good vanilla

1/2

cup

semolina

1/4

cup

sugar, optional if not adding fruit

fig puree, fresh fruit, or jam
Fig Puree
1/2

cup

dried figs

1

cup

warm water

1

teaspoon

cinnamon
Instructions
In a large saucepan add the milk and vanilla. Bring to a gentle boil.

Remove from the heat and whisk in the semolina gradually and stirring continuously.

Stir in the sugar (if not using fruit) and place back on the burner. Bring to a boil.

Reduce the heat to low and simmer for 10-15 minutes, stirring continuously, watching so the bottom doesn't burn.

Serve with the fig puree below or with fresh fruit or preserves.
Fig Puree
Place dried figs and cinnamon in a small bowl and add warm water. Set aside until figs become soft, 30 minutes-1 hour.

Drain (save the water) and remove stick. Blend the fruit in a blender, adding as little as reserved water as possible to make a thick paste.

Serve the semolina with fig puree.
Other fig recipes from my blog:
Fall Buttermilk Muffins with Figs
Figs Wrapped in Phyllo with Orange Honey Syrup
Enjoy your figs!
Mary
© 2016 – 2022, Mary Papoulias-Platis. All rights reserved.