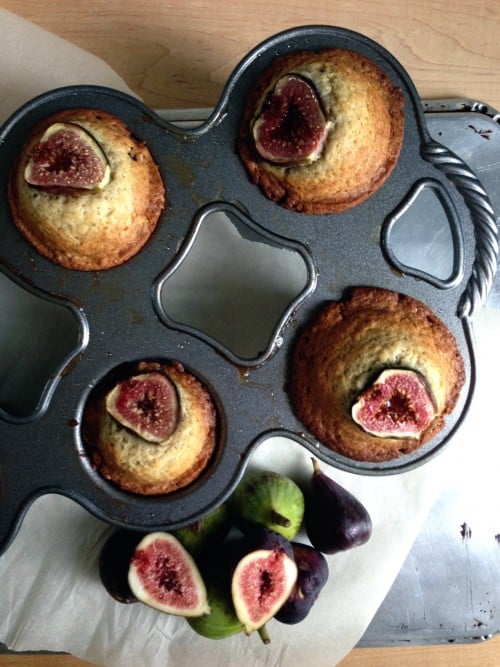 Looking for that muffin recipe that you can make over and over again?  These fall Buttermilk Muffins with figs, are moist from the addition of the buttermilk and topped with fresh sliced figs. Master this buttermilk muffin recipe and you can begin to vary it with seasonal fruit of your own liking.  It's fig season here, so I added dried figs to the batter, but you can substitute, apples, pears, or blueberries. I added a halved fresh fig on top for presentation. For my family, I wanted them larger (I have big eaters) than a regular muffin, so I used a pop-over tin which made 6 jumbo muffins. You can use a regular size pan, and make even more for leftovers. Don't pass up these Buttermilk Muffins with Figs, you can use this recipe throughout the year.
Figs are a staple in the Greek diet. I have two small trees in my garden that bare fruit once a year. If you plan of planting one, make sure to purchase a large net to throw over your trees to protect your fruit from the birds.
Figs have many health benefits:
Figs help your digestive system, from their fiber level.
Figs, especially ripe ones, are rich in protective plant compounds called polyphenols.
Figs are a good source of bone-friendly minerals including calcium, magnesium and phosphorus. Figs are especially rich in calcium.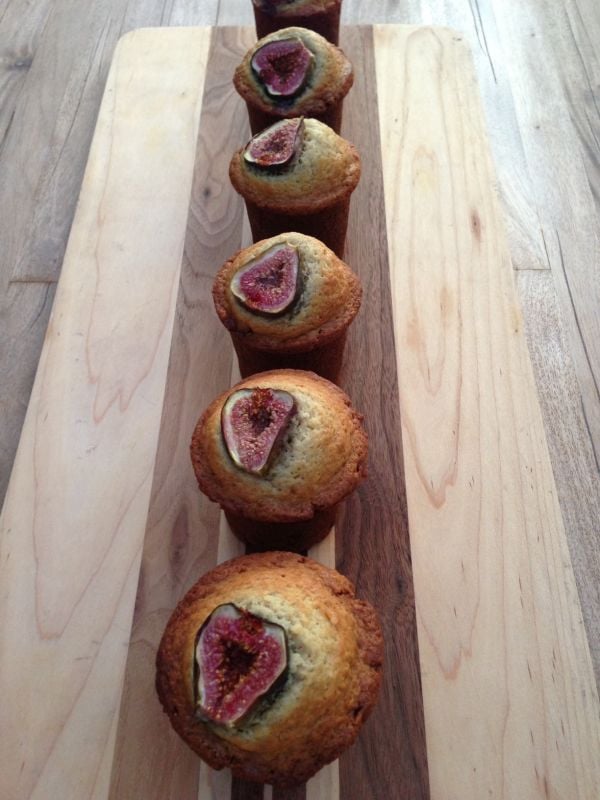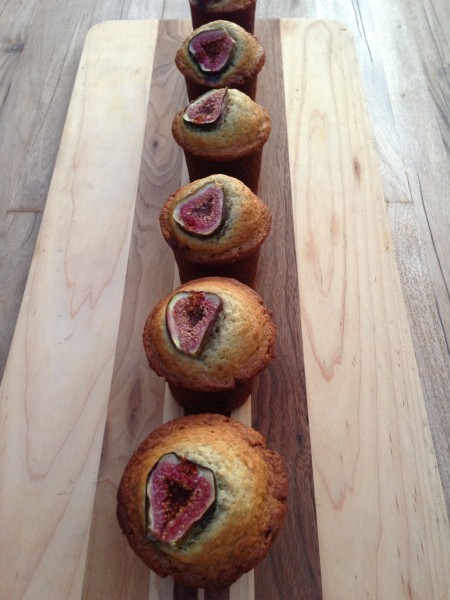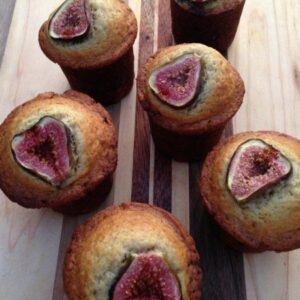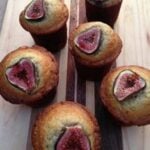 Fall Buttermilk Muffins with Figs
Want a recipe that will hold up all season? Then try this basic buttermilk recipe and change out the fruit all year long. Don't forget to tuck it away in your recipe box , its a keeper.
Ingredients
2

cups

all-purpose flour

3/4

cup

sugar

2 1/2

teaspoons

baking powder

1

teaspoon

nutmeg

1

teaspoon

baking soda

1/2

teaspoon

salt

1/2

teaspoon

ground cinnamon

1

cup

buttermilk, room temperature

8

tablespoon

1 stick unsalted butter, melted +2 teaspoons

2

large eggs, room temperature

1/2

teaspoon

vanilla

1

cup

dried figs and six fresh figs or use fresh fruit
Instructions
Preheat the oven to 400 degrees.

Lightly butter 12 muffins cups.

Sift the flour, 3/4 cup sugar, baking powder, nutmeg, cinnamon, baking soda, and salt together in a large bowl.

In a medium bowl whisk the buttermilk, melted butter, eggs, and vanilla together.

Add to the dry ingredients. Slowly just to combine.

Gently stir in the fruit.

Pour the batter in the 12 muffin tins.

Place a half fig on top and press in lightly.

Place in the middle of the oven and bake for 15-20 minutes.

Transfer to a cooling rack and cool for 5 minutes.

Serve warm or room temperature.
Recipe Notes
Note: You can substitute fresh pears, apples, or blueberries.
I chose not to use the cinnamon topping when I added a slice of the fresh fig on top.
I chose to add the fresh figs on top of the muffin to make them look  prettier! For an everyday use for my family, I would use an average size muffin-tin, which makes 12.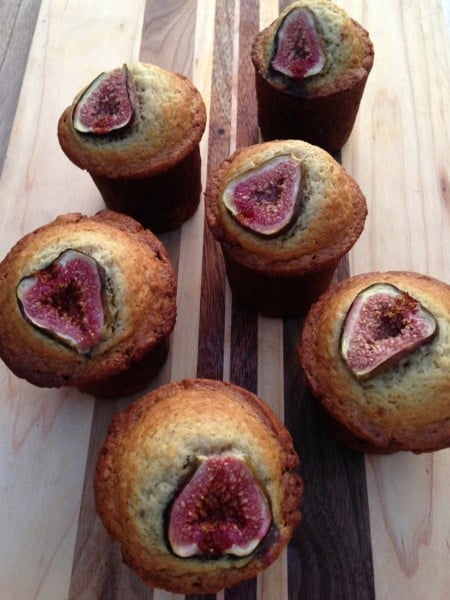 Other fig recipes you may want to try!
Figs Wrapped in Phyllo with Orange Honey Syrup
Greek Semolina Pudding with Fig Puree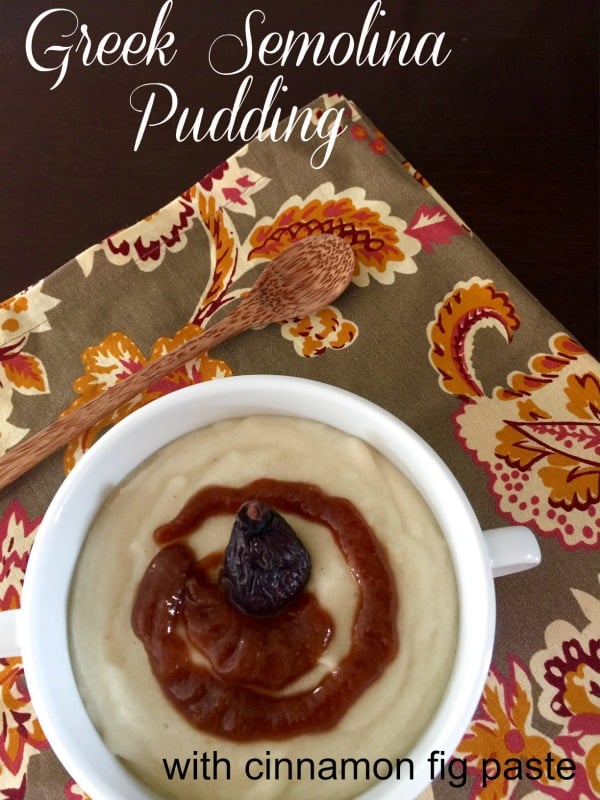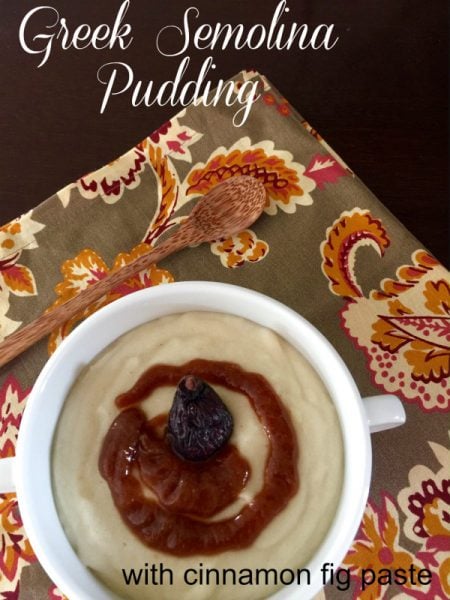 Homemade Greek Yogurt with Fig Chips
Enjoy!
Mary
© 2013 – 2022, Mary Papoulias-Platis. All rights reserved.