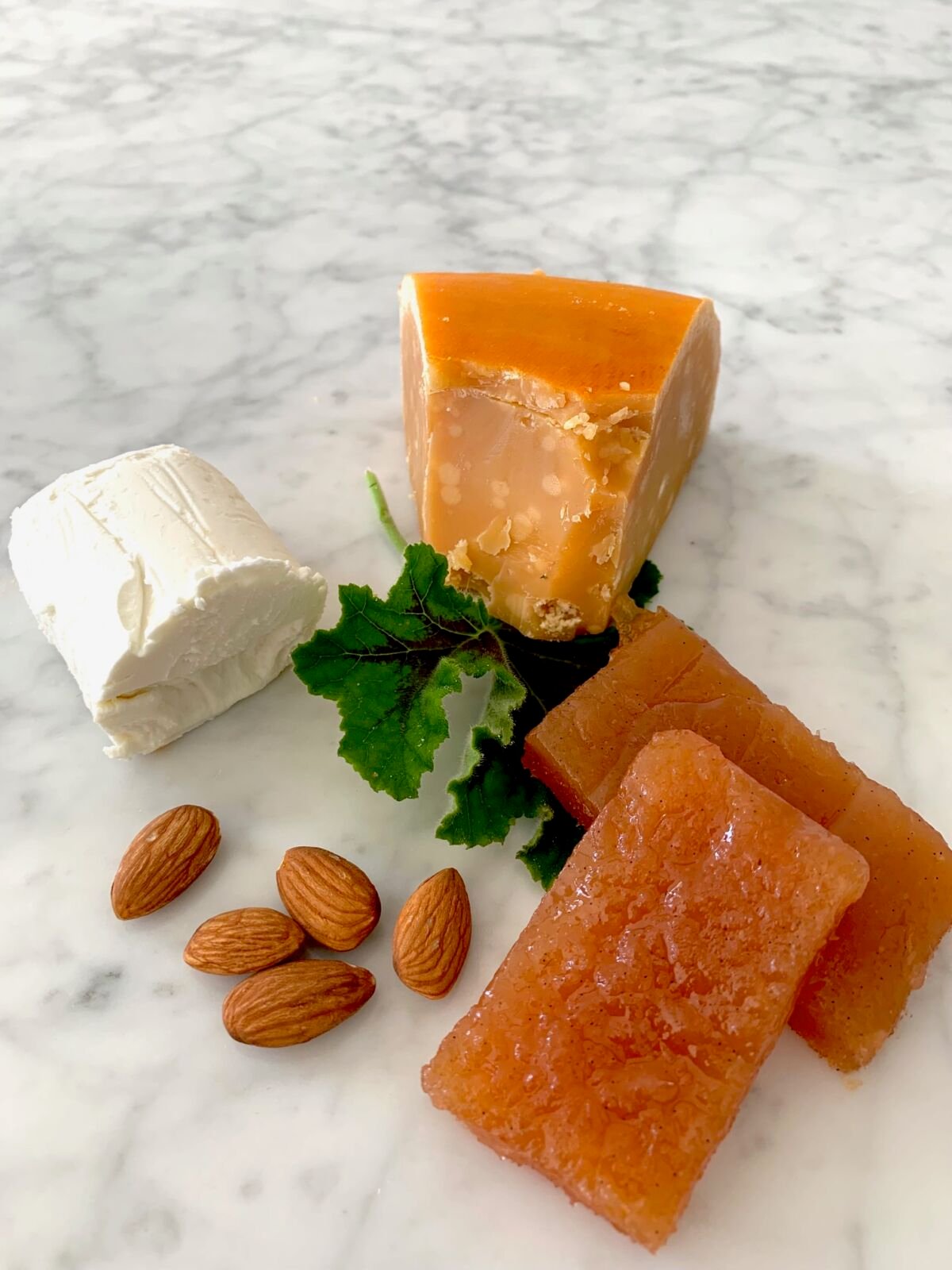 Quince is a favorite sweet in our Greek family. I remember my mother and aunt purchasing a full box of fresh quinces to make their spoon sweet called "Kythoni".  After a long afternoon of prepping and stirring this fruit thickens into a jam-like consistency, needing to be cooled before sampling. Many times it was canned for future use, other times it was placed in a large jar and stored in the refrigerator. I can still picture myself as a little girl sneaking a large spoonful of this decadent preserve from her jar. A little note: Quince is an ancient Greek fruit rooted in Greek history for over 4,ooo years ago. Brides were presented with quince on their wedding day for a symbol of fertility.
This fruit cannot be eaten fresh. It needs to be cooked before eating. It's similar to an apple and pear with the unusual scent of a pineapple and guava. Here, pictured is the pineapple quince, which is commonly seen in stores. They can also be ordered from Melissa's Produce website.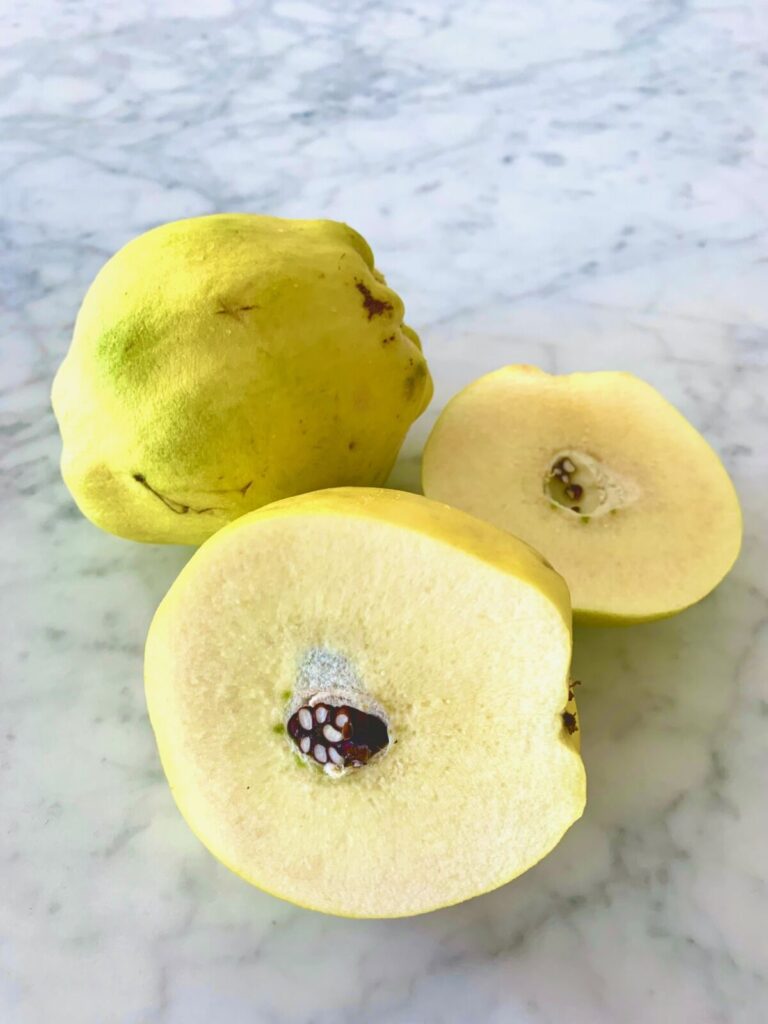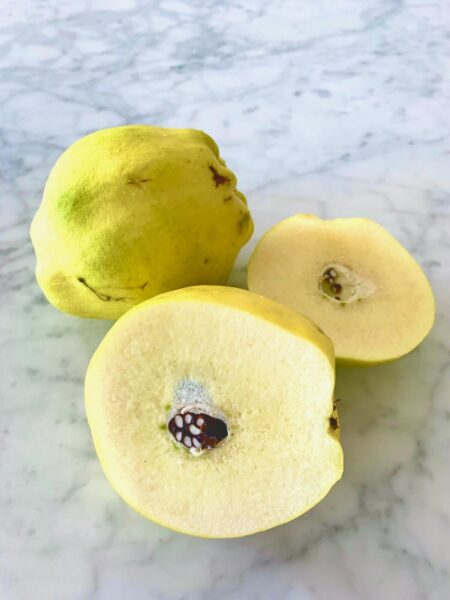 A little about quince:
Quince has a high level of pectin, often made into jams and spreads.
The unique sweet-sour taste is what makes quince so perfect for desserts, main  dishes, and sauces.
The flesh of the quince as it cooks will change from white to a bright orange color.
This fruit is too bitter and hard to be eaten raw, so it must be cooked. Trust me.
Loaded with Vitamin C and Potassium.
Quince can be added to many of you home cooked dishes.
Make a tart with apples and quartered cooked quince.
Add to lamb or chicken stew, giving the quince time to cook.
Poach quince for a side served with cake, ice cream or simply alone with added syrup.
Serve on a cheese board with your favorite cheeses.
Here in this recipe, we will be making a cooked puree, baked and thickened into a paste and cut into logs often served with cheese.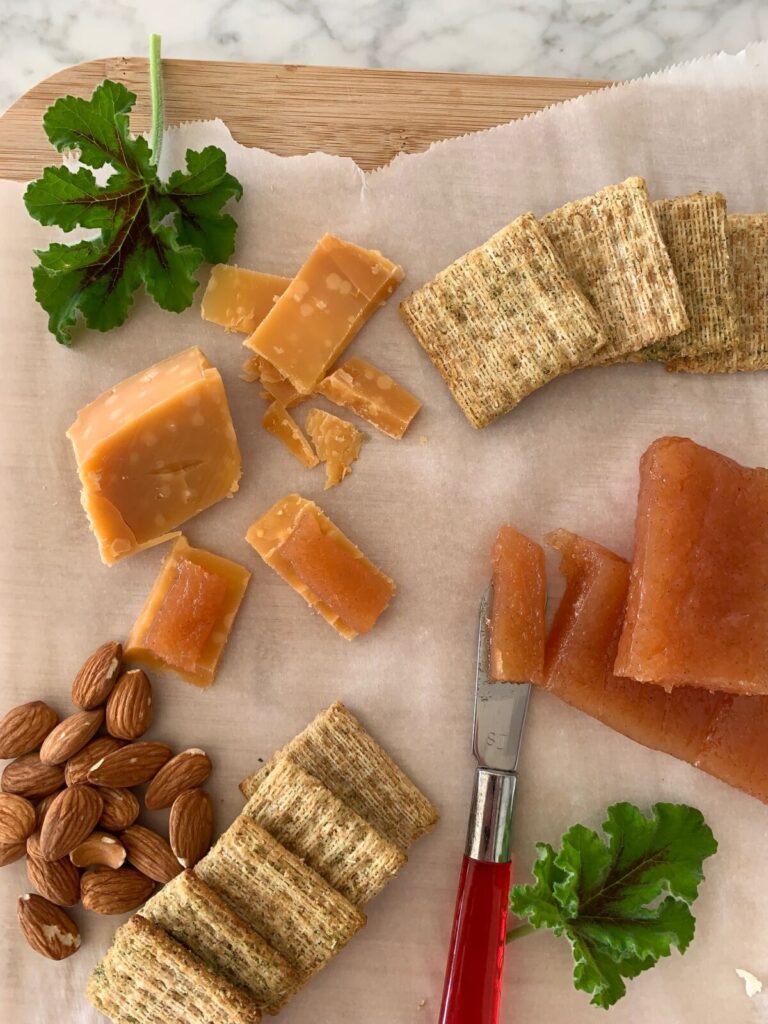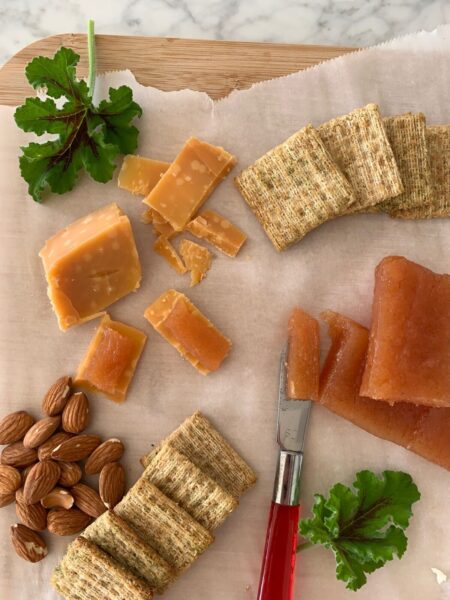 Let's get started!
Once cooked and pureed in the food processor, you're ready to form the paste and bake.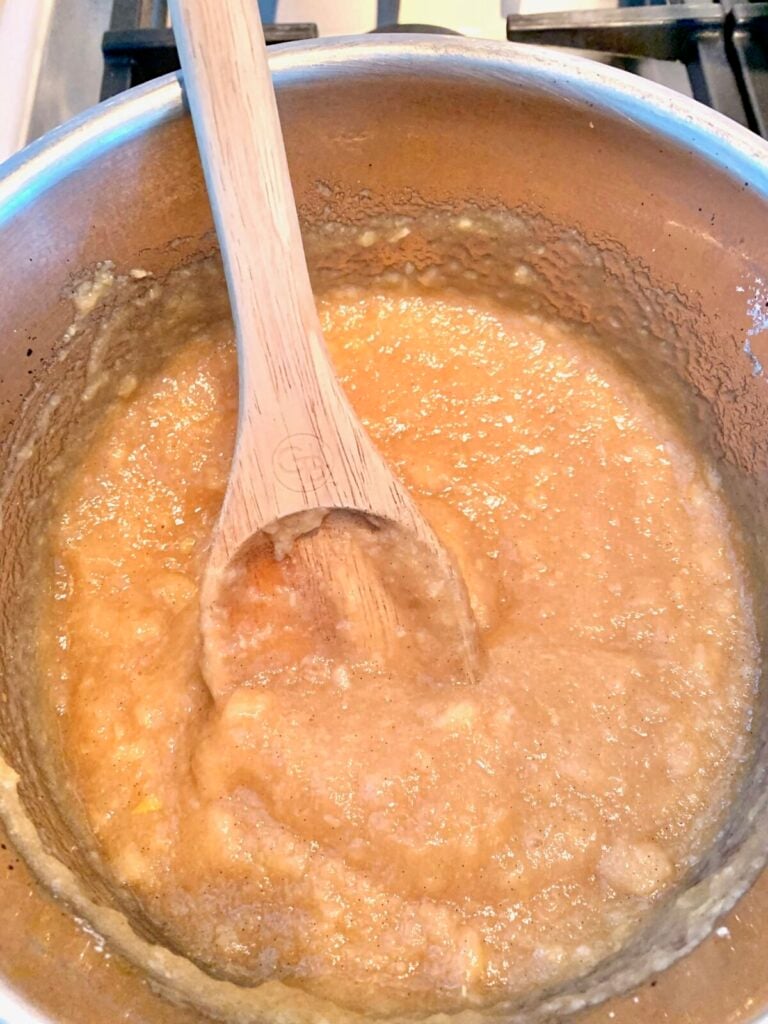 As you can see here, it it slowly changing color, but soon turning a beautiful pink .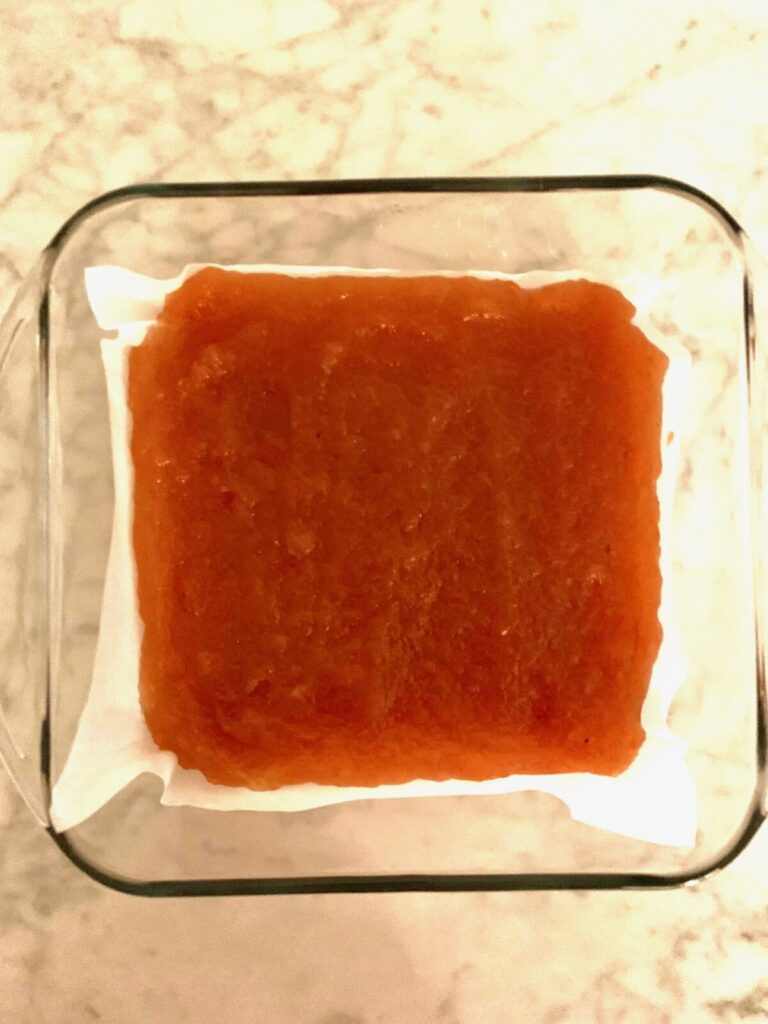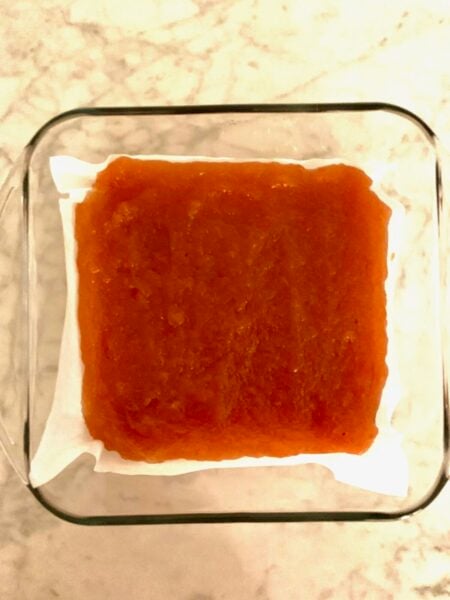 Check out this COLOR!
Here, the paste is ready for the oven. I tested the paste several times for doneness, when it doesn't bounce back it's ready.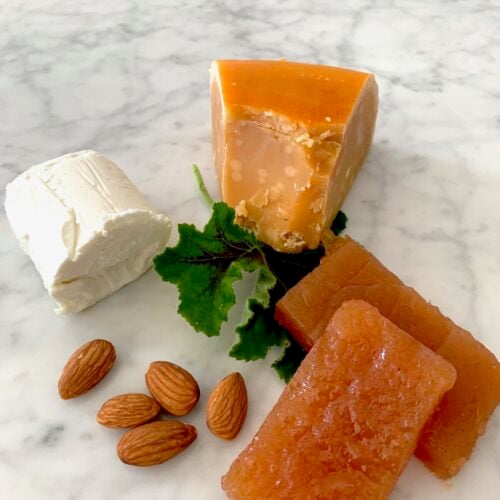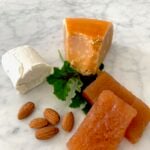 Quince Paste with Spices "Kythoni"
Try quince for a new twist to a forgotten fruit and it's delicious flavors. Add the paste to your cheeseboard, stewed meats, or as a simple dessert.
Ingredients
2

lbs.

quince, about 4, peeled, cored, and chopped- 3/4" thick

1/2

vanilla bean, split, seeds scraped out

2

strips lemon zest - each 1/2 by 2 inches

2

cups

granulated sugar, more or less if needed

2

tbsp.

fresh lemon juice

1

tbsp.

unsalted butter, softened
Instructions
Place the quince, vanilla bean pod and seeds, and lemon zest in a 4 quart saucepan and cover with water. Bring to a boil over medium high heat. Reduce to a simmer, cover and cook until the quince are tender when poked with a knife, about 40 minutes.

Drain the quince in a colander and discard the vanilla bean. Puree the fruit and lemon zest in a food processor. Measure the puree by volume, return to the saucepan, and add an equal amount of sugar. (If you have 2 cups puree, add 2 cups sugar.)

Cook over medium-low heat, stirring with a wooden spoon until the sugar has dissolved, 1 to 2 minutes. Add the lemon juice and return the heat to low. Continue to cook, stirring occasionally, until the puree becomes a very thick paste, about 1-2 hours.

Meanwhile, position the rack in the center of your oven and heat to 125 degrees F. If your oven doesn't go this low, use the lowest temperature, and expect a shorter cooking time. Line a 8x8 glass or ceramic pan with parchment paper, grease with the butter.

Pour the quince paste (do not scrape the pot) into the dish, and smooth top with the wooden spoon. Bake until slightly dried and firm enough to slice, about 1 hour.

Remove from the oven and let cool to room temperature. Invert onto a cutting board and cut quince into four 2-inch wide strips. Wrap each strip in plastic wrap and refrigerate. The quince paste will last up to one month.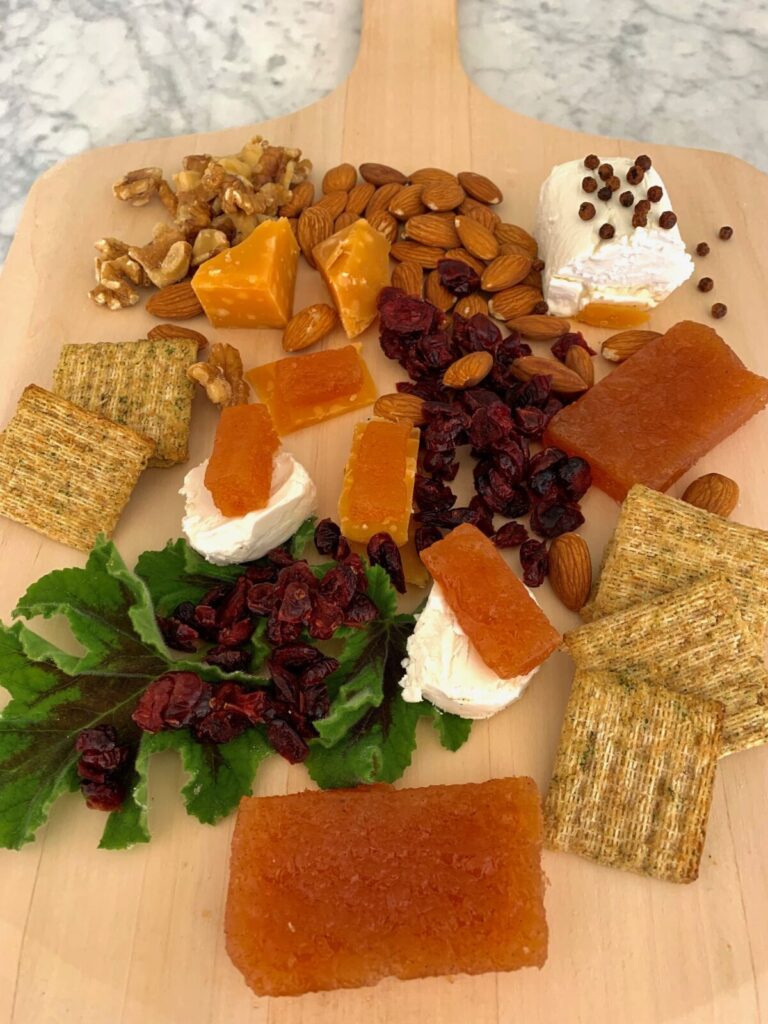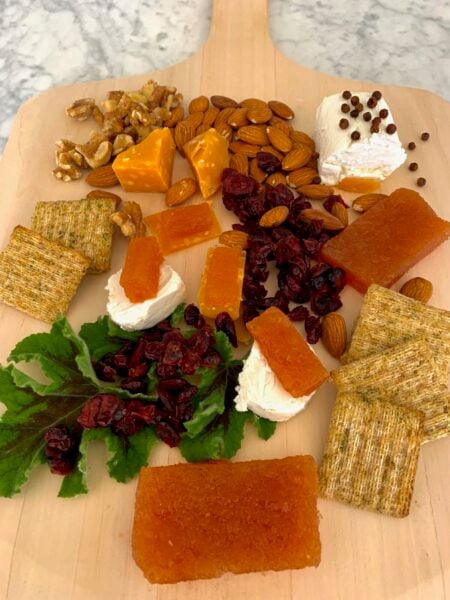 A cheeseboard is the perfect way to present your quince past. Pair it up with your favorite foods. Here, I chose a goat cheese, and a hard Spanish cheese.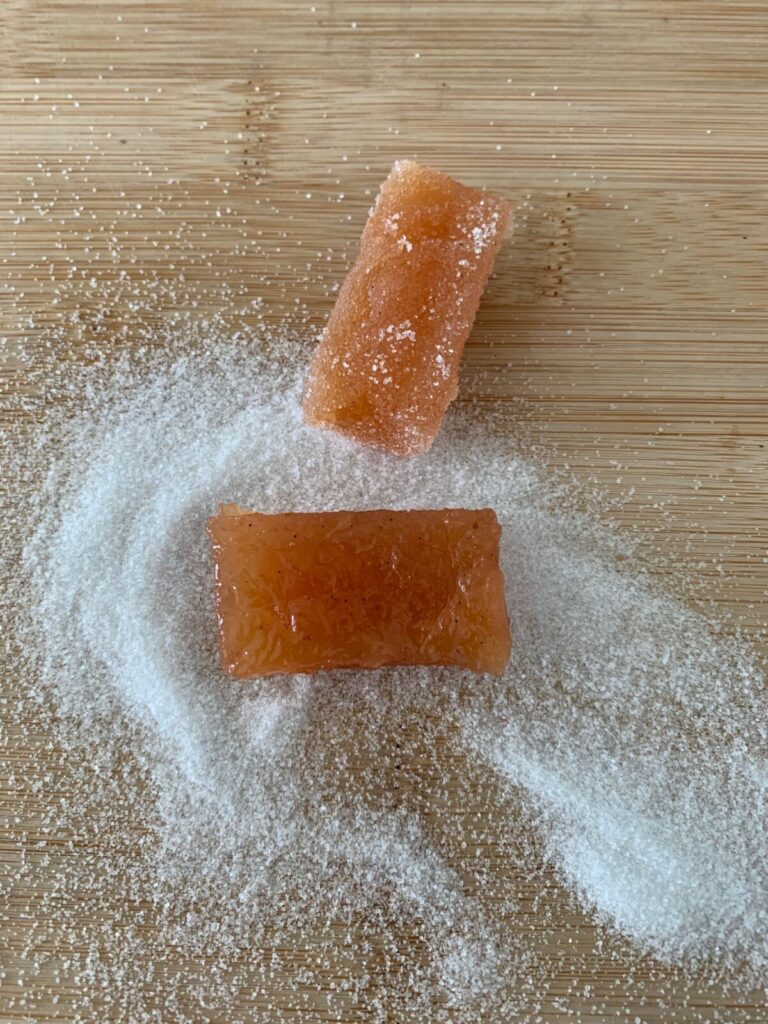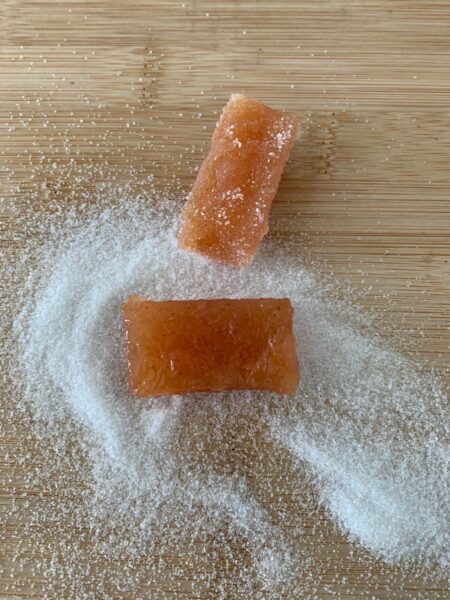 As a simple quick bite, cut into any shape, and roll in sugar and serve.
This recipe was adapted from Fine Cooking by Julissa Roberts.
Happy Fall Everyone,
Mary
© 2021 – 2022, Mary Papoulias-Platis. All rights reserved.