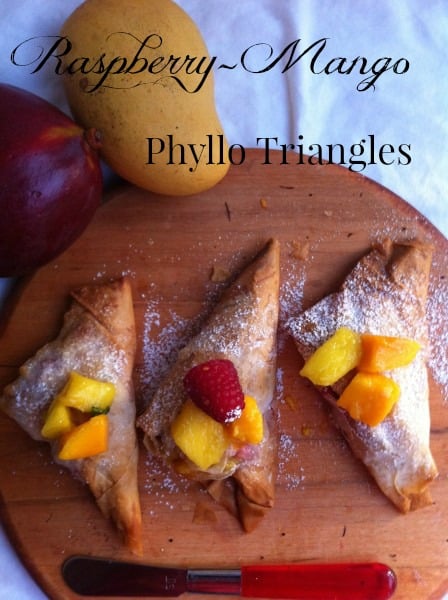 Phyllo Triangles are my go-to recipe when I have fresh fruit and garden herbs on hand. I leave a box of phyllo defrosted in my refrigerator at all times for these quick and simple desserts. You can stuff almost anything in these phyllo triangles. Phyllo can be purchased in most stores today, but remember to defrost in your refrigerator the night before. Phyllo can also be purchased online at Fillo Factory, if you are unable to find it at your supermarket. Once, you are more comfortable working with phyllo dough, stuff them with cheese as I did here in this recipe for Cheese Tiropetes.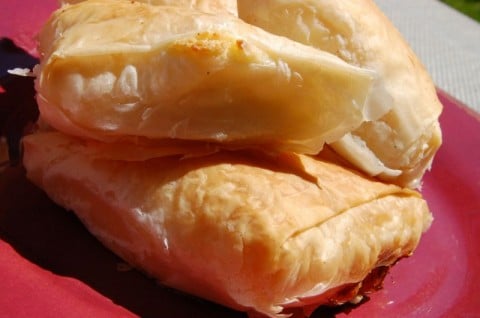 A couple of days ago, I had a box of beautifully fragrant mangoes delivered to my home from the National Mango Board.
A big thank you for the beautifully packaged fruit. It's nice when they come in a woven sleeve to prevent any bruising.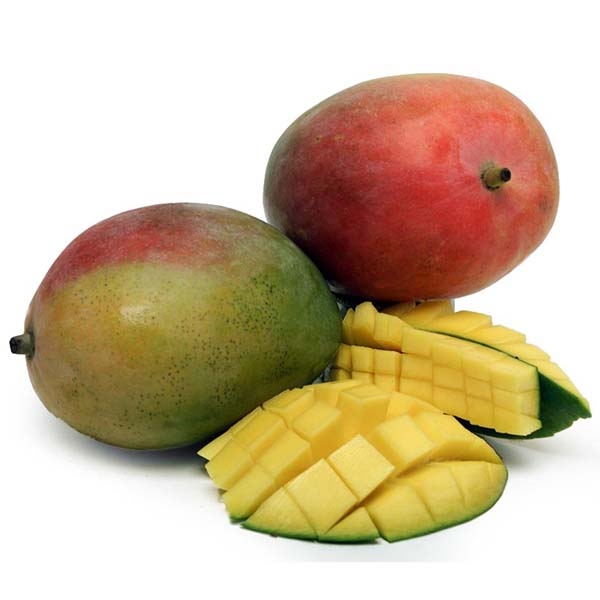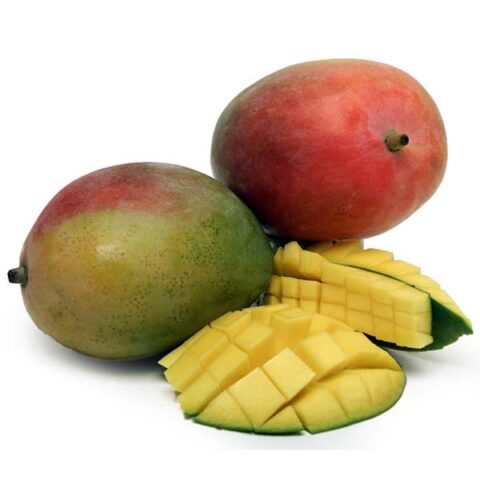 I visited my local store for inspiration for this recipe and I spied these brightly-colored raspberries on the shelf, then I knew I had my recipe. Or for more inspiration visit your famer's market for fresh local food. Mangoes offer an excellent source of vitamin A and C. They come in a variety of sizes, shapes, and color. A slightly soft mango is ready to eat. Keep your mangoes at room temperature. They will continue to ripen, becoming sweeter and softer over several days. Once ripe you may place them in the refrigerator until ready to be eaten. For more information on mangoes visit the Mango Site.
Let's get started!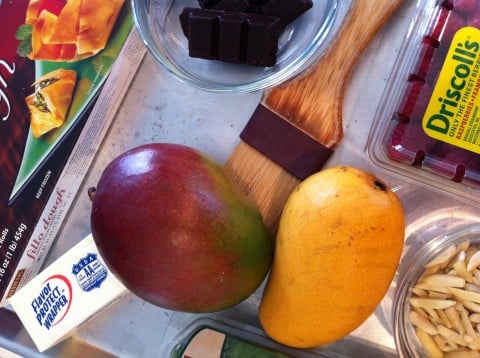 I always get started collecting all the ingredients for my dish.
Also, try and prepare toasting nuts, melting chocolate or shifting flours.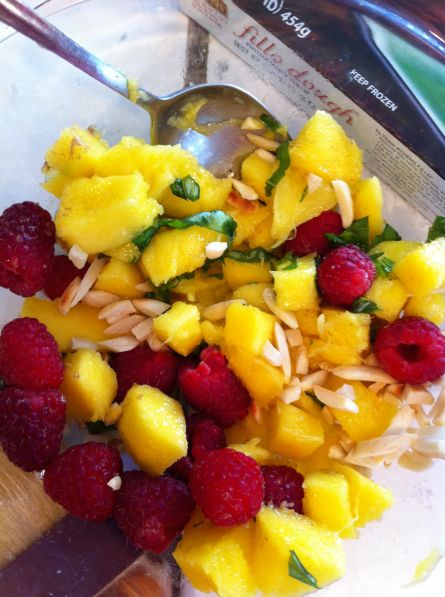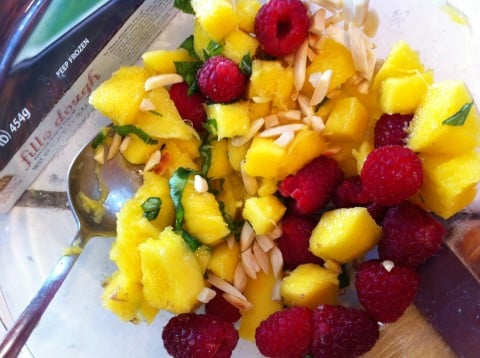 Combine all your ingredients in a large bowl.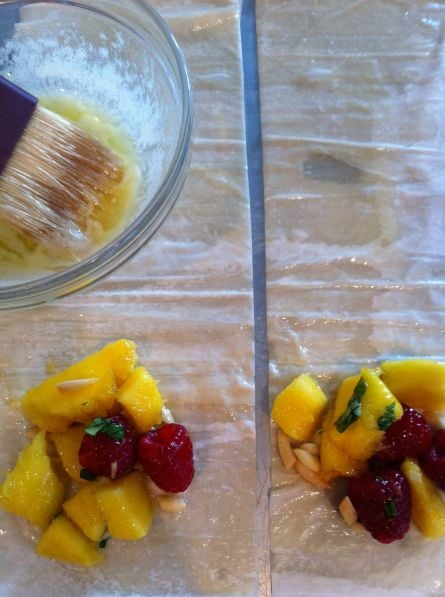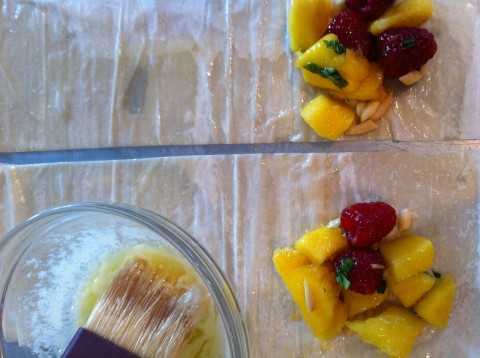 Prep your phyllo, and place the filling at one end of the strip. Wrap like a flag. Place seam down on a buttered sheet tray.  Space apart and don't forget to brush with butter before baking.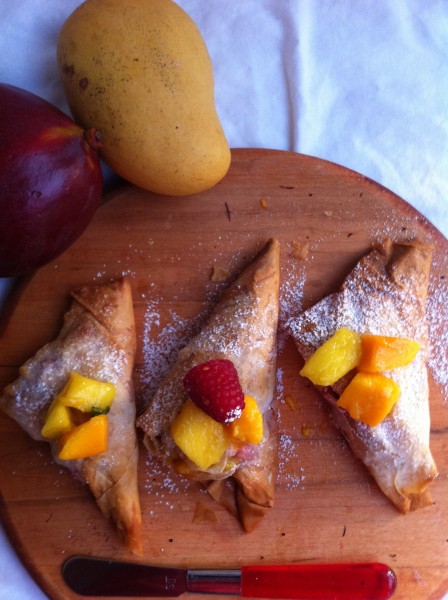 A sprinkle of powdered sugar for that bit of sweetness.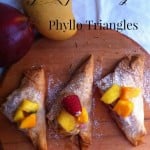 Raspberry Mango Greek Phyllo Triangles
These mouthwatering raspberry mango phyllo triangles makes for any occasion weather it be used as a fancy appetizer, or a simply Greek dessert.
Ingredients
1

pound

phyllo, defrosted overnight

1/2

cup

butter, melted

2

fresh mangoes, chopped

1

cup

fresh raspberries

1/4

cup

slivered almonds, toasted

2

tablespoons

basil leaves, chopped

1/4

teaspoon

cardamon

2

teaspoon

maple syrup

pinch

of salt
Instructions
Phyllo
Place 1/2 cup of butter in a saucepan and melt. Set aside.

Remove phyllo from refrigerator and bring to room temperature.Leave in plastic.
Mango Mixture
Peel mango and chop into small 1/2 inch pieces. Place in a bowl.

Add raspberries, almonds, basil, salt, cardamon, maple syrup into mangoes. Stir lightly until combined. Set aside.

Prepare phyllo by unwrapping and placing it unfolded on the counter top. Cover with towel to keep it from drying out.

Place one sheet in front of you lengthwise. Butter the first layer of phyllo.

Add two more layers, brushing each one with butter.

Cut phyllo lenghwise into thirds with a sharp knife.

Place a tablespoon or so of mango filling at the end of one strip and fold like a flag. Continue with all three.

Place on a buttered or parchment covered sheet pan and lightly butter the tops. Continue until all the mango mixture is used.

Bake at 350 degrees for 15-20 minutes until golden.

When cooled slightly sift powdered sugar on top. (optional) Serve warm.
Visit my other mango recipes: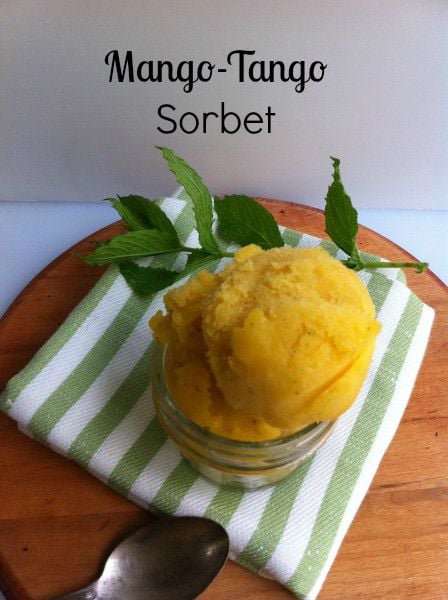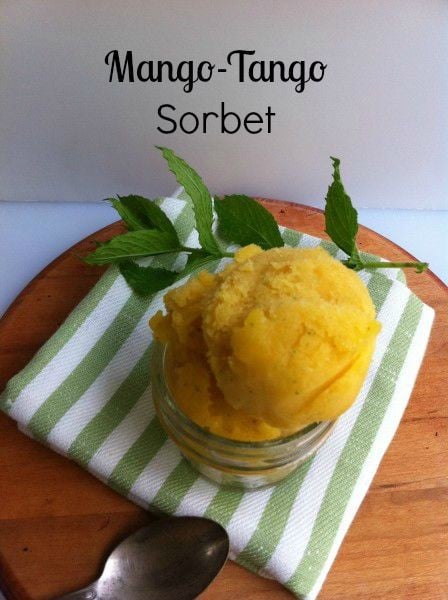 Enjoy these mango recipes,
Mary 
© 2012 – 2022, Mary Papoulias-Platis. All rights reserved.