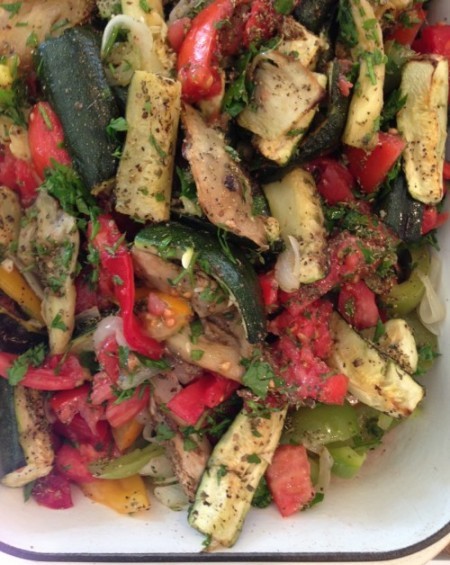 This recipe for Rataouille with Garden Vegetables has been sitting in my recipe box since I was in my twenties and newly married. I remember perfecting this Italian version of Ratatouille, so I would have something to serve my parents as they came up to visit us in college. It's best made the day before and reheated and this is why I often used it. Served with a great loaf of bread and a green salad, it makes a perfect meal.
My mother-in-law's gift to me as we left for college was a subscription to Bon Appetit. It saved my life.  Not only did the magazine teach me to cook, but it gave me confidence to cook for others. The issue this came from is the Bon Appetit, from November 1977.  I wish I could thank the author of this recipe and the many years of enjoyment it has brought me, definitely a keeper.
Ratatouille Tips:
Prep ahead and read the entire recipe for ingredients you may need.
Can be made ahead of time, and it fact it tastes better the next day.
The sausage I used in the recipe is mild Italian.  It can be cooked the night before and refrigerated to save time.
Serve with your choice of bread, rice, noodles or alone.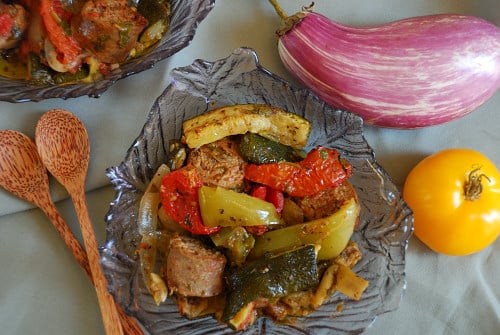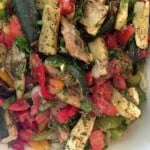 Ratatouille with Garden Vegetables and/or Sausage
The perfect casserole for your garden vegetable abundance. Add the sausage or serve with the vegetables alone. Can be made ahead for a large crowd.
Ingredients
2

large eggplant, peeled and cut into strips

8

medium zucchini, cut into 1/2 inch strips

Extra Virgin Olive Oil

5

large sliced onion

6

minced garlic cloves

2

cups

mushrooms, sliced, ( in place of sausage)

6

green peppers, seeded and sliced

8

peeled tomatoes, cut into strips

1

cup

finely chopped fresh parsley

2

teaspoons

oregano

2

teaspoons

thyme

2

teaspoons

basil

salt and pepper

1

dozen sweet or mild Italian sausages (meat version)
Instructions
Preheat oven to 400 degrees.

Place eggplant and zucchini on individual sheet pans and sprinkle with olive oil, salt and pepper.

Roast in the oven until soft around 20 minutes. Check eggplant half-way through the baking time and turn if needed. Place aside to cool.

In a large skillet saute onion, garlic and mushrooms (for vegetarian version) with 2 tablespoons of olive oil.

Add green peppers, and continue cooking and add more oil if needed.

In the meantime, saute sausages (meat version) in a new skillet until browned. Or saute mushrooms in the first pan after vegetable mixture has been cooked.

Cut sausages in 1/2 inch round slices and place back in pan to further brown, 2-3 minutes. Remove and cool.

Preheat oven to 350 degrees.

Layer sauteed vegetables, tomatoes, herbs, salt and pepper in a large casserole dish or two small ovenproof dishes. Stir gently to mix.

Sprinkle with olive oil and bake covered for 35 minutes for meat version, or continue baking for 10 more minutes for the vegetarian version.

After vegetables have baked add sausage, pushing down to distribute evenly.

Return to oven and bake uncovered for 20 minutes.

Remove from the oven and let sit for 10 minutes before serving.
Recipe Notes
Flavor improves by making the casserole 24 hours ahead and refrigerating. Bring to room temperature before reheating.
Sauteed vegetables.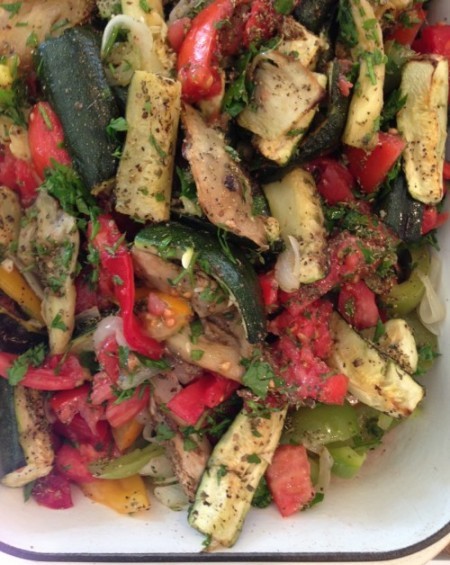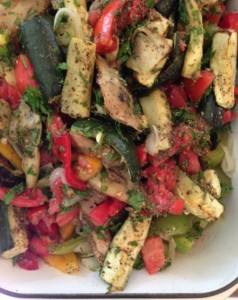 Browning the sausages for the meat version~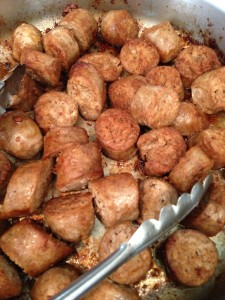 Try my Greek Version of Ratatouille and Roasted Vegetables
Greek Garden Roasted Vegetables
Greek Roasted Potatoes with Gremolata Sauce
Roasted Cauliflower and Root Vegetable Soup 
Enjoy one of my favorite dishes ever!
Mary 
© 2013 – 2022, Mary Papoulias-Platis. All rights reserved.