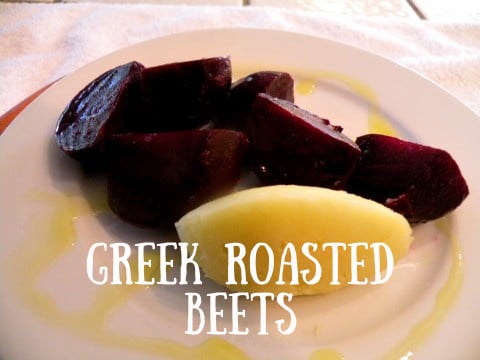 Beets are a staple in the Greek diet along with this garlic-potato recipe.  In my house they are a comfort food! We often serve these together, trust me this is definitely a match made in heaven.
By roasting the beets instead of boiling them in water, you get a more intense earthy taste. Wrap in parchment then the foil if you wish and roast in the oven. This is something you can do ahead of time, or the night before a dinner. Remove from the refrigerator and serve warm or at room temperature.
What is garlic sauce?
The garlic sauce can be made ahead of time, lasts in the refrigerator for days. Use a starchy potato when using this recipe. Leftovers can be used as a spread with toast, sandwiches, or served with fish. When making the sauce I prefer to hand mash it with a mortar and pestle or by using a potato masher. Keep the greens from the beets, saute or boil them and add them to your beets.

Roasted Beets with Potato Garlic Sauce –"Patzaria"
Roasted Beets and Garlic sauce is a Traditional recipe at every Greek table.
Author:
Mary Papoulias-Platis
Ingredients
2 pounds of beets, washed
3 tablespoons minced garlic
½ cup olive oil
½ cup red wine vinegar
salt and pepper to taste
Instructions
Wash beets and cut off greens. Wash and cook the greens by boiling in water, or they can be sauteed with a little olive oil.
Wrap beets in foil and place in a sheet pan and bake in a 350 degree oven for 1 hour.
Test with knife for soft center.
Let cool slightly. Unwrap and peel beets. Cut into quarters or slice.
Place in a bowl and add garlic, olive oil, vinegar.
Add the salt and pepper to taste.
Serve warm or cold.
Can be made 1-2 days ahead of time.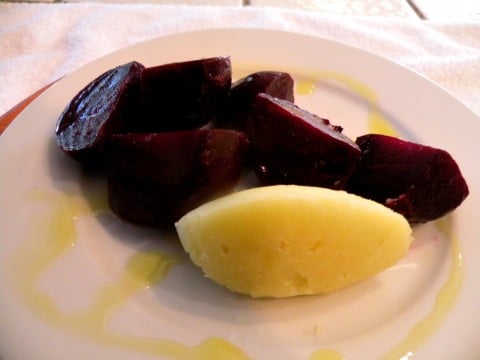 Potato Garlic Sauce
A traditional Greek beet recipe made often in the homes for the holidays or weekly as a side dish.
Author:
Mary Papoulias-Platis
Ingredients
4 Idaho brown potatoes, washed and unpeeled
3 tablespoons minced garlic
1 cup olive oil
⅓ cup white wine vinegar, or plain white vinegar
1 teaspoon salt
¼ teaspoon pepper
Instructions
Place unpeeled potatoes in small pot and bring to a boil. Reduce heat to cook until ready. Test with knife for soft center.
When cooled slightly, peel. and place potatoes and garlic in medium bowl and mash.
Add vinegar, salt and pepper.
Blend thoroughly.
Can be served at room temperature or cold.
Can be made ahead 1-2 days.
See Cooking Techniques for Making Roasted Beets

Enjoy this traditional Greek Dish!
Mary
© 2010 – 2020, Mary Papoulias-Platis. All rights reserved.