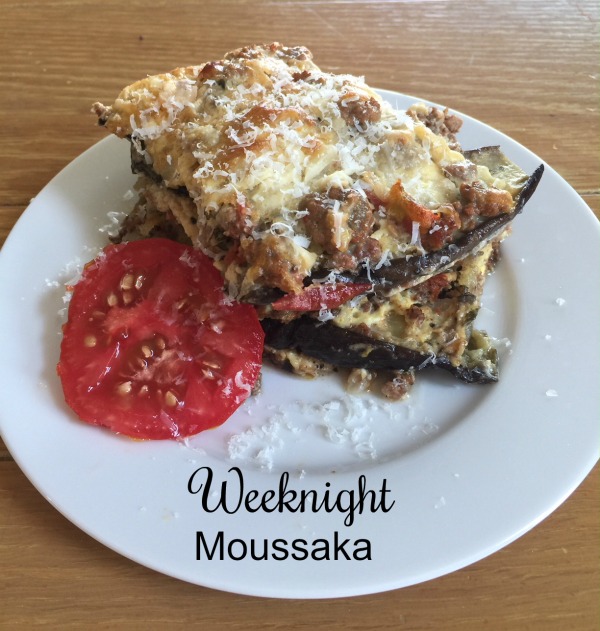 Why not have Moussaka for a weeknight meal? It's one of my favorite dishes, reminding me of many family Sunday dinners we had with our uncles and aunts in their North Park homes. They all lived within walking distance, so as kids would bounced from home to home all day while our parents prepared the dinners.
One thing you probably don't know about me is that I love shopping at antique stores and finding old cookbooks and recipes. Not only do I love the simplicity of the recipe, but I'm curious to read the history behind the author. As you can see I collect old recipe books from churches, women's groups, and old food companies. My stack is pretty full now, so I've decided to share them with you. And because of that, I've decided to add a new section to my blog called, "Recipes from the Past".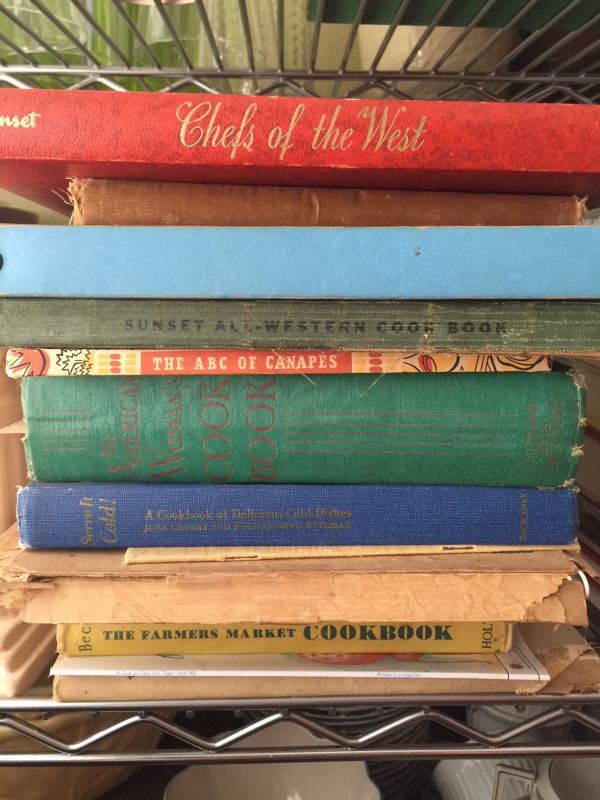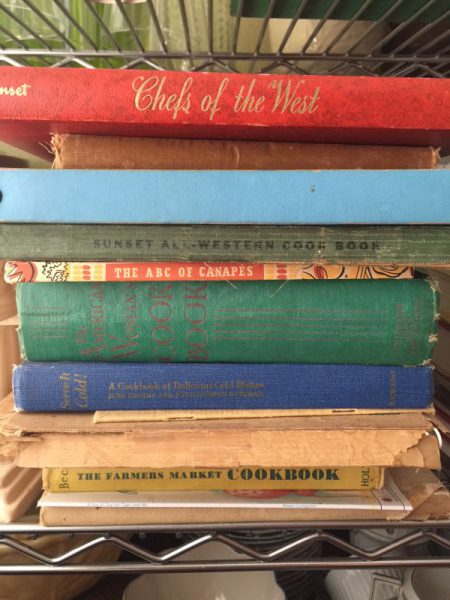 This moussaka recipe was found from a book called Mother's Day, and unfortunately there's no author associated with it.  Every recipe is typed neatly from a typewriter. What a treasure. Among the other recipes I found are Sock-It-To-Me Cake, 7-up Cake, Preacher Cookies, Gumdrop Salad (love the name), and Pepper Steak. Do any of these bring back any of your family memories?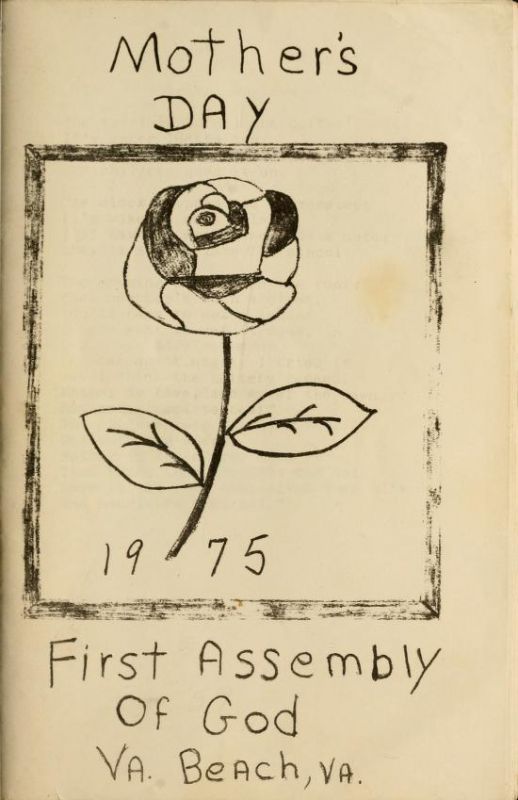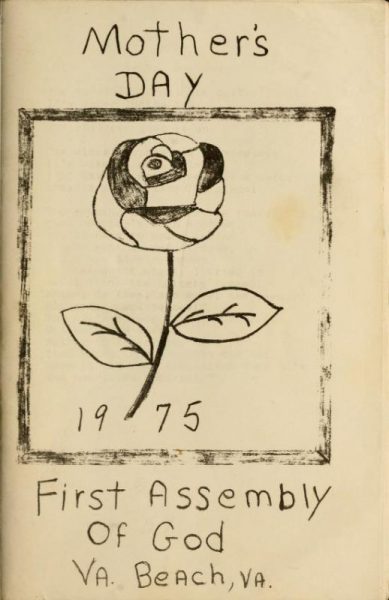 I decided to make this recipe for dinner the other night and it worked out perfectly for a weeknight meal. It mostly uses ingredients found in your refrigerator.
Here are a few tips:
Always read the recipe once to make sure you have all the ingredients.
Secondly, use your time effectively and switch around the instructions to your benefit.
See what you can prepare ahead of time. The sauce can be made ahead.
Roast the eggplant first, before you begin on the meat sauce.
Overall, I loved the recipe and my family devoured it! Now, that's a good sign. This is typical of an American Greek recipe where they substituted Parmesan cheese, in place of a Greek cheese. Which was great for me, because I always have Parm on hand.
Along with these treasured recipes this book also contains sweet sayings from authors throughout the book. What a wonderful touch….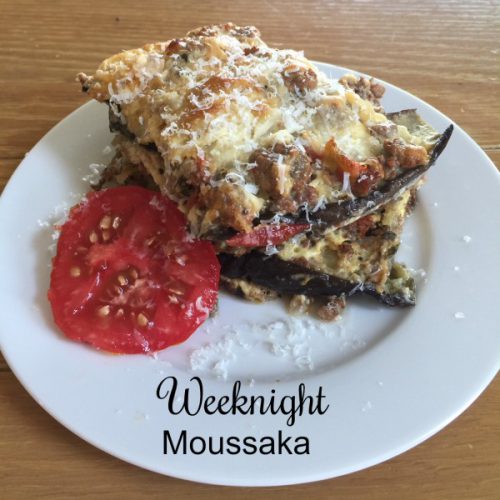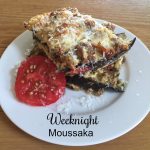 Weeknight Moussaka
An easy and quick recipe for your family, using ingredients in your refrigerator!
Ingredients
4

small

eggplant or 6 Japanese eggplant, sliced

1 1/2

teaspoons

salt or more

4-6

tablspoons

olive oil

1

pound

ground lamb or beef

2

onions

chopped

pepper

1/4

teaspoon

cinnamon

4

ripe

tomatoes, roughly chopped

3

tablespoons

fresh parsley, chopped

2-3

tablespoons

water or broth

6

tablespoons

bread crumbs

6

tablespoons

grated Parmesan other

3

egg yolks

2

cups

Bechamel sauce - see below
Instructions
Cut the eggplant into thick slices and place on a sheet tray lined with foil or a mat. Sprinkle with olive oil, salt and pepper.

Place in a pre-heated oven at 400 degrees for 20 minutes until soft and slightly brown. Turn once during cooking time. Remove and cool.

Heat oil in a large skillet and add the meat and brown. Add the onions and continue cooking, adding the salt, pepper, and cinnamon. Add the tomatoes, parsley and water or broth. Bring to a boil , lower the heat and cook for 20 minutes,




Brush a 11x13 casserole dish with olive oil and add 1/2 of the bread crumbs. Add 1/2 the meat,1/2 the eggplant. Sprinkle with 1/3 cheese. Repeat layers.

Beat the egg yolks until fluffy. Place 2 tablespoons of the sauce into the egg yolks and blend. This is tempering the eggs so they don't curdle. Add the eggs to the warm or cooled sauce. Pour the sauce over the dish and sprinkle with remaining cheese.

Bake in a 365 oven for 45 minutes. Remove and let sit for 10 -15 minutes. before serving.
Bechamel Sauce (white sauce)
This sauce is a mother sauce and so easy to prepare. Don't leave it off, this is the topping.
Ingredients
2

cups

whole milk, room temperature

2

tablespoons

flour

2

tablespoons

butter

1/2

teaspoon

salt
Instructions
Melt the butter in a medium saucepan. Add the flour and cook over low heat for 1-2 minutes.

Slowly, add the milk, stirring with a whisk to form a thick sauce. Season with salt and pepper.
Recipe Notes
This sauce can be made ahead of time and refrigerated.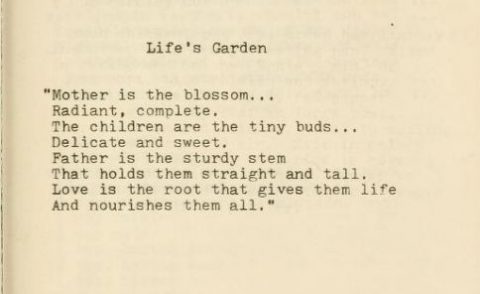 You may enjoy my other recipes:
Let's Keep Cooking!
Mary
© 2018 – 2022, Mary Papoulias-Platis. All rights reserved.