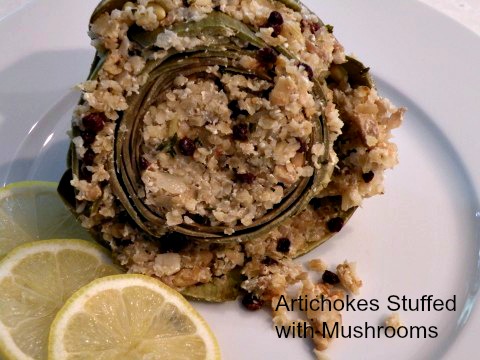 Artichokes stuffed with anything is a popular dish within the Greek cuisine. Grown in family gardens, they are very popular in restaurants across Greece.  This recipe stuffed with bulgur and mushrooms is new and improved from the traditional bread crumb stuffing to a more healthful bulgur grain.
Greeks love to stuff everything!  We stuff tomatoes, eggplant, squash, so I decided to stuff artichokes. Artichokes are grown along our coastal region of Monterey, California  producing nearly 100% of the artichokes. They are a great source of vitamin C, foliate, and potassium.
For information on the artichoke festival see this site, California Artichoke Board. One last note; when buying artichokes look for a nice green color, and with leaves that are closed, not open. Visit the Cooking Technique for this recipe for more detailed pictures.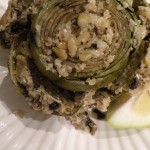 Artichokes Stuffed with Bulgur and Mushrooms – "Anginares"
Try this satisfying bulgur-stuffed artichoke for a healthful alternative.
Ingredients
4

large globe artichokes

trimmed and fuzzy center removed

1

cup

bulgur

2

cups

water

1

teaspoon

salt
Filling:
8

oz.

1 small package of mushrooms, finely diced

1

onion

finely diced

4

garlic cloves

crushed

1/2

cup

toasted pine nuts

2

tablespoon

chopped parsley

1

teaspoon

chopped sage

2

teaspoons

chopped thyme leaves

2

lemons

juice and zest of 1 lemon for filling, and juice of 1/2 lemon for water

1/2

cup

currants

1

teaspoon

salt

1/4

teaspoon

pepper

5

tablespoons

olive oil or water

3 tablespoons for saute, and 2 tablespoons for filling

1

cup

vegan cheese

mizithra cheese, or grated (Parmesan can be substituted)

2

cups

white wine or sherry
Instructions
Bring 2 cups of water to a boil. In a medium bowl add 1 cup of bulgur and add the boiling water. Add 1 teaspoon salt and cover. Let stand for 30 minutes.

In the meantime, place three tablespoons of olive oil in a large skillet and saute mushrooms, onions, garlic, pine nuts, parsley, sage, thyme, zest of one lemon, lemon juice of 1 lemon, currants, salt, pepper.

Remove from stove and allow to cool for 30 minutes.

Clean artichokes using a serrated knife cut off 1/3 of the top of the artichoke. Take off one row of bottom outside leaves. With scissors trim the leaves in half all the way around the artichoke. Cut off the stem, all but 1/2 inch to allow artichoke to stand in the cooking pan. Using a corer, a spoon, or your fingers pull out center of artichoke until all thistle and yellow leaves are gone, leaving the heart in place.

Place artichokes in a bowl of water with the juice of 1/2 lemon , to keep the artichokes from turning brown.

Squeeze any excess of liquid out of the bulgur, using a paper towel or a sieve.

Add bulgur, cheese and 2 tablespoons of olive oil to the stuffing mixture, so it becomes paste-like.

Stuff the inside of each artichoke and divide remainder of stuffing among the four artichokes. Stuff one layer of leaves from each artichoke.

Add a drizzle of olive oil on top of each artichoke. Place the artichokes in a large deep sauce pan or dutch oven and add the wine and cover.

Bring to a boil and reduce heat to a simmer. Cook on the stove top at a simmer for one hour. Check occasional to see if more liquid is needed.

Let cool for 10 minutes before serving. Drizzle any cooking juices on top. Serve warm.
You may want to try my other recipes using artichokes below:
Thyme Infused Artichokes with Pesto
Lamb Stew with Artichokes and Gigante Beans
Braised Greek Lemon Chicken with Artichokes
Arugula Salad with Fava Beans and Artichokes
Thank you for stopping by, and get healthy!
Mary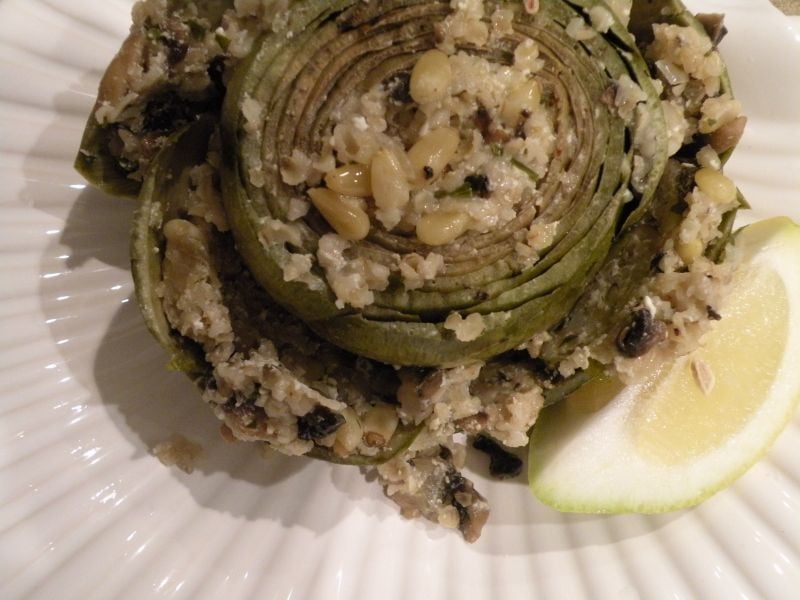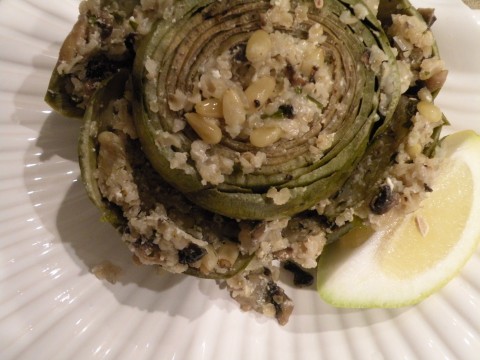 © 2010 – 2023, Mary Papoulias-Platis. All rights reserved.