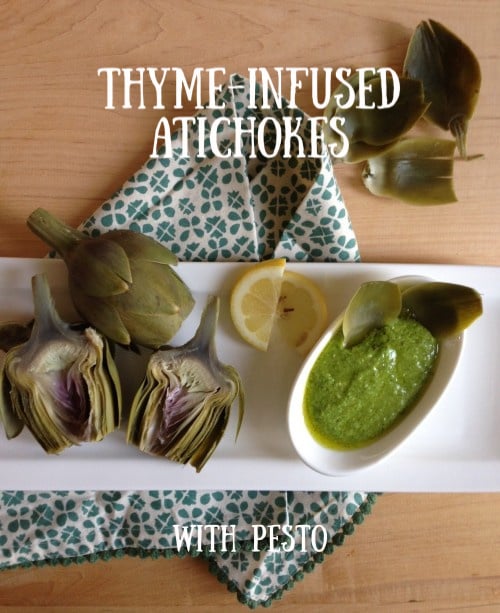 These thyme infused artichokes pair up beautifully with this delicious pesto sauce as a last minute appetizer. I make them often during artichoke season when a guest drops by for lunch. Add a loaf of bread and your set for a lovely lunch. They can also be added as a side dish with your  meal. I try and keep artichokes on hand, because they do last in the vegetable bin for a week or so.
And with this easy method of cooking …they're ready in no time. Use only fresh artichokes for this recipe. Frozen or canned artichokes can be dressed with pesto and can work as a nice salad or placed on a slice of baguette as an appetizer.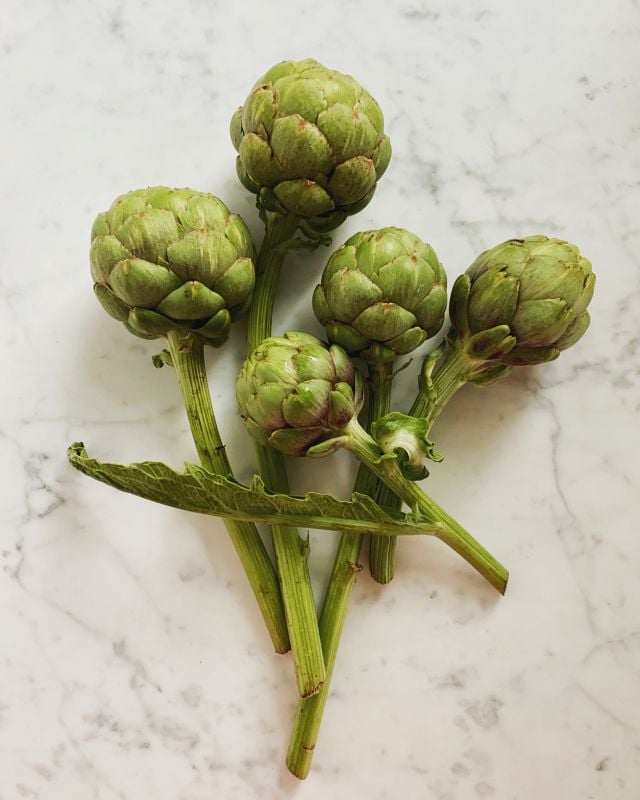 I simply trim the artichoke leaves with a pair of scissors and place them on to boil in water with a lemon and an herb of your choice. When they are ready I cut then in half and further clean the choke out and trim the stem. So much easier!!
Step 1 – Trim the leaves on the large globe artichokes, about the first three rows.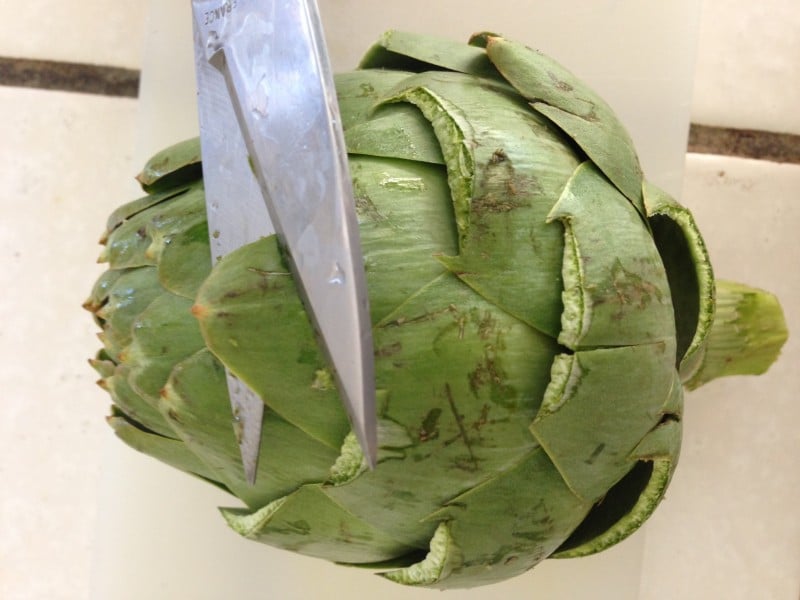 Step 2 – Cut off about 1/3 from the top of the artichoke.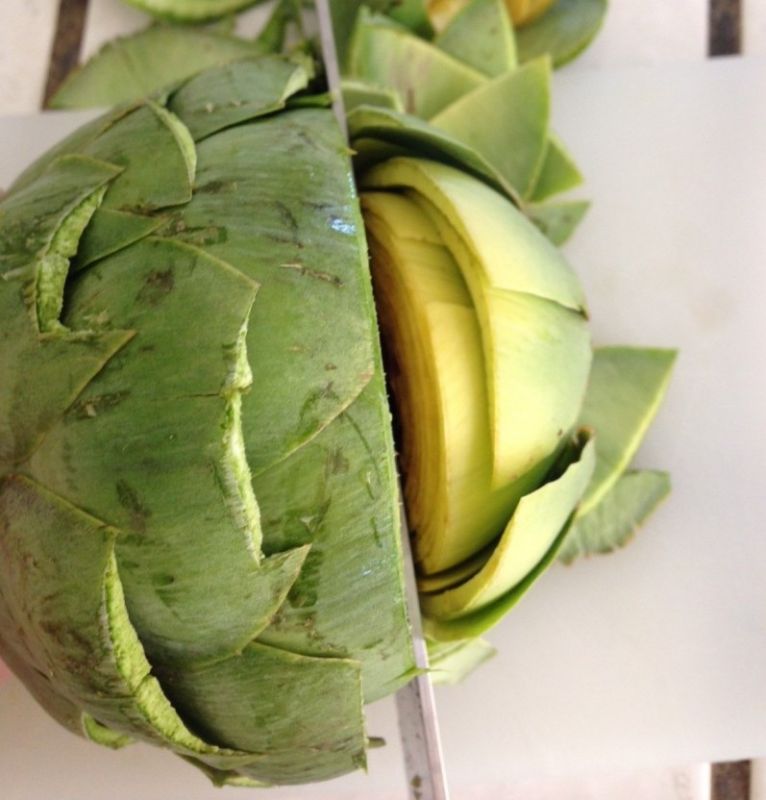 Step 3 – Boil water and place the artichokes in the water with the juice of a 1/2 lemon. Add thyme leaves.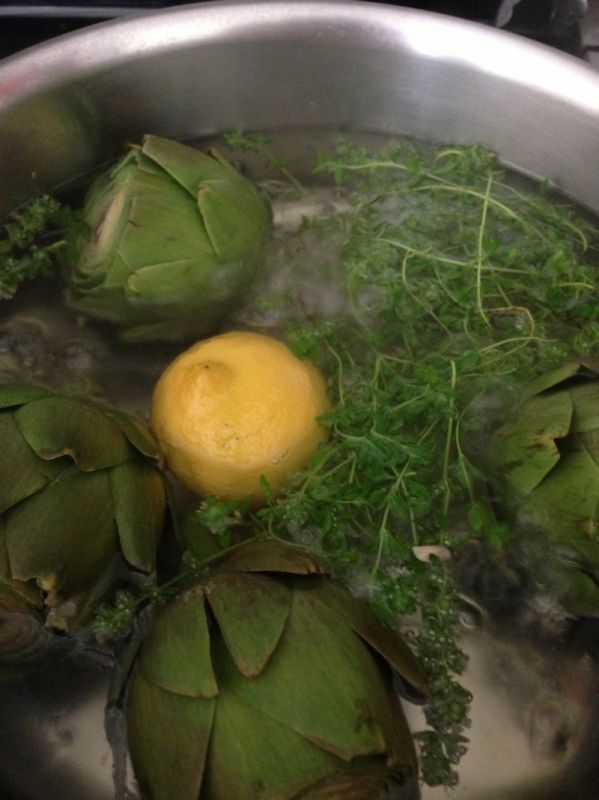 Step-4 Insert a knife in the center of the stem to check for a soft center.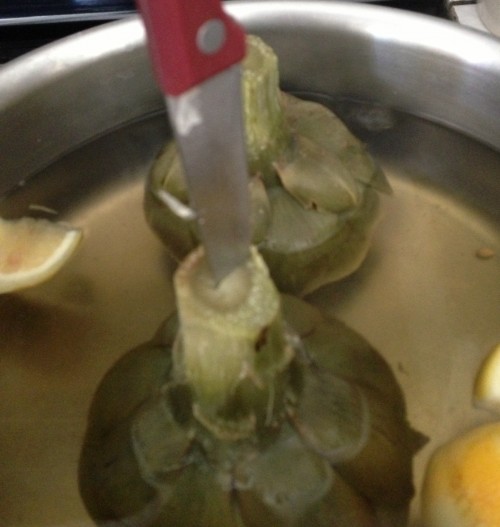 I used smaller miniature artichokes for the main picture to show you that a step can be eliminated when using the baby ones. No clipping of the leaves are necessary. But continue to cut the tops off for easier eating. (sorry for the bad picture!)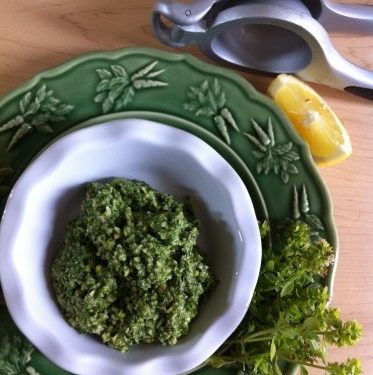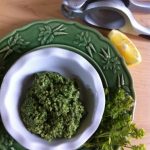 Fresh Basil Pesto Sauce
Discover fresh basil pesto and add this fragrant sauce to any of your dishes.
Ingredients
2

cups

fresh basil leaves

1/4

cup

pine nuts

4-5

garlic cloves

1/4

teaspoon

salt

1

tablespoon

fresh lemon juice

2

tablespoons

extra virgin olive oil

1/4

cup

grated parmesan cheese or vegan cheese
Instructions
Place all the ingredients except the chees in a food processor or blender.

Place in a small bowl and stir in the cheese.

Serve or refrigerate for up to 3 days.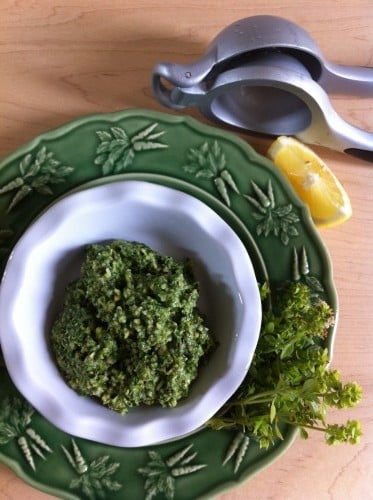 The pesto recipe for the artichokes is the main recipe.
You can substitute basil, arugula, herbs and any greens for this recipe.
Always make extra for deviled eggs, grilled cheese sandwiches, or pasta it's endless!
You may also like: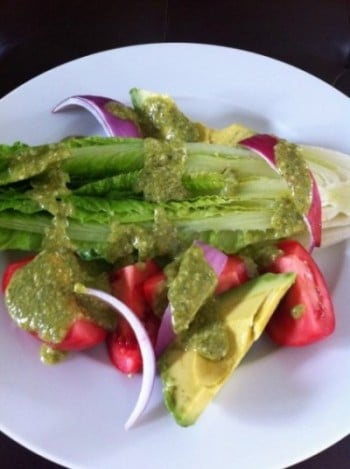 Pesto Avocado Dressing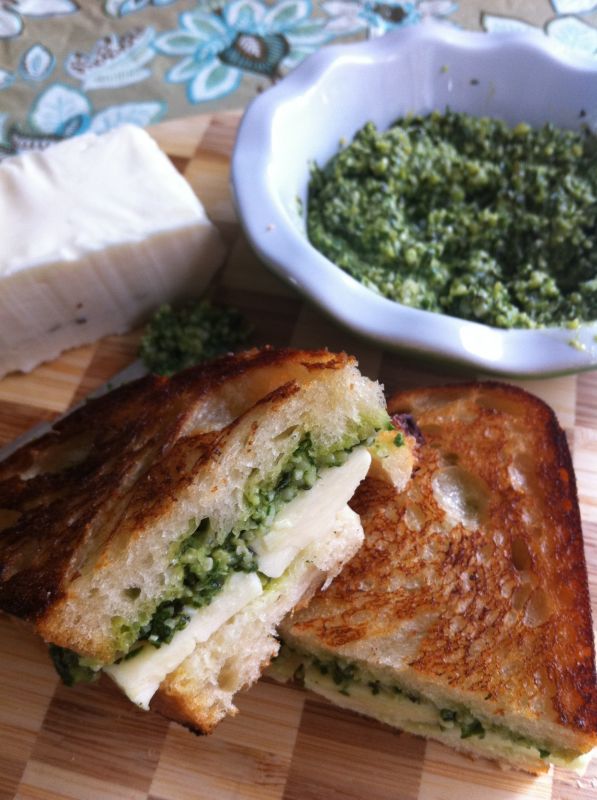 Halloumi Grilled Cheese with Pesto

All of these recipes can be found above on the pesto three ways page.
It's a green day full of recipes!
Enjoy!
Mary
© 2013 – 2022, Mary Papoulias-Platis. All rights reserved.