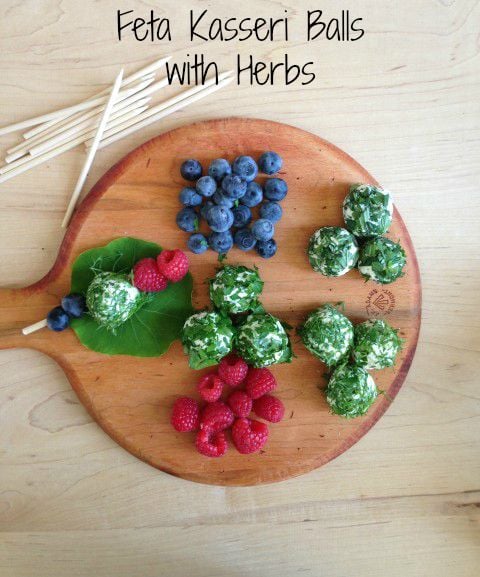 Herbs play an important role in the Greek Cuisine, and fresh is always best! The four Greek herbs to plant in your garden are oregano, parsley, dill, and mint. I wanted a quick appetizer, so I reached out to these herbs in my garden and a cube of feta.  These colorful balls can be prepared ahead of time, wrapped and refrigerated, and dipped in the herbs before serving. The balls can also be skewered for a festive presentation. Serve these with fresh berries, melon slices, or  your favorite vinaigrette.
Feta-Kasseri Cheese Balls with Fresh Herbs
Greek herbal cheese balls with fresh herbs and fruit make a perfect appetizer for your next luncheon or dinner party.
Author:
Mary Papoulias-Platis
Ingredients
1 cup crumbled Feta cheese
¾ cup Kasseri cheese,finely grated
⅔ cup cream cheese,room temperature
2 garlic clove, crushed
½ cup lemon juice
Zest of 1 lemon
2 teaspoons fresh parsley, finely chopped
2 teaspoons fresh mint, finely chopped
¼ cup each of fresh parsley,mint, and dill for garnish
Various berries, melons, or citrus.
Instructions
In a medium bowl, mix together Feta, Kasseri, cream cheese, until smooth. Stir in garlic, lemon juice, lemon zest, parsley and mint.
Roll the cheese into 1-inch round balls. Chill at least 1 hour.
Divide in thirds and roll the balls in each herb and serve with berries, melons, or citrus.
Notes
For a party skewer the balls with fresh fruit.
 You can skewer the cheese balls for an easy party appetizer.
These are on edible nasturtium leaves.
© 2013 – 2015, Mary Papoulias-Platis. All rights reserved.