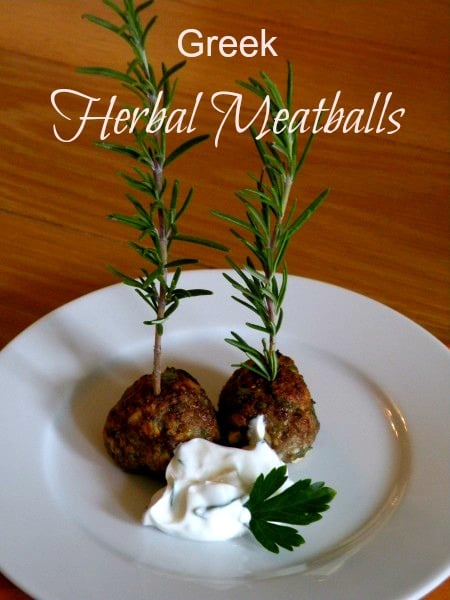 These Greek Herbal Meatballs can be used as your companion for your favorite spaghetti, a delicious meatball sandwich and always as a great appetizer. For your party, if you have only meatballs and beer and wine served to your guests, they will love you. I use simple ingredients so that you can make these at the last moment. Feel free to substitute any salty cheese, wine for chicken broth or milk, or breadcrumbs from day-old bread. They can be frozen ahead of time and re-warmed or served cold, which is how I like them.  To avoid any frying, I bake these meatballs on a high temperature in the oven to give them a beautifully browned appearance, while saving calories.

Greek Herbal Meatballs – Keftedakia
Can't pass these up at any party, bake these and freeze to save money and be prepared for any occasion.
Author:
Mary Papoulias-Platis
Recipe type:
Appetizers, Main Dish
Ingredients
1 pound ground beef
½ cup grated onion, or finely chopped
1 tablespoon minced garlic
¼ teaspoon pepper
½ teaspoon dried oregano
½ cup fresh parsley, finely chopped
¼ cup fresh mint, finely chopped
½ cup Italian bread crumbs, or plain bread
½ cup white wine
1 egg, slightly beaten
¼ cup Greek Mizithra or Parmesan cheese
(When I use cheese, I do not salt the meatballs. Use salt if omitting cheese)
Instructions
Place bread crumbs in a small bowl and add wine.(chicken broth or milk)
Mix meat, onions, garlic, pepper, spices, cheese, and egg in a large bowl.
Add breadcrumbs.
Knead until well blended.
Note: Roll and freeze at this point.
Pre-heat oven to 425 degrees.
Place foil in a baking sheet with or without a rack. Spray the pan and rack with cooking spray.
Roll the meatballs into 1 -inch balls, and space them ½ inch apart for even baking.
Bake in the middle of the oven for 30 minutes.
Let cool.
Serve these meatballs on a platter, or place two skewered meatballs in a plastic cup or Chinese take-out box, add Greek Tzatziki sauce.
For the Yogurt sauce see: http://bit.ly/fqe1hh
Yields 2-3 dozen meatballs.
© 2010 – 2015, Mary Papoulias-Platis. All rights reserved.