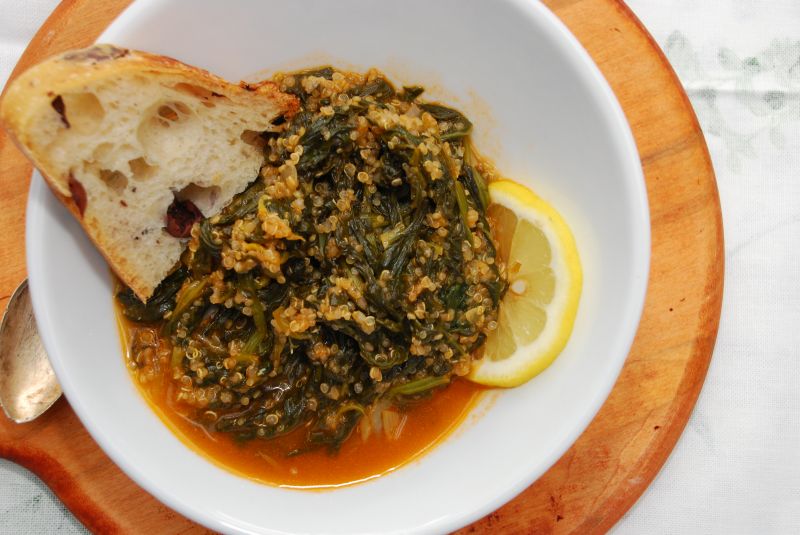 Traditionally, this Greek meal is often served with a converted white rice. I chose to use Quinoa for it's nutritional value and serve it as a main dish.  Quinoa can be found now in every market, make sure to ask because it can be shelved with the rices, or in the organic section.  Before making quinoa check to see if it has been rinsed, if not just place the quinoa in a sieve and run it under cold water  until the water comes out clear. Serve this with a simple green salad and you have a nutritional powerhouse meal. If you cannot find quinoa, tale a look at Lundberg Farms online. This is the organic brand I use for all my cooking.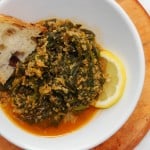 Fresh Spinach and Leeks with Quinoa or Rice
Traditionally, this dish is made with rice, which is delicious alone as a meal. But, many times I like to switch up a recipe for a more nutritious perspective. Either way, this make a fast and easy dinner to serve to your family.
Ingredients
4

bunches of fresh spinach, washed and stems trimmed

2

leeks, washed, and chopped

1/2

onion, coarsely chopped

1 1/2

cups

quinoa or rice

3/4

cup

can of tomato sauce (8 oz. can)

1

lemon

2 1/2

cups

water or broth

2

teaspoons

salt

1/2

teaspoon

pepper

2

tablespoons

extra virgin olive oil
Instructions
Place a large dutch oven on medium high, and add olive-oil.

  Add leeks and onions and saute for 10 minutes or until soft.

Add all the spinach, quinoa, tomato sauce, water, salt and pepper. This may look like a lot of spinach but it will melt down. Simmer on low for 40 minutes, or until most of the liquid has evaporated. Continue stirring

Remove from heat, and let sit for 5-10 minutes until thickened.

Squeeze half the lemon on the spinach and serve. Pass remaining lemon around table for garnish.
Recipe Notes
Note: Quinoa contains more high quality protein that any other grain. The National Academy of Sciences calls it " one of the best sources of protein in the vegetable kingdom". Quinoa was so important to the Inca culture, they referred to it as the Mother Grain. Quinoa contains no gluten. It. stands alone as a complete protein. Quinoa is quick and easy to prepare in 10-15 minutes. Can be used in soups, salads, pilaf, even as a nutritional breakfast
Take a look at my other quinoa dishes for more ideas: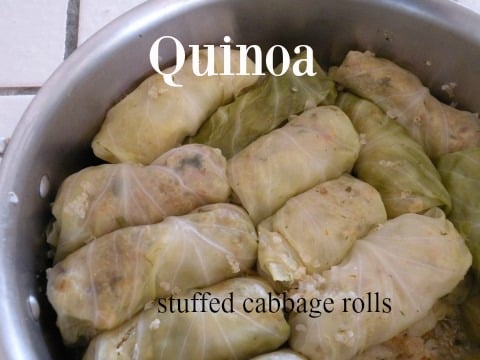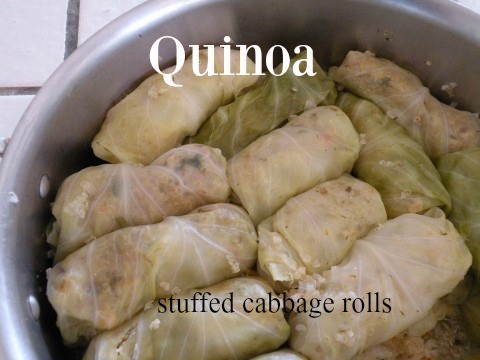 Quinoa with Wild Rice and Cherries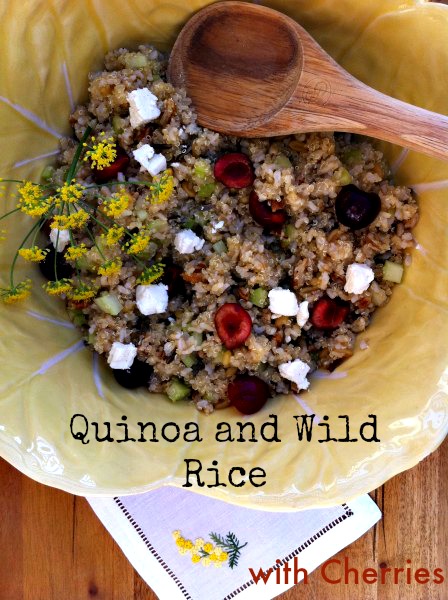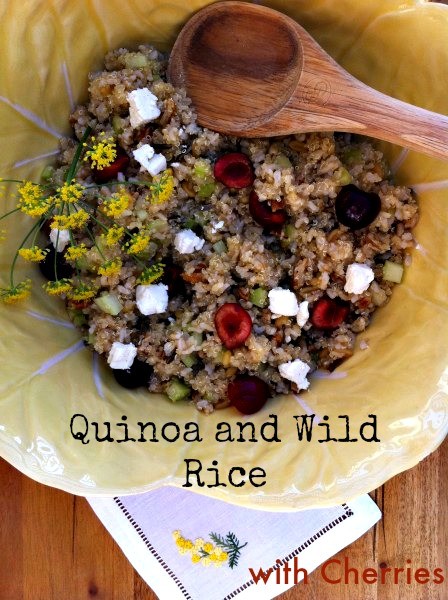 Greek Stuffed Tomatoes with Quinoa and Rice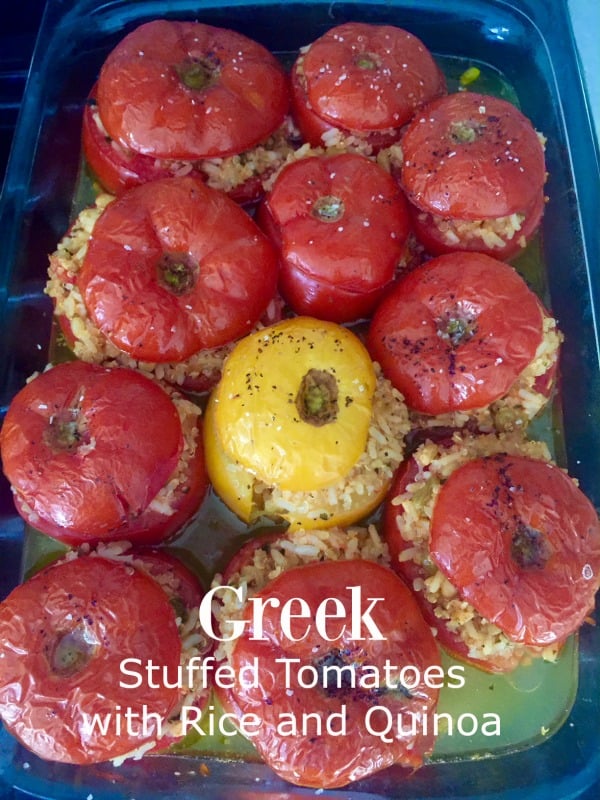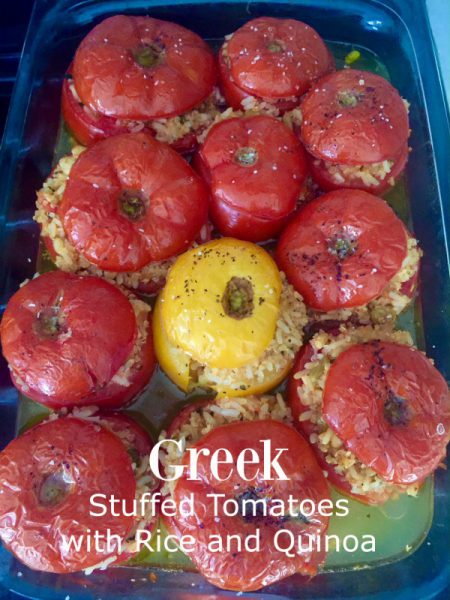 Cinco de Mayo  Vegetable Quinoa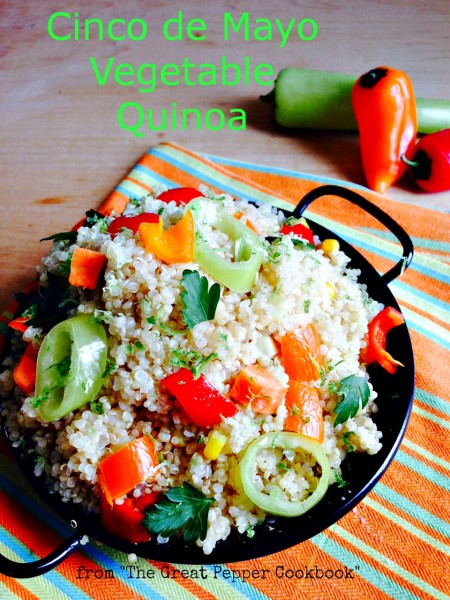 Stay Healthy!
Mary 
© 2010 – 2022, Mary Papoulias-Platis. All rights reserved.