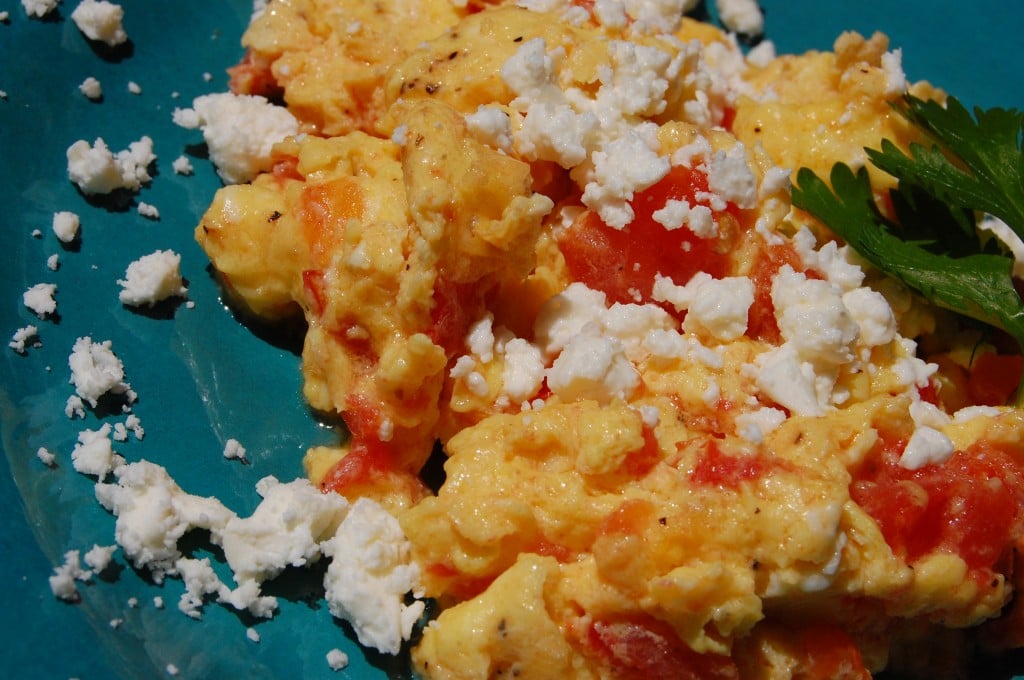 My mother Voula served this fresh tomato egg scramble to our family for breakfast and as well for dinner. Just by adding more vegetables to the eggs such as green peppers, green onions or herbs you can change the recipe to your taste.  What's great about this dish, is how tasty it can be with just these few ingredients. Serve this as a brunch dish by adding a great salad or fresh fruit.  I wouldn't skip the step of using a fresh tomato or omitting it, because this is what adds the savory kick to the eggs. Adding the feta boosts it's flavor to a new level, a perfect combination.
Fresh Tomato Egg Scramble - "Kagiana"
Try these tomato- feta scrambled eggs for your next meal, for a comforting and delicious twist to your breakfast routine.
Author:
Mary Papoulias-Platis
Recipe type:
Breakfast, Brunch, Dinner
Ingredients
1 tomato, seeded and chopped
1 tablespoon butter
2 eggs, beaten
½ cup feta cheese
salt and pepper to taste
Instructions
Melt butter in frying pan.
Add chopped tomato, and cook on medium-low until pink. Add a pinch of pepper and salt.
Add the beaten eggs and cook on low until set.
Add salt and pepper.
Remove from pan and sprinkle with crumbled feta.
© 2010 – 2013, Mary Papoulias-Platis. All rights reserved.