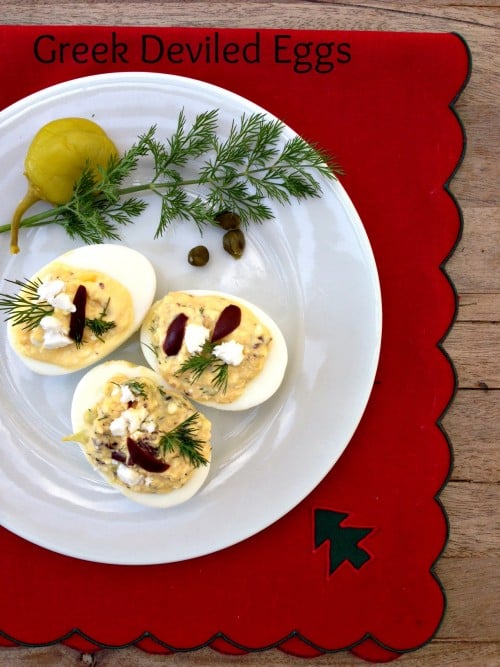 One appetizer that I can always depend on is deviled eggs. It's the first thing I grab when I see them out on a table at a party. I guess they go under the category of "comfort food" for me. One appetizer I have never posted is a deviled egg only because it's not Greek. So here it is. My take of a traditional American dish with A Greek twist to put out on your appetizer table this holiday season.
To start off making this recipe visit my post on How-To Make Hard Boil Eggs. It's  easy and fast with instructions you'll never forget. It' s important to get this right because you don't want to see that green ring around your eggs, from overcooking them. While you are there, don't forget to check out my tip on how to to peel eggs. So easy. This recipe can be doubled for a large group. A smart tip: Place the eggs on a platter lined with lettuce so they stay put while moving around.
Greek Deviled Eggs with Feta
Try these simply made Greek-inspired deviled eggs at your next party for a California twist!
Author:
Mary Papoulias-Platis
Ingredients
6 eggs, hard boiled and cut in half
¼ cup feta cheese, crumbled
½ cup Greek yogurt
1½ teaspoons Dijon mustard
6 Kalamata olives, chopped
3 teaspoons fresh dill, finely chopped
3 teaspoons pepperoncini, chopped
1½ teaspoons capers, drained
1½ teaspoons of caper juice
¼ teaspoon pepper
salt if needed
Feta and dill for topping
Instructions
Place the eggs in a pot of cold water and bring to a boil. Once to a boil remove from heat and cover for 20 minutes. Cool. Peel and cut in half.
Remove the yolks from the egg and place in a medium bowl.
Add the remaining ingredients and mix well.
Taste for salt if needed(often Feta is enough).
With a spoon carefully fill each egg white with filling.
Sprinkle with remaining feta and a sprig of dill.
Cover and refrigerate and serve cold.
Here are more quick ideas for making your own version.
A small diced saute of red and green peppers, zucchini, eggplant and tomato in olive oil.
Olives, green, black chopped and pitted.
Fresh herbs that are soft, chervil, dill, oregano,basil,parsley,chives
Grated cheese
sun-dried tomatoes
sea salt and freshly cracked pepper
Enjoy and Happy Holidays!
© 2013, Mary Papoulias-Platis. All rights reserved.