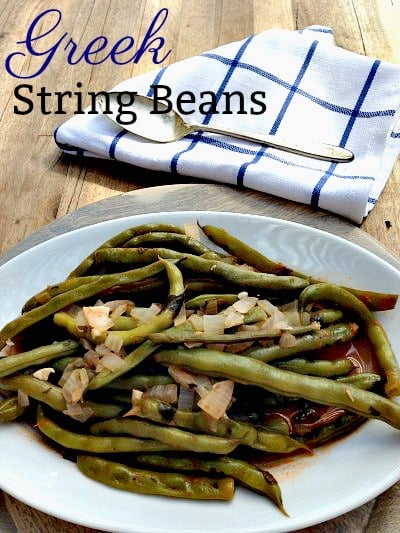 My garden is runneth over…with long green string beans. And what comes to mind – this dish. With the traditional slow braising cooking method, this has become a favorite of ours at the dinner table. Made with simple pantry ingredients, it's quick and ready to serve in minutes. You may also consider it as a side with fresh BBQ fish, chicken or lamb.  Or just serve it alone, with a hunk of artisan bread- and a sprinkle of fresh Greek Feta, that's how I love it! This dish is meant to be a simple summer meal from your  garden's summer bounty of beans!

Greek String Beans ~ Fasolakia
This pantry summer meal will be a delight for anyone at the dinner table. Simply made and so healthy!
Author:
Mary Papoulias-Platis
Recipe type:
Main or Side Dish
Ingredients
1 pound green beans, trimmed left whole
3 tablespoons extra virgin olive oil
2 onions, chopped
3 garlic cloves, minced
4 teaspoons tomato paste, or ¼ can tomato sauce
1 tablespoon fresh dill, or parsley, or oregano
salt and pepper
Enough water to cover beans.
Instructions
Wash and trim the green beans at the top of the bean.
In a deep dutch oven or skillet heat the oil on medium.
Add the onions and cook for 4 -5 minutes until softened, then add garlic and cook for 2 more minutes.
Add the beans to the onions and tomato sauce, water, herbs, salt and pepper.
Cover and cook for 15-20 minutes.
Uncover and cook until liquid is reduced and sauce thickens.
  Just picked from my garden!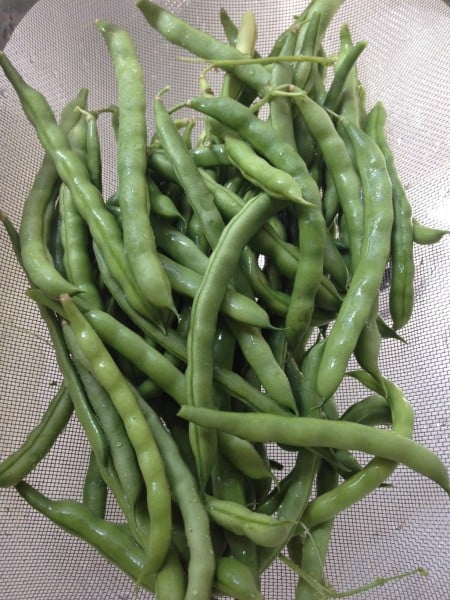 Line up the green beans with the top ends together and cut right off! Leave the cute curly-end, they are edible and sweet looking.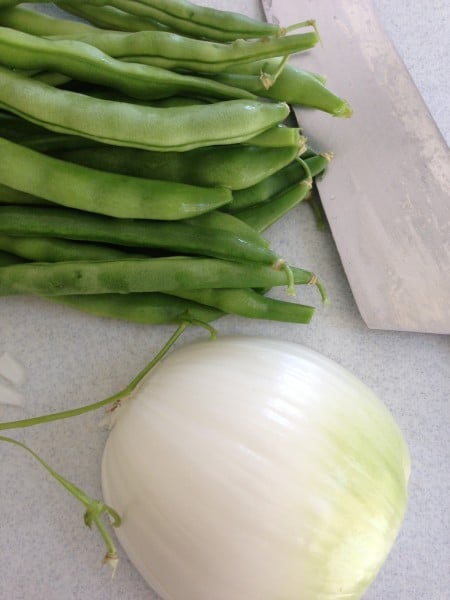 Once you have the onions and garlic cooked, add the rest of the ingredients and fill the pot with water just to cover and cook.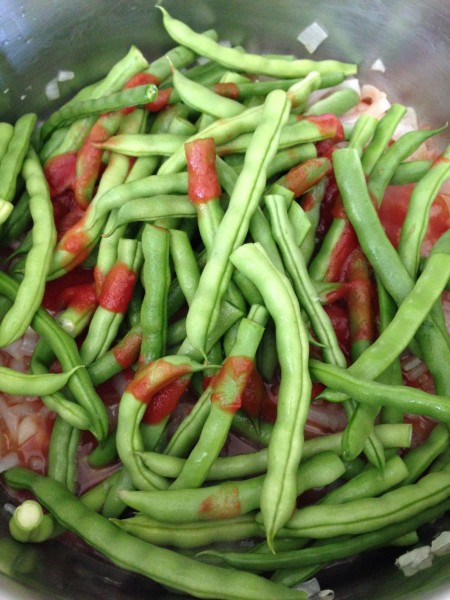 This is a braising technique slow and long, so the flavors have a chance to meld together. The beans are even better the next day!
© 2013 – 2018, Mary Papoulias-Platis. All rights reserved.