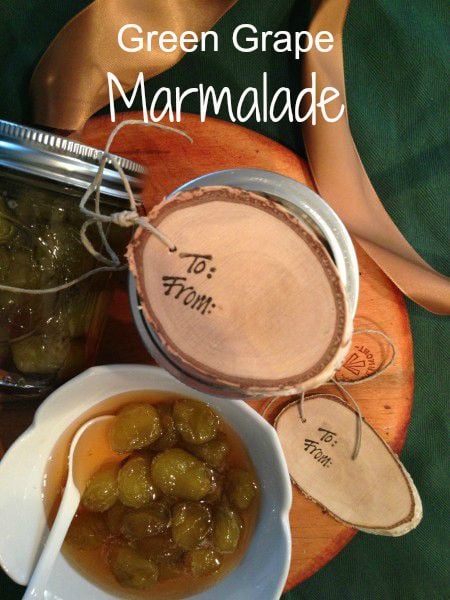 My mother-in-law Helen taught me everything I know about canning with fruit. When I was younger and watching her preserve various seasonal fruits throughout the months, it inspired me to continue with my own family's traditions in the kitchen. Green grapes are now in season, especially the large seedless ones you'll find this month at your farmer's market. This recipe can be made without canning just simply place the preserves in a covered container, and refrigerate. If you choose to go the canning route, and need more information on canning , please visit the Ball Canning site for the list of canning equipment and methods you might need for this recipe. This recipe will yield around five or six (8 oz.) jars, depending on the size of your grapes. You can halve this recipe for a smaller batch.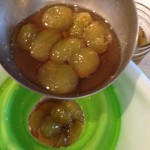 Green Grape Marmalade
Delicious over vanilla ice cream this caramel colored marmalade is worth making for the long winter days. You 'll need a candy thermometer for this recipe, to ensure the cooking time. The gel-point for this recipe is 220 degrees.
Ingredients
8

cups

green grapes

4

cups

sugar

1

cup

water

1

lemon, squeezed
Instructions
Wash, stem, and measure your grapes.

In a heavy large pot add the grapes, water and cook for 5-10 minutes.

Add sugar and stir until all sugar is dissolved.

Continue cooking and stir occasionally until almost jellying point - 220 degrees.

This could take well over an hour depending on how many grapes you're cooking.

About 10 minutes before it's done add at least 1-2 tablespoons of lemon juice for above amount.

Pour, boiling hot, into hot canning jars and seal.

It will be a reddish caramel color when done.
Add the grapes to your deep pot and cook with the water until they soften .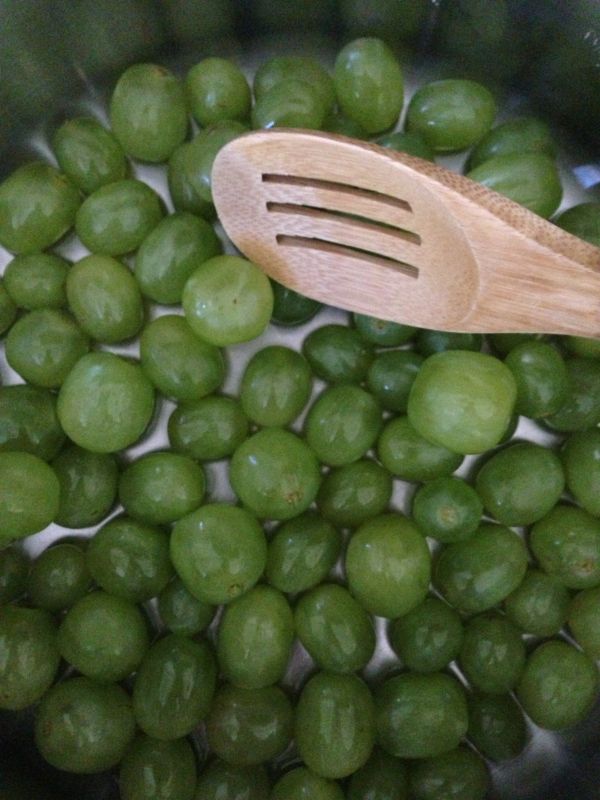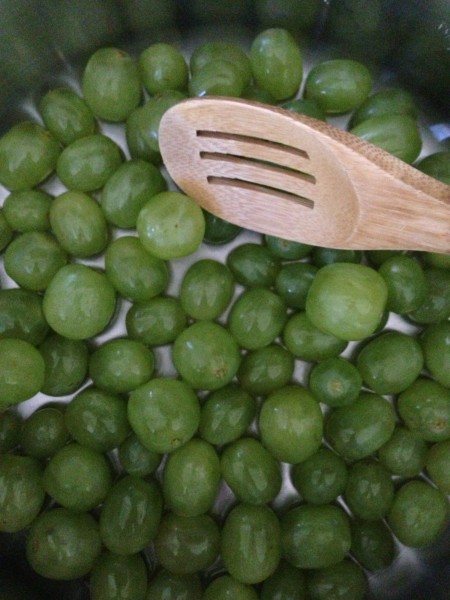 Add the sugar and continue cooking until gel- point which is 220 degrees on a candy thermometer. This can take up to an hour.
Don't forget to add the lemon juice 10 minutes before removing the pot from heat.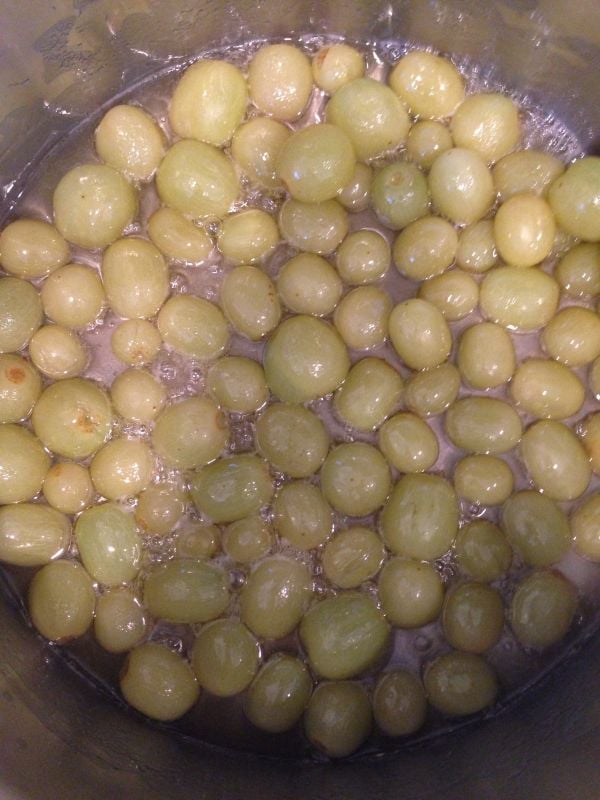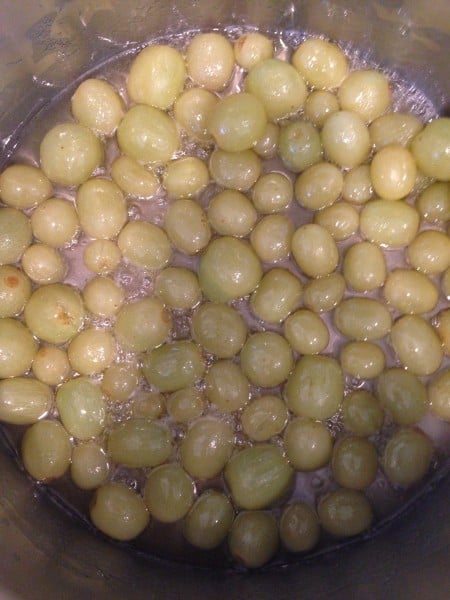 As you can see the grapes have taken on a reddish- color and are just about ready to be removed from the heat.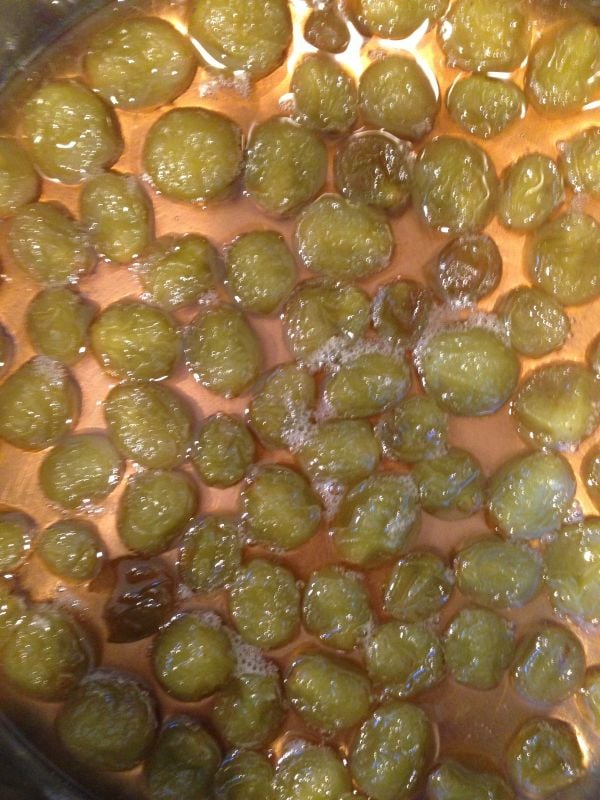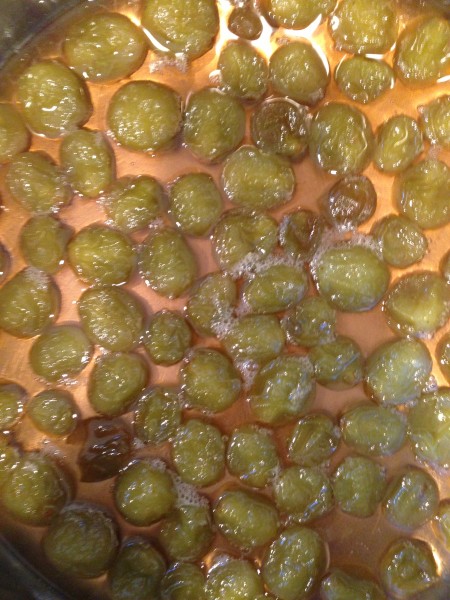 In the meantime, if you plan on putting the preserves in jars place them along with the lids in a hot water bath to sterilize.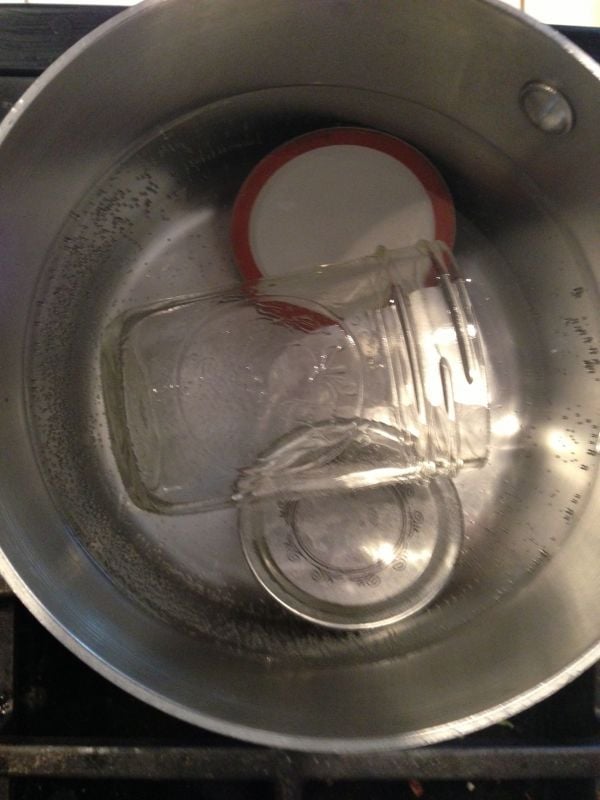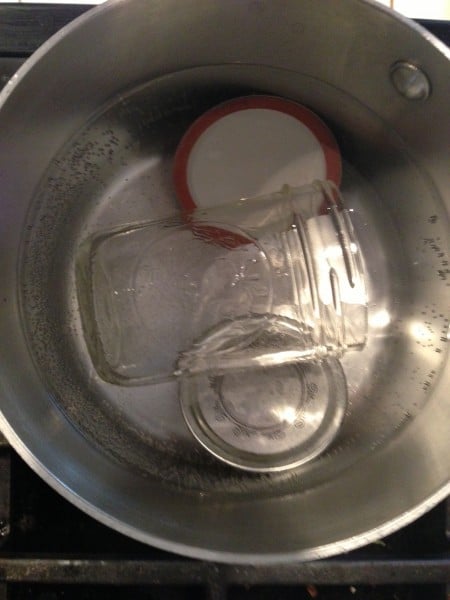 Prepare all your equipment and pour hot preserves into hot bottles. Clean around the lids with a clean cloth and add lids.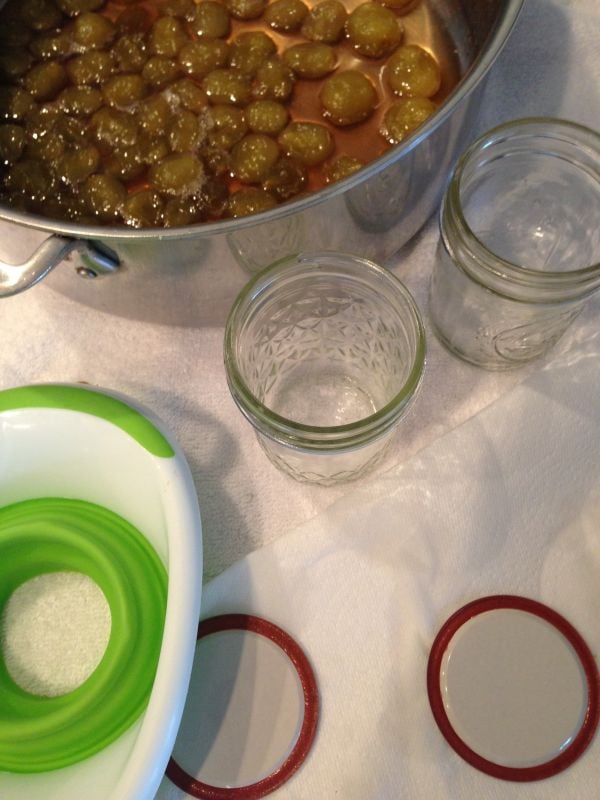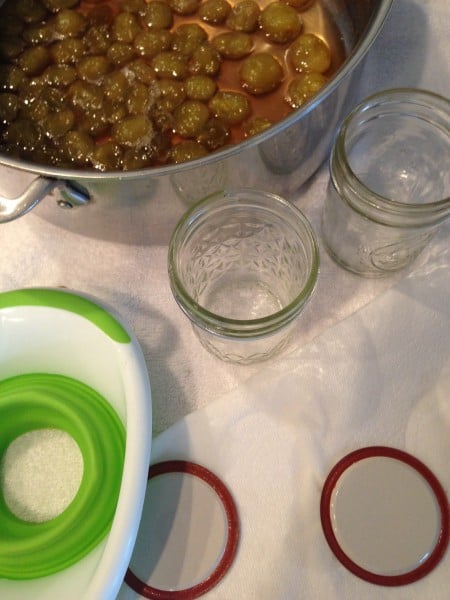 Using the proper tools will keep you safe from the hot jars and food.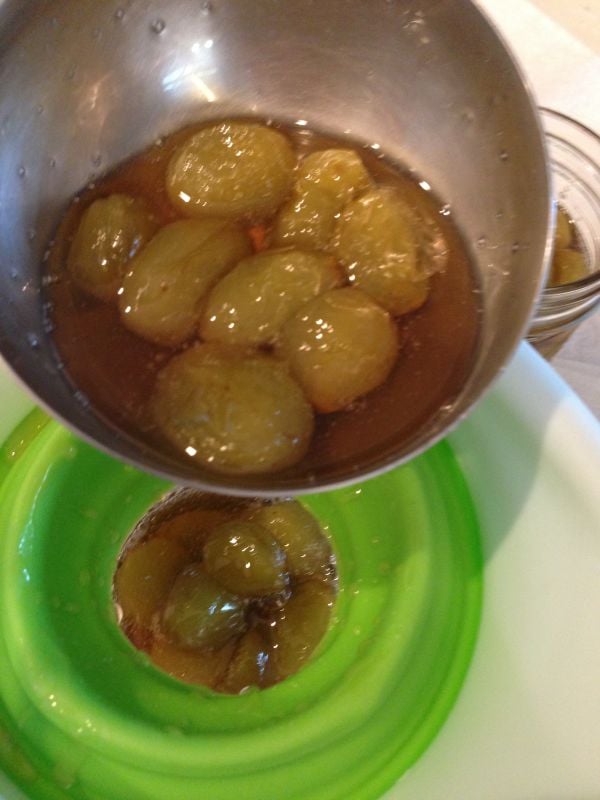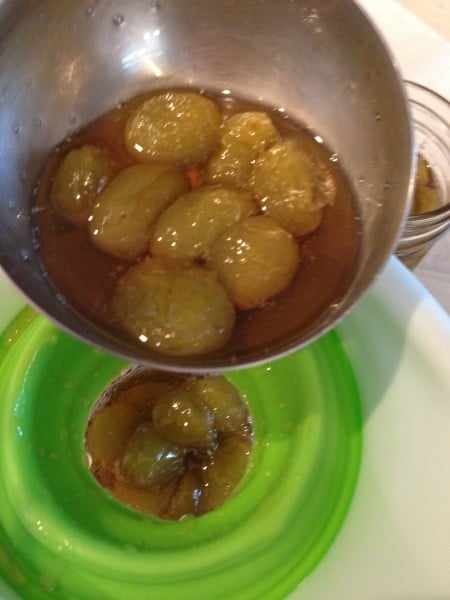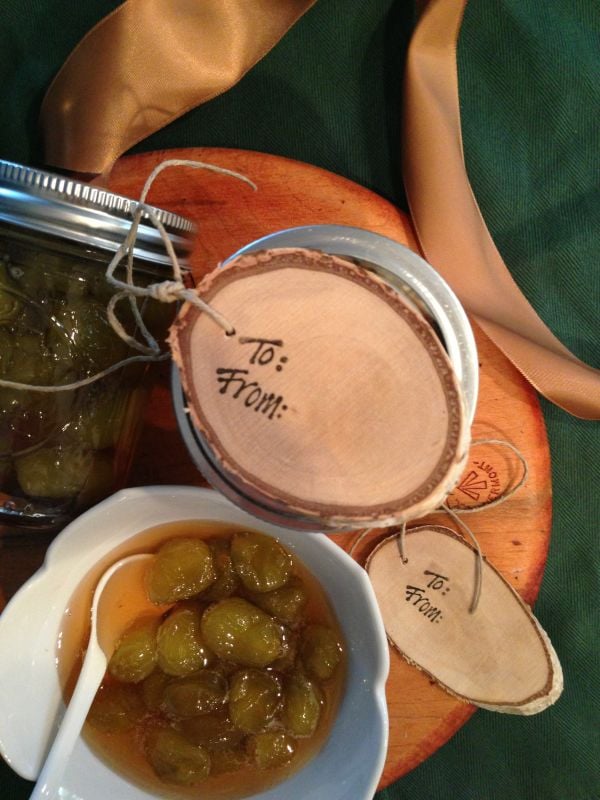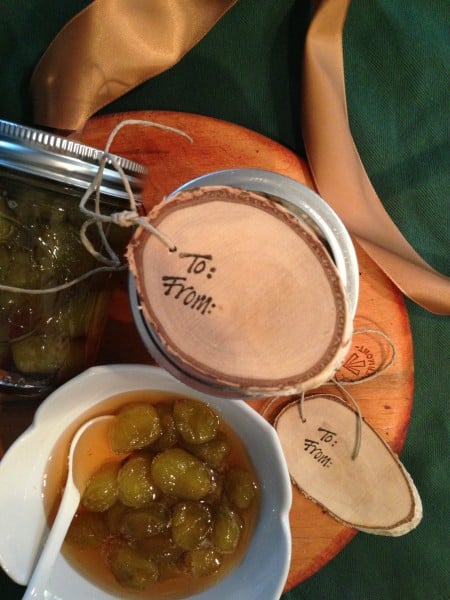 I encourage you to go online to learn about canning before you attempt it. Or simply, place the cooled jam in your refrigerator and use up within 2 weeks.
These preserves are wonderful on pound cake, over Greek yogurt, and served with vanilla ice cream.
Visit my other preserved recipes:
Blueberry Red Apple Vinegar Jam
Much success,
Mary 
© 2012 – 2022, Mary Papoulias-Platis. All rights reserved.